2012 INDUCTEE
Composer
OLIVER SHAW
THE FIRST AMERICAN MUSIC STAR
by Allan "Big Al" Pavlow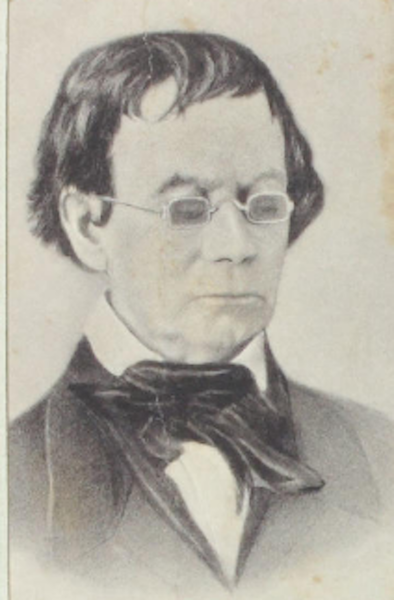 DISCOVERY
I first encountered the name "Oliver Shaw" when I thumbed through a fabulous book, "Variety Music Cavalcade 1620 – 1969 A Chronology of Vocal and Instrumental Music Popular in the United States" by Julius Mattfeld.  In its 766 pages, it chronicles the significant songs and events related to each year from 1800 onward.  For each year, there's an alphabetical listing of song titles and related composers followed by thumbnail bits of information regarding major and minor events in all phases of American life.  There is only one song entry for 1817:  "Mary's Tears, w., Thomas Moore.  m., Oliver Shaw. Providence, R.I.:O. Shaw (1817) (2nd Edition)."  This means that Oliver Shaw composed the music for a text (poem) written by Thomas Moore and the song was published by Oliver Shaw himself in 1817 in Providence.  This song had to be rather important to be included in this book, and even though Mr. Shaw was obscure to me, he had to be important, too.  As I soon discovered, his contributions to the early 19th Century American music scene as a musician, singer, composer, publisher, teacher and merchant established him as a major figure in the history of American popular music and the VERY FIRST AMERICAN-BORN MUSIC STAR IN THE UNITED STATES.  And, he peformed virtually all of his feats right here in Providence, Rhode Island!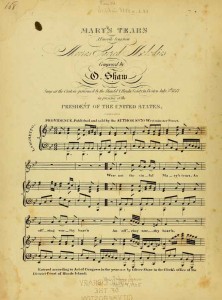 BACKGROUND
Born in Middleborough, Massachusetts in 1779 to a seafaring captain, he probably would have made the sea his life's occupation but after losing sight in one eye when a childhood prank went awry, and in his other after ill-advised exposure to sunlight following a bout with yellow fever, his family decided that the field of music was his best bet and sent him to Newport, R.I. to study piano, organ and "the science of music" with Dr. John L. Birkenhead, who was also blind.  This was followed by advanced study in Boston with Gottlieb Graupner. In 1805, he taught piano and organ at a school in Dedham, Mass. and in 1806 he published his first work, a compilation of material by other composers "A Favourite Selection of Music Adapted to the Piano Forte" which included his very first composition "Address to a Tuft of Violets" (words by Herman Mann).
In 1807 he moved to Providence, Rhode Island which would be his base of operations until his death in 1848.
WHERE HE LIVED AND WORKED
He married Sarah Jenckes in 1812 and moved into a spacious house in downtown Providence in the vicinity of what became the Woolworth Building block on Westminster St. between Dorrance and Eddy.  This house served a double purpose, allowing the couple to raise a family of seven children and also serving as a "veritable conservatory of music" sometimes housing as many as a dozen out-of-town students.  In his home, which had a piano in every room and an organ in the center hall, he gave as many as forty music classes a week. It's not surprising that his entire family was musical; three of his children became music teachers.
Another location, at 70 Westminster Street a little further east of where the Turk's Head Building now stands, was his place of business, "The Music Repository", from which he sold sheet music and various musical instruments.  This spot also served as the official address for his music publishing company, Oliver Shaw Music.
WHAT HE DID AS A PERFORMER
It seems that just about anything and everything that could have been done in that world of music,  he did.  Led around by a young boy, he was quite mobile moving from home to business, from one venue to another.  His activities included:
– Playing the organ at the First Congregational Church (1809);
– He was one of the founders of the Psallonian Society (1815) which offered concerts in and around Providence for 16 years featuring music from such European masters a Beethoven, Handel, Haydn and Mozart;
– He had a fine tenor voice described by a contemporary "Shaw's sweet singing was simple and natural without any pretension to style or ornament" which he used often as a soloist with the Psallonians, the Mozart Society of Pawtucket and he traveled often to Boston to perform with the Handel and Haydn Society.
WHAT HE DID AS A COMPOSER AND PUBLISHER
As a publisher, he issued many collections such as: "The Columbian Sacred Harmonist" (1808), "The Providence Selection of Psalms and Hymn Tunes" (1815), "Melodia Sacra, or Providence Selection of Sacred Music" (1823), "Social Sacred Melodies" (1835).
He was also a prolific composer (in 1835 alone he wrote almost two dozen tunes) and many of his songs bore names of places and people familiar to Rhode Islanders such as:  "Meeting Street", "Westminster Waltz", "A Trip to Pawtucket", "Governor King's Grand March" and "Bristol March".
HIS BIGGEST HIT
"There's Nothing True but Heaven" composed in 1816, officially published in 1829, provided Oliver Shaw with his most popular song.  Like "Mary's Tear's", it featured a  text by Thomas Moore.  At the time of its publication, the world was still seventy years away from mass produced cylinders and flat discs which would bring recorded music into the homes of millions, so the primary means of getting music out to the people was via the printing press. Melodies and lyrics of music from simple songs to symphonies were committed to paper and published (as they still are), and the popularity of tunes from this period can be determined by the number of times a song was reprinted. "There's Nothing True but Heaven" appeared in print often enough to bring Oliver Shaw a reported $1,500 in royalties.  Considering the population of the country, the presumably low royalty rate, and the dollar value of the time, it was a hefty amount and proof that "There's Nothing True but Heaven" was a huge hit.
According to Russell Sanjek in his "American Popular Music and its Business" Volume II, "Mary's Tears" and "There's Nothing True but Heaven" brought Shaw fame far beyond his native Rhode Island and made him the most popular American songwriter of the 1820s.
FURTHER READING
For those interested in exploring American music and culture from the "olde" days, these publications are highly recommended:
RHODE ISLAND'S MUSICAL HERITAGE:  An Exploration
Edited by Carolyn Livingston and Dawn Elizabeth Smith
Harmonic Park Press, 2008
YESTERDAYS:  Popular Song in America
By Charles Hamm
W.W. Norton & Company, 1979

THE ENCYCLOPEDIA OF AMERICAN MUSIC
By Edward Jablonski
Doubleday & Company, 1981
VARIETY MUSIC CAVALCADE 1620 – 1969:
A Chronology of Vocal and Instrumental Music
Popular in the United States
By Julius Mattfeld,
Prentice-Hall, 3rd Edition, 1971
AMERICAN POPULAR MUSIC and its BUSINESS:
The First Four Hundred Years, Volume II from 1790 – 1909
By Russell Sanjek
Oxford University Press, 1988