2013 INDUCTEE
Jazz
BOBBY HACKETT
(1915-1976)
An Introduction by Rick Bellaire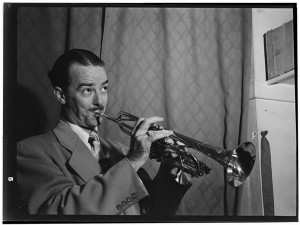 Providence-born trumpeter, cornetist and guitarist Bobby Hackett was one of the greatest improvisors in the history of jazz. His career spanned six decades (1930s-1970s) and encompassed every style from New Orleans traditional to big band swing to the easy-listening mood music of the 1950s. Along the way he performed with dozens of musical giants including Glenn Miller, Benny Goodman, Frank Sinatra and Tony Bennett.  His unique and exquisite tone coupled with his melodic improvisational style gave him an instantly recognizable sound and made him a household name. Louis Armstrong considered Bobby his only equal  His releases as a leader, a sideman, and as a featured soloist are all equally considered to be some of the most important recordings in the history of popular music.
BOBBY HACKETT
by Lloyd Kaplan
This wonderful appreciation of Bobby Hackett originally appeared in "Who's Who in Rhode Island Jazz c. 1925-1988" by Lloyd S. Kaplan and Robert E. Petteruti (Consortium Publishing, 1991) and appears here courtesy of the authors. An expanded/updated edition of this invaluable source of information to be called "A Treasury Of Rhode Island Jazz And Swing Musicians" by R.I. musician Dennis Pratt and Dean College professor Dr. Tom Shaker is being prepared for publication at the time of this posting, March, 2013.
Not every great musician is an equally great human being; but such was, indeed, the case with Robert Leo Hackett, better known as Bobby Hackett.
Not only was Bobby admired by the likes of such musicians as Louis Armstrong, Dizzy Gillespie, Roy Eldridge, Miles Davis and countless other top professionals for his outstanding and amazing consistent musicianship, but he was deeply loved and respected for his human qualities by anyone who knew him well.
Bobby Hackett was the son of William and Rose Hackett, being the seventh of their nine children. His birthplace was Providence, Rhode Island, in the year 1915, and most of his youth was spent on Atwells Avenue near the Mount Pleasant section where the Hacketts resided. William Hackett was a blacksmith, but Bobby wanted nothing but music for his livelihood. In fact, he was so intent on becoming a musician, that he left Commercial High School (now Central High School) long before graduating to pursue his musical career. Music came naturally to Bobby Hackett, and he was nothing short of a child prodigy. At the age of four, he played recognizable melodies on the piano. When he was eight years old he studied violin for about eight months, but his teacher, Professor Kirwin, told the lad's parents that he would not teach Bobby any longer because there was nothing left to teach him!
During the ensuing years of his youth, the budding musician was given instruction on the ukulele, the banjo and the guitar by Mr. Joseph Petteruti. Around the same time, Hackett also purchased a cornet from a hock shop for five dollars and taught himself to play that instrument. Petteruti, leader of a band called The Hawaiian Islanders, somewhat reluctantly allowed Bobby, a member of that group, to play the cornet on a gig for the first time. Shortly thereafter, Bobby started performing regularly as a guitarist the Port Arthur Chinese Restaurant while he continued to practice the cornet.
Bobby continued to play locally for about four years until he went to Boston at the urging of Pee Wee Russell who even came to the Hackett household to assure the family that he would personally watch out for Bobby. In 1930, Bobby made his way to New York both where, as both a sideman and a leader, his reputation spread quickly among the musicians on the scene.
He was especially admired for his approach to the melodic line. His cornet playing can heard on the 1937 recording of "Bei Mir Bist Du Schoen," which featured the Andrews Sisters. On July 26 of the same year, Bobby married his childhood sweetheart, Edna Lee, with whom he remained for the rest of his life.
In 1938, he was invited to appear as one of the few guest artists at the famed Carnegie Hall jazz concert led by Benny Goodman (quite an honor for the twenty-three year old cornetist.) In 1939, he worked with Horace Heidt's commercial band and then in 1941, he joined the Glenn Miller band as guitarist and trumpet soloist.
His famous solos on Miller's "String Of Pearls" and "Serenade In Blue" are considered classics. After working with the Miller band, Bobby went to work for the NBC studio orchestra and later performed in Glen Gray's Casa Loma Orchestra.
During the 1950s and '60s, Hackett toured a great deal with Louis Armstrong, Benny Goodman and Tony Bennett.
He participated in numerous recording sessions with such greats as Jack Teagarden, Teddy Wilson, Eddie Condon, Vic Dickenson, Louis Armstrong, Dizzy Gillespie and Zoot Sims. He was also a participant in the first Newport Jazz Festival in 1954. During the 1950s, Bobby also made several made "mood music" recordings for Jackie Gleason which were very popular during that decade. These recordings for Gleason enhanced Hackett's world-wide reputation. He also appeared a number of times as a guest star on that comedian's program.
Bobby Hackett never forgot his musical friends from Rhode Island. Among his closest friends here were Johnny Beatini, his next door neighbor Pete Colaluca, Dudley Santaniello, Joe Lilly, Eddie Soares, Lynn Olivieri, Ernie Billings, Mike Marra, Art Pelosi, Tony Tomasso, and of course his colleague with whom he worked so often over the years, Dave McKenna.
Hackett also befriended and helped launch the careers of such Rhode Islanders as Mike Renzi and trombonist George Masso, both of whom went on to stellar careers. Two of Bobby's most intimate friends and musical colleagues from nearby Massachusetts were Lou Columbo and Dick Johnson.
In 1980, The Community College of Rhode Island was extremely proud to name its theater after Hackett. The Bobby Hackett Theater presented several memorial concerts to honor the great cornetist  which featured such artists as Pee Wee Erwin, Bob Wilber, Vic Dickenson, Mike Renzi, Warren Vache, George Duvivier, Dave McKenna and Maxine Sullivan.
Hackett's musical legacy found on the numerous recordings he left for us did indeed prove to be a musical "string of pearls" for which the jazz community will be eternally grateful. When Kansas City, Missouri, opened its Jazz Hall Of Fame in 1987, the only Rhode Islander represented was Bobby Hackett.
The state of Rhode island has spawned no greater artist than Bobby Hackett who remains the very spirit and essence of Rhode Island jazz.
PERSONAL REMINISCENCES
A Personal Remembrance of Bobby Hackett
by Robert E. Petteruti (as told to Lloyd Kaplan)
The wonderful Bobby Hackett-Petteruti relationship began and ended with circumstances involving a ukulele.
It began around 1925 when the ten-year-old Hackett started ukulele lessons with Joseph Petteruti, which were given at the Petteruti home on Penn Street in the Federal Hill district of Providence, Rhode Island. Shortly thereafter, Hackett successfully moved on to the banjo and guitar. Thanks to the combination of Petteruti's excellent instruction and Hackett's natural talent, the young musician improved to the point where he was able to become a member of The Hawaiian Islanders, a commercial band led by Joe Petteruti, who was later to become known as "Buck."
Around this same time (circa 1927), Hackett started teaching himself to play his newly purchased $5.00 hock shop cornet. The first time that Buck heard Hackett's horn was en route to a job. Buck was driving the lead car while Hackett was practicing his horn in the back seat of the second car.
At the job during one of the breaks, Buck was persuaded to let Bobby play the cornet for the first time in public during the next set, thus helping to launch the cornet player's brilliant career. At future events, such as one which was held at the Albee Theatre in downtown Providence, Hackett paid special tribute to Buck, thanking him for all that he had done on his behalf.
The relationship between Bobby and Joseph's son Robert E. Petteruti began on December 14, 1929, a rather hectic day for the Petteruti family. Buck's band was booked to perform on that day and meanwhile, his wife Josephine was about to give birth. Being the dedicated musician that he was, Buck left for the gig while Josephine headed for the Lying In Hospital via taxi cab. That day, Robert (better known as "Bob" or "Bobby") came into the world and was named after Bobby Hackett.
Although they knew each other for decades, the two Bobbys did not join up musically until 1965 when they performed together for three months at the Kirkbrae Country Club in Lincoln, Rhode Island, with a group called The Artones. The band was led by Providence-born saxophonist Art Pelosi whom Bobby always referred to as "The Maestro." Along with Hackett and Bob Petteruti on bass, the group included Ron Bianchi on piano, Mike Marra on trumpet and drummer Steve Fusco. Notable guest artists during their run included clarinetist Pee Wee Russell and tenor saxophonist Bud Freeman. Petteruti cherishes his memories of this time not only for the music they produced together, but also for the numerous conversations he had with Bobby.
The memories don't end there! Another exciting musical event occurred the following year in July of 1966 during a run by Tony Bennett and The Woody Herman Orchestra at the Warwick Musical Theater (or "The Tent" as it was known in Rhode Island). Hackett, along with jazz great Tommy Flanagan on piano, was backing  with Tony Bennett and one evening after their show, Bobby brought several of his fellow performers including Bennett, Flanagan and Woody Herman out to the Kirkbrae Country Club for a jam session. With Tommy on piano, Tony sang with the Artones and "The Shadow Of Your Smile" never sounded better!
In May of 1965, Bobby visited the Petteruti's music store, Twin City Music in Pawtucket, Rhode Island, in search of a ukulele for an upcoming recording session. Bob Petteruti happened to have a custom-made Martin baritone uke available and, after a few strums, Bobby purchased it.
Leaving the store, he said, "Tony will love this." And apparently, he did! The recording session in question was for Tony Bennett's version of "Sweet Lorraine" featuring Bobby on that same ukulele.
Finally, Bob remembers being mesmerized by the elequence with which Hackett spoke while accepting a special plaque presented to him in the early 1970s by the Providence Federation of Musicians during a ceremony at the Yankee Motor Inn (now Johnson & Wales Inn) in Seekonk, Massachusetts. A duplicate of that plaque (thanks to Rhode Island trumpeter Al DeAndrade) can be seen on the entrance wall of the Bobby Hackett Theatre at the Community College of Rhode Island in Warwick.
Straight Up – Extra Dry:
The Wit & Wisdom of Bobby Hackett
Anecdotes compiled by Rick Bellaire with
Special contributions from Bobby's son, Ernie Hackett
Within the music community as well as within his family and circle of friends, Bobby was known as one of the nicest guys to ever negotiate the waters of the entertainment industry. He is also known the world over for his exquisite tone and his remarkable talent for melodic improvisation; he is universally hailed as one of the finest improvisors in the history of jazz.
His son, Ernie Hackett, however, writes that there is a second talent, not so-well-known, for which he should also be remembered: an extremely dry sense of humor! Ernie has been kind enough to share some of Bobby's more memorable one-liners with us so that future generations will be able to enjoy a more well-rounded impression of the man which may not be so easily gleaned from the history books:
– Bobby was a world traveler. One day, an airport security guard asked if that was a musical instrument in his cornet case. Bobby's one-word answer was, "Occasionally."
– Bobby accompanied Tony Bennett to the United Kingdom for a Royal Command Performance in front of Her Majesty, The Queen of England. As Tony was introducing "If I Ruled The World," Bobby cried out from the bandstand, "What do you mean, if?!?!"
– When Ernie was on the road with his dad in the early 1970s, he began to note that almost every night, his father would announce to the audience that it was one of the band member's birthdays. Finally realizing that it was almost never anyone's actual birthday, he asked his father why he did that. Bobby answered, "Have you noticed how many free drinks it produces?"
There is another great story which circulates about his friend, the actor, comedian and orchestra leader, Jackie Gleason. "The great one" virtually invented the concept of "mood music" with his 1950s LP "Music For Lovers Only." It was a time when most celebrities recorded cash-in albums to tie in with a television series or motion picture release and many questioned Gleason's actual musical abilities. Bobby was the featured soloist on Gleason's orchestral works and when musician-journalist Harry Currie of Toronto asked him what Gleason brought to the recording sessions, without skipping a beat, Bobby answered, "The checks."
Bobby had great respect for other musicians and their work and could wax philosophically on demand in interviews. For instance, despite the off-the-cuff quip about Gleason in the previous anecdote, Bobby had great respect for Jackie's musical talents and abilities to navigate the treacherous waters of the music industry. As a true pioneer in the blossoming television industry, Jackie recognized that in the postwar, baby-boom climate, the American public was in need of soothing and relaxation – if folks were going to stay home and watch their new TVs, then they'd need a bit of romance to complete the picture when the test patterns came up on the screen. He conceived of the "mood music" genre to fill that gap and called in Bobby to provide the sweetness. Hackett was featured soloist on the first string of Capitol Records albums and Jackie helped him to secure his own contract which led to a series of the greatest albums as a leader of Bobby's career. Another music writer, James Bacon, asked Bobby the same question as Currie had about Gleason's musical abilities, but this time, the answer was on a serious note and from the heart:
"Jackie knows a lot more about music than people give him credit for. I have seen him conduct a sixty-piece orchestra and detect one discordant note in the brass section. He would immediately stop the music and locate the wrong note. It always amazed the professional musicians how a guy who technically did not know one note from another could do that. And he was never wrong."
In another interview, he was asked about Louis Armstrong's place in the pantheon of great American musicians. His answer was, "Louis Armstrong could only happen once – for ever and ever. I, for one, appreciate the ride."
Despite his many travels and international reputation, Bobby always remained close to his Rhode Island roots and his impact on the Rhode Island music scene is immeasurable. I would like to close this section by paraphrasing Bobby's quote from above:
"Bobby Hackett could only happen once – for ever and ever. Rhode Islanders all appreciated the ride."
A BOBBY HACKETT PHOTO ALBUM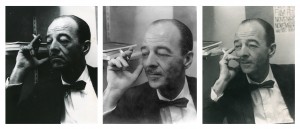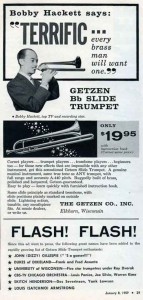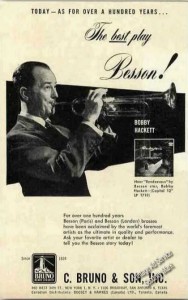 A SELECTED BOBBY HACKETT DISCOGRAPHY
by Rick Bellaire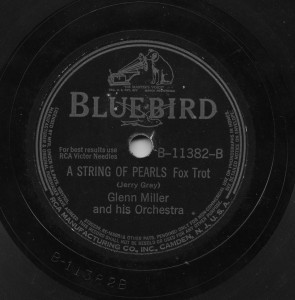 Not only is the documentation of the enormous recorded output of Bobby Hackett a task beyond the scope of the volunteer researchers with the Rhode Island Music Hall Of Fame at this time, but thanks to Bobby's importance and influence, the work has mostly been accomplished by others.
This is a discography of recommended recordings which were selected because they represent a major slice of his most important recordings and they are all easily available on CD or as downloads. Also, because Bobby was not only an important jazz artist, but an incredibly popular recording star, most of these recordings sold well and are quite easy to find in their original 78 rpm and vinyl configurations for those of you who prefer the phonograph for listening. A simple search on eBay or musicstack.com will turn up hundreds of records at (mostly) affordable prices.
For those of you who would like to amass a more complete selection of Bobby's output, there are two important internet resources available already:
Discogs has done a wonderful job of covering the vinyl era of of his career (7″ 45s and 10″ and 12″ LPs)
One of the best fan sites out there right now concentrates on the CD era and delves into recordings not covered in our selections such as the Columbia Records albums of the 1960s and his final recordings with Bob Thiele in the 1970s:
And finally, if you're really looking to collect everything Bobby ever did, there are fine scholarly works published in book form. The first has an good biography and the most comprehensive Hackett discography/sessionography ever assembled:
Bobby Hackett: A Bio-Discography by Harold Jones (Greenwood Publishing Group, 1999)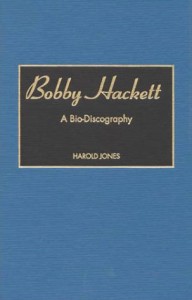 and the second, has an excellent biography and a very good, easy-to-navigate discographical section:
Bobby Hackett: His Life In Music by George Hulme and Bert Whyatt (Hardinge Simpole, 2015, UK)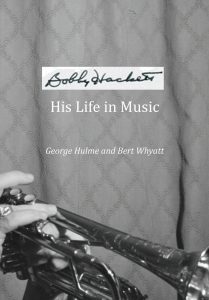 AT THE JAZZ BAND BALL 1938-1940
Jasmine Records 832280
His early recordings with his own big band plus extras from his stints with Horace Heidt and others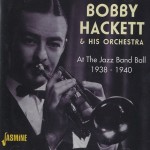 GLENN MILLER: THE POPULAR RECORDINGS 1938-1942
Bluebird/RCA Victor 97852
A great bargain: beautifully remastered 3 CD set for the price of 2 which includes virtually every important Miller side including Bobby's two best loved numbers while with Glenn, "String Of Pearls" and "Rhapsody In Blue." If you're not interested in the Miller band, both of Bobby's features recommended here are available separately as downloads from iTunes and amazon.com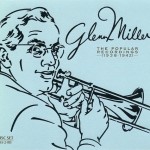 THE CHRONOLOGICAL BOBBY HACKETT 1943-1947
Classics Jazz 1047 (France)
An incredible mix of Bobby's recordings as a leader with his second orchestra and smaller ensembles plus extras as a sideman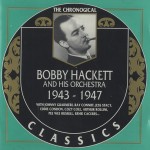 THE CHRONOLOGICAL BOBBY HACKETT 1948-1954
Classics Jazz 1403 (France)
A little more scattered than the above, but nonetheless a great collection of recordings as a leader and a sideman. There are a few early Capitol sides which show up on the collection below, but not enough to make it a deal-breaker – the rest of the stuff is essential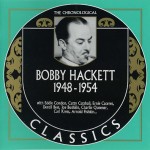 JACKIE GLEASON: MUSIC FOR LOVERS ONLY
Capitol Records 352
Gleason virtually invented "mood music" with this 1952 Capitol Records album which still holds the record for time spent in the Billboard Top Ten album chart at 153 weeks. The lush, beautiful music designed for romantic evenings at home featured Bobby playing some of the sweetest horn of his career. This led to a string of million-selling collaborations between the two men and, more importantly for our purposes here, Jackie assisted Bobby in securing his own Capitol recording contract which gave us some of the best music as a leader of his career (see below)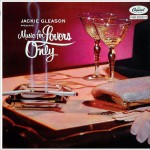 THE COMPLETE CAPITOL BOBBY HACKETT SOLO SESSIONS
Mosaic Records 210
This incredible boxed set features all ten of Bobby's Capitol Records albums as a leader, some of the finest recordings of his career. The music has been beautifully remastered and is presented on 5 CDs in a deluxe box with an incredible book by former Downbeat editor Dan Morgenstern detailing each session. This is a limited edition, but there are copies left at present (2013) and even at $80.00 it's a bargain as it works out to just $8.00 per album! Highly recommended.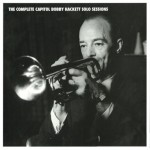 JAZZ ULTIMATE & COAST CONCERT (CAPITOL RECORDS RECORDINGS)
Collector's Choice 165
If you can't afford to spring for the boxed set, two of Bobby's best and swingingest Capitol titles are available on one CD from Collector's Choice.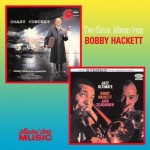 HELLO LOUIS! & BOBBY HACKETT PLAYS TONY BENNETT'S GREATEST HITS
(COLUMBIA RECORDS RECORDINGS)
Collectables Jazz Classics 6697
Finally, for a taste of Bobby's later recordings from the 1960s, try these two Columbia albums on one CD on which he pays tribute to two of his most frequent collaborators, Louis Armstrong and Tony Bennett.