2017 INDUCTEE
Jazz, Music Educator
DAN MORETTI
Coming soon…
Members of the Historical Archive Committee of the Rhode Island Music Hall of Fame are researching and documenting the career of this great Ocean State musician. When work is completed, we will be posting an in-depth biography and complete discography on this page. In the meantime, please enjoy this introduction to Dan's career and a mini-documentary about his induction into the Hall of Fame produced and directed by our friends Norm Grant and Dr. Tom Shaker at Pete & Buster Films.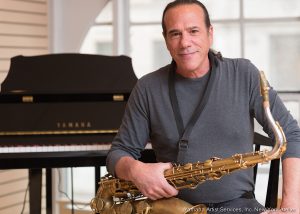 DAN MORETTI: AN INTRODUCTION
by Rick Bellaire
By the time Some Time Inside, his first album as a leader, was picked up by Blackhawk Records for international release in 1985, saxophonist Dan Moretti of Narragansett had already established himself as a world-class player in both Jazz and R&B. He was co-owner of Celebration Sounds recording studio in Pawtucket where he became recognized as a top-notch producer and engineer. As a recording artist, he has released 18 best-selling and critically acclaimed albums as a leader and tours the world. As a sideman, he has performed and/or recorded with some of music's biggest stars including Ray Charles, Aretha Franklin, The Four Tops, The Temptations, Robert Plant, Kid Rock, Dr. John, Dave Liebman, The Crusaders and Nile Rodgers & Chic. He began teaching in the mid-1970s in Providence and in 1996 accepted a position at the Berklee College of Music where he is a Professor teaching Ensembles and Contemporary Writing and Production. He has created curriculum for Berklee and has published several books on composition, arranging and recording and presents seminars around the world including Europe, South America and Africa.
DAN MORETTI OFFICIAL WEBSITE
https://danmoretti.com/