THE STORY OF DUKE BELAIRE AND THE  BOVI'S TAVERN BIG BANDS
Duke Belaire (nee Anthony DeCubellis) was born to his calling in Providence, Rhode Island in 1932. His father, Ray Belaire, was not only Rhode Island's preeminent big band leader, but also ran The Arcadia Ballroom in Providence, an important stop for all the major bands during the era's heyday. Growing up in the midst of the music, Duke soaked it all up and honed his chops with the 1st Armored Division Army Band, The Tex Beneke Band, and as house drummer at The Celebrity Club in Randall Square in Providence – Rhode Island's home of jazz and R&B. Returning to his roots in 1967, Duke formed his first large group: a 16 piece jazz big band. At first the outfit was primarily a "rehearsal" band, but as word got out, he began to find an audience.
In 1969, Duke stopped in at Bovi's Tavern in East Providence Rhode island. He was looking for a new rehearsal space for the band  and he asked owner John Bovi if they could use the Tavern on a Monday, the club's only off night. He asked to use it for just one night and, if it worked out, then every Monday for practice.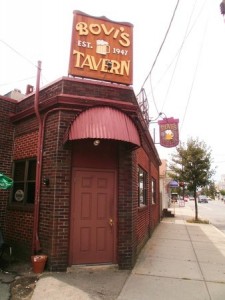 Well, I guess it worked out well – thirty-two years later, the band is still playing there for the cover charge they receive at the door! They began packing the place and, because it was a Monday – an off night for most musicians – many other players started coming by to sit in. They had legends sitting in – local and national – playing every Monday night from day one. Talent from our southern New England pool included, at first, Art Pelosi (tenor sax), Mike Renzi (piano), Zolman "Porky" Cohen (trombone), Dick Johnson (alto sax) and Lou Colombo (trumpet); and later, younger players including Scott Hamilton (tenor and baritone saxes), Paul O'Day (piano), the great hometown legend Clay Osborne (vocals), and Hal Crook (trombone). The list goes on and on and many of the players came through just for the experience of playing in a big band. Among the list of nationally known performers who came by to sit in were Doc Severinsen of Johnny Carson's Tonight Show Orchestra; Rhonda Ross-Berry (daughter of Motown legends Diana Ross and Gordy Berry); Clark Terry, who  was so knocked out by Hal Crook that he got him a job with the Tonight Show Orchestra; and Clay's younger brother, Jeffrey Osborne, who had hit the big time, first with his group L.T.D., and later as an acclaimed solo artist.
The personnel was also looted over the years by national acts looking for new talent, but mostly with Duke's blessing. One night, big band leader Artie Shaw stopped by to talk to Dick Johnson about taking over his band, traveling the country and recording an album. Well, there went Dick! In 1979, Roomful Of Blues returned to their roots and talked Porky Cohen into going on the road and recording with them. Well, there goes Porky! (He got his nickname because his best friend – his cousin – was called "Beans"! Porky had a favorite arrangement, "Caravan", which became his feature at Bovi's and with the other top area acts with whom he performed including Tony Tomasso & The Jewels Of Dixie and the aforementioned Roomful as they achieved national success).
In 1980, the band recorded a live album at the Tavern which became a local bestseller and is now internationally recognized as a landmark of the modern big band era.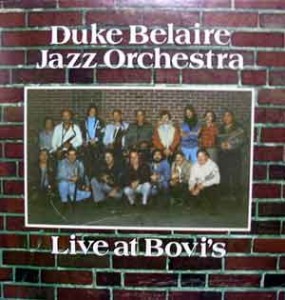 Bovi's is the only club in in the country – maybe the world- where a big band has performed every week for over thirty-two years. (A few years ago, someone contacted the Guinness Book Of Records to ask if this record was in their book yet. Their answer was that there was no category for it! Perhaps there should be…)
In 1999, for a variety of reasons, Duke decided to start winding down toward retirement. Thirty years of running a big band had finally taken its toll! Without skipping a beat, John Bovi found a new group to take over the slot, another 16 piece big band whose leader was John Allmark, the great, young English trumpeter.  The band is still there every Monday as of this writing. It is a more modern and progressive unit than it was in Duke's day, but the legend and legacy of Bovi's Tavern and the Big Bands lives on. Jazz followers love this band and Bovi's is still the only nightclub around to feature a
big band every week. The beat goes on and now you know the inside story.
- Bob Bovi, April, 2011
DISCOGRAPHY
Argonne Records LP-001: Duke Belaire Jazz Orchestra – Live At Bovi's (1980)