2013 INDUCTEE
Country & Western
Rhode Island's First Family of Country Music
The Story of
EDDIE ZACK & THE HAYLOFT JAMBOREE
FEATURING COUSIN RICHIE, BABS & MARIL
by Rick Bellaire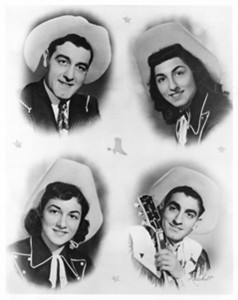 The Zackarian family of Providence – Edward (Eddie Zack), his brother Richard (Cousin Richie), and their sisters, Mercedes (Babs) and Marilyn (Maril) – pioneered the Country & Western music scene in Rhode Island and were major players in the introduction of the style into the Northeast. During the 1940s and '50s, they released dozens of successful recordings on Decca Records and Columbia Records and were the stars of a nationally-broadcast NBC radio program. Their success as a major nightclub and concert attraction continues to the present day – with their career spanning more than seven decades. Their importance to and influence on the Rhode Island and New England country music scenes is unparalleled.
 THE DUDE RANCH COWBOYS
Their story begins with the birth of Edward Zackarian in 1922 followed three years later by the birth of his brother, Richard, in 1925. By the time they'd reached their teens, it had become obvious that the brothers possessed great musical talents. But unlike most of their contemporaries, the Zackarians did not seek out careers in the popular big band jazz genre with its then-blossoming Swing style nor on the new Armenian-American music scene which was then sweeping the Northeast United States with strongholds along the coast from New Jersey to Boston and a large community in Providence. Their decision to pursue a career in country and western music, an unheard of choice for the Northeast, was due to the fact that Edward had become taken with the career, accomplishments and musical style of Gene Autry.
Autry was a singer and guitarist who had risen to the top in the early days of country music. He was signed to Columbia Records in 1929 and in just five years had become the top selling recording artist in country music and a radio star. His recorded output ran the gamut of rural styles from hillbilly to ballads to old-timey, but it was his cowboy songs for which he was best known (cowboy music being the "western" component of country and western music.) In 1934, Autry began one of the most successful careers in the history of the motion picture industry when he introduced the concept and persona of "the singing cowboy" to the world – drive the cattle, catch the bad buy, get the girl, and sing a few numbers around the campfire along the way.
Edward at first applied his talents to the livestock rope becoming an expert at lassoing and lariat tricks. But his interest in Autry led him to emulate the superstar in his music as well.
So great were the talents of the Zackarian brothers that it can be said they would have excelled in whatever musical style they chose to pursue. Edward was a fine upright bassist and guitarist with a strong and unique singing voice. Richard had been blessed with a high baritone voice, bordering on tenor, which was sweet, but nonetheless extremely powerful and emotive. There's no question they would have succeeded in any style, but it was country and western they chose.
With Edward leading the way, the Zackarian brothers shortened their last name for the stage and formed their first band in 1939 dubbed Eddie Zack & The Dude Ranch Cowboys. Eddie played bass fiddle and sang. Richard, now called Cousin Richie, was the lead vocalist and guitarist. On steel guitar was Frank Tantimonaco (he played a Hawaiian style lap steel in those early days before the pedal steel was invented) and rounding out the group was Frank's brother Tony on banjo. (When asked later in life, why he'd been dubbed "cousin," Richie replied that if it had been "Brother Richie," he'd have had to have worn a religious collar!)
Although there was no country music scene, per se, in New England, the group began performing whenever and wherever they could find or create an opportunity and they began to amass a small following. But just as more and more Rhode Islanders were getting turned on to the style and leaving their living room radios to dance and listen to live country music, Eddie and Richie were called to military duty and began serving their country in the U.S. Navy during World War II.
THE DUDE RANCHERS
Eddie returned home after one tour of duty and reformed the band, shortening the name to The Dude Ranchers. He spent the next few years gigging steadily, building a following, and introducing more and more southern New Englanders to country and western music. The band's personnel changed from year to year.
One musician who signed on in 1947 became a lifetime member of the group: steel guitarist Tony Poccia contributed a style which became an important voice in developing the band's unique and original sound.
Other musicians who performed regularly with the Dude Ranchers in the late 1940s and early '50s included guitarist Will Harris, steel guitarist/guitarist Jackie Herbert, fiddler Rocky Carroll, bassist Walter Campbell, percussionist Russ "Tarzan" Johnson, steel guitarist Eddie Cunningham, bassist Harold Allen, accordionist Jackie Menna, and guitarist/fiddler/comedian Frank Moon who starred as "Sad Sack" on the Hayloft Jamboree television broadcasts.
Richie stayed in the service for three years and when he returned, he formed an acoustic trio with his sisters, Mercedes (known as Babs) and Marilyn (called Maril), he dubbed The Western Serenaders. The trio became known for its three-part harmonies accompanied only by Richie's and Maril's guitars.
As with Eddie and the Dude Ranchers, the going was rough at first for the trio, with many looking down at the group as a "bunch of hillbillies" as they started to make themselves known. But it is important to note that as there was really no country scene happening in New England at the time, the Zackarians were, in fact, creating one. Even stage attire at that point presented a problem. The few outfitters such as Nudie's in Hollywood or the several custom tailors in Nashville were unaffordable and unwilling to sell their wares without personal fittings. The boys were able to get by wearing string ties, Haggar slacks and cowboy hats, but for the girls, it was a different story. Babs and Maril took to making their own stage clothes by hand and by adorning western-style equestrian gear with rhinestones and other decorative touches. But, despite the odds, The Western Serenaders developed a large following and by 1947 were starring in their own radio show broadcast over WHIM-AM. The announcer for the show was Rhode Island broadcast legend Bob LaChance, then just at the beginning of his own career.
Eddie, always an astute businessman, recognized the rapid growth of the country market and moved quickly to take advantage of the situation and establish the family on the national scene. In 1949, he began hosting his own country music program on WHIM, incorporating the Western Serenaders into the band. He formed an independent record company, Dude Ranch Records, to release recordings by the group. They released five singles on 78 rpm records over the next three years which found great success on radio all over New England. This series of records established Eddie's modus operandi for the act with different sides featuring Richie, Babs, and The Western Serenaders trio with Maril in order to provide the programmers with as many viable choices for airtime as possible. One of the records, "The Shenandoah Waltz" featuring Richie, sold 10,000 copies in the Northeast and the national press began to take notice. Their last release on Dude Ranch in 1949 shot out of the box so fast that Eddie knew that they'd never be able to meet the demand and would require a major label to handle distribution.
Along the way, the group had acquired their first manager in the late 1940s, Jim Small. So, Eddie kept the band working and Jim started networking to secure the group a major label recording deal. He asked for the assistance of Milton Israeloff, the owner of Beacon Record Distribution Company on Branch Avenue in Providence, one of the most successful one-stop wholesale record distributorships in New England. (This was before Milton opened The Beacon Shops retail operation on North Main Street in the late 1950s or early '60s.) With a regional smash hit and Israeloff's powerful connections on their side, Jim was able to secure a contract and Eddie Zack & The Dude Ranchers signed with Decca Records in late 1949. Their first release was a Decca pressing for national distribution of the final Dude Ranch single. "That Silver-Haired Daddy Of Mine," a cover of Gene Autry's 1932 smash hit, did well on the charts and radio, but the B-side did even better. "Dill Pickles," the old ragtime chestnut historically performed by musicians to show off their chops, featured the group's accordionist at the time, Ernie Pagliarini, and it became a crossover hit reaching #27 on the Cash Box Pop Chart during a five week run which ended in January of 1950.
With a national label supporting them, the Dude Ranchers career took off like a shot. Eddie's business acumen proved itself again as he began to develop a plan which would set the course for the group for the next several decades. The country music market had experienced rapid and massive growth since the end of World War II and was no longer confined to pockets of followers in rural areas. Thanks to the rise of nationally broadcast radio shows such as "The Grand Ole Opry" out of Nashville, Tennessee and "The Louisiana Hayride" from Shreveport, country music had penetrated urban markets all across the country, up into Canada and down into Mexico. Recognizing the power of the medium as a promotional device for not only their records, but for their nightclub and concert performances as well, Eddie signed the group to appear as regulars on "The Hayloft Jamboree," the most successful country music variety show in New England which originated from WCOP-AM out of Boston, Massachusetts. They also secured their own national radio show with the NBC Radio Network which was broadcast every Saturday to 128 markets around the country out of the WJAR 920-AM studios in downtown Providence. He also realized that the group had become so popular that they needn't rely strictly on club owners and booking agents for work. He began producing their own appearances, staging and promoting dances and concerts, often bringing in big national stars to top the bill with the Dude Ranchers as opening act.
So great was their popularity at this time that The Dude Ranchers became the first country music act to perform at Boston's Symphony Hall to a sellout crowd.
Early in 1953, after seven releases, the Zacks contract with Decca expired and was not renewed. Despite the success they'd had for the label and their ever-growing following, Paul Cohen, the head of Decca's country music division decided not to extend their contract. It seems he'd had a chip on his shoulder about them because the group had been signed while Cohen was on vacation despite his policy that all country signings must be personally approved by him. So, he let them go, but to Eddie, it was just a small stumble. The group was so popular by this point that nothing could stop them as far as personal appearances went. In fact, record sales were not a very important source of income for artists back then. Royalty rates were low, accounting practices were convoluted, and all advertising, promotion and production costs were charged back to the artist against royalties. To most artists, records were mainly a way to help get people to attend their shows. Eddie Zack & The Dude Ranchers were the biggest country act in the Northeast and they'd just keep playing while the search began for a new record label.
Toward the end of 1954, the band was signed to Columbia Records. A series of successful releases utilizing Richie, Babs and Maril as lead vocalists or in different combinations followed over the next couple of years. There were no smash hits, but the records performed well in crucial markets nationwide including "Lover-Lover (Why Must We Part)" released as Eddie Zack and Cousin Richie which reached #42 on the Music Vendor Country Chart on May 16, 1955 during an eight week chart run. The band's popularity continued to grow. In fact, so popular were The Dude Ranchers that they once managed to perform forty-five one-nighters in a row! While with Columbia, the Zacks continued their successful association with WCOP in Boston and began billing themselves for package shows in southern New England with the other COP regulars as Eddie Zack & The Hayloft Jamboree although they continued to use The Dude Ranchers for their Columbia releases.
In 1955, they released a record which has, in the long run, spread their fame across the globe more than any of their others. It was a rockabilly number in the country-mixed-with-R&B style being pioneered by Elvis Presley and Carl Perkins at Sun Records and featured a rare lead vocal from Eddie. "I'm Gonna Roll And Rock" has become one of the most sought after recordings in all of record collecting and eventually led to Eddie's induction into the Rockabilly Hall Of Fame in 1991.
DICK RICHARDS
In 1956, a small fly appeared in the ointment when Columbia's head of A&R and chief producer Mitch Miller decided it would be best if Richie were promoted as a solo artist and that he had a song in mind to put him at the top of the charts. (Many will remember that Miller went on to fame in the 1960s with his family-oriented variety show, "Sing Along With Mitch.") Richie would have none of it, declaring his loyalties to the family and the band. But Eddie, ever the businessman, saw an opportunity where others did not. If putting Richie clearly in the front meant the difference between having a record contract or not, then so be it. A compromise was reached that Richie would remain with the group and they would continue to back him on his recordings, but under a new stage name, Dick Richards, with Eddie Zack & The Dude Ranchers appearing in smaller letters underneath. Miller appeared to be appeased and revealed the ace up his sleeve,  "Just Walkin' In The Rain," an original song by The Prisonaires, a group of inmates at Tennessee State Penitentiary who'd had an R&B hit on Sun with it in 1953. Miller thought it the perfect vehicle for a crossover hit and recorded Richie's version. Miller, however, was playing both sides of the fence. Either miffed by the compromise or so intent that the song would be a hit no matter what, he cut a second version on another Columbia artist, Johnnie Ray, a white singer coming from an R&B background. It was almost as if he'd split Sam Phillips theories about crossing over (which culminated in his discovery of Elvis) in two – that this little R&B song would go to the top of the pop charts either by a country vocalist or a white R&B singer if he had anything to do with it.
Columbia released both versions within a month of each other, Richie's in June and Johnnie's in July. They promoted both versions equally heavily at first, but soon turned their attentions strictly on the Johnnie Ray version which was getting more airplay in certain markets. Although Richie's version is certainly equal to, if not greater than Johnnie's, Ray's version went all the way to #2 in Billboard and Richie's became a minor country hit. The Dude Ranchers stayed with Columbia for another year-and-a-half and three more releases under the Dick Richards name, but none of them were high charters although "Fourteen Karat Gold" did reach #54 on February 23, 1957 during a five week chart run. The Zackarians left the label later that year.
THE HAYLOFT JAMBOREE
Once again, however, the idea of not having a record contract seemed of little consequence to Eddie. The band was more popular than ever and the calendar was full of nightclub, dance hall and concert appearances. He resisted offers to move the operation to Nashville or California to pursue another deal reasoning that they'd gotten as far as they had from their Rhode Island home and could do it again. And if not, they had plenty of lucrative work to keep them busy. Also, the four Zackarians and many of the band members had started to settle down by this time – getting married, starting families, buying houses – and he saw no reason to uproot everyone. He could keep them all gainfully employed while he worked out his next strategy. They were still on the air in Boston and began billing the group full time as The Hayloft Jamboree to take advantage of that powerful association. And the gigs just kept on comin'!
Over the course of the next twenty years, the Hayloft Jamboree became synonymous with country music in the Northeast and they became the top country music promoters in New England, regularly filling large venues such as the Rhode Island Auditorium in Providence, Jack Witschi's Sports Arena in North Attleboro, Massachusetts and The Warwick Musical Theater ("The Tent") in Warwick to capacity with their star-studded package shows.
They continued their radio careers into the 1990s with shows on half a dozen stations out of Rhode Island and crossed over to television in the 1960s and '70s with barn dance style shows on the state's two biggest stations, WJAR Channel 10 and WPRO Channel 12. These programs, for which the Hayloft Jamboree was augmented by a dance troupe known as The Rhody Hoedowners, were among the most successful local programs in the history of New England television broadcasting.
In the early 1960s, the Zacks started their own record label, Rhode Island Records, and scored several local hits. The company released locally recorded, self-produced sides featuring Richie, Babs and Eddie as well as one of their discoveries, Bob Martin (Robert Martino) who went on to a successful career in Nashville. After that, Eddie decided to concentrate on the live performances.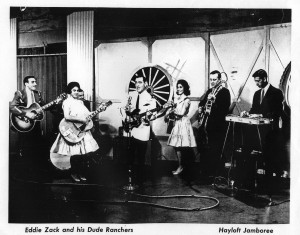 Although Richie stayed on as a charter member of the group and never missed a gig, he continued to pursue a recording career into the 1970s, releasing solo records he'd cut in Nashville on three more labels, all of which did well in the local market, but failed to gain national attention.
In 1978, Eddie founded the Rhode Island Country Music Hall Of Fame and Richie was a member of the first class of inductees. He also made one last trip into the studio producing the first record by his daughter, Dotty Zack. Dotty had first been introduced to the country audience when she appeared as a member of the Hayloft Jamboree on their second TV series in the 1970s. She later became leader of her own group, Dotty Zack & The Outlaws, and continues on into the 2000s performing regularly all over New England. Richie made one final recording which is fondly remembered all over New England; in 1995, he released "Helpless" a song written and produced by Rhode Island songwriter and former Sun Records artist and producer Wayne Cogswell.
In the 1980s, the family started up yet another label, Katmat Records, to reissue their classic recordings on CD for the first time. They also used the opportunity to create new album projects for sale at their shows including two new albums of gospel favorites, Christmas music, and a terrific live album.
The Hayloft Jamboree continues to be a top draw on the New England country circuit to the present. Eddie Zack passed away in 2002 and the band continued on for two more years under Richie's leadership until he also passed on in 2004.
The band is still in operation today under the direction of the Zackarian sisters,  Babs White and Maril Albro, and leading new generations of country musicians and fans into the future. It still features steel guitarist, Tony Poccia; he is the longest-running member of the band having joined in 1947 before even the sisters! Tony is also an inductee of the Rhode Island Country Music Hall Of Fame.
On April 28, 2013, Eddie Zack & The Hayloft Jamboree featuring Cousin Richie, Babs & Maril were inducted into the Rhode Island Music Hall Of Fame during their second annual induction ceremony and concert at RIMHOF's headquarters at The Hope Artiste Village in Pawtucket, Rhode Island. Babs and Maril accepted on behalf of the organization and then the current lineup of the band (bassist Sean Finnerty, drummer Bob Considine, guitarist David Brown and steel guitarist Tony Poccia), augmented by Maril's daughters, The Albro Sisters, and Eddie's daughter, Dotty Zack, gave a rousing performance which ended in a standing ovation. Their show was followed by the unveiling of a plaque in the Hall of Fame commemorating the Zackarians success and accomplishments.
THE ZACKARIAN FAMILY DISCOGRAPHY
by Rick Bellaire
Dude Ranch Records (late 1940s)
EDDIE ZACK & HIS DUDE RANCHERS 
Z-1003/1004  Rhode Island Polka (vocal by The Western Serenaders)
b/w Keep Rollin' (vocal by The Western Serenaders)
Z-1005/1006 Shenandoah Waltz (vocal by Cousin Richie)
b/w Are You Satisfied Now? (vocal by Cousin Richie)
Z-11 I Wish I Knew (vocal by Cousin Richie) b/w Rhode Island Waltz (vocal by Cousin Richie)
Z-12 Afraid (vocal by Cousin Richie) b/w Mountain Polka (vocal by Babs)
Z-13 Dill Pickles (instrumental) b/w That Silver Haired Daddy Of Mine
(vocal by The Dude Ranch Trio)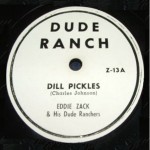 Decca Records (1950-1952)
EDDIE ZACK & HIS DUDE RANCHERS
9-46245 That Silver Haired Daddy Of Mine (vocal by Cousin Richie, Babs & Maril)
b/w Dill Pickles (accordion instrumental featuring Ernie Pagliarini) 1950
9-46284 Land Beyond The Sun (vocal by Cousin Richie/Recitation by Eddie Zack)
b/w Heaven's Television Screen (vocal by Cousin Richie/Recitation by Eddie Zack) 1950
9-46302 Beautiful Brown Eyes (vocal by Cousin Richie & The Dude Ranch Sweethearts)
b/w Shenandoah Waltz (vocal by Cousin Richie) 1951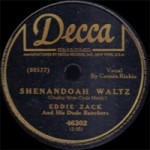 9-46330 The Clouds Will Soon Roll By (vocal by Cousin Richie, Babs & Maril)
b/w You Remind Me Of So Much (vocal by Cousin Richie) 1951
9-28082 Words (vocal by Cousin Richie, Babs & Maril)
b/w Call Of The Mountain (vocal by Eddie Zack & The Dude Ranch Sweethearts) 1952
9-28329 Lights Out (vocal by Cousin Richie) b/w Draggin' The Bow (vocal by Babs & Maril) 1952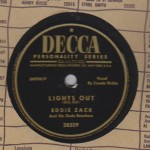 Columbia Records (1955-1957)
EDDIE ZACK & HIS DUDE RANCHERS
4-21148 You Knew Me When You Were Lonely (vocal by Cousin Richie)
b/w Little Donkey (vocal by Babs & Maril 1953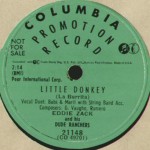 4-21199 I Never Saw Her Again (vocal by Cousin Richie, Babs & Maril)
b/w I've Lost Again (vocal by Babs & Maril) 1954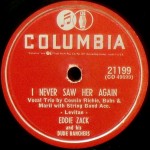 4-21261 Positively No Dancing (vocal by Cousin Richie)
b/w Dancing Country Style (vocal by Cousin Richie)1954
4-21307 Cryin' Tears b/w (vocal by Cousin Richie, Babs & Maril)
b/w You're Out Of My Sight (and I'm Out Of My Mind) (vocal by Cousin Richie)1954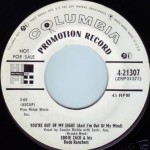 EDDIE ZACK AND COUSIN RICHIE
4-21387 Rocky Road Blues (vocal by The Dude Ranch Sweethearts)
b/w Lover, Lover (vocal by Cousin Richie) 1955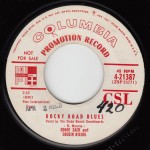 4-21441 I'm Gonna Roll And Rock (vocal by Eddie Zack)
b/w Foolish Me (vocal by Cousin Richie)1955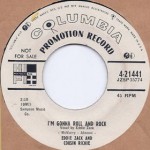 DICK RICHARDS WITH EDDIE ZACK AND HIS DUDE RANCHERS
4-21532 Just Walking In The Rain b/w Born To Lose 1956
4-40786 Time Alone b/w Fourteen Karat Gold 1956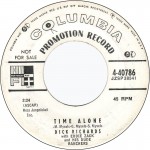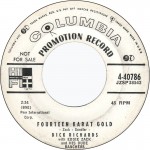 4-40957 Blue-Jean Baby b/w/ We've Got A Right To Love 1957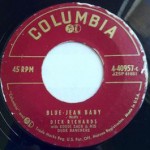 4-41035 Not Until I Pray For You b/w I Love You So Much It Hurts Me1957
Rhode Island Records (1960s)
RICHIE
ZTSP-81238/39 First Love b/w Come Back My Love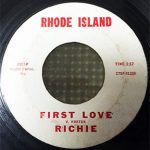 BOB MARTIN WITH EDDIE ZACK
ZTSP-81394/95 Wedding Bells (Are Ringing) b/w You Know The Reason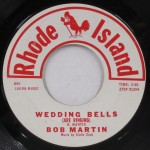 COUSIN RICHIE & LITTLE BABS WITH EDDIE ZACK
ZTSP-91344/45 Tramp On The Street (vocal by Cousin Richie)
b/w Rocky Road Blues (vocal by Little Babs) 1963
COUSIN RICHIE WITH EDDIE ZACK
ZTSP-91958/59 Christmas In November b/w Daddy's Little Girl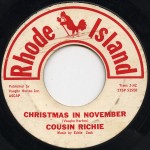 BOBBY MARTIN WITH EDDIE ZACK
ZTSP-94934/81394 You Know The Reason b/w Wedding Bells
A-side is a new version of ZTSP-81395; Wedding Bells, now the B-side, is the same version
Crosstown Records (1970s)
RICHIE ZACK
1006 Hopkinsville Mailman b/w Fourteen Carat Gold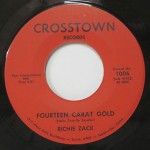 1008 Ring On The Bar b/w Crazy Arms
Big M Records (1970s)
RICHIE ZACK
1002 Beer Barrel Polka b/w Send Me The Pillow (That You Dream On)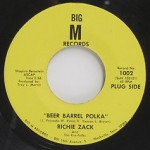 1011 Don't Let The Stars Get In Your Eyes b/w It's Written In The Stars
Silver Star Records (1970s)
RICHIE ZACK
1010 It's Written In The Stars b/w Take A Good Look, Mr. Mirror
1043 She Knew I Would b/w Mona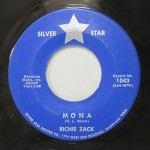 Ten Records
RICHIE ZACK
S-100 Fabulous b/w Helpless 1995
Yankee Records (1970s)
DOTTY ZACK WITH EDDIE ZACK
Y-001 Leaving On The Midnite Train b/w Why Have You Been Gone So Long
RICMA Records
COUSIN RICHIE ZACK
LP-1 North Country 1995
A collection of Richie's solo singles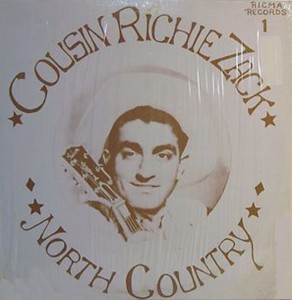 Katmat Records (1980s – 1990s)
Z-100 The Best Of Eddie Zack's Hayloft Jamboree
A greatest hits collection from all phases of their career
Z-101 Pickin' & Singin' with Eddie Zack and the Hayloft Jamboree
Greatest hits volume 2
Z-102 Saturday Night Dance Party with The Zack Family
Greatest hits volume 3
Z-103 Precious Memories featuring Richie, Babs & Maril
Gospel recordings
Z-104 The Columbia And Decca Album by The Zack Family
A complete collection of their original major label recordings in the 1950s
Z-105 Songs OF Faith And Inspiration featuring Richie Zack
Gospel recordings
Z-106 Eddie Zack's Hayloft Jamboree Live In Concert
Z-107 Christmas Wishes from Richie Zack, Babs, Maril & The Kinfolk
Z-108 Blue Shadows On The Trail – The Zack Family
B-sides & rarities
The remaining titles in the original run of Katmat albums were released without catalog numbers
Babs and Maril – Memory Lane
Classic sides featuring the Zack sisters on lead vocals
The Zack Family – Blue Spanish Eyes
Later independent recordings circa 1980s
Eddie Zack and the Hayloft Jamboree – Country Classics
1980s recordings of some of the band's biggest hits
Eddie Zack's Hayloft Jamboree – Family Tradition
Airchecks of live performances from 1940s-1950s radio broadcasts remastered from acetates
The Zack Family – Eddie, Richie, Babs and Maril
Career-spanning previously unreleased studio recordings
The Zack Family – Simply Country
Airchecks of live radio broadcasts 1960s remastered from tape
Richie Zack In Nashville
A previously unreleased solo album recorded in Nashville in the 1970s