2017 INDUCTEE
Jazz, Music Educator
FRANK POTENZA
Coming soon…
Members of the Historical Archive Committee of the Rhode Island Music Hall of Fame are researching and documenting the career of this great Ocean State musician. When work is completed, we will be posting an in-depth biography and complete discography on this page. In the meantime, please enjoy this introduction to Frank's career and a mini-documentary about his induction into the Hall of Fame produced and directed by our friends Norm Grant and Dr. Tom Shaker at Pete & Buster Films.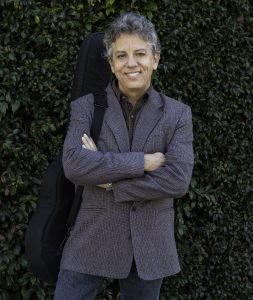 FRANK POTENZA: AN INTRODUCTION
by Rick Bellaire
After graduating from the Berklee College of Music in 1972, Providence jazz guitarist Frank Potenza launched parallel careers as a performer and an educator appearing regularly with the area's top jazz and blues artists and teaching at the Rhode Island School of Music. He moved to California in 1980 and quickly established himself on the West Coast scene performing and/or recording with a "who's who" of jazz greats including his mentor, Joe Pass, and legendary pianist Gene Harris and teaching at Long Beach City College. His career skyrocketed after signing with TBA Records in 1986. His first four albums hit Billboard's Contermporary Jazz chart with two, Sand Dance and Soft & Warm, reaching the Top Ten. At the time of his induction into the Hall of Fame, Frank remains a dedicated music educator and is Chair of the USC/Thornton Jazz Guitar Program. His latest album, For Joe – his homage to Joe Pass – received a four star review in Downbeat.
FRANK POTENZA OFFICIAL WEBSITE
https://frankpotenza.com/home