2015 INDUCTEE
Sideman
BASS HITS AND HOME RUNS
Thirty-Five Years Locked Into the Groove with
MARTY BALLOU
by Bruce McCrae & Rick Bellaire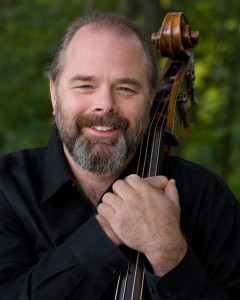 Coming up through the ranks in the final decades of the 20th century, Marty Ballou kept an open mind and opened his ears to the joys and possibilities of every musical opportunity which presented itself to the young bassist. He became equally adept on the upright bass violin and the electric bass guitar and his massive body of work, in the studio and on the stage, stands him alongside the all-time greats on both instruments. Marty is at the top of the list of New England's "first-call" bassists. Highly regarded nationally for his work in the jazz and blues fields, he is equally at home in other genres including folk, rock, pop and Americana.
Marty Ballou was born in 1960 and grew up in South Kingstown, Rhode Island, graduating from high school in 1978. He later attended Northeastern University and the University of Rhode Island. He studied improvisation with trombonist/educator Hal Crook, jazz guitar with Leo Amitrano, classical guitar with Vincent Fraioli, and acoustic bass with John Lockwood. His professional career began in 1979.
From 1986 to 1992, he performed and recorded with the vocal jazz group, The Ritz (formerly known as Puttin' On The Ritz), playing at the Fresno and Helsinki Jazz Festivals, the Newport Jazz Festival in Japan, and numerous clubs throughout the world. While with The Ritz, Marty recorded six internationally released albums, one for Pausa Records and five for Denon Records including their 1987 self-titled release featuring tenor sax giant Frank Wess and their final album, Almost Blue, with legendary trumpet and flugelhorn player Clark Terry.
Beginning in 1992, Marty spent the next five years as a member of the Duke Robillard Band, recording several albums behind the guitar legand and touring the U.S., Europe, Australia and South America.
Like most of his contemporaries on the southern New England blues scene, Marty served a stint with Roomful of Blues beginning in 1998. He formed the final Roomful rhythm section to feature original drummer John Rossi and recorded one of the band's most celebrated albums, There Goes The Neighborhood.
Beginning in 2002, he worked with John Hammond's Wicked Grin Band, making three albums with him and touring internationally.
In 2008, he joined Peter Wolf's Midnight Travelers band and played on their 2010 album, Midnight Souvenirs.
Despite his far-flung travels and recording commitments, Marty has retained a strong presence on the local music scene. He enjoyed a decade-long musical partnership with the late guitarist Thom Enright and he has recorded three albums with world-renowned Grammy winning folk artist Bill Harley.
He appears frequently with guitar virtuoso Bobby Keyes along with his most frequent rhythm section partner, drummer Marty Richards. The three musicians are also members of The Mystix, dubbed by The Boston Phoenix "a roots supergroup."
In addition to performing in tandem with Keyes and The Mystix as well as with Duke Robillard, John Hammond and Peter Wolf, the Richards-Ballou team (affectionately known as "The Marties" on the Rhode Island scene) also provides backing for a host of other acts including jazz/blues artist Ursula George and The Young Adults.
Marty has also performed with an impressive list of southern New England jazz luminaries including Dick Johnson, Art Pelosi, Ted Casher, Herb Pomeroy, Hal Crook, Ed Tomassi, Bob Gullotti, Tony Zano, Artie Cabral, Paul Broadnax, Scott Hamilton and Mike Renzi.
In the studio, he has lent his special talents on his instrument, as an arranger, and as a producer to dozens of other performers including Jay McShann, Herb Ellis, Martin Sexton, Cheryl Wheeler, Kenny White, Chris Flory, David Maxwell, Jerry Portnoy, Dan Moretti, and the North Star Jazz Ensemble.
Marty's vast discography includes the following albums:
The Ritz with Frank Wess (1987)
Almost Blue – The Ritz with Clark Terry (1991)
Spoon's Blues – Jimmy Witherspoon (1995)
Duke's Blues – Duke Robillard (1996)
Rhythm and Bones – Porky Cohen (1996)
Hootie's Jumpin' Blues – Jay McShann (1997)
There Goes the Neighborhood – Roomful of Blues (1998)
Sweet and Swingin' – Sugar Ray Norcia (1998)
Conversations in Swing Guitar – Duke Robillard and Herb Ellis (1999)
You Knock Me Out – Sax Gordon (2000)
Homage – Greg Piccolo (2001)
Blow, Mr. Low – Doug James (2001)
Down in the Mood Room – Jerry Portnoy (2002)
Blues in My Heart – Chris Flory (2003)
Intoxicated – Thom Enright (2005)
Max Attack – David Maxwell (2005)
Everything is One – Pete Francis (2006)
I Wanna Play – Bill Harley (2007)
Tres Muse – Dan Moretti (2009)
Comfort in the Static – Kenny White (2010)
On the eve of his induction into the Rhode Island Music Hall of Fame on April 26, 2015, Marty had this to say about his career:
"I have been a working musician for the last 35 years. I've devoted my creative energy to understanding and performing all styles of American music. Every day I learn something new and I am blessed with the privilege of sharing it. The music never lets me down."