2015 INDUCTEE
Pop/Movie Musicals
NELSON EDDY
RHODE ISLAND'S GREATEST ENTERTAINER
by Allan "Big Al" Pavlow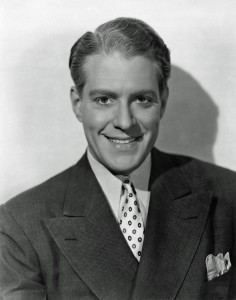 Nelson Eddy was born at 96 Hartford Avenue in the Olneyville section of Providence, Rhode Island, on June 29, 1901 and died on March 6, 1967 after suffering a cerebral hemorrhage while performing on the stage at the Sans Souci Hotel in Palm Beach, Florida.
In almost sixty-six years, of which 40 was spent in show business, Nelson Eddy hit every single mark on his way to establishing himself as one of the greatest entertainers in the first half of the Twentieth Century.
He has three stars on the Hollywood Walk of Fame, one each for radio, records and film. He has three Gold Records, his footprints are imbedded in the cement at Grauman's Chinese Theatre and he was invited to sing at FDR's third inauguration in 1941.
His appearances on the concert stage, in night clubs, on radio and later on television added to his illustrious career, but it was the silver screen that turned Nelson Eddy into a certified superstar in the 1930s and early 1940s.
NELSON EDDY'S MUSICAL ROOTS
His mother, Caroline Isabel (nee Kendrick) was a church soloist and his grandmother, Caroline Netta Ackerman Kendrick was an oratorio singer. His father, William Darius Eddy, moonlighted at the Providence Opera House as a stagehand and drummer, sang in a church choir and performed in productions such as Gilbert & Sullivan's "H.M.S. Pinafore."
Nelson began singing at an early age, at first in church choirs and, in 1909 at age eight, he made his debut as a soloist with the U.S. Army's Coast Artillery Band at Fort Greble on Dutch Island in Narragansett Bay off the coast of Jamestown, Rhode Island.
After his debut with the brass band, Nelson had occasional opportunities to appear at the Providence Opera House until he was 14 years old at which time his parents divorced and he was forced to drop out of school when his mother moved to Philadelphia.
EARLY STAGES
Nelson Eddy was a student of opera, and his greatest teachers were the phonograph records of baritones like Titta Ruffo, Antonio Scotti and Reinald Werrenrath. He did his best to imitate them. His first professional break came with an appearance in a society theatrical "The Marriage Tax" in 1922. Although his name had been omitted from the program, his performance was noted by the press.
HIS OPERA PHASE
In 1924, he appeared with the Philadelphia Opera Society after winning top prize in a competition. Alexander Smallens, the musical director of the Philadelphia Civic Opera, later assistant conductor of the Philadelphia Orchestra, took an interest in Eddy's career and coached him. During the late Twenties, he appeared with the Philadelphia Civic Opera Company and the Savoy Company (devoted entirely to Gilbert & Sullivan). He studied with David Scull Bispham and William Vilonat.
Among his credits, he appeared in the only American performance of Feuersnot by Richard Strauss in December 1927, the first American performance of Strauss's "Ariadne auf Naxos" with Helen Jepson in November 1928, the second American performance of Alban Berg's "Wozzeck" under Leopold Stokowski in November 1931 and in the world premiere of "Maria egiziaca" (Mary in Egypt) at Carnegie Hall on March 17 and 18, 1932, conducted by the composer Ottorino Respighi when conductor Arturo Toscanini fell ill at the last minute. Eddy's final opera performances were three with the San Francisco Opera in 1934, when he was still "unknown." Possibly his last was Amonasro in "Aida" in November, 1934.
NELSON EDDY IN HOLLYWOOD
There's no substitute for being in the right place at the right time. In this instance, the right place and time was a sold-out concert in Los Angeles on February 28, 1933. Eddy was a last-minute substitute for famed diva Lotte Lehmann and his performance drew eighteen curtain calls! Hollywood was impressed and film offers rolled in. Eddy thought of himself as a concert performer first and foremost and the decision to shift gears from stage to screen wasn't an easy one, but he knew that being seen on that big screen could only enhance his concert career. He was proven right when his concert fee skyrocketed from $500 to $10,000 per performance.
HANDLEBARS (MGM) (short)
Released August 26, 1933
Directed by Jules White
Eddy is uncredited in a humorous history of the bicycle since 1819. He sings "Daisy Bell" (aka "A Bicycle Built for Two") off screen in the soundtrack. He is described as an "opera baritone with a wholesome masculinity and a resounding voice."
BROADWAY TO HOLLYWOOD (MGM)
Released September 1, 1933
Directed by Willard Mack and uncredited Jules White
When MGM studio boss, Louis B. Mayer signed Eddy to a 7-year contract he had him test for "Broadway to Hollywood". The newcomer had a record fifty-eight takes before the exasperated test director gave up. Despite this, Mayer ordered him used for a singing-only sequence in the film. An uncredited Eddy sings "In the Garden of My Heart" in the story of a vaudeville family. The cast includes Frank Morgan, Mickey Rooney, Jimmy Durante and an uncredited Moe and Curly Howard.
DANCING LADY (MGM)
Released November 24, 1933
Directed by Robert Z. Leonard
Nelson Eddy appears as himself as do Fred Astaire and Ted Healy & The Stooges. Eddy sings one song,"(That's the) Rhythm of the Day." The cast includes Clark Gable, Joan Crawford and Franchot Tone.
STUDENT TOUR (MGM)
Released October 5, 1934
Directed by Charles Reisner
Nelson plays a singer and sings one song, "The Carlo, " in this film about a college rowing team and a troublesome professor. The cast includes Jimmy Durante.
NELSON EDDY & JEANETTE MacDONALD: BREAKTHROUGH
Jeanette MacDonald had already starred in a number of popular films including "The Love Parade" (1929), "The Vagabond King" (1930), "Monte Carlo" (1930), "Love Me Tonight" (1932) and "The Merry Widow" (1934). Dennis King co-starred in "The Vagabond King", Jack Buchanan in "Monte Carlo" and Maurice Chevalier in the other three. Nelson Eddy was chosen to be her co-star in her next film, "Naughty Marietta."
NAUGHTY MARIETTA (MGM)
Premiered March 8, 1935 in Washington, D.C.
Directed by W.S. Van Dyke and Robert Z. Leonard (both uncredited)
French princess Marietta (Jeanette MacDonald) avoids a pre-arranged marriage by splitting to New Orleans where she assumes a new identity and finds a new true love Captain Richard Warrington (Nelson Eddy). Other cast members include Frank Morgan, Elsa Lanchester and Douglass Dumbrille.
SONGS
Ah, Sweet Mystery of Life (MacDonald-Eddy) his first gold record
Chansonette (MacDonald)
I'm Falling in Love with Someone (Eddy)
Italian Street Song (MacDonald-Eddy)
Neath the Southern Moon (Eddy)
Owl and the Polecat, the (Eddy)
Prayer (MacDonald-Delos Jewkes)
Tramp Tramp Tramp (Eddy)
From a Variety review: "Picture marks the full-length debut of Eddy who reveals a splendid and powerful baritone with the distinct asset for the camera of not looking breathy. Eddy is a tall, nice-looking boy who previously, briefly appeared in a couple of Metro films. In this picture he sings so often that the script calls for his kidding himself about it."
This filmed version of Victor Herbert's 1910 operetta was the surprise hit of the year and turned the MacDonald-Eddy team into overnight box-office dynamite. It was nominated for Best Picture, won best sound recording for Douglas Shearer, voted one of the top ten pictures by the New York film critics and was selected to the National Film Registry in 2004.
ROSE-MARIE (MGM)
Premiered January 28, 1936 in Miami Beach, Florida
Released January 31, 1936
Directed by W.S. Van Dyke
Opera singer Marie de Flor (MacDonald) searches for her fugitive brother in the Canadian wilderness and meets Mountie Sgt. Bruce (Nelson Eddy) who is also looking for her brother. Cast includes Reginald Owen, Allan Jones, Jimmy Stewart and Alan Mowbray. This film was made originally as a silent in 1928 with Joan Crawford, and again in 1954 with Ann Blyth, Howard Keel and Fernando Lamas.
SONGS
Dinah (MacDonald)
Indian Love Call (MacDonald-Eddy)
Just for You (Eddy)
Pardon Me Madame (MacDonald)
Rose Marie (Eddy)
Some of These Days (MacDonald, Gilda Gray)
Song of the Mounties (Eddy)
MAYTIME (MGM)
Released March 26, 1937
Directed by Robert Z. Leonard
An opera singer Marcia Morney (MacDonald) in Napoleon III's Paris is at the center of a romantic triangle with American Paul Allison (Eddy) and her mentor Nicolai Nazaroff (John Barrymore). This was the top-grossing film (worldwide!) of the year.
SONGS
Carry Me Back to Old Virginny (MacDonald-Eddy)
Czaritza (MacDonald-Eddy)
Ham and Eggs (Eddy)
Le Régiment de Sambre et Meuse (MacDonald)
Les filles de Cadix (MacDonald)
Nobles seigneur, salut (MacDonald)
Plantons da Vigne (Eddy)
Santa Lucia (MacDonald-Eddy)
Une Dame, Noble et Sage (MacDonald)
Vive l'opera (Eddy)
Will You Remember (Sweetheart) (MacDonald-Eddy) (gold record)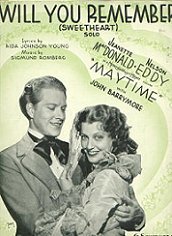 ROSALIE (MGM)
Released December 24, 1937
Directed by W.S. Van Dyke
After MacDonald's engagement and marriage to Gene Raymond, the screen team split but neither this film nor MacDonald's solo effort "The Firefly" equaled the gross of their films together and they were soon reunited. West Point cadet Dick Thorpe (Eddy) falls for Rosalie (Eleanor Powell) who is really a princess from an Eastern European kingdom. Also in the cast:Frank Morgan, Edna May Oliver, Ray Bolger and Illona Massey.
SONGS
Anchors Aweigh (Eddy-Bolger)
The Caisson Song (Eddy)
Gaudeamus Igitur (Eddy)
Goodbye Forever (addio) (Eddy)
In the Still of the Night (Eddy)
I've a Strange New Rhythm in My Heart (Marjorie Lane dubbing for Powell)
M'appari Tutt'amor (Eddy)
Oh Promise Me (Eddy)
On, Brave Old Army Team (Eddy-Bolger)
Rosalie (Eddy)
Spring Love is in the Air (Massey)
To Love or Not to Love (Eddy-Bolger)
Who Knows? (Eddy)
Why Should I Care (Morgan as by a ventriloquist dummy)
GIRL OF THE GOLDEN WEST (MGM)
Released March 18, 1938
Directed by Robert Z. Leonard
Mary Robbins (MacDonald), owner of a saloon is in the middle of a romantic triangle between sheriff Jack Rance (Walter Pidgeon) and masked bandit Ramirez (Eddy) who masquerades as "Lt. Johnson". Mary and the bandit knew each other as children, were separated but now…
Also in the cast: Leo Carillo, Buddy Ebsen, Noah Beery and Jeanne Ellis (Mary as a young girl).
SONGS
Ave Maria (MacDonald)
Liebestraum (Dream of Love) (MacDonald)
Mariache (MacDonald-Eddy)
Shadows on the Moon (Jeanne Ellis, reprised by MacDonald)
Soldiers of Fortune (Noah Berry-Bill Cody Jr. – reprised by Eddy)
Sun-up to Sundown (Ellis)
The West ain't Wild Anymore (Ebsen)
Who are We to Say (Eddy)
The Wind in the Trees (MacDonald)
SWEETHEARTS (MGM)
Premiered December 22, 1938 in New York City
Released December 30, 1938
Directed by W.S. Van Dyke and uncredited Robert Z. Leonard
Show-biz couple Gwen Marlowe (MacDonald) and Ernest Lane (Eddy) experience the ups and downs of their romantic relationship with music from Victor Herbert's 1913 stage score. Also in the Cast: Frank Morgan, Ray Bolger, Florence Rice and Mischa Auer. Dorothy Parker wrote a modern story to replace the antiquated original. At the Academy Awards, Oliver T. Marsh and Allen M. Davey won an honorary award for color cinematography (this was MGM's first full-length 3-strip Technicolor film). Douglas Shearer was nominated for best sound recording.
SONGS
Every Lover Must Meet His Fate (Eddy – reprised by Eddy-MacDonald)
Game of Love (MacDonald-Eddy)
In the Convent They Never Taught Me That (MacDonald-Betty Jaynes)
Keep It Dark (MacDonald-Eddy + cast members)
Little Gray Home in the West (MacDonald-Eddy)
Mademoiselle (MacDonald-Douglas McPhail)
Message of the Violet (MacDonald-Eddy-Gene Lockhart)
On Parade (Eddy)
Pretty as a Picture (MacDonald-Eddy)
Summer Serenade (MacDonald)
Sweethearts (MacDonald-Eddy)
Wooden Shoes (sung and danced – McDonald-Bolger)
LET FREEDOM RING (MGM)
Released February 24, 1939
Directed by Jack Conway
Ben Hecht wrote the original story and screenplay for this story set in 1868. Steve Logan (Eddy) is an undercover government agent trying to get the goods on railroad tycoon Jim Knox (Edward Arnold). Steve becomes a target when Jim discovers his identity. The Cast includes: Virginia Bruce, Victor McLaglen and Lionel Barrymore.
SONGS
America, My Country 'Tis of Thee (Eddy-Bruce)
Dusty Road (Eddy)
Home, Sweet, Home (Eddy)
Love Serenade (Eddy-Bruce-Maude Allen) all uncredited
Pat, Sez He (Eddy)
Ten Thousand Cattle Straying (Eddy)
When Irish Eyes are Smiling (Eddy)
Where Else but Here (Eddy)
BALALAIKA (MGM)
Premiered December 15, 1939
Released December 29, 1939
Directed by Reinhold Schunzel
In this film based on a 1936 English operetta by George Posford and Bernard Grun, a Russian prince in disguise, Peter Karagin (Eddy) romances singer/revolutionary Lydia Marakova (Illona Massey) against the backdrop of a Russian revolution. The cast includes Charles Ruggles and Frank Morgan.
SONGS
At the Balalaika (Eddy-Massey-Walter Wolf King)
Carmen – excerpts (Eddy-Massey)
Ochi Tchornya (Eddy)
Ride Cossack Ride (Eddy)
Silent Night (Stille Nacht) (Eddy)
Tanya (Massey)
NEW MOON (MGM)
Released June 28, 1940
Directed by Robert Z. Leonard and uncredited W.S. Van Dyke
"New Moon" is the ship carrying Marianne de Beaumaniour (MacDonald) and Charles (Eddy) from Paris to New Orleans in the film based on Sigmund Romberg's 1927 Broadway hit. Marianne is a plantation owner and Charles is to be one of its slaves… but, intrigue and, of course, romance unfold. Also in the cast: Mary Boland and George Zucco.
SONGS
La Marseillaises (MacDonald singing – Eddy whistling)
Lover, Come Back to Me (MacDonald, then MacDonald-Eddy)
Marianne (briefly MacDonald-Eddy)
Ombra Mia Fu (MacDonald)
One Kiss (MacDonald)
Paree (Stranger in Paris) (MacDonald)
Shoes (Eddy)
Softly, as in a Morning Sunrise (Eddy)
Stout-Hearted Men (Eddy)
Wanting You (MacDonald-Eddy)
The Way They Do It in Paris (MacDonald)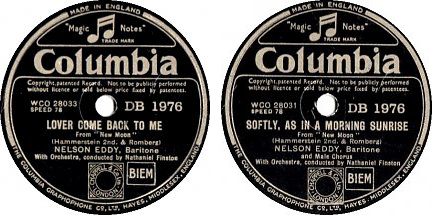 BITTER SWEET (MGM)
Released November 8, 1940
Directed by W.S. Van Dyke
Sarah Millick (MacDonald) marries her music teacher Carl Linden (Eddy) in Vienna. His attempt to get his operetta produced leads to tragedy and triumph in this film version of Noel Coward's 1929 operetta. Also in the cast: George Sanders and Ian Hunter.
SONGS
Dear Little Café (MacDonald-Eddy)
If You Could Only Come with Me (MacDonald-Eddy)
I'll See You Again (MacDonald-Eddy)
Kiss Me (MacDonald)
Ladies of the Town (MacDonald)
Love in any Language (MacDonald – partly dubbed by Harriet Lee)
Tokay (Eddy)
What is Love (MacDonald-Eddy)
Zigeuner (The Gypsy) (MacDonald)
THE CHOCOLATE SOLDIER (MGM)
Premiered October 31, 1941 New York City
Released November, 1941
Directed by Roy Del Ruth
In this musical adaptation of Ferenc Molnair's "The Guardsman", Maria Lang (Rise Stevens) and Karl Lang (Eddy) are a Viennese singing duo. She's flirtatious, he's jealous. He masquerades as a Russian guardsman to test her loyalty. The cast also includes: Nigel Bruce and Florence Bates.
SONGS
The Chocolate Soldier (Stevens-Eddy)
Evening Star (from Tannhauser) (Stevens), (Eddy)
Forgive (Eddy)
Mon Coeur S'ouvre a Ta Voux (Stevens)
My Hero (Stevens-Eddy)
Seek the Spy (Jack "Tiny" Lipson)
Song of the Flea (Eddy)
Sympathy (Stevens-Eddy)
Thank The Lord the War is Over (Stevens-Eddy)
Tiralala (Stevens)
While My Lady Sleeps (Eddy)
I MARRIED AN ANGEL (MGM)
Released July 9, 1942
Directed by W.S. Van Dyke and uncredited Roy Del Ruth
With this film, the dynamic Jeanette MacDonald and Nelson Eddy on-screen romance finally came to an end. After a falling-out with studio head, Louis B. Mayer, Nelson Eddy bought out his MGM contract (one film remaining) and signed a million dollar contract with Universal Pictures.
In this film adapted from the 1938 Rodgers and Hart stage musical, Anna (MacDonald) works at Count Willie Palaffi's (Eddy) bank in Budapest. She digs him but he doesn't know she exists. That will change at Willie's costume birthday party. Also in the cast: Edward Everett Horton, Binnie Barnes, Reginald Owen and Mona Maris.
SONGS
Aloha Oe (MacDonald)
Angus Purs (MacDonald)
But What of Truth (MacDonald-Barnes)
Hey Butcher (Eddy)
I Married an Angel (Macdonald), (MacDonald-Eddy)
I'll Tell the Man in the Street (Eddy)
Les Tringles des Sistres Tintaient (Gypsy Song) (MacDonald) (Eddy)
May I Present the Girl (Eddy)
Now You've Met the Angel (MacDonald-Eddy)
Spring is Here (MacDonald-Eddy)
Tira Lira La (a lot of cast members, but NO MacDonald and Eddy)
To Count Palaffi (There Comes a Time) (Horton)
A Twinkle in Your Eye (MacDonald-Barnes)
PHANTOM OF THE OPERA (Universal Pictures)
Premiered August 12, 1943 Los Angeles
Released August 27, 1943
Directed by Arthur Lubin
Operatic soprano Christine Dubois (Susanna Foster) is at the center of a romantic triangle + 1 between violinist Erique Claudin (Claude Rains), baritone Anatole Garron (Eddy) and police inspector Raoul Daubert (Edgar Barrier). A disfigured Claudin becomes the phantom and bad things happen. Also in the cast: Leo Carrillo, Jane Farrar, Nicki Andre and Hume Cronyn.
SONGS
Amour et Gloire (Eddy-Foster-Farrar) (Farrar is dubbed by Sally Sweetland)
Le Prince Masque du Caucasus (Eddy-Andre)
Lullaby of the Bells (Foster-Eddy)
Martha (Eddy-Foster-Farrar) (Farrar is dubbed by Sally Sweetland)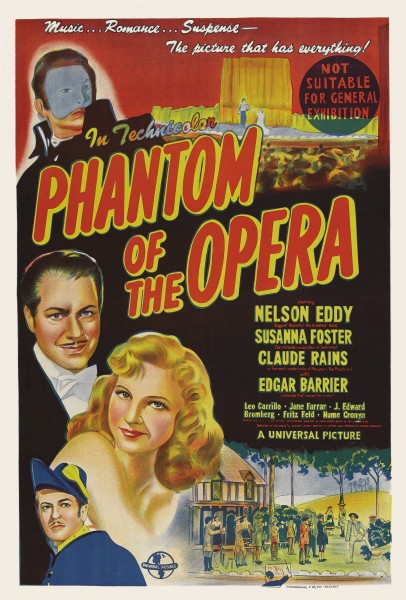 KNICKERBOCKER HOLIDAY (United Artists)
Released March 17, 1944
Directed by Harry Joe Brown
In 1650 New Amsterdam, it's good newspaperman Brom Broeck (Eddy) vs. bad Governor "Peg-leg" Stuyvesant (Charles Coburn). Their conflict is heightened when the governor meets Brom's love interest Tina Tienhoven (Constance Dowling). The cast includes: Shelley Winters and Ernest Cossart.
SONGS
September Song (Coburn)
Be Not Hasty, Maiden Fair
Holiday (music-T. Paxson, lyrics by Nelson Eddy (Johnnie "Scat" Davis)
It Never was You
Jail Song (Oh Woe) Lyrics by Nelson Eddy and Forman Brown
Let's Make Tomorrow Today (Eddy)
Love Has Mad This Such a Lovely Day (Dowling-Eddy-Winters)
The One Indispensable Man (Coburn-Cossart)
One More Smile (Dowling-Eddy)
Sing Out (Eddy)
There's Nowhere to Go but Up (Eddy)
Zuyder Zee
MAKE MINE MUSIC (RKO)
Premiered April 20, 1946 New York City
Directed by Robert Cormack, Clyde Geronimi, Jack Kinney, Hamilton
Luske and Joshua Meador
This Walt Disney animation features contemporary music by a cast of popular music stars including Dinah Shore, Benny Goodman and The Andrews Sisters. All of the songs in "The Whale Who Sung at the Met" segment were sung by Nelson Eddy, as well as all the speaking voices.
SONGS
The Whale Who Wanted to Sing at the Met
Shortnin' Bread
Largo al factotum
Chi mi freno in tal momento?
Pseudo I Pagliacci Passage' (written and sung as tenor by Eddy)
Tristan und Isolde excerpt (sung as tenor and soprano by Eddy)
Mefistofele excerpt (sung as bass by Eddy)
Mag der Himmel Euch Verbegen (sung as tenor and two baritones by Eddy)
NORTHWEST OUTPOST (aka "End of the Rainbow") (Republic Pictures)
Released June 25, 1947
Directed by Allan Dwan
This was Nelson Eddy's final film.
At a Russian trading fort in California circa 1830, former Army Captain Jim Laurence (Eddy) woos Natalie Alanova (Illona Massey) the wife of wrongly imprisoned Count Igor Savin (Joseph Schildkraut). Also in the cast: Elsa Lanchester and Hugo Haas.
SONGS
Nearer and Dearer (Eddy)
Love is the Time (Eddy)
Tell Me with Your Eyes (Eddy)
Raindrops on a Drum (Eddy)
One More Mile to Go (Eddy)
Russian Easter Hymn (Eddy)
(These tracks were issued on Columbia Records 78 RPM set MM-690)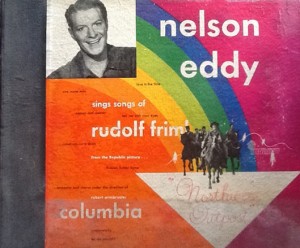 WILLY, THE OPERATIC WHALE (RKO)
Released August 17, 1954
Directed by Clyde Geronimi and Hamilton Luske
This was a 15 minute short feature pulled from the 1946 film Make Mine Music. The original segment was titled "The Whale Who Wanted to Sing at the Met." Using a technique based on experiments with his home recording equipment, Eddy was able to sing sextets with himself on the soundtrack, providing all the voices from bass to soprano.
HIS RECORDINGS
Although Nelson Eddy was signed to MGM, the giant film studio did not yet have its own record company, so he signed with Victor (1935-1938) and then a long-term contract with Columbia (1939-1957).
According to Joel Whitburn's Pop Memories, "Ah, Sweet Mystery of Life" (Victor 4281), "I'm Falling in Love with Someone", "When I Grow Too Old to Dream" and "Indian Love Call" (with Jeanette MacDonald) were Top Ten hits. "Indian Love Call" is credited with selling a million copies.
Recordings on 78 RPM records concurrent with his MGM film career
VICTOR RECORDS
Recorded in New York, March, 1935
4280 Tramp, Tramp, Tramp Along the Highway/I'm Falling in Love with Someone
4281 Ah! Sweet Mystery of Life/'Neath the Southern Moon
Recorded in Hollywood, June, 1935
4284 Auf Wiedersehen/Love's Old Sweet Song
4285 When I Grow too Old to Dream/You are Free
Recorded in Hollywood, December, 1935
4305 The Mounties/Rose Marie
4313 Dusty Road/Through the Years
Recorded in Hollywood, September,1936
4323 Indian Love Call (w/Jeanette MacDonald)/Ah! Sweet Mystery of Life (w/Jeanette MacDonald)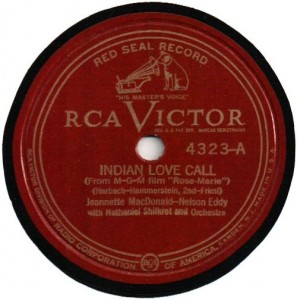 4329 Farewell to Dreams (w/Jeanette MacDonald)/Will You Remember? (w/Jeanette MacDonald)
Recorded in Hollywood, June, 1937 (1), July, 1937 (2)
4366 Trees/By the Waters of Minnetonka
Recorded in Hollywood, June, 1937
4367 Smilin' Through/A Dream
4368 Thy Beaming Eyes/Sylvia
4369 At Dawning/A Perfect Day
4370The Rosary/Oh Promise Me
4371 Deep River/The Hills of Home
Recorded in New York, March, 1938
4388 Sun up to Sundown/Who are We to Say?
4389 Soldiers of Fortune/Senorita
COLUMBIA RECORDS
Recorded in New York, August,1939
17161-D Less than the Dust/Temple Bells
17162-D 'Till I Wake/Kashmiri Song
Recorded in Los Angeles, August, 1939
17171-D None but the Lonely Heart/Pilgrim's Song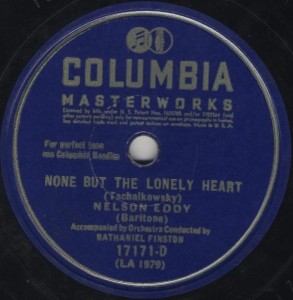 Recorded in New York, September, 1939
17172-D Ride, Cossack/Song of the Volga Boatman
Recorded in New York, October, 1939
17173-D At the Balalaika/The Magic of Your Love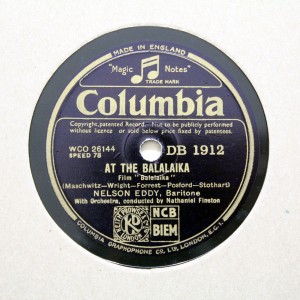 Recorded in New York, August, 1940
4240-M Softly, as in a Morning Sunrise/Lover, Come Back to Me
4241-M Stout-Hearted Men/Wanting You
17217-D The Star-Spangled Banner/America (My Country, 'Tis of Thee)
70349-D Chanson du Toreador/Vision Fugitive
Recorded in Hollywood, October, 1940
4263-M Tokay/I'll See You Again
4264-M Dear Little Café/The Call of Life/If You Could Only Come with Me
Recorded in Hollywood, November, 1940
4269-M Adeste Fidelis (O Come, All Ye Faithful)/Silent Night, Holy Night
71189-D Evening Star/Jerum! Jerum! (Cobbler's Song)
17292-D The Blind Ploughman/Tomorrow
4271-M My Object All Sublime/Oh! A Private Buffoon
4272-M My Name is John Wellington Wells/The Lord Chancellor's Song
4273-M The Major-General's Song/I am Monarch of the Sea/When I was a Lad
Recorded in Hollywood, October, 1941
4281-M My Hero (w/Rise Stevens)/Sympathy (w/Rise Stevens)
4282-M While My Lady Sleeps/Ti-Ra-La-La
4283-M The Chocolate Soldier (w/Rise Stevens)/Forgive (w/Rise Stevens)
Recorded in Hollywood, January, 1942
17309-D Don Juan's Serenade/Danse Macabre
17312-D Song of the Flea/Child's Evening Prayer
17328-D Trade Winds/Mother Carey
Recorded in Hollywood, January, 1942 (2), February, 1942 (1)
17329-D Shortnin' Bread/Water Boy
Recorded in Hollywood, January, 1942
17330-D Boots/Route Marchin'
17331-D Non piu andrai/Se vuol ballare
17366-D Gopak/Legend: Christ Had a Garden
71450-D Rolling in Foaming Billows/Now Heaven in Fullest Glory
Recorded in Hollywood, February, 1942
4294-M Little Work-a-Day World/I Married an Angel
4295-M Spring is Here/I'll Tell the Man in the Street
Recorded in Hollywood, January,1942
4296-M Good King Wenceslas/The First Nowell
AND…BEHIND THE SCENES – OFF THE SCREEN
From all accounts, an off-screen romantic relationship between Eddy and MacDonald existed from 1933 until her death in 1965. This, despite his 27-year marriage to Ann Denitz Franklin, previously married to film director Sidney Franklin and her marriage to Gene Raymond. MGM sound engineer John Kenneth Hilliard reported that Eddy and MacDonald "hated each other with a vengeance" but many other MGM staffers and show-biz insiders who knew them verified their long-term, behind-the-scenes affair.
Some sources claim her marriage to Gene Raymond was engineered by studio head, Louis B. Mayer to prevent a legal Eddy-MacDonald union which Mayer felt would end in annulment due to their temperaments.
At her funeral January 18, 1965 newsreel footage shows Eddy as the last person exiting the chapel as other celebrities offer him condolences. Whatever their relationship, it is clear that it was complex and that many people knew about some aspect of it. Much is revealed in a book, Sweehearts, by Sharon Rich published in 1994 and updated in 2001.
WAR YEARS
In October 19, 1939 he did a "war effort" concert with Leopold Stokowski for Polish war relief. He became an air raid warden, joined many stars for duty at the famous Hollywood Canteen. He broadcast for the armed forces and went on a 35,000 mile tour entertaining troops.
RADIO AND TELEVISION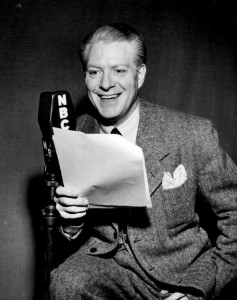 Here's a sample of some of his 600+ appearances on radio and TV, the first of which probably occurred on December 26, 1924 at radio station WOO in Philadelphia:
1936 – The Voice of Firestone
1936 – Vicks Open House
1937/9 – The Chase and Sanborn Hour
1947/8 – The Kraft Music Hall
1951 – The Alan Young Show guest appearances
November 12, 1952 – Jeanette MacDonald was the surprised "lifer" on "This is Your Life", hosted by Ralph Edwards. After a number of people, including her husband Gene Raymond, came forward, Nelson Eddy was saved for the final and biggest surprise.
November 30, 1952 – He guested on Ed Sullivan's "Toast of the Town."
May 17, 1953 – He appeared on "The Colgate Comedy Hour" hosted that week by Donald O'Connor.
June 7, 1953 – He was the mystery celebrity who "signed in" on "What's My Line?" – panelist Barbara Kelly found him out.
February 16, 1954 – He appeared on "The Bob Hope Show."
May 7, 1955 – He starred in a 90 minute live TV version of "The Desert Song" with his nightclub partner, Gale Sherwood.
October 8, 1956 – He was on Danny Thomas' "Make Room for Daddy."
January 3, 1957 – As a guest on "The Ford Show" he sang a duet with host Tennessee Ernie Ford on the current hit "Mutual Admiration Society" and soloed on "Two Different Worlds,"
September 25, 1957 – "The Big Record with Patti Page" marked the last television appearance of Jeanette MacDonald and Nelson Eddy as a team. They sang "Ah, Sweet Mystery of Life." Among the other guests: Stan Kenton, Webb Pierce and The Mills Brothers.
December 1, 1961 – He guested on "The Dinah Shore Chevy Show" with Milton Berle and Frankie Avalon.
December 31, 1966 – Nelson Eddy and Gale Sherwood sang 15 songs on Guy Lombardo's New Year's Eve telecast from the Waldorf-Astoria Hotel in New York City.
POSTSCRIPT
Most of his films (all of them with Jeanette MacDonald) are available on VHS or DVD. Many of his recordings have been re-issued on vinyl LP and CD and quite a few are available for download and streaming. Simply "Google" him and you'll find a wealth of material.
On April 26, 2015, Nelson Eddy was inducted into the Rhode Island Music Hall of Fame. His cousin, Harriet "Hari" Hultenius accepted on his behalf.
When one considers the totality of his phenomenal career and his worldwide popularity, which continues to this day, it is clear that Nelson Eddy ranks #1 among all entertainers who have touched the Ocean State.