THE STORY OF "BIG AL" PAVLOW & SUPER RECORDS
One of the most successful of the several Rhode Island-based independent record labels which sprang up during the Rock 'n' Roll era was Super Records operated by Allan "Big Al" Pavlow of Providence.
By 1965, Big Al was well-established as a mover and shaker on the Rhode Island music scene. As the owner/operator of an independent record shop, Big Al's Records in downtown Providence, Pavlow's combination of great ears and attention to detail had made him indispensable to both the local Top 40 radio stations and the national record labels. At this time, local stations were still compiling their own playlists and there was intense competition to "add" records before the other stations with an eye to "breaking" them in the region. Pavlow regularly consulted with WPRO and WICE, the area's two top stations, helping them to choose new sides based on his unerring taste in music and on early sales figures for new releases in his shop. Big Al's had also become a regular stop for promo men and salesmen from the major labels, in town visiting the stations and distributors, looking for contacts.
His first foray into the music side of the record business was when he helped secure a national distribution deal for Rhode Island singer-songwriter Cal Raye and his group The Class-Airs. In 1965, Raye was experiencing a good-sized local hit on his own Coquette Records label with his now-classic arrangement of "Lovely Lies" which had charted for The Manhattan Brothers featuring Miriam Makeba in 1956. Al intervened on his behalf to get the record picked up by a major label. Utilizing both his music business connections and his reputation as a guy "with ears," Al tipped off his connection at Laurie Records about the strong local sales of the record and, taking his cue, they decided to release it nationally on their subsidiary, Providence Records. The record continued its climb up the local charts (where it peaked at #6 on WPRO), however, it failed to move out of the southern New England market and Laurie declined to release any further sides. (The label's name, by the way, was coincidental – it was not instituted specifically for Cal's record; there had been previous releases on the imprint including The Mustangs' cover of "The Dartell Stomp").
But Pavlow believed in Cal's talents and decided to take matters into his own hands – he'd produce and release a record himself. In the spring of 1966, the two friends traveled to New York City to record at the legendary Bell Sound studios. Two of the sides cut at that session resulted in the first release on Al's new label, Super Records:
My Tears Start To Fall b/w You're My Lovin' Baby (Super S-101)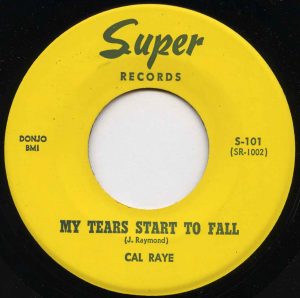 The record failed to make any waves, but Cal was well on his way to a successful career as an entertainer and disc jockey and others had begun to notice Big Al's efforts.
Walt Davis and Buzz O'Neil, managers of one the area's top teen bands, The Ascots out of Barrington in the East Bay area of Rhode Island, were looking to get a record out on their act. The Ascots were a classic, 1960s, five-piece Rock 'n' Roll band:
Rick Desilets – Lead vocal, rhythm guitar
Peter Mayhew – Lead guitar
Vin Medbury – Organ
Ted Medbury – Drums, occasional lead vocal
Mark Vinbury – Bass guitar
Davis and O'Neil asked WPRO-AM disc jockey Joe Thomas for advice and he suggested they visit Big Al at his shop. The two managers invited Al to check out the band at a WICE-sponsored "Battle of the Bands" at Crescent Park in East Providence and he accepted. (In fact, Pavlow had been sitting as a judge for this series of "battles", but recused himself for the evening to avoid any appearance of a conflict of interest.) Al liked what he heard and saw at the show and he began attending band rehearsals, narrowing down their playlist with an eye to recording. In the summer, he and the group repaired to Bell Sound for a lengthy recording date. Two sides from those sessions, both covers, were chosen as Al's next release in the Autumn of 1966, Super Records S-102: "Monkey See – Monkey Do", Sam The Sham & The Pharoahs' contribution to the teen-exploitation picture, "When The Boys Meet The Girls", backed with The Beatles' "You Can't Do That." The music directors at both major stations, WICE and WPRO, wound up deciding to go with the B-side. The record sold poorly, though it still managed to reach #37 on WICE (who also played the flip – the originally-intended A-side), but it had run its course by Christmas.
Encouraged by the reception for The Ascots' debut, Pavlow decided to forge ahead. With an overlong recording of Wilson Pickett's "In the Midnight Hour" and a too short version of "Mustang Sally" left in the can from the first session, Pavlow decided to edit the former into a 1 & 2 part single, the now legendary Super 103: Midnight Hour. As with many of the acts during the garage-rock era, "In The Midnight Hour" had become a staple of the band's live act. Based not so much on the Pickett version (which, although reaching #1 on Billboard's R&B chart in the summer of 1965, had peaked at only #21 on the Hot 100), The Ascots version referenced the "blue-eyed soul" approach of the version cut by The Young Rascals earlier in 1966 and included on their self-titled debut album. Realizing that no radio station at that time would play a five minute record – no matter how scorching the rendition – Al decided to cut the track in half with Parts 1 and 2 on the A and B sides.
Al received an initial shipment of 1,000 copies in January and got instant adds from both Providence Top 40's; it was clear that "Midnight Hour" 1 & 2 was on its way.  In the course of its 3+ months of activity, it managed to make the Top Ten on all key R.I. stations and spread into some parts of nearby Massachusetts. Although sales ran into the thousands, a slew of other regionally successful versions of "In the Midnight Hour" (Kit & the Outlaws, The Berry's, Dick Whittington's Cats, Michael & The Messengers, etc.) thwarted any possibility of getting a national label to pick it up. For instance, his contact at Laurie Records didn't want "to get into a label fight" over it. In the end all the other versions blocked each other from becoming a national hit.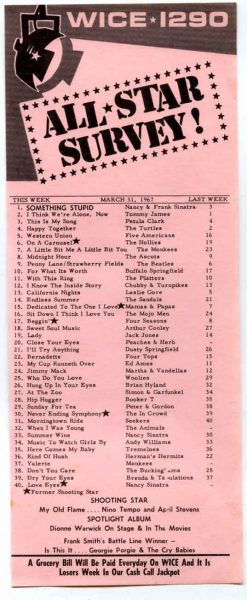 Al and the band stayed the course for two more releases but could not repeat the success of "Midnight Hour". They returned to Bell Sound for another session which resulted in the release of "Sookie Sookie", a cover of a Don Covay B-side, but the record failed to chart. (This release pre-dates the cover by Steppenwolf by more than a year.) They changed direction slightly for one last major session at Bell which resulted in a highly original, Vanilla Fudge-styled, slowed down arrangement of the Kinks' "I Need You" featuring drummer Ted Medbury on lead vocal. "I Need You" sold out its initial run just as it peaked at #10 on WICE eliminating the need for further pressings and guaranteeing that Super #105 would be not only be the rarest Super Record , but also one of the rarest of all charted Sixties garage band singles.
The Ascots sound had run its course. While the band took some time off to regroup and decide on a new direction for their music, Al continued on – producing records for The American Rebels and a co-production with friend Richard Schmeisser for Richard's band The Specktrum.
The Ascots, meanwhile, had undergone some major changes. By 1968, front man Rick Desilets and lead guitarist Peter Mayhew departed and the remaining three members carried on: the Medbury brothers, Ted on drums and Vin on keyboards, with Mark Vinbury switching to guitar while Vin covered the bass lines on the foot pedals of his Hammond B-3 organ. The trio had decided to pursue a new sound featuring original material and a more "underground" approach. Changing their name to The White Wash, Al and the band returned once again to Bell Sound and cut a great slice of psychedelia, releasing it this time on his brand-new imprint, Zowie Records. Apparently Super Records had also run its course.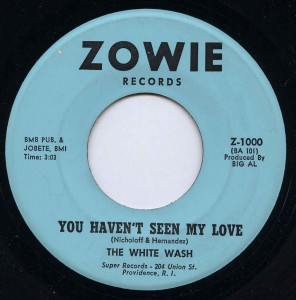 Although not much happened with the record, Al and the band continued refining the new sound and developed the makings of a "concept" album. The four friends returned again to Bell Sound with the new material (including 2 Vin Medbury originals) and cut an album whose centerpiece was a 21 minute, side-long take on Edgar Allan Poe's "The Raven" sung/recited over a medley of The  Electric Prunes' "I Had Too Much To Dream Last Night" and the theme song from the motion picture picture Rosemary's Baby. With a concept ahead of the curve in both the shift toward longer pieces of Rock music and in the added theatrical elements such as lighting and costuming, the band was attracting a rapidly-growing fan base in the area. With their unique and completed master as their calling card, they looked to grab the ultimate prize – the brass ring – for any "local" band: a deal with a nationally distributed label.
The band at this time underwent one final name change to Deviled Ham. Looking to demonstrate to prospective labels the visual appeal of this band, Al hired Cambridge, Massachusetts-based film maker Ken Brown to produce a 20 minute promo flick,  perhaps the VERY FIRST LONG-FORM CLIP to push an LP cut, and almost certainly the first financed totally out-of-pocket by an independent producer.  Neil Bogart, then presiding at Buddah Records, famous for its bubblegum singles hits, was looking to "hip up" the label by signing underground acts like Elephant's Memory and Eire Apparent. The Deviled Ham seemed to be a great fit and they were signed instantly.  "I Had Too Much to Dream Last Night" was ultimately issued on Buddah's subsidiary, Super-K 6003 in the Spring of 1970 with no single release to support it.  The success of some underground LPs (e.g. Arlo Guthrie's "Alice's Restaurant" ) led labels to believe that they could issue product with no Top 40 promotion and still score big. Alas, this tactic failed for most labels that tried it and as collectors of LPs from the early Seventies "Great Cutout Album Dump" will happily attest: yesterday's losers are tomorrow's rarities.
Today, Deviled Ham is listed at $25 in many price guides (higher if still sealed) while critics debate their merits or lack thereof.  Love 'em or hate 'em, they are official members of the FIRST ROCK BAND ERA and at the very least, it's an important piece of Rhode Island music history placing homegrown talent at the center of the storm in the late 1960s.
– Rick Bellaire, March, 2011
SUPER RECORDS/BIG AL PAVLOW DISCOGRAPHY
Super S-101 Cal Raye: My Tears Start To Fall b/w You're My Lovin' Baby
Super S-102 The Ascots: You Can't Do That b/w Monkey See – Monkey Do
Super S-103 The Ascots: Midnight Hour (Part 1) b/w Midnight Hour (Part 2)
Super S-104 The Ascots: Sookie-Sookie b/w Put Your Arms Around Me
Super S-105 The Ascots: I Need You b/w Knock On Wood
Super S-106 The American Rebels: Rebel Song b/w Rebel Theme
Somethin' Groovy SG-500 The Specktrum: Confetti b/w I Was A Fool
Zowie Z-1000 The White Wash: You Haven't Seen My Love b/w You Better Think It Over
Super K/Buddah LP SKS-6003: Deviled Ham: I Had Too Much To Dream Last Night