2018 INDUCTEE
Nightclub Owner, Concert Promoter
JOHN CHAN & CHAN'S EGGROLLS AND JAZZ
Coming soon…
Members of the Historical Archive Committee of the Rhode Island Music Hall of Fame are researching and documenting the career of this important Ocean State jazz, blues and folk impresario and dedicated promoter of American roots music. When work is completed, we will be posting an in-depth biography on this page. In the meantime, please enjoy this introduction to John's career and a mini-documentary about his induction into the Hall of Fame produced and directed by our friends Norm Grant and Dr. Tom Shaker at Pete & Buster Films.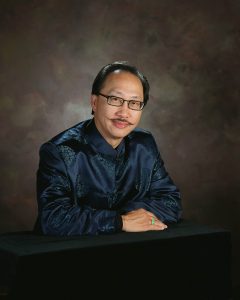 JOHN CHAN: AN INTRODUCTION
by Rick Bellaire
While a student at Providence College in the early 1970s, John Chan developed a deep appreciation of Jazz and Blues thanks to college radio and some record collecting friends. He'd been working at his parents' restaurant in Woonsocket, Chan's Fine Oriental Dining, since the age of 15 and began working there full time in 1974 after graduation. In 1977, he decided to add music to the menu and tested the waters with a performance featuring two local jazz legends, vocalist Jean McKenna O'Donnell and trombonist Sam Sherman. The evening was a success and the restaurant's name was amended with the legend: Eggrolls & Jazz. For the next decade, Chan presented performances by dozens of local and national jazz, blues and folk artists and after expanding in 1986, Chan's quickly became known as one of America's premier listening rooms. In addition to bringing in legends such as Dizzy Gillespie, Mose Allison, Pinetop Perkins and Leon Redbone, John remains committed to local talent and was instrumental in helping Rhode Islanders Scott Hamilton, Roomful of Blues, Duke Robillard and Greg Abate achieve international success. John is also an artist of note and has turned his lifelong passion for the visual arts into another facet of this Woonsocket jewel – the venue's walls serve as a gallery for his and others' music-related paintings and photographs.