2018 INDUCTEE
Music Educator, Author, Jazz
LLOYD KAPLAN
Coming soon…
Members of the Historical Archive Committee of the Rhode Island Music Hall of Fame are researching and documenting the career of this great Ocean State music educator and musician. When work is completed, we will be posting an in-depth biography on this page. In the meantime, please enjoy this introduction to Lloyd's career and a mini-documentary about his induction into the Hall of Fame produced and directed by our friends Norm Grant and Dr. Tom Shaker at Pete & Buster Films.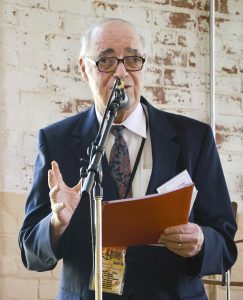 LLOYD KAPLAN: AN INTRODUCTION
by Rick Bellaire
After graduating from the University of Rhode Island, Lloyd S. Kaplan began his career as a music educator in Cranston Public Schools (1960-1965) during which time he earned his Master's Degree at Brown University. After a year at Scituate Junior-Senior High, he moved into the college level in 1966 at both Brown University Extension for two years and Community College of Rhode Island where he remained for 31 years. Professor Kaplan was instrumental in shaping the future of the music department at CCRI introducing the Jazz Curriculum as a degree program and courses in Twentieth Century Music, Introduction to Opera, Jazz History and others, and served as department Chair 1974-1980. He retired in 1995 as Professor Emeritus. Lloyd also persued a career as a professional clarinet and saxophone player in a wide variety of settings including the U.S. Army Band, the Tony Abbott Orchestra and his own jazz group, The Aristocats. In "retirement," he continues teaching at URI and Coastal Carolina University through the Osher Lifelong Learning Institute and continues playing with The Aristocats.