2015 INDUCTEE
Sideman
IT'S ALL ABOUT THAT BASS!
Seven Decades Holding Down the Groove with
BOB PETTERUTI
by Rick Bellaire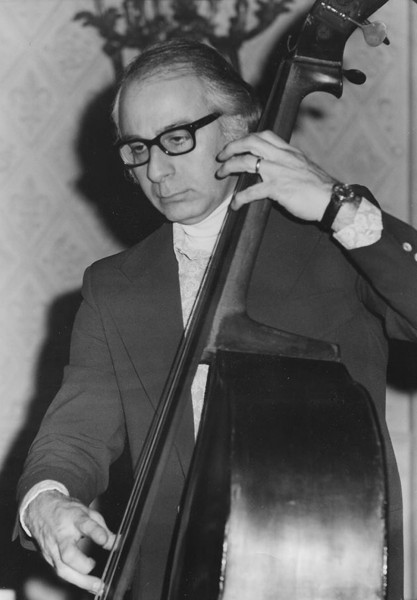 INTRODUCTION
Robert "Bob" Petteruti is the dean of bass players in Rhode Island. Over several generations, he instructed and mentored dozens of our finest musicians, on the bass and other instruments, at the Twin City Music House stores in Providence and Pawtucket founded in 1932 by his father, guitarist and bandleader Joseph Petteruti. He was also a faculty member at Brown University, Community College of Rhode Island and Dean Junior College serving as a double bass applied music instructor. He began his career in 1943 at age 13 and has performed throughout the Northeast in every setting. Over the course of the last 70 years, Bob has anchored the rhythm section for every major jazz figure to pass through Rhode Island. A fraction of the list of musicians he backed as member of the house bands at the Celebrity Club, the Kings and Queens and Allary includes Duke Ellington, Roy Eldridge, Bobby Hackett, Mose Allison, Zoot Sims, Pepper Adams, George Coleman, and Ben Webster with whom he recorded two albums.
The author would like to thank Fred Bouchard of the Berklee College of Music Oral History Project and Rhode Island Music Hall of Fame (RIMHOF) Archive committee member Allen Olsen for making his lengthy and detailed interviews with Mr. Petteruti available to RIMHOF and would like to thank Mr. Petteruti himself for his generous participation in the interview process and for access to the Petteruti family archive. 
I DIDN'T WANT TO PLAY
In the case of Bob Petteruti, it is easy and truthful to say that he was born to follow in his father's footsteps. He arrived while his dad was on his way to a gig in New Bedford, Massachusetts with Bobby Hacket; his mother's sisters called her a cab amd took her to Lying-In Hospital in Providence, Rhode Island, where Bob was born on December 14, 1929. The Petteruti family lived on Federal Hill, an Italian-American neighborhood in Providence, RI.
When Bob was two, his father, Joseph Petteruti, a well-known area musician, music teacher, and band leader, moved his family to a three-decker tenement on Plainfield Street in the Olneyville section of Providence where he taught music to the neighborhood children. One of his most successful early students was Olneyville resident Bobby Hackett who originally studied ukulele and guitar and later the cornet and trumpet. Hackett remained the family's lifelong friend and Bob Petteruti was named after him. Another star pupil was Paul Gonsalves of Pawtucket who began his career studying the guitar with Joe and later became famous as Duke Ellington's featured tenor saxophonist and right-hand-man.
By 1932, Joe, or "Buck" as he was known in the music community, had converted the first floor into a retail music store and set up the second floor as teaching studios; the family resided on the third floor. Buck insisted that his children, Bob, Joseph Jr. and Grace, all learn to play music and put instruments into their hands at a very early age. Joe was given an accordion and Grace played piano and ukulele. For Bob, it was also a ukulele which he crushed in short order by using it as step stool to reach the cookie jar in his mother's kitchen. Buck didn't bat an eye – he just gave the boy another uke. As he told Al Olsen and Dana Neugent in 2015, Bob was a self-described poor student: "I really wasn't a very good student. I didn't want to play. I had to practice." By the time he was eight, Bob had progressed to the tenor guitar and vibraharp and played his first professional gig at age thirteen.
When he was fourteen, his father decided he should play the bass. At fifteen, he entered Mount Pleasant High School where, as the only bass player there, his services were soon in great demand. In his senior year alone, 1946-1947, he played 100 gigs! During his high school years, Bob developed a keen interest in jazz and this is when he got serious about a career in music. His heroes and role models were the Benny Goodman Sextet featuring electric guitar pioneer Charlie Christian, Django Reinhardt & The Quintet of The Hot Club of France, and Slim & Slam, guitarist/pianist/vocalist Slim Gaillard and bassist/vocalist Slam Stewart.
After graduation, Bob attended The Schillinger House in Boston, the precursor to the Berklee College of Music. The school was named for composer/educator Joseph Schillinger and founded by Lawrence Berk in the 1940s. In addition to studying the Schillinger System of Musical Composition, he studied bass with Cross Centamore, classical piano with Lee Daniels and took ear training with Joe Viola. He also began studying the tenor saxophone in Providence with Joseph Andreozzi. He stayed on for five semesters when the lure of lucrative road work caused him to drop out. He went to work for the Grace Lines and made three cruises to South America on an ocean liner and played music full time in between.
Bob says that he always intended to return to school, but it was not to be. He was drafted into the U.S. Army during the Korean War, but, as Bob put it to The Providence Journal in 1957, "You could call it 'good duty.' "After basic training, he was sent to Fort Dix to join the marching band and concert band on tenor sax, later switching to baritone sax, and performed on upright bass with the jazz big band.
THE MUSIC NEVER STOPPED
After his stint in the Army, Bob returned to Rhode Island in the early 1950s and embarked on a lifelong career as a full-time, professional musician. Musical opportunities were plentiful and his reputation as Rhode Island's first-call bassist grew quickly. Bob was in the thick of things for the next three decades. In addition to helping run the family music store with his father and brother and giving private lessons on the bass and a variety of other instruments, Bob's date book was always full. Once he had begun to raise a family, Bob stuck close to home, but he performed in a wide variety of settings. There was steady work playing general business (weddings, parties, lounges, restaurants) and society gigs with small groups and orchestras for the area's top musical contractors including Ralph Stuart, Ed Drew and Hal Corcoran.
Jazz was still a vital part of the entertainment landscape and Bob was on the front lines. In 1949, entrepreneur Paul Filippi opened The Celebrity Club in Providence, New England's first integrated nightspot. Bob became a member of the house band alongside his friend since high school, drummer Duke Belaire. During the postwar decline of the big bands, most of the stars of the 1930s and '40s, with the exceptions of Duke Ellington, Count Basie and a handful of others, had begun touring as soloists. In addition to opening the show for the visiting stars, the house band served as the backing group for most of the luminaries passing through Providence. One such evening proved to be one of the highlights of Bob's career.
Duke Ellington and His Orchestra were booked to play at The Celebrity Club for a full week in 1957. On Monday, February 18, Duke approached Bob after the house band had played their opening set and asked him to sit in with the big band. Duke explained that his bassist, Jimmy Woode, had missed his train and would be arriving late and that he needed a bassist for the first show in order to start on time. At first, Bob declined telling his boyhood hero Ellington that he wasn't "good enough," but Duke had heard the first set and said he was. He persisted and Bob went on to play the first show with the Ellington band. He claims that his "knees were knocking," but Duke Belaire and others present that night will tell you that he was terrific.
During their tenure with the Celebrity Club band, Bob and Duke Belaire played regularly in a jazz trio with pianist Ronnie Brown. Brown doubled on vibes so the group was able to take on gigs in other styles and settings, changing the size of the combo as needed.
The Celebrity Club closed in 1960, and Bob moved over to The Kings and Queens in Pawtucket. The club was opened by vibraphonist Jack Welch in 1962 and became the center of the Rhode Island jazz scene for the next eight years. Bob was again a member of the house band. The trio was led by up-and-coming pianist Mike Renzi and rounded out at first by drummer Joe Veletri who was replaced in 1963 by Artie Cabral.
Due to the club's small size, soloists and duos were the order of the day and addition to opening the show each night, the trio backed a list of artists which reads like a "who's who" of American post-war jazz: Roy Eldridge, Bob Brookmeyer, Zoot Sims and Al Cohn (together and separately), Harold Land and Bobby Hutcherson, Blossom Dearie, Chris Connor, Mose Allison, Ernestine Anderson, Jackie Paris and dozens of others.
Bob and the Mike Renzi Trio recorded two internationally released live albums at the Kings and Queens. In 1963, they backed legendary tenor saxophonist Ben Webster for a double album, Layin' Back With Ben (Volumes 1 & 2). The following year, Webster returned for another live date with the trio, this time playing behind acclaimed Rhode Island jazz vocalist Carol Sloane which was released as Carol & Ben.
After The Kings and Queens shut down in 1970, the jazz scene revolved around Allary, a jazz club in downtown Providence. Once again, the trio of Cabral, Petteruti and Renzi (later replaced by pianist Paul Schmeling) served as the house band with in-house producer Mike Jordan bringing in major talent on an almost weekly basis. The group backed the visiting stars including trumpeter Art Farmer, saxophonist George Coleman, vocalist Mark Murphy, saxophonist Frank Foster (the composer of "Shiny Stockings"), baritone saxophonist Pepper Adams, the return of Blossom Dearie, and many, many others. Bob estimates that he played more than 1200 gigs at the venerated nightspot.
When the jazz scene took a downturn in the 1980s, Allary closed its doors, but the calendar remained full for Bob Petteruti.
I HAD THE VERY BEST OF IT
During the jazz heydays of the 1950s, '60s and '70s, Bob Petteruti remained busy on all other musical fronts as well – retail, gigging, teaching – and all of these activities continued well into the 2000s.
In 1951, the Petteruti family had opened up a second store on Main Street in Pawtucket and they dubbed the "mini-chain" Twin City Music House. Both locations flourished. They became the first Rhode Island distributors of Fender Guitars and dealt in full lines of brass, woodwind, percussion and stringed instruments as well as pianos. Bob was hands-on as far as the inventory went dealing directly with manufacturers and distributors and traveling far afield to fetch the stock for the stores. The Pawtucket store was destroyed in 1971 when a fire originating at The Windsor Restaurant swept through a whole row of businesses. The family consolidated its operations into the Olneyville location.
For more historic photographs of this event, visit the Blackstone Valley Photography website at:
https://blackstonevalley.smugmug.com/PawtucketFireDepartment/Historical-Fire-Incidents/The-Windsor/
Bob gave instruction on the bass and many other instruments at both Twin City locations. He taught hundreds of students over the years and went beyond the call of duty for many by taking young musicians under his wing and becoming a musical father figure, role model and mentor to dozens of the top players to surface in Rhode Island during the second half of the twentieth century.
His classical training led to positions as a double bass applied music instructor at Brown University, Community College of Rhode Island and Dean Junior College, and to three seasons performing with the Rhode Island College Symphony Orchestra. Bob recalls a performance with the RIC orchestra as one of the high points of his musical career:  "It was a great learning experience. The orchestra did an Easter concert at a church. There were 100 voices in the choir plus about 60 in the orchestra. It was an outstanding performance. While playing the music of Mozart, I felt that I knew what it must be like in heaven! Ed Markward conducted the orchestra. I will never forget that concert."
He was active in theater throughout the region for several decades performing in pit orchestras for theatrical touring companies and other large-scale entertainment presentations such as Disney On Ice. He also maintained a steady schedule of general business work and racked up thousands of appearances in southern New England during a career which is now in its eighth decade.
One wonders how he found the time, but in 1991, Bob Petteruti also became an author with the publication of a Rhode Island jazz encyclopedia co-authored with Lloyd S. Kaplan called Who's Who in Rhode Island Jazz c. 1925-1988. (Kaplan is an accomplished clarinetist and Professor of Music at the Community College of Rhode Island where he introduced the Jazz Studies Degree Option.)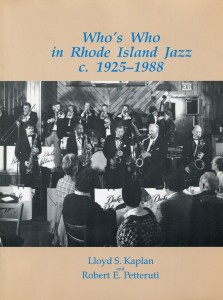 Bob continued to play jazz at every opportunity and there were many highlights over the years. He performed with The Artones, the legendary Rhode Island jazz combo led by saxophonist Art Pelosi, at The Kirkbrae Country Club in Lincoln, Rhode Island during their jazz series backing touring jazz greats such as old friend Bobby Hackett, Pee Wee Russell, Bud Freeman and even Tony Bennett whom Hackett brought up to Lincoln after they performed together at "The Tent" – the Warwick Musical Theatre. He played for three years with the Duke Belaire Jazz Orchestra at Bovi's Tavern in East Providence and later with the Tony Giorgianni Big Band.
He was also the bassist for Dr. John Worsley's jazz series at The Marriott Hotel in Providence which featured Dave McKenna, Buck Clayton, Maxine Sullivan and many others
As the result of an avid interest in American history he'd developed as a boy and moved towards music history as a teen, Bob is a fount of knowledge when it comes to Rhode Island music and the music business. Thanks to his scrapbooks, the Twin City stores' business records, and a diary in which he's recorded every gig he's played since day one, Bob is recognized as an invaluable resource for music historians and in recent years has been the subject of oral histories taken by The Berklee College of Music, Al Olsen and Dana Neugent for the Rhode Island Music Hall of Fame and the National Association of Music Merchants (NAMM), and appears in an interview segment in the documentary film Do It Man: The Story of The Celebrity Club.
At time of this writing in 2015, Bob is still playing his bass and regularly performs with The Aristocats, a trio featuring Lloyd Kaplan and guitarist Nat Piccirilli.
Looking back today, Bob recognizes the profound changes which have overtaken music and the music business since the 1990s – sampling, home recording, backing tracks, deejays, downloading, mail order and internet sales, etc. – and like many of us, wonders where things are headed. Twin City Music House, which he'd continued running with his son, drummer Tom Petteruti, after Buck retired, closed its doors on December 31, 2010.
Bob will tell you that he is grateful and proud that he came up through the ranks at a time when one could earn a living as a full time musician and that he would not change a minute of his life. He put it this way on the eve of his induction into the Rhode Island Music Hall of Fame: "I had the very best of it."
On April 26, 2015, Robert "Bob" Petteruti was inducted into the Rhode Island Music Hall of Fame as the first recipient of its "Sideman" award.
BOB PETTERUTI DISCOGRAPY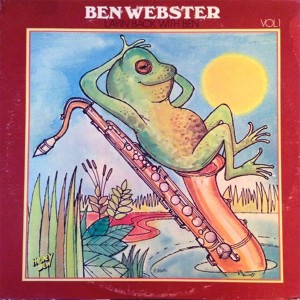 Layin' Back With Ben Vol. 1
(Honeydew Records HD-6606) 1977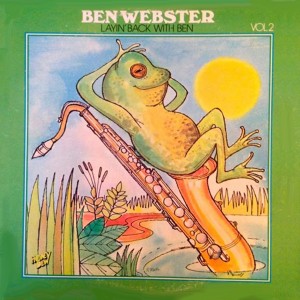 Layin' Back With Ben Vol. 2
(Honeydew Records HD-6607) 1977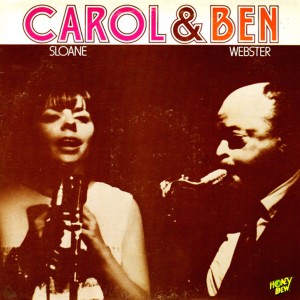 Carol & Ben
(Honeydew HD-6608) 1977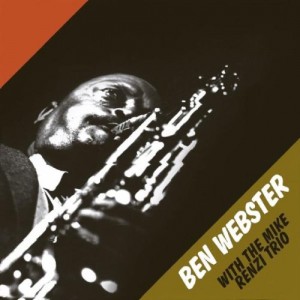 Ben Webster with The Mike Renzi Trio
(LoneHill Jazz LHJ-10127) 2004
This French CD reissue of the Layin' Back With Ben session presents the two LPs in their entirety and adds two previously unreleased bonus tracks
LINKS & RESOURCE
Robert Petteruti Oral History (audio and transcription) conducted by Rhode Island Music Hall of Fame Historical Archive Committee member Allen Olsen with Dana Neugent on February 5, 2015

Who's Who In Rhode Island Jazz c. 1925-1988, Lloyd S. Kaplan and Robert E. Petteruti,
Consortium Publishing, 1991
NAMM interview (video), National Association of Music Merchants Library
Oral History Project, 2010
https://www.namm.org/library/oral-history/robert-petteruti
Berklee Oral History Project Interview (video) taken by Fred Bouchard,
Berklee College of Music Archives, Stan Getz Library
https://archives.berklee.edu/bob-petteruti/19784
Interview (video) for DO IT MAN: The Story Of The Celebrity Club,
a documentary film by Norm Grant and Dr. Tom Shaker, Pete & Buster Films
https://www.youtube.com/watch?v=TjnrhtKve1g
https://www.facebook.com/pages/Celebrity-Club/227180464009305?ref_type=bookmark
http://www.ccri.edu/foundation/rijazz/