2015 INDUCTEE
R&B/Rock 'n' Roll
HOLD ME CLOSER
The Story of
BRENDA BENNETT
by Rick Bellaire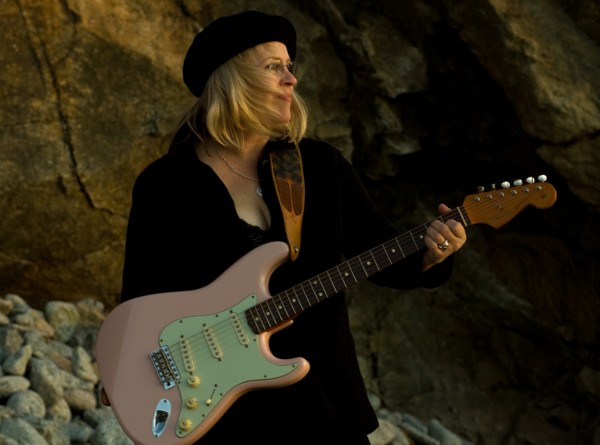 I'M GONNA SING, SING, SING
Singer-songwriter Brenda Bennett, known worldwide as a member of Vanity 6 and Apollonia 6, was born Brenda Mosher into a musical household in Warwick, Rhode Island in the winter of 1952. Her mother played piano, accordion and sang; her father was a fine guitarist; and country music was the order of the day.
The family's main source of entertainment was sitting around the living room singin' and pickin' with friends on washtub bass, ukulele, fiddle, banjo and mandolin. Brenda grew up on a steady diet of Hank Williams songs (her dad's favorite) and other classic country tunes. She and her brothers, Bruce and Brian, took it all in and were especially drawn to their dad's guitar, but it was "off limits." This was remedied when an uncle brought over an old Stella for them as a "bang around" guitar.
On January 3, 1964, Brenda had a life-changing experience. It was a Friday night and, at twelve years old, Brenda was allowed to stay up late because there was no school the following day. She was watching The Tonight Show Starring Jack Paar when he showed a short clip of a new Rock 'n' Roll group from England, The Beatles, a full month before they took America by storm after appearing on The Ed Sullivan Show in February. Brenda recalls it this way:
"Although I loved to be with my parents and their friends, I didn't realize their music wasn't my music until one Friday night in January of 1964. I was watching the Jack Parr show and saw the clip of live footage he had brought back from England of a group performing at the London Palladium for the Queen. The group was The Beatles. I remember thinking when I saw the info in the TV Guide – "The Beeeatles?!?!?!?! – what an odd name for a group. But once I saw the clip – it was all over. I was 12 years old and decided right then and there I had found my own music, wanted to learn to play guitar and write my own songs."
(The footage shown on The Tonight Show was actually shot on November 16, 1963, at a concert in Bournemouth, England; Jack Paar referenced their November 4 Royal Command performance before Queen Elizabeth II during his introduction.)
Thus began Brenda's lifelong musical journey.
She started to get serious about the guitar and around that time, her uncle gave up on playing and brought over another instrument – a Martin guitar – for Brenda and her brothers. She asked her dad if he would teach her to play and he showed her one chord – a "C" – and said she was on her own! It was family tradition that everyone was a self-taught musician and she began to figure out the basics for herself. She saved up her 50¢ weekly allowance until she had enough money to buy two Beatles songbooks at Grant's Five & Dime. The books had illustrated chord fingerings which opened up a whole new world to her, not just to play the Beatles' songs, but to begin writing her own. She also got serious about singing at that time. Although her mother mainly played country music, she was also well-versed in classical music and loved to sing show tunes and a bit of jazz as well.
"My mother sang and had a beautiful voice. I got my start learning how to sing from listening to my Mom.  She gave me a lot of pointers, especially when I had gotten a solo in choir. It was my mom who taught me how to face an audience and 'let it go'."
During her teen years, she continued developing her vocal skills by singing in choirs and continued to try her hand at songwriting. She and her best friend, Paula Green, a pianist, wrote songs together and began to travel into Providence by bus on the weekends looking for music, especially at the Big Mother Coffee House at Brown University on the East Side. On nice days in the spring, Big Mother would present acts outside on the quadrangle, the school green, and one such trip proved to be another life-changing experience.
"I remember one time in 1968 very well. We were at Brown and a number of people were scheduled to play, James Taylor among them.  After James played his set, a young woman with beautiful, long, red hair took the stage. She picked up a guitar to play, but…it wasn't the usual acoustic guitar that most women of the day were playing. This was an electric Fender Stratocaster guitar and the woman was Bonnie Raitt.  It blew my mind that this woman was playing electric and that it wasn't folk, it was very bluesy and I nearly dropped when she started playing slide guitar. It left an indelible impression on me in many ways."
The following summer, Brenda and her boyfriend, guitarist Ed "Bumpsy" Vallee (then playing with the underground band Universal Rhundel), along with Paula and Brenda's brother Brian made the trip up to the Woodstock Music & Art Fair in Bethel, New York. It was another eye-opening experience for the young musician, especially Jimi Hendrix's performance which closed the festival on Sunday morning. (Vallee went on to become a founding member of The Young Adults and in 2013, he was inducted into the Rhode Island Music Hall of Fame for his role as longtime guitarist/arranger for Steve Smith & The Nakeds.)
After high school graduation in 1970, Brenda moved to Boston and worked at odd jobs while doing some musical networking. There she met two other Rhode Islanders working in Boston bands with whom she would collaborate later in her career: guitarists Phil Green, whose band Swallow with vocalist George Leh would go on to record two albums for Warner Brothers, and Thom Enright who was playing bass guitar for Shakey Legs and just about to sign a contract with Paramount Records.
In 1972, she returned to Rhode Island to take a job as housekeeper and cook for her brother Bruce and four of his friends who were sharing a large house in Jamestown on the island of Conanicus in Narragansett Bay. Among the  tenants were saxophonist Fred Macari, who was about to become the original sax player for Beaver Brown, and singer/songwriter/guitarist Tony Foley. Tony had been a member of Wadsworth Mansion, an East Providence band which had scored a major hit (#7, Billboard Hot 100) with "Sweet Mary" and was then working in an acoustic duo. (Fred was inducted into the Rhode Island Music Hall of Fame in 2012 as a member of John Cafferty & The Beaver Brown Band.) In late 1972, Tony's partner was away for the holidays and he asked Brenda to perform with him at an upcoming gig.
"Tony had heard me sing and play around the house and asked if I would do the gig with him. I never, ever expected it or thought I was good enough to step on stage in front of an audience and do something like that, but Tony was very persuasive and I gave it a try. I did two nights at the Bon Vue Inn in Point Judith." This was Brenda's first professional engagement – a paying gig – and it gave her the confidence to take things to the next level.
She began to frequent the Bon Vue on weekends, dancing to the house band: Ken Lyon & Tombstone. Lyon had been performing since the late 1950s as a blues, folk and rock singer and was a veteran of five major label record deals including a folk album, Ken Lyon In Concert, released internationally by Decca in 1970. In the early '70s, he turned his attention back to his first love, the blues, and had assembled a powerful band of Rhode Island all-stars. On piano, he had local legend Mark Taber, his longest-running musical partner; three of the members, lead guitarist Paul DiChiara, drummer Michael "Squeaky" Quinn and guitarist/vocalist Jon Polce, had been members of Flesh, one of Rhode Island's top underground bands; Thom Enright, who was back in Rhode Island after Shakey Legs had folded, was sharing the lead guitar chair with Paul; Ken himself was handling the lead vocals and playing bass guitar; and on harmony vocals was Sybilla. The same age as Brenda, Sybilla Hyde was a striking woman with a huge voice and had been knocking around the folk scene since she was fourteen. Brenda had originally met her during the Universal Rhundel days and they had rekindled their friendship when Brenda began working with Sybilla's husband, Joe Barth, a leather artist.
Brenda took off on a backpacking trip to Europe with a group of friends in the late spring of 1973. While she was away, Lyon had added a second female backing vocalist and, incredibly, had scored, with the help of his managers Mike Lewis and Stuart Weiner, a sixth major label deal, this time with the mighty Columbia Records. Tombstone was preparing to begin recording their first album when the second backing vocalist left the band. Lyon was prepared to proceed as a seven-piece group, but Columbia president Charles Koppelman insisted on having the lineup as he'd first heard it – with two female vocalists. Sybilla had heard Brenda sing and play during breaks at Joe's leather shop and she recommended Brenda as the replacement. They frantically tried to reach her in Europe, but she was never in one place long enough to receive the messages. When Brenda returned from Europe in the late summer, they offered her the job. She didn't have to think twice. This was the moment she had been waiting for.
"My first gig with Tombstone was at the Yellow Kittens on Block Island. Kenny was never one for rehearsing with the band, so I had to show up and get on stage and just 'do it.' Ken would say, 'Jump in and get your feet wet.' He was pleased with the results and I became a full time member of the band. I did a number of gigs with with them and there were a few rehearsals for the album to get ready to go into the studio to record. I was full of nervous excitement heading for the West Village in New York City on October 3, 1973 to record with Tombstone in Jimi Hendrix's studio, Electric Lady."
The album was completed by Halloween and scheduled for release in April of 1974. Brenda was featured as lead vocalist on her first released original song, "Hold Me Closer," a lovely, folkie, acoustic ballad.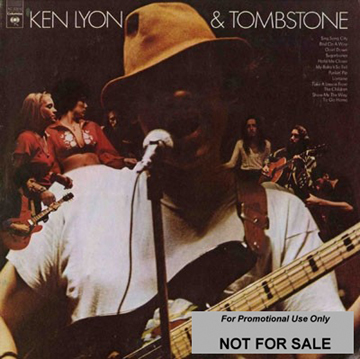 Columbia sent them out on tour opening for one of their major acts, Mott The Hoople, and a brand new British act, Queen, on their first American excursion. Tombstone's single, "Sing Song City," did well, especially on their home turf in the Northeast, and the next eighteen months were a whirlwind of excitement which, after the tour, included shows with Edgar Winter's White Trash, Maria Muldaur, Blue Oyster Cult, Aerosmith and Little Feat as well as the recording of a second Tombstone album.
Unfortunately, due to management shakeups at Columbia, Ken Lyon & Tombstone's contract was not renewed and they were dropped from the label. They continued performing around New England for a while, but in in December of 1974, they called it a day. The second album remains unreleased.
(Ken Lyon became the first inductee into the Rhode Island Music Hall of Fame in 2012. The same year, Thom Enright, who passed away just before the ceremonies, became the first person to be inducted twice when he was honored for his membership and contributions to John Cafferty & The Beaver Brown Band and Roomful of Blues.)
For the next several years, Brenda worked at day jobs and concentrated on her songwriting. She then joined her brother Bruce in a Rhode Island-based band called T 'n' T (for guitarists Timi Keltner and Terry Scholey) which was cleaning up by playing in Fairbanks, Alaska where Rock 'n' Roll groups were in short supply, but the climate and music didn't suit her.
She and Keltner had begun a relationship and they returned to Rhode Island where they were briefly members of a reconstituted Tombstone with Ken Lyon, Paul Dichiara, Michael Quinn and guitarist Chris Richards.
That didn't last long and they spent the next couple of years playing in the cover bands Alien and Fair Exchange. By the time Brenda and Tim split up, she was pretty well sick of the cover band circuit and she took some time off to ponder her future and work on her songs. She began to bounce her ideas off the person who had become her best friend, lighting engineer Roy Bennett.
Roy was working for the Rhode Island-based stage production outfit Polico Lighting when they scored the contract to provide the stage lights for Boston's first national tour. He had risen quickly through the ranks and in 1980, he took on his first gig as Lighting Designer when he accepted an offer from Prince to join his upcoming "Dirty Mind" tour. By this time, Brenda and Roy had become romantically involved and while Roy headed out on the tour, Brenda began planning their wedding. As the tour approached New York City for a show at The Ritz, Roy asked Brenda to meet him there. Besides just wanting to see her, he wanted Brenda to see Prince in action to have her meet him. He told her, "I've got a feeling he's going to be really big." On the morning of December 9, 1980, Brenda and Roy were in the hotel elevator headed out for the set-up and soundcheck at The Ritz when they heard that John Lennon had been murdered the night before outside his New York apartment building, The Dakota. Lennon was Brenda's idol – the reason she'd begun to write music in the first place. "I was devastated. And here I was on my way to meet, as it turned out, someone who was to become one of the biggest artists in the world, not having a clue as to how I would help his career and he would help mine."
Brenda and Roy were married in 1981. Roy was scheduled to head back out with Prince for the "Controversy" tour and asked Brenda to join him on the road. She agreed.
"I was very excited at the prospect of being on the road during this exciting time, but I felt I needed to have something to do…something that justified me having a bunk on the tour bus with Roy and the lighting crew. From past experience, I knew I needed to do something to 'earn my keep,' you might say. I spoke to Roy about it and before I knew it, I had four jobs on that tour! I had two jobs with the crew and two jobs specifically for Prince – I was his wardrobe mistress and his videographer. He had me film his show each night as a learning tool so that he could critique his show to see what and where any changes might need to be made."
LET'S GO CRAZY!
The tour ran through the 1981 holiday season and, after a nearly month-long break, began again at the end of January in 1982. Brenda enjoyed her various jobs and was having a great time being out on the road with her husband, but she had begun to feel a little restless music-wise and wondered if and when she'd get back to making her own music again. And that's when fate stepped in. Or, to be more precise, that's when Prince stepped in!
The tour resumed after the holidays and it was about to become a pivotal moment in Brenda's musical history and career.  As wardrobe attendant and organizer to Prince, during this one afternoon, she was setting up his make-up station and getting his clothes ready for that night, the first show of the new year at a university in the Midwest.  As she moved about the room, Prince came in, sat down at the make-up station and began to style his hair in preparation for the show.  He put a cassette tape into his player on the table; it was a rough mix of the song "Stand Back" by Stevie Nicks.  Stevie had contacted him sending him the tape for suggestions and his critique in the hopes of collaborating on a song together. Brenda began unconsciously to sing along as she was working not realizing that Prince had stopped what he was doing and was listening.  Prince told her he didn't know that she could sing and remarked that she could be the other "hooker." When she asked what he meant by that, he explained that he was putting together a female group and that he thought she'd be just right for the project. Prince envisioned the group as a trio and he and Brenda discussed the idea with Roy who thought it was a great idea. Brenda accepted the offer.
Shortly after the "Controversy" tour wrapped up in April, Brenda found herself in Chanhassen, Minnesota to begin working on an album for Prince's girl group project. By the time she'd arrived, the other two women, Susan Moonsie and Denise Matthews, were already there, Denise had been rechristened "Vanity," and the group had been christened "Vanity 6." Vanity had been pegged as the group's principal vocalist and focal point, their frontwoman, but this was not to be a typical setup like Diana Ross & The Supremes with Ross singing all the songs and Mary Wilson and Florence Ballard providing backing vocals and Berry Gordy pulling all the strings.
(To set the record straight concerning Prince's use of the word "hooker," he originally intended to call the group The Hookers and had enlisted Susan Moonsie, who was then his girlfriend, and his high school friend Jamie Shoop and was looking for a third woman to complete the lineup. Around the time he offered the opportunity to Brenda, Jamie dropped out of the project to get involved in the business end of things and was replaced by Denise and the Hookers name was retired.)
Prince encouraged the three women to get fully involved in the creative process and they began writing and rehearsing with members of Prince proteges The Time and Dez Dickerson. Pre-production went smoothly and in swift order, the group was in the studio with The Time as the backing band and Prince co-producing with the group.
Brenda made major contributions to the album. She has cowriting credits on three of the albums eight tracks, "Wet Dream" credited to the group, "If A Girl Answers (Don't Hang Up)" by the group and Terry Lewis of The Time, and "Bite The Beat" composed by Brenda and Time guitarist Jesse Johnson. She is the lead singer on "Bite The Beat" and shares the lead vocal on "If A Girl Answers" with Vanity. Recording wrapped up quickly and the women began a whirlwind of pre-release business, promotional and public relations activities. Prince's label, Warner Brothers, snapped up the master and their A&R department set up photo shoots and planned a promotional tour which would include a couple of their first live performances. For publicists, they signed with the William Morris Agency, the biggest and most powerful operation of its kind in the world. The group was poised for success before they ever set foot on a stage and succeed they did!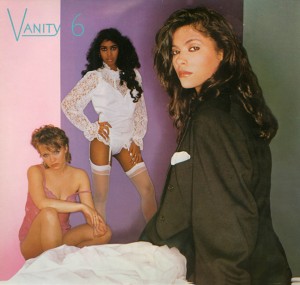 Timed to the release of the album, simply titled Vanity 6, the group showcased at The Ritz in New York City and they were a smash.
The album took right off reaching #6 on Billboard's R&B chart and #45 on their Top 200 Albums chart and earned the group a Gold album. Warner Brothers went four deep into the album for singles, all of which performed well. "He's So Dull" did well at radio and introduced their sound to the masses. "Nasty Girl" went to #7 on the Hot Black Singles chart and all the way to #1 on the Hot Dance Club Play chart (and was a #9 smash in the United Kingdom). "Drive Me Wild" also did well at radio, but failed to chart. The last cut culled from the album was "Bite The Beat," another club favorite which also failed to chart, but is significant as it marks Brenda's first time at bat as lead vocalist on an internationally released single.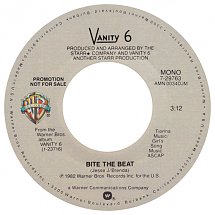 "Vanity 6 was very well received. The summer of 1982 found us on an American promotional tour for the album as well as one in Europe covering numerous cities and countries. There were performances on television shows, on radio, magazine and newspaper interviews as well as more photo sessions wherever we went. Everything was moving quickly and the excitement was incredible. I was happier than a clam at high tide to be a part of it all. To be able to work in music in such a capacity and to be able to work in the same organization as my husband Roy was a plus. We were truly a couple that seemed to have it all."
After their return from Europe, Vanity 6 headed out on the road along with The Time as the opening acts on Prince's "1999" tour. The excursion was wildly successful and reviews along the way singled out Vanity 6 as one of the highlights. On the road, as the only one of the group's members who came into the project as a professional musician with national touring experience, Brenda became the trio's de facto leader. She managed to keep the others in tow and in line (Susan was only sixteen) and things went, for the most part, smoothly. The tour wound down after six months and Prince gave everyone some time off while he began planning his next project: a movie.
When Prince called everyone back after the break, he announced that the picture would be called Purple Rain and that they would all be featured in the film. The entire crew from the "1999" tour, Vanity 6, The Time and Prince and his backing band plunged into pre-production.
"The work that was put into that film covered the next couple of years with one thing or another. We were all in acting, dance and speech classes, wardrobe fittings, and rehearsals for our acting scenes. It was a flurry of activity from morning 'til night with very little time off. On top of the work we were doing for the film, everyone – The Time, Vanity 6 and Prince – was in the studio recording our next albums, all to be released at the same time the Purple Rain film would be coming out."
About midway through the recording of the second Vanity 6 album during preproduction for the film, Denise pulled a power play. She was scheduled to be Prince's leading lady in the movie, but felt the money she'd been offered was not enough. Unbeknownst to Prince, Brenda and Susan, she had set about negotiating her own contracts with the various business entities with whom they were involved and had taken on a personal manager, an accountant and had hired her own publicity firm.
"She gave Prince an ultimatum saying that if she wasn't paid the money she wanted, she was going to walk. I wished her well knowing she was not going to be with us anymore. What she wanted was more than what it cost us to do the film! Susan and I felt she was pulling the rug out from under us. She was hoping that her timing would be a sure bet to get what she wanted, but she underestimated Prince. Vanity walked in the end and a worldwide search went out to find a replacement for her role in the movie." And in the group.
Prince received demos, photos and videos from thousands of hopefuls and, after some time, was able to narrow it down to three candidates. He asked Brenda and Susan to review their materials and offered to leave the choice in their hands. Based on a well handled dramatic reading and her appearance, which was reminiscent of Vanity's, they picked Patricia "Patty" Apollonia Kotero of Los Angeles. She was thrown right into the thick of things.
The group changed their name to Apollonia 6 and headed back into the studio to replace Denise's vocals with Patty's and work on new material while Patty spent her days picking up where Denise had left off in the film preparations. She had a lot of show business experience which included competing in (and winning) beauty pageants, a stint as a Los Angeles Rams cheerleader, and acting roles on television (CHiPs, Fantasy Island, Knight Rider) and in music videos (Ray Parker Jr.'s "The Other Woman" and Eddie Money's "Shakin'"). She was well prepared for the various roles she'd be taking on in the coming months.
ICE CREAM CASTLES & BLUE LIMOUSINES
By the time shooting for the movie resumed, Prince was done with his album, which would become the soundtrack to the film, and The Time had finished theirs, Ice Cream Castle, which included both of their musical contributions to the picture. Due to the delays caused by the personnel shift from Vanity to Apollonia and the increasing demands for Brenda, Susan and especially Apollonia to be on the movie set, work on the Apollonia 6 album proceeded on a catch-as-catch-can basis until the movie wrapped.
Purple Rain premiered June 25, 1984 with a gala opening night celebration at Grauman's Chinese Theatre in Hollywood. Apollonia 6 was featured on stage in the film performing "Sex Shooter" which would become the first single from their upcoming album and Brenda had a speaking part.
Prince's soundtrack album was released the same day and The Time's album the following week. All three releases performed spectacularly. The movie became one of the biggest box office hits of the year reaching #11 in Variety and grossing almost $70,000,000.00 during its initial run. (Prince would take home an Oscar the following year when his score won the Academy Award for Best Original Song Score.) The soundtrack album went to #1 in Billboard on both the Top 200 Albums and R&B Albums charts, spawned four Top Ten singles and was eventually certified 13 times Platinum (13,000,000 copies). Ice Cream Castle became The Time's best-selling album and produced three hit singles including "Jungle Love" and "The Bird" from the picture.
As the movie and the two albums raced up the charts over the course of the summer of 1984, work resumed on the Apollonia 6 album and it was completed in July. Released on October 1, the album went to #24 on the R&B Albums and #62 on the Top 200 Albums charts and was certified Platinum. "Sex Shooter," the first single, was a major hit reaching #7 on both the Dance and R&B album charts and climbed to #85 on the Hot 100. Brenda once again made major contributions to the album. She composed "Some Kind Of Lover" and shares co-writing credits with the group on "Sex Shooter," "Blue Limousine" with Sheila E and "A Million Miles (I Love You)" with Lisa Coleman. She is the lead vocalist on three of the album's seven tracks: "Blue Limousine," "A Million Miles" and "Some Kind Of Lover."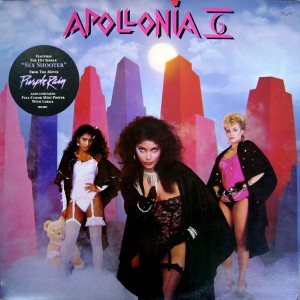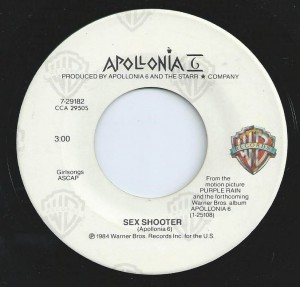 Brenda was also involved in the recording of several other tracks during the period when the second Vanity 6 album morphed into the Apollonia 6 album. At least three of the outtakes have surfaced in various forms. The most famous is "Manic Monday" which was written by Prince and given to Apollonia 6 for their album. Prince played all the instruments, Apollonia sang the lead vocal, and Brenda sang an answer vocal. The track did not make the final cut of the album. Two years later, Prince gave the track to The Bangles. They simply removed Apollonia's vocal and replaced it with Susanna's, keeping Prince's entire backing track and Brenda's vocal. The record went to #2 in 1986 – it is Brenda who sings the famous "oh-oo-woh" vocal hook on the chorus. Another track was "The Glamourous Life" which also did not make the album and was given to Sheila E who had played on the original recording. It became the title track to her first solo album which was also released in June of 1984 at the same time as the movie, the soundtrack and Ice Cream Castle. The song was a Top 10 smash across the board. The third song was another Prince composition, "17 Days," which never got past the piano/vocal demo stage at the time. This song might not have been part of the album project and may have been intended for a possible Brenda Bennett solo album.
"During the active years I spent working with Prince, he had spoken to me a couple of times about doing a solo album with me. He thought my performances with Vanity 6 and Apollonia 6 were good, but he also realized that the music I was doing at the time wasn't really me or the best for my type of voice. He has a good instinct about things like that and asked if I would be interested in doing a solo project with him outside of Apollonia 6. I thanked him and wholeheartedly agreed. But with the success of the Purple Rain film and then the tour, Prince's path turned in a different direction." Prince wound up making a full recording of "17 Days" on his own and released it as the non-album B-side to "When Doves Cry," the lead single from the soundtrack.
By the fall of 1984, everything that had been released since June had proven to be massive hits and it was time to hit the road. The entire crew (minus The Time who had begun to fall apart even while Ice Cream Castle was still on the charts) embarked on a five month tour featuring Prince with his new backing band, The Revolution, and Sheila E as the opening act. The tour proved to be a sellout and is considered one of the most successful tours in history up until that time. Apollonia 6 simultaneously began a round of promotional appearances to support their album. Their schedule sometimes allowed for them to meet up with the Prince tour and they would appear during the encores.
Once the dust cleared in the Spring of 1985, it became clear that things within the Prince organization would be changing. Prince threw himself into the production of a second movie which would become Under The Cherry Moon. The Time broke up and would not reunite for six years. And things were changing within Brenda's group as well. Although they did not plan to disband, the two other women made it clear that they would be pursuing other interests in the future. Susan, who had not fully participated in the recording of the Apollonia 6 album, announced that she planned to go back to school. Apollonia wished to return to acting and took a role on the hit nighttime soap opera Falcon Crest. But before heading their separate ways, the group took on two more projects which everyone felt might keep up interest in the group and generate more album sales during their time off.
"One of them was a "mini-movie" version or long-form video of the album where there was a story line and parts were acted out to coincide with four of our songs off the album. The project was dubbed "Mr. Christian's Birthday." As long and hard as the hours were on this project, I really enjoyed doing it. I could see a lot of potential in this being a good tool for promotion. One of the biggest highlights of this project for me was working with Ricky Nelson. He played Mr. Christian. It was about a month later that he died in a plane crash. Unfortunately, Prince never liked the "Mr. Christian" project and it never got any further than the first edits. Such a waste of time and money…but, somehow, somewhere along the line, someone got their hands on it and parts of it will show up on YouTube now and then. The other project we did was a semi-nude photo session using live doves. There were a dozen or more cages of all these white doves that were set free once we got on the set and began to start posing. The photo session was to produce a poster. I never saw the finished product, but I do know it got out there finally."
Although there was never a formal breakup announcement, the trio just simply drifted apart and away from the Prince organization. Apollonia 6 never regrouped.
IN AND OUT OF FASHION
Brenda decided the time was right to begin a solo project and so she began looking around for collaborators, potential co-writers and musicians. One day driving around Los Angeles, she heard a song on the radio by someone named John Palumbo. She liked everything about it and set about trying to find out what she could about him. John was lead vocalist and principal songwriter for the Baltimore based band Crack The Sky which had a good run on Lifesong/RCA Records in the mid-late 1970s. John had released a solo album in 1978 during a break in their first run and had just released a second in 1985 while they were again on hiatus. As it turned out, one of her friends from the Prince organization, tour manager Jeff Sharp, knew Palumbo and he put Brenda in touch with him. They hit it off on the phone and Brenda headed to Baltimore to work on songs. They recorded two numbers, "Victim Of Your Charm," with lyrics by Brenda and "Blue Moon," a song John had written with her in mind. She was happy with the results and they continued working together for a while, but ultimately, she was looking for a regular partner and John was still committed to his band. (Crack The Sky regrouped in 1986.)
Back in L.A., Roy Bennett had moved over to Zenith Lighting and when Brenda returned, one of his colleagues suggested that she might be interested in working with an English musician named Dee Harris, formerly of the band Fashion. Dee's group had been quite successful, especially in Europe, during the "New Romantics" movement of the post-Punk era and their 1982 album Fabrique had been a good-sized hit. Brenda flew to England with a batch of songs and she and Harris (who was by then spelling his name De with one "E") began recording some demos in order to see if they would make a good team.
"We got on famously and began writing together soon after I was there. I liked the results of what we were producing and we talked of having a go at doing a duo project with the intention of finding a deal. Over the next three and a half years, we wrote and recorded a number of songs and had some of the kinds of offers I had been looking for, both from record companies, including RCA and EMI/Capitol, as well as a publishing deal with Warner Brothers. I really enjoyed working in England and working with Dee. The only drawback – and it was a big one – was that none of the deals we were offered ever seemed to be good enough for Dee."
Previous to this time, trouble in paradise began for Brenda in her marriage with Roy. The rumblings of disappointment and discontent had become difficult for Brenda on a personal level and not long after her initial collaboration with Dee, Brenda's marriage began to fall apart. After a brief visit back to the States, divorce proceedings were initiated.
(Leroy "Roy" Bennett went on to become one of the most successful and innovative lighting directors in entertainment history. His career continues to the present and his client list includes Paul McCartney, Beyonce, Lady Gaga, Madonna, Tim McGraw, The Eagles and dozens of other superstars.)
Brenda returned to England to work full time with Dee. Despite all their hard work and the many good offers (including one to co-write with Robert Plant), nothing substantial materialized. The only bright spot was a one-off single release for Arista Records in 1987, a reworking of Fashion's 1982 hit "Love Shadow." The record was a minor hit in the U.K. and made some noise as an import 12" on the New York dance club scene. Unfortunately, despite Brenda's vocal contributions to the new version, it was released as a "De Harris" record. The duo decided to call it a day and Brenda returned to the U.S. in the Fall of 1988.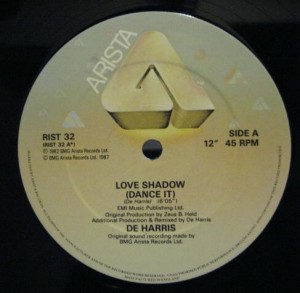 She headed out to Minnesota to visit Susan Moonsie and Prince and while she was there, the idea of a Vanity 6 reunion was kicked around. Their old friends Jimmy Jam and Terry Lewis of The Time had gone on to become one of the most successful production teams of the late 1980s (Klymaxx, Cheryl Lynn, Janet Jackson) and they were behind the idea. They were interested in producing an album and had already written a song for them, "Nasty Boy." It was Brenda who turned down the project in the end as it became evident during negotiations that Vanity's drug problems, one of the unspoken reasons for the original split, had resurfaced. Jam and Lewis gave "Nasty Boy" to Janet Jackson.
"I suppose I may have been cutting off my nose to spite my face over it because it could have been a good vehicle to help get myself back off the ground again in the music business back here in the U.S. But, many things happen for a reason and my better judgment and intuition told me it would have been a bad idea to put Vanity 6 back together again."
Brenda returned to the Northeast and, using Rhode Island as a home base, started putting out feelers for a record deal and began writing and recording with John Palumbo again. One highlight of this period was when John invited her to participate in a special Crack The Sky concert presentation for the release of their album From The Greenhouse. She sang in the backing choir alongside Charles Neville of The Neville Brothers. She also cut some sides with De Harris who was visiting the states at the time. He'd found success as the partner of Pink Floyd keyboardist Richard Wright in a duo called Zee and was looking to use his new connections to move on with his own career. Nothing concrete materialized from those sessions. She went back to shopping around for a solo deal and then two things happened which would cause Brenda to put her career on hold for the next two decades.
The first was that her brother Bruce had become ill with Hepatitis C. He'd contracted it during transfusions after a car accident in his teens and it had lain dormant for years. Once it became active, his health deteriorated rapidly and the doctors said a liver transplant was needed. As a full time musician, Bruce had no medical insurance and Brenda decided to take a full time job as a jewelry sample maker to help see him through the crisis. He made it and has been back performing on the southern New England scene ever since. Then, just as Brenda started to refocus on her career, she found out that she was going to have a child.
"In April of 1991 at the age of 39, I very surprisingly found myself pregnant. What a shock! On top of everything that had been going on, and once I was finally back in a position to start my career up again, I was looking at the path of motherhood before me. Once again, the Lord had a hand in my future and decided my path was going to take a different direction to what I had planned." Dylan Thomas-John was born in January of 1992. For the next fifteen years, music took a back seat while she raised her son. She continued writing songs in her spare time and was developing quite a back catalog. There was a period, after her other brother Brian passed away, when she could not even open her guitar case. She and Brian had written songs together over the years and she'd promised to help him with some demos he was planning to record. He passed away before they could be completed.
Once Dylan reached high school, Brenda slowly returned to music. She started writing again, shook the dust off her guitar, and began taking baby steps back into the business. She was working as a secretary at the Newport Naval Base and began sitting in with a country band led by one of her co-workers, Jim Sprague. The music of country star Keith Urban had caught Brenda's attention and held her interest. Not since The Beatles had she become as influenced by another artist and she began covering some of his songs with the group. Around this time, she met another musician on the Naval Base, Kent Clemmons, who was also a recording engineer.
"I approached him about coming to my place to do a raw demo of a couple of songs I had recently written. I had made the decision to pursue a career as a songwriter and had been in touch with Keith Urban's management. They were interested in hearing some of my originals. I always thought that if I was ever going to get back into the music business, I would feel the most comfortable in the country market.  Most of my songs are in the folk/country vein – what everyone calls Americana these days. In the summer of 2006, we recorded four songs. I sent off a disc to Nashville and had some very positive feedback. Enough to think about keeping up with what I had started."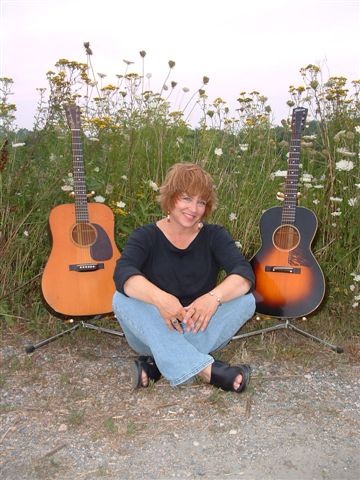 In the fall of 2006, Paul DiChiara, Brenda's longtime friend dating back to the Ken Lyon & Tombstone days, passed away. This writer was asked to act as musical director for his memorial concert and I set about enlisting musicians from each of the bands he'd played with during his career. Brenda and Kenny agreed to headline the event representing the Tombstone. The highlight of the evening was Brenda's heartwrenching performance of John Prine's "Angel From Montgomery" which brought the house down.
A CAPELLA
While driving home from Paul's memorial that evening, drummer Don "D.C." Culp (who had played with Kenny in a couple of his post-Tombstone outfits and with Paul and myself in a band called The Backbeats) was reflecting on the event. It occurred to him that although the evening had been a great success and a fitting tribute to Paul, perhaps some of us should set about celebrating the careers of some of the elder statesmen on the Rhode Island scene while they were still around to participate and enjoy the honor. Ken and his family were open to the idea. D.C. next approached me about helping to produce a Ken Lyon retrospective concert and act as musical director. I agreed. At the time, I was in the early stages of forming a group to explore the possibilities of starting up a Rhode Island music hall of fame and the committee decided to use the event to test the waters to see if there was enough public interest in local music history to warrant an effort. Presented at The Stadium Theatre in Woonsocket on April 14, 2007 (Ken's 66th birthday), the event was an overwhelming success with 850 in attendance. The first portion of the program was given over to a chronological presentation of Ken's acoustic/folk career. The second half was a celebration of Ken Lyon & Tombstone.
The only living members of the Columbia-era band who were available to participate were Brenda and pianist Mark Taber. Three guitarists, Gary "Guitar" Gramolini of the Beaver Brown Band, Ken's son Josh and myself, covered for Thom Enright and the late Paul DiChiara. Ken and Jon Litwin played bass. D.C. was on drums. Brenda agreed to act as choreographer and as vocal arranger for the female backing choir and the rest of the harmony singers. She brought in musician/recording engineer Lori Lacaille and singer/songwriter Betsy Listenfelt to cover for Sybilla. Brenda was featured singing "Hold Me Closer," her original song from the Ken Lyon & Tombstone album, and received a standing ovation.
The success of the event was widely covered in the press and social media and two things resulted. The first was that offers began to come in for future Ken Lyon & Tombstone shows. The second was that the Prince fan pages and forums on the internet began to light up with news of Brenda Bennett's return to the stage.
With two personnel changes, Ken's son Justin taking over the bass slot and vocalist Adrienne West replacing Betsy, the new Tombstone embarked on a series of successful appearances throughout the area. As things progressed, the band looked to Brenda in order to incorporate new original material into its repertoire and the audience response was terrific.
"Rick Bellaire, acting as musical director and one of the guitar players in Tombstone, asked if I would be interested in continuing with Tombstone. I thought about it for a while and decided to give it a try. One – to see if in fact I actually could do it…could perform on stage again on a regular basis, and two – as long as I was still having fun. I continued with Ken and Tombstone for close to 2 years before I decided it was time to move on." Fittingly, the last show by the new Tombstone was a fundraiser for Thom Enright who had been diagnosed with a life-threatening illness. (He passed away in 2012.)
With her son Dylan approaching high school graduation and her confidence refreshed by her energetic stage performances with the band and the overwhelming interest shown by her fans from the Vanity/Apollonia era, Brenda decided to embark on the recording of her first solo album. She had been writing steadily since her teen years and there was a huge backlog of material from which to choose. The only thing holding her back was that she knew she'd have to find a way to finance such a large project. The answer came from her singing partner in the band, Lori Lacaille.
"Lori was one of the people working with us in Tombstone. She had her own recording studio in her home and when we began performing original songs of mine, she asked if I had laid any tracks down on those songs. I told her I had not. During the two years we worked together, Lori continued to try and convince me to come into her studio and record my originals. I finally sat her down and told her the only thing that was holding me back was the total lack of funds to buy recording time. To my big surprise, she offered to do the recording for nothing….an offer anyone would have found hard to refuse!"
For the next year and a half, Brenda began assembling the tracks that would eventually become her first solo release, A Capella. She enlisted the talents of her wide range of musical compatriots including her brother Bruce, Mark Taber and Adrienne West, but the album was really all her own work. The first credit line reads, "Produced, written and arranged by Brenda Bennett." With Lori as engineer and co-producer, Brenda put together ten songs which touch on subjects near and dear to her heart and reference many of the musical styles in which she's worked through the years. "Recording the A Capella project is the first time I had total control over all aspects of the recording – from soup to nuts, I made the decisions on how I felt I wanted this product to be. It was a long process…but I am proud and pleased with the end result."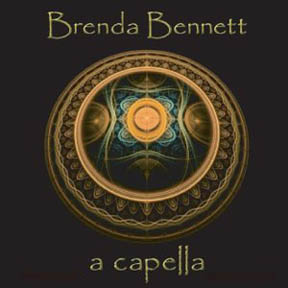 The release of the album was marked by Brenda's first solo concert performance, a sold out show at the Blackstone River Theatre in Cumberland, Rhode Island on September 15, 2012. The backing band included associates from almost every phase of her career including Mark Taber, Lori Lacaille, Adrienne West, Betsy Listenfelt, Don Culp and this writer. The album was performed in its entirety and she also featured songs from the Tombstone era and new acoustic arrangements of songs from her Vanity and Apollonia projects. The album was well-reviewed and has proven to be a best-seller.
To bring things full circle, shorty after the release of A Capella, Brenda was approached by her friend, songwriter Charlie Mason, to record the lead vocal on his song "Guiltier" which he had co-written with producers Rob Curti and Mans Ek. Released in 2013 on Ninthwave Records, the track was a return to her R&B side and it became a major dance club hit, a best seller on iTunes and Amazon, and was cited as a top track on both Spotify and Rhapsody. A followup, "Private Party," was released in 2014 and also proved a club favorite. At the time of this writing in 2015, a remix of "Private Party" by acclaimed "galactic ravers" J-Mi & Midi D was climbing up the dance charts.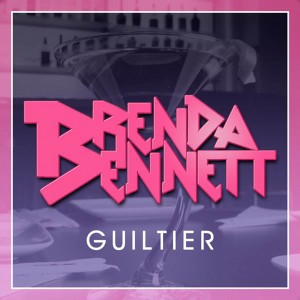 On April 26, 2015, Brenda Bennett was inducted into the Rhode Island Music Hall of Fame. Ken Lyon performed the ceremony and paid heartfelt tribute to their time together in Tombstone and to Brenda's accomplishments during the following decades. She thrilled the sellout crowd by performing a career-spanning set of material backed by an all-star band including her brother Bruce, Mark Taber, drummer Mike LaBelle, guitarist Fred Wilkes, multi-instrumentalist Ed McGuirl and Betsy Listenfelt. She was also joined on stage for one of the Prince-era numbers by her son, Dylan Thomas-John, the reason for her fifteen year hiatus from the music business. Dylan has proven to be a "chip off the old block" on the musical and artistic end of things and is pursuing a career as a 3-D artist in video game design.
Brenda has announced plans to do more recording, but hinted that the induction ceremony show might have been her last live performance.
Only time will tell what the future holds for Brenda Bennett, but her large and varied body of work and long stellar career have already guaranteed her a lasting and important place in Rhode Island music history.
LINKS & RESOURCES
BRENDA BENNETT OFFICIAL FACEBOOK PAGE
NINTHWAVE RECORDS
PRINCE VAULT
The most extensive and detailed Prince history site on the internet with much information regarding Vanity 6 and Apollonia 6
ROY BENNETT OFFICAL WEBSITE