2016 INDUCTEE
Jazz
I NEVER WENT AWAY
THE STORY OF CAROL SLOANE
by Rick Bellaire
Internationally renowned vocalist Carol Sloane is one of the finest musicians to emerge from Rhode Island during the post-bop modern jazz era. As befitting an artist of her stature, her career has been extremely well-documented and there are several invaluable resources available on the internet.
Her official website, which she oversees herself, stays current with frequent updates and breaking news. The site also links to her personal blog, Sloane View, which is thoroughly entertaining and informative with Carol regularly holding forth on a variety of topics including jazz and jazz musicians, social and political issues, the Boston Red Sox, books, food and, as she puts it herself, "…the occasional screech and holler directed at knuckle-heads."
In 2009, she was the subject of a major interview by jazz journalist and author Marc Myers. The interview, which is published on his terrific, award-winning website, JazzWax, starts at day one and covers every phase of her six-decade career and includes much anecdotal information about her adventures in and out of the music business and her personal life.
Her recording career is more than thoroughly covered by Steve Albin and Jeanie Wilson on Steve's incredibly well researched website JazzDiscography. Carol's entire recorded output is presented in a variety of ways for cross-referencing including a full session-based discography, songs recorded by title or by composer, and personnel.
All of these websites are linked below and they are all must-see, must-read resources for any serious collector or fan.
HAVE YOU HEARD?
THE EARLY YEARS
Jazz vocalist Carol Sloane was born Carol Morvan in Providence, Rhode Island in 1937 and grew up in the semi-rural town of Smithfield northwest of Providence. She was drawn to music at an early age listening to the sounds of the wartime and postwar big bands of the swing era.
She began her professional career in 1951 singing with Rhode Island society band leader Ed Drew while still a student at North Providence High School at which time she took on her first stage name, "Carol Vann." (Smithfield did not open a high school of its own until 1962.)
In 1953, she made her first recording, a single of two songs originally intended as a demo for the songs themselves. Apparently, someone who heard the demos thought Carol's versions were fine and the record did see a general release on both 7" 45 rpm and 10" 78 rpm. (Unfortunately, Carol's stage name at the time, Vann, was misspelled as "Van" with one N on the labels.) Copies are extremely rare and valuable and this record is the most sought-after release in her catalog amongst worldwide collectors.
During this period, she became an ardent jazz fan and began hanging out in the East Side neighborhood which was home to Providence's premier (and first integrated) jazz nightspot, The Celebrity Club. She mingled with the jazz fans and musicians and was able to listen to sets by all the national touring stars and local luminaries from out on the sidewalk (and occasionally from inside when the considerably underaged girl could talk or sneak her way in). She also spent a lot of time at Carl's Diggins, a record store adjacent to the club. The shop was run by Carl Henry who was a jazz disc jockey and promoter and an early advocate of Rhythm & Blues in the days before Rock 'n' Roll. Carl became a mentor figure to Carol, hipping her to all the latest sounds, advising her on purchases and introducing her to the musicians from next door who dropped by all the time.
She first gained national attention in 1958 when she joined the orchestra of Larry Elgart with whom with she recorded for RCA Victor. Elgart did not much like "Vann" as a stage name and it was he who rechristened her "Carol Sloane" when she joined the band. She left the Elgart organization in 1959.
The following year, she was booked as a solo artist at the Pittsburgh Jazz Festival where she was heard by Jon Hendricks of the legendary vocal trio Lambert, Hendricks & Ross who became an instant fan. He first enlisted her as a sub for the group's female vocalist, Annie Ross, who was suffering from some health problems. He next presented her as a guest vocalist during a LH&R performance at The Village Vanguard in New York City and helped her secure her first solo booking at the club opening for Oscar Peterson. He then provided another assist which became the pivotal moment in her career.
OUT OF THE BLUE
THE COLUMBIA YEARS
In 1960, unruly fans clashed with police and local authorities during George Wein's Newport Jazz Festival. "The beer riots," as the incident became known, led to the Newport City Council banning the event for the following summer. In 1961, New York promoter Sid Bernstein, seeking to fill the gap left by the ban, put together a group of Rhode Island businessmen (including Carl Henry) which was successful in getting the permits and licenses to present an alternative festival in a more controlled setting billed as "Music At Newport." Jon Hendricks convinced the producers to include Carol in their "New Stars" program that summer, a showcase for emerging talent. She garnered rave reviews for her performance and was heard by a representative of Columbia Records who put the wheels in motion.
Columbia signed her and she recorded an album a few months later. Released in 1962, Out Of The Blue was unanimously praised by the press and launched her on a solo career. Wein brought the festival back to Newport that year and Carol again appeared in a knockout performance which featured legendary tenor saxophonist Coleman Hawkins.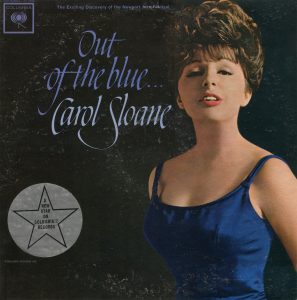 She released a second album in time for Christmas of 1962, Live At 30th Street – a live performance recorded at the Columbia Studios in Manhattan – and it was another critical favorite. However, sales were slow (some say due to the emergence of Columbia's other rising star Barbra Streisand while others attribute it to the preponderance of Rock 'n' Roll on the airwaves) and although they did not drop her from the label, Columbia put Carol on the back burner. She bided her time taking club engagements, singing in Manhattan and back home at The Kings & Queens in Pawtucket where she was recorded live with another tenor giant, Ben Webster, backed by the now-legendary Rhode Island house band of bassist Bob Petteruti, drummer Artie Cabral and pianist Mike Renzi.
She also became a regular on Arthur Godfrey Time, an incredibly popular CBS Radio morning show which was broadcast nationally Monday through Friday. (The best segments from each week's daily shows were we culled from the air checks and re-broadcast as Arthur Godfrey Digest during the weekend.)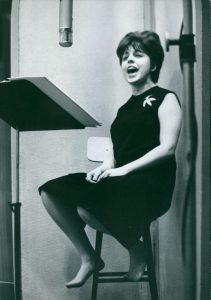 She recorded two stand-alone singles of a more commercial nature for Columbia in 1963 and 1965, but neither managed to crack the charts and she parted ways with Columbia. She did not record again until 1973.
SOPHISTICATED LADY
CAROL SLOANE ON THE WORLD STAGE
During the late 1960s and early '70s, Carol bided her time taking a variety of jobs in and out of the music business. She performed in musical theater and jazz clubs and worked as a booker for a jazz club in North Carolina. A small independent label release of live performances recorded at various Raleigh nightclubs got the ball rolling again and things began to snowball when she was asked to record an album in Tokyo, Japan for Trio Records. The Japanese are ardent jazz fans and collectors and Carol's two Columbia albums had become high-priced collectibles there. By the late '70s, Carol had become a revered and legendary figure in their large jazz community.
After the Japanese release of Sophisticated Lady in 1977 put her back in the public eye, she began recording regularly for various labels and by the late 1980s was recording for American jazz giant Fantasy Records under their Contemporary and Concord imprints.
Altogether, she has recorded more than two dozen critically-acclaimed, internationally released albums as a leader in the company of dozens of jazz legends and giants including Clark Terry, Tommy Flanagan, Bob Brookmeyer, Art Farmer, Jim Hall, Sir Roland Hanna, Ben Webster and Phil Woods, just to name a few, and continues to perform.
Carol Sloane was inducted into the Rhode Island Music Hall of Fame on April 21, 2016 during a performance at Chan's in Woonsocket, Rhode Island.
In a 2007 review of her album Dearest Duke, Matt Schudel of The Washington Post wrote, "If Carol Sloane isn't America's greatest living jazz singer, then no one deserves the title."

Unless noted, all images appear courtesy of Carol Sloane.
CAROL SLOANE: A SELECTED DISCOGRAPHY

As of 2016, the majority of Carol's recorded output remains in print and easily available on CD or by download from all major internet sources such as Amazon and iTunes. Thanks to solid sales to her fanbase, used copies on CD and vinyl of the few titles which have gone out-of-print can be tracked down at (mostly) affordable prices on the various collectors' sites such as eBay, Gemm and Music Stack and even the used media section of Amazon. The following milestone albums in her career (including all of her personal favorites) are all in print and are highly recommended along with every other release in her entire catalog. One can easily assemble a complete collection (barring the independently released "Carol Van" single from 1953) simply by perusing the incredible and complete discography at the JazzDiscography website linked below.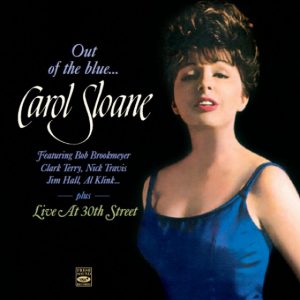 OUT OF THE BLUE & LIVE AT 30TH STREET
(Fresh Sound Records FSRCD-843)
This two-fer CD reissue from Barcelona, Spain, would be a bargain at twice the price: it contains her complete Columbia Records output from 1961 to 1965 including her first two albums and all of her ultra-rare, non-album single sides.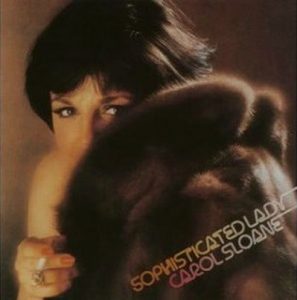 SOPHISTICATED LADY
(Indie Japan Records CD-F30)
This 1977 album recorded for Trio Records in Japan marked Carol's return to the world stage. (It has been reissued several times with different cover art. This is the original layout.)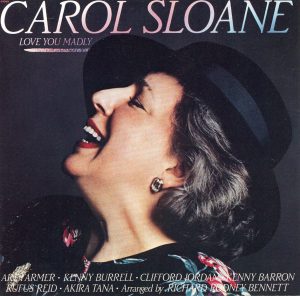 LOVE YOU MADLY
(Contemporary Records C-14049) 1989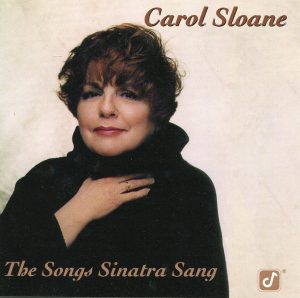 THE SONGS SINATRA SANG
(Concord Records CCD-4725) 1996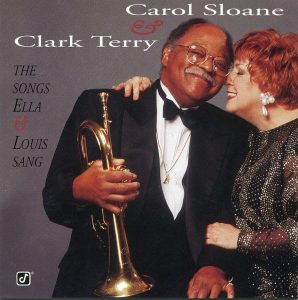 THE SONGS ELLA & LOUIS SANG with CLARK TERRY
(Concord Records CCD-4787) 1997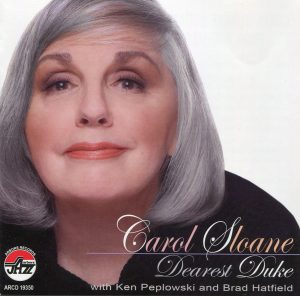 DEAREST DUKE
(Arbors Records ARCD-19350) 2007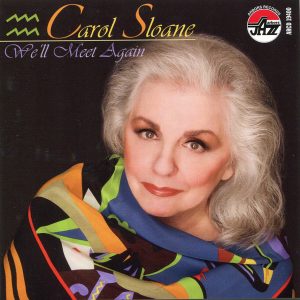 WE'LL MEET AGAIN
(Arbors Records ARCD-19400) 2010
Carol's latest album at the time of her induction into the Rhode Island Music Hall of Fame in 2016
LINKS & RESOURCES
Carol Sloane's Official Website which links to her personal blog, Sloane View
http://www.carolsloane.com

Complete Carol Sloane Discography by Steve Albin & Jeanie Wilson
http://www.jazzdiscography.com/Artists/Sloane/
Major, career-spanning interview on acclaimed jazz journalist Marc Myers' JazzWax website
http://www.jazzwax.com/2009/03/interview-carol-sloane-part-1.html