2017 INDUCTEE
Jazz, Music Educator

ONCE THROUGH WITH SOUL UNDERNEATH
The Many Musical Journeys of Jazz Saxophonist
DAN MORETTI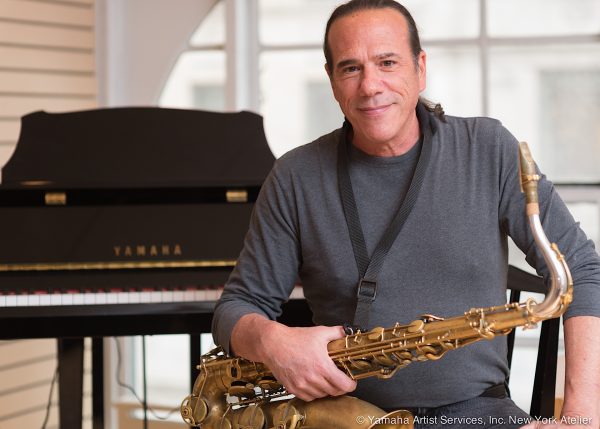 DAN MORETTI – AN INTRODUCTION
By Rick Bellaire (2017)
By the time Some Time Inside, his first album as a leader, was picked up by Black•Hawk Records for international release in 1985, saxophonist Dan Moretti of Narragansett had already established himself as a world-class player in both Jazz and R&B. He was co-owner of Celebration Sounds recording studio in Pawtucket where he became recognized as a top-notch producer and engineer. As a recording artist, he has released 20 best-selling and critically acclaimed albums as a leader and tours the world. As a sideman, he has performed and/or recorded with some of music's biggest stars including Ray Charles, Aretha Franklin, The Four Tops, The Temptations, Robert Plant, Kid Rock, Dr. John and Nile Rodgers & Chic. He began teaching in the mid-1970s in Providence and in 1996 accepted a position at the Berklee College of Music where he is a Professor teaching Ensembles and Contemporary Writing and Production. He has created curriculum for Berklee and has published several books on composition, arranging and recording and presents seminars around the world including Europe, South America and Africa.
DAN MORETTI IN HIS OWN WORDS
Oral History Interview Conducted and Recorded by
by Allen Olsen and Rick Bellaire
October 9, 2022
THE EARLY YEARS
Al Olsen: Today is October the ninth of 2022, and myself – Al Olsen – and Rick Bellaire of the Archive Committee of the  Rhode Island  Music Hall of Fame are going to interview Mr. Dan Moretti, who was inducted into the Hall of Fame in 2017. Thank you again, Dan!
Dan: Thank you for taking the time and effort to do this.
Al: Well, let's start at the beginning. Can you tell us where you were born, when you were born and a little bit about your family and neighborhood?
Dan: Oh, sure. I was born July 29, 1952. I was born in Providence, Rhode Island, and my family was of Italian heritage. We lived in the Silver Lake section of Providence. My grandparents owned a tenement house. It was a three family, on Silver Lake Avenue – [it was] actually Union Avenue in Silver Lake. We lived on the top floor, and my aunt lived on the bottom floor. My grandmother and grandfather lived on the bottom floor of another apartment with his mother from Italy. So, [there was] my great-grandmother, who didn't speak English, and so that was my childhood. But basically, we stayed there. My sister was ten years older than me; she's long passed. There was my sister, then a ten-year gap, then me. My parents had lived there for obviously ten years with the family and then I was born. My father, I think, slowly realized that bringing up a son in urban Providence might not be the best idea, [laughter] especially since I started getting into a little trouble when I was four or five years old – already! The local Catholic school was St. Bartholomew's. I went to nursery school and first grade up the hill on the other side of Union Avenue – at the top. In any case, at the same time I was born, I think [my father] had the realization that he wanted to migrate out of Providence. He was a carpenter, and he found his way down to Narragansett. He found land in the north end, in Pettaquamscutt Lake Shores, and bought a few lots and built a house. He built a house about the same time I was born in 1952. Five years later, we migrated from Providence down to Narragansett. Those were my formative years, you might say. 
Al: Have you been living in South County ever since? 
Dan: No, no. I'll tell you the quick, little scenario. I guess I must've been a troubled youth. I don't know; I thought I was normal. [laughter] The point is that I don't think I was trouble. I just think that I was a wild boy. My mother wanted me in Catholic school, so we moved to South County. There was no second-grade Catholic school anywhere, except for in Wakefield, Rhode Island, so I went to school in the basement of a church, St. Francis of Assisi Church here in Wakefield, and I went there for one year. And then there's a church in Narragansett called St Thomas More that went from third grade to seventh grade. I went there after that. And that's where I got into music. I don't remember much about what musical things I did, third, fourth and fifth grades. I think the end of fifth grade is when I first got into playing. That's when the local music store rep came and demonstrated all of the instruments. This guy, Bill Rossi, came and he was in the front of the room. He was demonstrating. First, he played the flute, then he played the clarinet, then he played the sax, then he played the trumpet a little bit, the trombone, and then he handed out paper. "Whoever wants to sign up and rent these instruments, you can rent one." Of course, I wanted to rent a guitar, and he didn't have any guitars. And I wanted to play the drums, and of course there were no drums. So, I went home, and I handed in the paper, and my mother said, "Play a nice instrument like saxophone. Play the saxophone." Signed up for the saxophone, got the saxophone, and Bill's wife, Lee, was at that point a music teacher, and she helped form that band at St Thomas More School. That was approximately, I want to say, 1964 or so. And there's a picture of that on my website under "History."
Rick Bellaire: We have it!
Dan: We're all standing on the sidewalk there. That was the beginning. And Bill Rossi was my private teacher, and he was in Wickford because New England Music was in Providence, but they opened up a branch in Wickford, so he was doing it there. I was going to lessons there on alto sax, and at the same he introduced me to Joe Pelosi when I was about thirteen or so. I had been playing about a year. Joe Pelosi ran the Lafayette Band in North Kingstown, which is a community band, a winds ensemble, and I started playing in that. That was my introduction to playing in a band. And then, at the same time, Bill was operating the Rhode Island Youth Stage Band and he pulled me into that when I was around 12 or 13. I can't remember the exact year, but there's a picture on my website, a [Providence] Journal article. You can see all the people that were in it. Hal Crook [Inducted 2020] was in it, Joe and Tony Giorgianni, and all these people that went on to have a great career, and I was sitting over here to the right side. I was the young'un in the band. I remember we played the Newport Jazz Festival that year. We opened it up, and we had to wear seersucker jackets. I had to go buy a seersucker jacket to be in the band! [laughter] But that, in a nutshell, is my youth, my very early formal development. 
Al: And in terms of what you were listening to, were you listening to the popular music of the day, or were you leaning towards…
Dan: Yeah, yeah. So, the musical influences: the very first musical influence I can remember [was] very, very, early. I was a toddler, maybe three years old? My great uncle Tony was a character that lived in Cranston. We used to go visit him and his wife occasionally on a Sunday, and he had an upright piano in the house. A lot of people had that. That was the entertainment, right? And he played, and I remember him playing, and I can distinctly remember it was stride or boogie woogie kind of stuff going on. And I could barely reach the keys, standing up, and I remember that. And I used to bang on the keys. So, that was my earliest memory in my life. But there were other people in the extended family that played. One of my cousins played on WJAR TV, Louie DeFusco; he was a guitarist, and his wife used to play upright bass in the fifties. So, they were in the TV band, and we used to go see them. And I thought, "Oh, what is that big thing with the strings on it?" It [music] was in the family, but [not my] immediate family; my father didn't play an instrument; my mother didn't play an instrument; my sister didn't. But they would listen to music at home. The early listening was like Sinatra. Everyone played Sinatra in the houses, and stuff like that. That was really the very beginning. But of course, I remember watching the Beatles live on Ed Sullivan from my living room, so of course I was totally influenced by the sixties, all the rock bands and everything that was coming out. But  [later] I was a sax player, so I was in this quandary of being a sax player at a time where it wasn't really popular so much in the rock world, except with The Dave Clark Five, right? [laughter] It was like, "I wanna play this kind of music, but how do I actually do it?" Basically, all we had was the band experiences when I was young, and that was sixth and seventh grade at St Thomas More School. But then I moved over to Narragansett Junior High School for the eighth and ninth grades, and Joe Cifelli, a well-known piano player from Rhode Island, was the band director there. He was cool because he would do arrangements of pop tunes, and he would have us play them instrumentally. We had a small band in the junior high school; it was about eight people in it. I remember three or four horns, a rhythm section and maybe a singer; I can't remember exactly. We would play for school functions and graduations and things. Back then, one of the hit songs was "This Diamond Ring…"
Rick: Gary Lewis & The Playboys.
Dan: Gary Lewis & The Playboys! I remember him writing an instrumental version of it. [mouths melody] 
Rick: Al Kooper wrote that song.
Dan: Al Kooper wrote it. That's right! Unbelievable, right? We played an instrumental version of that. After I left Narragansett Junior High, ninth grade, because we had no high school in Narragansett at the time, they allowed you to go to any school that you wanted to in the state, and most kids stayed close to home and went to South Kingstown High School.  It was ten minutes away.  But again, my mother and father encouraged me to go to Bishop Hendricken High School in Warwick. It's an all-boys Catholic school, and I guess I needed some more controlling somehow. [laughter] But I never saw it that way! I was just like a normal kid.  My bother Mike was born around that time (I'm 14 years older than he is) and he was just a kid when I was in high school.  He's an avid music fan and likes recording vocal songs but was more into the tech world of IBM and Intel where he still works.   But back to my musical journey.  So anyway, I went there, and I was still playing saxophone obviously, but the band program there was, how should I put it? I played in the marching band one year, and the other band program, I wasn't interested in for some reason. I don't know why. They had a jazz band. You had to stay after school to do it. It was [hard] driving up there [to Warwick], and I had commuters in the car with me. Narragansett would pay your tuition, plus they would give you ten dollars a week for gas. So, every person got ten dollars per week. I had three riders in my car, other people going up with me, so I was making forty dollars a week from the town. And I never had to work during high school because I had all this gas money. [laughter] But anyway, I'd want to go right home after school. Long story short, during that period there, I started meeting other people in my area that played music, and two of 'em were older guys.  One guy was named Frank Sassi. He played drums. He worked in the local auto parts store. And another guy, Jeff Newbold [guitar], he lived in Saunderstown. They were both at least ten years older than me.  Jeff was a guitar player/harmonica player. He was totally dedicated to blues. This guy, he could play harmonica and he played guitar, and he knew all the vintage blues guys – Little Walter, Howlin' Wolf – and he knew all the great guitar players' [styles]. And he could play by ear. He just learned all their stuff right off the records; played the solos. He would bring me over to his house and play these records for me, and I would say "Oh man! This is amazing music! Oh my God!" So, he would do that, and I was also influenced by some older person who wasn't working, [laughter] who didn't have a job. And I could see my parents thinking, "Here's a guitar player guy. He doesn't work and he lives with his parents. And he plays blues music. Oh no! My son is hanging around with this guy. He's in trouble." [laughter] So anyway, Frank Sassi, he and I formed this band with a bass player from down here, Roy Osborn, and a guitar player who went to Hendricken with me whose name was Willy Wilhelm.  Down here in Peace Dale where I live now there's an old mill right in the middle of the village. At that time, it was called "The Peace Dale Printworks." It was a papermill – it made paper. Someone had a connection – either Frank or Jeff – and they allowed us to go in one of the rooms in the factory there. And we would roll these big reels of paper – they were almost as tall as we were – and make like a room in the middle of the floor and set up and rehearse there. We would rehearse several nights a week and learned all [this] blues music. But then the other side of it was [that] the guitar player, myself and the bass player liked Jethro Tull at the time. I had seen Jethro Tull at the Newport Jazz Festival in 1969. That was like a big blowout for me. Oh my God! Of course, right after that, I went and got a flute and learned how to play the wrong way. I didn't have any lessons on flute, so I was over-blowing. The Jethro Tull stuff came out. The very first record, This Was, and then the second was Benefit…
Rick: …the second was Stand Up, the third was Benefit…
Dan: Right. So, our repertoire consisted of roots blues music, and the other half was all Jethro Tull. 
Al: [laughter]
Dan: That's all we played. I had to learn all these Jethro Tull songs by memory. Put the needle on the record and learn all the solos and everything. And that was our job – "Okay, we're learning this song next week." We'd go home and just practice, practice, practice. Then go to rehearsal and play it.  If my memory serves me correctly we did this for a couple of years, and we did one gig in two years. We learned all this music. We never played anywhere. And we did one gig at one of the dorms at URI in the lobby or something, but no one showed up. [laughter] 
Rick: Did the band have a name?
Dan: Yes! The band had a name. It was called The Pump House Gang named after the book by Tom Wolfe. And the interesting, weird thing about that is that there's a place right down the street from me now called The Pump House and I've been playing there for the last few years, doing a 1st Sunday Jazz Series there. So, that was my high school experience. And it was great because I learned a lot more about music than I think I would have otherwise, by just being in a jazz band in high school. It was just a great experience. 
Rick: Were you still studying privately at this point?
Dan: No, I had stopped. I wasn't taking any private lessons at that point. I took about five years of private lessons, from when I was twelve to sixteen or so, and then I didn't take any private lessons in high school. In high school, I wasn't thinking about music as a career, but I was still playing the saxophone, and doing what I was [telling you about]. But then what happened was I was very interested in the sciences. Some of the things I did in high school were kind of interesting musically. I had one project where I built an instrument. It was just a stupid thing. It was like a cow horn, a golf club with holes in it, and a saxophone mouthpiece. And I stuck the cow horn on the bottom. [laughter from everyone] Weird, kind of eastern, bugged out crazy thing. But [another thing] that I did for a project [is] where I got interested in recording. My parents had a reel-to-reel recorder, and it was one of these state-of-the-art reel-to-reels [that had] sound-on-sound. You could record on one track, and then go back and play that left track back, and record on the right track. It was like, wow! Of course, you're in high school now. I got my home, little stereo system in my room. I started doing crazy things like going to the library getting native recordings of tribes in Africa, and then recording that on one side, and then taking my saxophone and improvising over on the [other channel]. [laughter] Just, totally whacked-out creative stuff, right? I got through high school, and was [wondering], "What am I gonna do with my life?" Of course, URI is right down the street, and I was pretty good in science… I can't remember my SATs, but they were 700s; they were really high. So, I got into URI, and I'm going there, and then I said I gotta be a physics major. So, I got interested. My brain was science. I got straight A's in physics and chemistry in high school. I go to URI, took my first physics course, college level. It was so hard. I worked so hard, and I got a C! I said, "I'm not doing this, [laughter] this is too hard!" I said, "Let me take that general music, Introduction to Music course in the music department. So, I went over to the music department, and George Kent – a really well-known conductor, trumpet player and organist – he was teaching the general music class. It was a liberal arts course. A lot of non-music people were taking it. [It was] right when the new Fine Arts building opened up. Right in there, their auditorium could maybe fit about two hundred people. Anyway, George was so cool. He would talk about history, then he would talk about something [else], then he'd play something on organ that sounded really jazzy. Then, he'd take out his little trumpet. I was like, "Man! This guy's amazing! I love this! I'm gonna become a music major!" I got my saxophone and went to the chairman of the music department and said, "I wanna be a music major." His name was Professor Giebler, Albert Giebler. Nothing disparaging against him, [but] totally old-school. Very traditional. In fact, he was a clarinetist. And I said, "I wanna be a saxophone player, and I wanna be a music major here." And he said, "You can't play saxophone as a major." And I said "What?" He goes, "No, no, no. You have to be a clarinet major, and you have to double on saxophone." And I said, "I don't wanna do that. I wanna be a sax player. I mean, I play it, but I don't wanna major in clarinet." He goes, "No, you have to." So, I fought it.  I wrote a letter to the dean, and I was the first saxophone major at URI.
Rick and Al: Wow!
Dan: Yeah. In 1970. '72. 1971-ish. '71. 
Rick: Who was your applied teacher if there was no sax major? 
Dan: They had to find somebody. 
Rick: Oh!
Al: Who'd they find?
Dan: Ted Foley was the guy they actually found. He was my first college level sax teacher. At the time, he was also the contractor for the Warwick Musical Theater, and he played saxophone. Old-school guy. Local guy. Very legit. He didn't teach me any jazz, but he was my teacher there. So, I became a music major there, and that's where things really started to kick into gear more. And then, I was starting to listen more to jazz and investigating. There's a great music store here in Wakefield. I think it was called Looney Tunes.
Rick & Al: Yup.
Dan: On the side street where the post office used to be. 
Al: Yup. [note: Looney Tunes is still in business in Wakefield at a different location as of the recording of this interview.]
Dan: And I would go in there, and what happened was Fred Grady had a radio show on PAW [WPAW, Pawtucket, Rhode Island], and that radio show really turned me around in terms of jazz. And I heard Oliver Nelson's The Blues and the Abstract Truth. When I heard that record, I went, "Man, this is amazing! This sounds so cool."  And I was, "Oh wow. This is great." I went and I found the record at Looney Tunes. It was on [the] Impulse [label]. I bought that record, and that was my mantra record for about a month. I listened to that over and over and over. And of course, if you see who's on that record – it's Eric Dolphy [alto sax], Freddie Hubbard [trumpet], Oliver Nelson [tenor sax], all these amazing stars – so then I started buying records that were Impulse records that those people led their own stuff on. 
Al: Right.
Dan: So, I started buying other Impulse records. Then I [thought], "Wait a minute! He's got a record out on another record label called 'Blue Note.'" And I started buying Blue Note records. I would go to the bins and just [mouths shuffling noises]. As much as I could afford, I'd buy. And that's where I first heard Roland Kirk. That was right after hearing – a couple of years after hearing Ian Anderson [Jethro Tull] – and then finally discovered, well Ian Anderson stole all his flute stuff from Roland Kirk! And even "Serenade to a Cuckoo," one his famous songs, was a Roland Kirk song that Ian Anderson – with all the humming and playing [Anderson's style and technique] – that I was doing that at the time. But like I said, I didn't know how to play flute correctly. But that was the beginning of that. That's basically where I got to the point at URI where I thought, "Man, I really love this music. I wanna learn more and more and more about it." URI had a big band, but I hadn't gotten into the big band yet for some reason. I don't know why I hadn't. I played in the wind ensemble, and I played in the marching band, and then my career there was kind of short-lived. Because what happened was, at one point, they were gonna hire Hal Crook [2020 inductee]. I had already been studying with him. Just to back up a little bit. I don't know how I heard about him, to tell you the truth. But he was living out in Foster. He graduated from Berklee. He was living in the little cabin that he built in the woods with his wife, and I would drive out there from Narragansett and study with him privately. He was teaching this stuff that was blowin' my mind, about writing, about improvising. There was this point where they were gonna hire him at URI to do the jazz program, and it was this whole debate because – not to cast aspersions on anyone or anything – but I think that the department was a little too classically leaning, and they weren't  ready or open yet to someone of his caliber to come in because he was such a strong personality, plus being an amazing musician. Whatever the reasons were, he didn't get hired, but he went and started Rhode Island School of Music. When he started Rhode Island School of Music in 1972, he got a bunch of Berklee grads and they went over to Branch Avenue [in Providence] and they got this space, and they rewrote the Berklee curriculum. My friend Kevin Cason who's a bass player, he was actually one of the founding members of Naked Truth [now Steve Smith and the Nakeds, inducted 2013] back in the day. He and I went to Rhode Island School of Music. Kevin lived in North Kingstown at the time because his father was in the service. But we would drive into Providence, and we were on scholarship. We were on full scholarships. So, we would go in, like eight in the morning, open up the place – we had the keys – and we would clean the rooms, vacuum. Go to our classes all day. Hang around at night, and practice and hang out, and we would throw out the garbage, and lock up and go home. We did this every day for almost two years. And that's where I really learned how to play.
It was an amazing experience, seeing Hal Crook and his after-hours band. He had a band called "The Animal Band." It was a small, big band – it was killer –  Ted Casher was in it –  all the cats were in it. Ted was my private teacher at the time. I studied with him at Rhode Island School of Music, and that's how that part of it just sprung into being. Then it grew and grew and grew, and I remember I started teaching there. After my [first] year and half, I kind of excelled, and they said, "You can teach Harmony 101. You can teach this, and you can teach this." I remember teaching, and I remember some people, some of the folks. Paul Murphy [inducted 2018] started going there and people like that. All these folks started going there and learning because it was such a vibrant, small, amazing school. And then they moved. The big plan was to move and become like Berklee, so they moved into the Biltmore [hotel in downtown Providence]. The Biltmore was empty at the time. So, we moved into the Biltmore and [the school] took up three floors. And the whole thing was we [were] gonna really get this place going. [The vision was] upstairs there would be dorms, like Berklee was when it started. A great tenor player from New York, Gary Brown, was my teacher then.  But then something happened. I don't know what, but something didn't go right. The funding was supposed to be there. The government was [supposedly] giving grants and student loans, but I don't know what happened. All I know is that one day someone called me out of class and said, "Dan, you're not on scholarship anymore. You gotta start paying." [laughter] And I went, "What?! Oh crap! I can't afford it." Right after that…I figured out, "I think I've had enough learning. I'm gonna go out and start doing more playing." Then, what happened was this guy that wasn't even a well-known agent yet – Kenny O'Brien – actually told me, "Hey, man. There's this band. They're looking for a trumpet and sax player." So, me and Bob Maccini  – who later went into Naked Truth – we played in this band called Daybreak with three other guys, who were older guys. I remember Jerry Rubino was the keyboard player and Frank Spino, a drummer [formerly with The Videls], and I can't remember the guitarist's name. They were at this place called the Gladiator. The Gladiator was where Capriccio [Italian restaurant in downtown Providence] is. It was downstairs; it was a dance club. I played there five nights a week right after that. And I used to have to wear a tux every night and commute from Narragansett. I made some really good money, five nights a week, for about a year. Then in the meantime what happened was of course Kenny O'Brien became more of a powerhouse agent and he heard me play. He said to me and Maccini, "I got some gigs for you guys. I can get you out of this commercial club thing. I got these great bands." He said, "I got a band called for you called 'Naked Truth.' You wanna play with them"? Bob Maccini ends up going to Naked Truth. Kenny O'Brien says to me, "I got two bands – you can pick: this band called 'Beaver Brown' [inducted, 2012], they're looking for a sax player." This is pre-Mike Antunes [Beaver Brown's longtime sax player]. "And this other band, Back Bay Brew, they want a sax player. Why don't you talk to this guy John Cafferty?" [Beaver Brown bandleader] I went to John Cafferty's house in Narragansett, and he knew I could play. He handed me a stack of King Curtis records. He goes, "Listen, this is the kind of sax player we're looking for. Take this home, and if you think you can do this or wanna do this, then we'll go from there." So, I took those King Curtis records home, and although I liked it, my head wasn't into that yet. I wasn't able to go to that soul/blues thing yet, rock 'n' roll/soul/blues. I thought, "Well, let me go and hear this band, Back Bay Brew." I went to Boston, and there was a club called K-K-K-Katy's, it was in Kenmore Square, and I heard Back Bay Brew and they knocked my socks off. The sax player, Dave Wilczewski, was getting his Masters' and going back to Sweden where his parents are from. This is the beginning of me being in that band. At the time, I think that Frank Rossi might have just… I don't know that he was even in it yet. Frank and I joined around the same time. I can't remember exactly, but that's when I got into Back Bay Brew, and that was a whole other world opening up in terms of music for me. So, after that, there was this thing that became a dream come true. They were touring; they were on the road; they were going up and down the east coast; the band was killing. So, I joined that band, and we played originals; about one-third of the material was original funk music, and the other two-thirds were covers of funk. And we played basically dance clubs everywhere. That's when I met my wife Linda in Tampa, Florida.  There's an amazing story there.  We lost contact for over 35 years and reunited in 2011 and got married in 2013, it could be a movie haha ..So, back in the day, as we know, the drinking age was eighteen, and discos hadn't totally taken over yet. Tons of clubs everywhere. And basically, in the northeast, [we would] go a week at a time at a different club. Rick probably remembers all the names of the [clubs] around here: January's – The Edge [two clubs on either side of Benefit Street in Pawtucket – one cover charge let patrons go back and forth between them], Schiller's and The Bon Vue in Narragansett…
Rick: Yes!
Dan: …all these clubs. I did that for two years, two and a half years or so. We recorded an EP. I'm still in contact with the guys including Frank Rossi the singer,  Peter Iselin [music licensing executive] and Robert Etoll, the guitar player, who went on to have a great career in Hollywood doing a TV and film music [A Single Man, The Princess Diaries 2]. He's been doing that for fifty years. He went to Berklee. I'm still in touch with him. Peter Iselin the keyboard player, we had a reunion two years ago. It was fun. Peter's still around, and Peter's uncle supposedly [had] something to do with the New York Jets, and he knew Clive Davis. So, this was the "in" for us supposedly. And that's why we recorded that EP, back then, at Russ Martin's studio [Viscount Studios] in Cranston. It was like three songs, and it was supposedly gonna get to Clive Davis. Right? And we were gonna be signed as the pop version of Tower of Power. [In contrast to them being] dirty and rough, we were gonna be the more polished version. So, what happened of course, Clive gets exposed for his bologna, whatever he was doing [a payola scandal]. He lost his job! Clive is gone, deal is gone, and you never recover from that. We were all young. We had our hopes we were building up so high. "This is amazing! This is gonna be so cool!" Then [mouths explosion noise]. Totally gets shot to hell. And Kenny O'Brien was still booking us. We ended up one time in a place in Winter Park, Florida. It was some Country & Western bar. [laughter] We show up in our jump suits, in our satin shirts, to play the gig. We were setting up. We did [a] sound check, and the owner said, "You're fired!" We didn't even play! He said "You're outta here." It depressed us so much, everyone said, "Oh, that's it. We've had it." The band disbanded, and I came back to Rhode Island [and] lived with my parents for about six months, trying to figure out what I was gonna do. [I already had] four years of college level courses, and I found out that there was this college called the Union Institute, based in Providence. It was a new thing called "experiential-based learning," where if you've had a lot of experience and a lot of credits in different schools, they put [the credits] together, and if you formulate a real clear degree plan for one year, you can finish your degree with them. I worked with them, and my degree plan was based on some help that they had given me, because they had reassured some schools in Providence that needed music programs. There was a school, a new school, that was part of the Providence school system called the Alternate Learning Project.
Rick: ALP?
Dan: Yeah, ALP. And they said to me, "Well, the director of ALP is interested in having you create a program for them." So, I did a degree plan to create a music plan where there wasn't one and worked with this guy [whose] name is Paul Gounaris, and I still have some contact with him. He went on to become the principal at Hope High School years later. I worked with Paul for over ten years, but after the first year of being there, I created a band of all urban folks/kids. The only white person in the original lineup of band was the trombone player.  Everyone else was Latino or African-American. They brought in their own instruments, and after one year we had a funk band that was playing Earth, Wind & Fire and all sorts of stuff with girl singers and the gospel singers. It was killing! And they [the members of the band] also became super-popular with the other students like they were a basketball or football team for the school because they had no sports [program] at ALP. It was amazing. I got my degree through that whole process. It was a double degree in Arranging/Composition and Music Education from The Union University in Cincinnati. And that's how the degree happened, and then I ended up staying there part-time for ten years while I went back and started playing more and got into the scene locally, playing wedding bands; this and that.
At the same time, I started teaching a little bit later at a place on Benefit Street [on the East Side of Providence], at the very end of Benefit Street. Almost near North Main Street on the right, there was a place called "Rhode Island Conservatory" and it was an after-school program. I started teaching there a little bit, and also teaching at Wheeler School after school a little bit. They had an after-school program. So, I was doing a lot more teaching, and started to do more playing, and playing wedding bands, freelancing around town. And then, of course, at the same time, Allary was happening. [Allary was an important jazz club on South Main Street in downtown Providence.] I would go down there on a Sunday afternoon and hear the cats at Allary's: Dick Johnson, Art Pelosi, Mike Renzi, [inducted 2018] Artie Cabral [inducted 2017] and Bob Petterutti [inducted 2015]. They were blowin' my mind. "Oh, I love this music!" I had already learned about it in school. So, I was coming down into that world. And then what happened was Mike Renzi left and went to New York. Artie Cabral was somehow involved in booking too. He said, "You know, we play here on Saturdays sometimes too. So, how about, do you have a band you can put together? You can play here on Saturdays." And that's when Frank Potenza [inducted 2017], myself and Billy Andrews and Scott – I forgot his last name – the bass player…
Rick: Albers
Dan: …Albers! And the trumpet player was…
Rick: Stanley Johnson.
Dan: …and then we began to put together the band…
Rick: Mike Martino.
Dan: …Mike Martino – exactly! – on the piano. So, the Milestone band came together.
The impetus was the gig.  So, we played there every week for I don't know how long. It might have been at least a year. I'm not sure.Maybe even longer. But at the same time, I re-connected with sax player Tony Giorgianni at the Engine Company [in a band called] called Sax Odyssey. Funnily enough, Tony was the lead alto player in the RI Youth Stage Band where it all began for me in the 60's.   What happened is that Dave Wilczewski, the guy who I'd taken over from with Back Bay Brew, he was playing tenor – no, bari! – he was playing baritone and soprano [sax] in Sax Odyssey. It was a small, big band at the Engine Company. So, I went to go see them, and it was, "Wow! I like this band. I'd like to sub in this band!" I went in, and what happened was Wilczewski didn't wanna do it anymore, and I ended up taking his gig. But something happened. We shifted it. Someone else played bari. I can't recall the details, but that's how I got involved with Tony. And then, that band became Jazz Odyssey and went over to Allary on Monday nights.  Maybe for four or five years. So, that was how I got involved in the jazz scene locally. We played there for years and it was also through Tony that I started playing with the well-known band Tavares [inducted 2014] from New Bedford who had some hit songs out including one from the movie "Saturday Night Fever."  In the meantime, I'm still teaching part-time and freelancing, doing what everybody does when they're just trying to make a living – everything and anything.  It was around that time, while I was actually supervising a funk band of inmates at the ACI, that I met my first wife Deb.  She and her family were avid jazz fans going back to the famous jazz clubs around Providence in the 40's and 50's.  We were together for over 30 years.  Deb and her family were huge supporters of me and the music.  Sadly, they have all passed.
IT'S A CELEBRATION!
But, also around 1981 a friend of mine, Dave Correia, and I decided to open a recording studio because we had some interest in doing some recordings with these people we knew who were involved in this movement. It wasn't really a spiritual thing, but it felt really great, these people coming together, playing this heartfelt music. I don't know how to place it. It was kind of a leftover '70s vibe, '60s vibe. Long story short, David ended up opening up the studio in Pawtucket called Celebration Sounds and I was his partner. From that point, what happened was of course I learned how to be an engineer and producer. I was always interested. I had the ears. [I] became an engineer. Started producing things, producing other bands. David had his following; I had my following. Eventually we were doing everything from hip-hop, before anybody knew what hip-hop was. David was producing the Schemers [inducted 2015], Rash of Stabbings; all these bands were local bands. Bill Harley [inducted 2016] was just starting off. I was doing work with him, and David was doing work with him. I was doing everything. Shawnn Monteiro – I recorded her when she was in a funk band back then. Paul Murphy [inducted 2018] and I would play on a lot of stuff in the studio. The drummer Chris Bellomo was around. I used to bring Jack Menna in. I recorded Artie Cabral [inducted 2017] – the Gray Sargent Trio with Artie Cabral. All these cool things were going on. I learned how to record, and then I [thought], "Now I gotta do my own record." [laughter] Now it's time! Spent some time and got these great players. John Harrison piano. Tim Ingles playing bass. Sa Davis on percussion. Jackie Santos and Vinny Pagano [drummers] played on it too. Bill Miele [bass] and Vinny Vento [guitar] played on it. The very first record. The record [is] called Some Time Inside and at the time, I was learning more and more about the business. We did that in the mid-eighties.  The album was released around the same time as my daughter Lee was born.  
Rick: I want to interrupt for one second. Do you have the exact year for Celebration [Sounds] starting up?
Dan: I don't have the exact year, but I'm gonna guess that it was 1981 or '82.  I was also studying improvisation with Jerry Bergonzi, 1982 to '86, which was a huge turning point for me.
Ed. Jerry Bergonzi is a well-known and successful tenor saxophonist and educator who spent nearly a decade with the Dave Brubeck Quartet and teaches at the New England Conservatory of Music in Boston.
Rick: Oh, okay! So that means – what's the date on Some Time?
Dan: Some Time Inside was first released in 1984 locally, and then it went national a year later.
Rick: Okay. 
Al: I have the original one that you autographed.
Dan: Oh yeah! I remember that.
Rick: Just wanna make sure that I got the timeline right here.
Dan: David might have the exact time of when we opened, but I remember we had actually gone to India together in '81 to do some playing, some music stuff, that was involved in the original folks that we were working with. It was sometime close to that. After that happened, the record got done. It came out really great. I got it mastered in New York by George Marino, and Rick Couto [inducted with The Schemers 2015 and Rizzz 2017] did the artwork. For that original pressing, I had to learn how to deal with the business side of it. I actually found a local distributor that distributed it in New England, and I sent it out to radio stations; sent it out to press feeds. This is all myself; I'm doing everything myself. Doing interviews. Doing some gigs. The whole thing. We got some good response. We got good airplay. [When going to] record stores I was looking at Bill Evans, a very well-known sax player. I was looking at his albums because he was sort of doing what I was doing. And I'd look at the back [of the record]. I would always try to find out who his agent was. [laughter] Who was the agent of a guy that I'm like? Maybe they'll help me. So, I found his management company which was called Peter Levinson Communications in New York. One day, I just cold-called him up. I said, "I'd like to talk to Peter." Of course, the secretary says, "Who's calling"? And I said, "This is Dan Moretti, vice president of Celebration Sounds in Pawtucket. Is Peter Levinson there?" There's a little silence; a pause. She says "Okay, hold on please." And then he picks up the phone, and I started talking to him. He says, after about a minute, "Wait a minute. Why are you calling me?" I told him. He says, "Oh, okay. I understand now." He says, "Listen. I'll tell you what. Just to be fair," he says, "why don't you send me your stuff, and we'll see what happens." I put a package together [and] sent him the album [including] reviews and airplay and all this other stuff. Sent it to him. And of course, back then, I had these notebooks that I would keep track of everybody. A little legal pad. The name of my contact, when I called and what happened. I would keep track of this stuff. I put a date down, and said I'd call him back in a week. I called him back the week after and he says, "Oh, Dan. I got your package. Thank you. It's on my desk. I haven't listened to it yet, but I'll let you know as soon as I check it out." I said "Okay. Cool." I waited two weeks, called him back again, and he said, "Okay Dan. Listen. I got your package. I did open it. I haven't had a chance to listen to it but listen. Don't worry about it. I'll get back to you." Then I [thought], "Okay. He's getting a little upset. I'm not gonna bug him." I waited three weeks. I called him back again. [laughter] This is now two months have gone by. He says, "Listen, Dan. Look. Gotta tell you: don't call me. I'll call you.  Don't worry. Something will happen." So, I let it go. I [thought], "Alright. Forget it. I'm not gonna piss him off." I waited for almost two months, and I [thought], "I'm gonna call him one more time." I called him one more time, and he said, "Hey, I've been meaning to call you Dan." He says, "This guy, Herb Wong in California – good friend of mine – he started a label called Black•Hawk Records and they have Phil Woods, Stan Getz and all these people, and they're looking for a fusion act, and I sent them your stuff." And he says, "It sounds so great, and he wants to sign you and re-release the record internationally." And I said, "Oh, amazing!" So, that's how that all started. My whole recording career started there.

STEPPING INTO THE SPOTLIGHT
Rick: Persistence. 
Dan: Yes! Persistence, and trying to hedge your bets against totally pissing someone off. So, it helped. It opened that door, and then I got on Black•Hawk Records. And then from that point it was another four years before I found another record company, Par Records. In between the first two albums there was an important year – 1989. That was a couple years after my first album came out and just before the Berlin Wall came down. Mark White, a guitarist from Boston, organized a trip for our band at the time, Dialects, with Bill Miele on bass and John Anter on drums, to go to Russia. (Both Mark White and Bill Miele played on my 2nd album).  You can see a picture from the Russia trip on my website "Jazznost".  We also did some unreleased recordings with that group.  We went to the interior of Russia to a small city called Yaroslavl.  Igor Gavrilov was the Jazz Co-ordinator there.  They had a jazz society there and we performed at their "Jazz on the Volga" festival through an organization called International Arts For peace based in Boston.   Mark White had that connection. I was pleasantly surprised when a Russian person came up to me after the concert with my album to sign –  it had made it all the way over there! I subsequently went back twelve years later in 2001 to play the same festival and recorded some music with local Russian jazz players.
Anyway, while I was looking for a record label for my second album, at every record company I found it was the same story of me not really knowing what I should be doing, how you should be protecting your rights, and just basically getting exploited like everyone else; all those stories that you hear. In fact, I had a manager, I won't mention his name. We went out to California and negotiated my deal with Par Records, which was supposed to be a three-record deal, and he suggested that I give them half my publishing. I said, "Yeah, alright. Is that gonna make the deal better for me?" He said, "Oh, yeah!" Later, obviously, I found out it was the worst thing I could have ever done. And that person, interestingly enough; I don't even know if you wanna this in this story, but you could. The president of that company, Chuck Fassert; I don't know if you want to be naming names. He's passed away now. 
Rick: Well, you can decide afterwards! [laughter]
Allen: Yeah, you can decide.
Dan: Okay, okay. Check this out. There's a book called Hit Men. 
Rick: Oh, I thought it sounded familiar! [laughter]
Dan: Yes! The tale of the scams that went around! He was involved in that.
Ed. Rick pulls a copy of the book off the shelf behind him.
Dan: Yeah, he's got it. There you go. And I didn't know! When I read [it], I thought "Oh, my God! He's in this book!" So, those are the kinds of people I was involved with. Their offices and studio were right behind the Capitol [Records] building in L.A. So, you thought you were in the middle of nirvana. You go up to their suite. It was all amazing. They paid somebody thousands of dollars to paint my image for the cover. They were crazy, but that's how I met Wayne Henderson.
Ed. Henderson was a hard bop and soul-jazz trombonist who co-founded the popular and successful mainstream jazz group The Jazz Crusaders in 1960. In the 1970s, the group shortened their name to The Crusaders and their new direction as a funk- and fusion-inspired band proved to be an even more successful second act.
Right after my first record came out with them, I had already been working on another record. As soon as Some Time Inside went through it's run, I started working on another record called Point of Entry. Some of the folks that helped produce that were Sal Corio and Joe Votta. And also Bob Quigley – all local folks.  Bob used to bring in Spyro Gyra and at that time the vibes player Dave Samuels was in Spyro. Bob said, "Hey man, you should get Dave Samuels to play on your record." So, then I went to New York and Dave played on it. I also cold-called Mike Stern [former Blood, Sweat & Tears guitarist who made his name playing with Miles Davis during his '80s comeback]. I just said, "Hey, it's Dan Moretti. I got a couple of records out." (You couldn't send mp3s – you had to send cassettes back then). And I said, "Do you have some time? Maybe would you play on some tunes"? He said, "Well, send me the stuff." I did. I knew he would like these two tunes. One of 'em, written by piano player John Harrison called "Misha" is a rocked-out tune where he could really "go." He said, "Oh, yeah. That's great. I'll play on 'em." I said, "Ok, well how much?" He said, "Four hundred bucks will be fine." For two songs. "But you gotta come to New York and pick me up, then take me to The 55 Bar." [where he used to play every Wednesday night]. He said, "Take me there, pick up my amp and we'll go to the studio." I picked him up, took him there, got the amps. He set up his amps right in the studio. He did one take of both songs, and he looks at me and says, "Is that any good?" I said, "You're done." I packed my tapes up, and I took them back and I drove home.
Rick & Allen: [laughter]
Dan: So, that's how I got started on there. My second record had some name recognition at least so that people would pay attention. And Mike Stern had just left Miles Davis then. He had just started his own career on Denon with Bob Berg. All those records were great! So, he had a real profile. I had called John Scofield and he said he would have done it, but his record company was pissed off at him because he was guesting on too many other people's records. So, then I called Mike, and he did it, but I haven't had any real contact with him since then. But Samuels, I have. Until he passed away, I would see him all the time because he taught at Berklee. That record was getting done and mixed, and then I found Par [Records], and they released it. In the meantime, they said, "Oh, you should come out and guest on Wayne Henderson's new record," because he was on Par as well.  Lots of players contributed to that recording [Point of Entry] including: Armstead Christian, Oscar Stagnaro, Mark White, Bill Miele, Vinnie Vento, Rusty Russo, John Harrison, Sa Davis, Greg Wardson, Mark Lannen, Tim Ingles, and Jackie Santos.
Rick: Okay!
Dan: And I said, "How am I gonna guest on it? Wilton Felder's the sax player [Henderson's front line partner in the Crusaders]. What am I gonna do coming out there and playing?" He said, "Well, we'll work it out." So, Wayne sent me two songs. I went out there and I hung around for a whole week. Luckily, a friend of mine put me up in their house. I waited for a whole week waiting for Wayne to call. I said, "When's the studio date? When's the studio date?" Finally, he said, "Come on in tomorrow." I was supposed to play tenor on one song and soprano on another song. I went into the studio, and there was no music. The tracks were all done. The melody was a synthesizer. Somebody played the synth on this tune ["Acoiris (Rainbow)"], so, Wayne and I sat there next to each other, and I played soprano, and he played trombone. We listened to four measures of the melody, go back, they punch us in for the four measures. And then we listened to the next four measures, and played it, and they punched us in for that. We played the whole thing like that together, and then he said, "Take a solo!" So, I took a solo. One take. He says, "Ok, that's great. You're done."
Rick & Allen: [laughter]
Dan: And that was it. A whole week out there. And I said, "What about the other song?" He said, "I don't think so. It's for tenor, and if you play on it, Wilton is gonna get pissed."
Everyone: [laughter]
Ed. The track was released in 1992 on the Par Records album Back To The Groove by Wayne Henderson & The Next Crusade.
Rick: I'm very glad to hear that story! I don't want to take up time, but I was curious about the Rhode Island connection to the Crusaders in relation to you and Wayne.
Dan: Yeah, yeah. Me and Wayne. In fact, Wayne owes me money, or owed me money. 
Rick: [laughter]
Dan: He passed away [in 2014]. I used to call him. He wouldn't pick up the phone. On my record after that, he licensed one of the songs, and he sent it to China. They used to backdoor a lot of product, out from LA out to China, and you never even saw the royalties or anything. So, I would call him up, and his voicemail was, the phone would pick up, and his phone machine said "Speak please!" 
Rick: [laughter]
Dan: That was his voicemail. I would leave a message. He wouldn't reply. So, one time, [the machine] said "Speak please!" and I said "Is this Wayne Henderson, the famous trombone player from the Crusaders? Man, is this Wayne Henderson"? He says, "Hello! Hello! Hello!" 
Rick & Allen: [laughter]
Dan: I said, "This is Dan Moretti!" He says, "Oh, oh, Dan! I gotta run! I got a gig! I'll call you later!"
Rick & Allen: [laughter]
Dan: And the funny part of that is that Curt Ramm, my trumpet player friend who we all know, knew Wayne from being in LA at around the same time. Curt and I recorded a record an album together. That was a really fun record.
Rick: I don't have that on the list. 
Dan: Yeah. It's a Foundations record. It's in there. Yup, Foundations. Curt Ramm and I and (Grammy Winner) Bill Cunliffe on piano. [The rhythm section is Marty Richards on drums and Marty Ballou on bass, both inducted 2015.]
Rick: Oh, I see it!
Dan: Yeah. Curt was in California at the same time that I had my Par Records deal. He was working at a studio doing stuff and also playing trumpet. And he knew Wayne, because his studio was right down the street, or right in the same area in Hollywood. And we would laugh about this; we would joke about it. He came back in the eighties, right before that, but then he moved out there. Then, the second record that I did with those guys never really came out. We had this; I don't know if you wanna put this in there. It's kind of weird. People think it was weird, but I thought it was funny, because Candy Dulfer came out with a record the same year called Saxuality, and we were doing a tongue in cheek thing, and I said, "Hey, let's call my record Saxual," and they said, "Are you sure"? I said, "I don't know. What do you think? It's a goof, but maybe people will get the joke." But no one got the joke. And on top of that, the record came out great. Steve Khan [guitarist] was on it. Poogie Bell, great funk drummer from New York was on it. There were a ton of other players on that one including: well know bass player Mark Egan, Alan Hall-drums, Ricardo Munson-Percussion, Oscar Stagnaro-Bass, Vinny Pagano – drums, Vinnie Vento-Guitar, Joe Carrier-Keys, John Harrison-Piano, Bill Washer-Guitar, The Psychic Horns with John Allmark-Trumpet, John Wheeler-Trombone and Dino Govoni, John Wilkins-Guitar, and Sa Davis-Percussion.  That was a really great record. Jason Miles produced half of it. He played on the [Miles Davis] Amandala record – in fact, two Miles' records: Tutu and Amandala. 
Rick: Oh, yeah, yeah.
Dan: Who was the famous bass player? Marcus Miller.  Jason did all the keyboard stuff on those records. So, Jason did some songs with me, and then I [produced] the other half. I thought that was a really good record. And then when we released it, then the record was gonna come out and get promoted, and the Northbridge earthquake happened in California. And it destroyed the warehouse that the record company was in. And it flooded the whole record company. This was when the record was supposed to be released. So, I go out there, after the Northbridge earthquake, and the company basically disbanded right after that. And all I had was product. They said, "We'll send you the product." [laughter] I said, "Oh, what am I gonna do with this?" They had already sent it out to radio, and they really hadn't started the promotion. They were half-way through the promotion. Then they ended up doing this thing with this company in New York that sucks up unlicensed recordings, called Charly Records. They would grab peoples' recordings illegally and take them and distribute them everywhere. They gave my record to Charly [Records] and I tracked them down. I said, "I'm gonna find you people and sue you. In the meantime, I'm taking it back, and no matter what you say, I own it." And so, I changed the name to Waiting for the Call, and it's out there on Spotify and iTunes. It's Waiting for the Call. You can still find versions of it.
Rick: Yup. So, you distributed most of those yourself.
Dan: Well the Par Records distribution was handled by them.  But when I took them back I took over the distribution of getting stuff out there. After that in 1995 I produced Dan Moretti & Brazilia featuring Greg Abate – Live at Chan's. It was recorded by Peter Kontrimas on ADAT and then transferred to 2 inch analog tape at Celebration Sounds.  Then it came out on a label from Worcester Mass, Brownstone Records.  The players on that were me, Greg on Alto, Oscar Stagnaro-Bass, Allain Mallet-Piano, Ben Whitman-Drums, and Pernell Saturnino-Percussion. Then after that, there was a small record company in Rhode Island called Soundscapes and they were kind of imitating that bookshelf gift-store record company out of Cranston. The guys in Cranston, you know, they did a great thing. Gift shop CDs of jazz…
Rick: Oh! Yes. They had Cheryl Wheeler [inducted 2014].
Dan: …yeah, yeah. Peter Calo. After my CD came out, they put Peter Kellogg in there. North Star! 
Allen: North Star. That was [the same label as] [Jon] Campbell's [inducted 2019] Christmas stuff.
Dan and Rick: Right. 
Dan: So, the Sound Works people came to me. The guy that was there Ed Sweeney used to work at North Star, and then he came, and he started his own label doing the same thing.  He wanted me to do a record, and that's how I did my Christmas record for him with Peter Calo, Marshall Wood, Tim Ray and me. And we did that all in one day.   Then I did another one for them that was never released called Impressions. That was with Marty Ballou, me, Peter Calo and Marty Richards doing arrangements of covers of obscure tunes. There was some Beatles' stuff. Even some classical stuff.  I hope to release that at some point. Maybe.
Rick: That's December Solstice? 
Dan: Yeah. December Solstice. We recorded the whole record in one session. Just one day. Done.
Rick: Yeah.
Dan: Then, right after that, the Christmas one was released nationally. I remember that it was Top 20 somehow. Oh, I licensed that record to another company: 1201 Music in New Jersey that Greg Abate [inducted 2016] was on at the time and they released it nationally, the Solstice record, because Sound Works went out of business. Anyway, it was Top 20 one year when it was out on the…
Rick: The Holiday charts?
Dan: Yeah. The Holiday Jazz charts. Long story short, that was that. That ended there. 
But the same record company produced a more "Smooth Jazz" (with an edge) album of mine called That's Right which had four of my tunes on it, four from jazz pianist Bill Cunliffe and two from pianist Greg Wardson.  They also played on it along with pianist Alain Mallet, bassist Michael Farquharson, Drummer Larry Finn, Vinny Pagano, guitarist Vinny Valentino, Bill Miele, Joe Carrier and guitarist Peter Calo. That came out in 1995.  It was a commercial sounding jazz record with a little bit of an edge to it.  A lot of programmed tracks mixed with live tracks which was the way things are going in that period.  It had some success but it was after that that I decided to leave the "Smooth-Jazz" world and only record with all live ensembles.  
So then in the late 90's early 2000's, I had heard about Whaling City Sound, and Neil Weiss was just starting that off, and he had one record out. I had a quick meeting. I said, "Listen, if you're gonna do a record label, I know a lot about the business at this point. And if you want, we'll do a deal. I'll help you get started and give you some connections. I have a couple of records that we can put out. Maybe we could do three or four records of mine." And he agreed. That's how I got connected with him. I turned him on to my radio promoter and distribution back then, people that I knew. I already had this one record in the can. We hadn't released any of it. It was the first recording session by the band I had with Marty [Ballou] and Marty [Richards]: Once Through. It's an orange cover. And we recorded that at Dennis Verducchi's who had an ADAT studio on Douglas Avenue [Providence] in the basement. 
Rick: Easy Street [Studio].
Dan: Yeah. And I engineered it. And I was sitting in the control room engineering and playing sax while Marty and Marty were in the live room. We recorded that whole record in a couple of days. That was just in the can for like a year or more. Finally, I went back and listened. I said, "This stuff is pretty good." So, I actually got guitarist Bruce Bartlett to overdub some parts and I remixed it and we released that. Then I released two more Once Through records for Neil, Stories in 2003 and Passing Place in 2005.
Rick: This is Whaling City.
Dan: Yes, on Whaling City [Records]. Right.
Rick: Were you a partner at Whaling City at the beginning?
Dan: I wasn't a partner. I was just helping him navigate because he was ready to spend the money and make it happen. I just said, "I can give you some advice and connections if you want, and in return let's just release some of my records. We'll work a deal out." 
Rick: I understand. 
Dan: And he said, "Okay great."  In the beginning, I was helping him out and I turned him on to to a local publicist.  She's worked for him ever since then. The second Once Through record Stories record after that was with Tim Ray, Marty and Marty. And then I did another one with Paul Nagel, and Marty and Marty, Bruce Bartlett and Jorge Najarro called Passing Place. And we recorded that at the Power Station [studio]. That was a great band.  During that time I had a steady Friday night gig in Providence at a place called Neaths' on South Water Street.  We played through all the material on that album on several gigs before we went into the studio so it was really tight. That same band played at the Clearwater Jazz Festival in 2005.  Then I introduced Whaling City to Dave Liebman and we did the Latin Genesis record also at The Power Station.
My connection there was Curt Ramm and Jake Khan.  Whaling City actually did some other stuff with Dave Liebman later.   The Latin Genesis band performed a hand full of concerts in Boston, Chan's and The Red Sea Jazz Festival in Eilat, Israel.  After Latin Genesis was when I parted with Whaling City Sound.  I haven't done anything with him since then. After that what happened was that I met this radio promoter [whose] name was Kari Gaffney by accident.  Curt Ramm and I always wanted to do a record together 'cause we'd known each other for so many years. And he had been working at the Power Station in New England, which is the copy of the Power Station in New York. [It's] an amazing studio down in Waterford [Connecticut]. He and Jake Kahn had been working there. In fact, years and years ago, they wanted to go into business with me and Dave Correia, but it didn't work out. Curt said, "Let's do a record like old school Blue Note [Records], but a little bit more modernized. Two horns, a rhythm section. I said, "Okay, great. Sounds good." So, Curt wrote the music, and we got piano player, Bill Cunliffe from California who's a Grammy-winning jazz artist, to come in. So Bill came in, and Marty and Marty, Curt and I and we did two days in the studio there and recorded that record called Foundations. Then when that came out, it was getting promoted by this guy in Nashville. I won't mention his name, but he dropped the ball; just messed it up. But then, in the meantime, somehow or another, this other promoter Kari Gaffney found me through her husband. She had been following my career, and she [asked me], "Who's promoting your record?" She was a radio promoter. She says, "I see it popping, but it's not really going where it should I don't think. So, I listened to it and it's a great record. Why isn't is showing up everywhere that it should?" And I told her. She said, "Oh, man. I don't usually do this, but that guy doesn't know what he's doing anymore. He's using old lists." So, she took it over, and actually did pretty good with it. I fired him in the middle of the promotion. She took it over, and she's been my contact ever since. Actually, before the Latin Genesis record, I did one more for Neal Weiss which was The Psychic Horns record, because he liked [it]. [John Allmark, John Wheeler, Bill Miele, Vinny Pagano, Marty Richards, Ben Cook, Bruce Bartlett.] It's on my website. So, we did that Psychic Horns thing, and [John] Allmark and I, we got the band together and we did it.  Neal Weiss had loved that band, so he wanted to do that record. I'd also co-produced the big band record that John wrote for Clay Osborne, that Clay Osborne big band album, and I mixed it at Celebration Sounds with Allmark for Neal because he wanted to do it. So, we did that one, too. And I also mix or mastered some other thing, Whaling City Allstars record for him, that he had recorded.  So, I was heavily involved with that label in the beginning; maybe about eight records I did with other people too. Then, after the Foundations came out with Curt Ramm in 2009, I always wanted to do a trio record based with electric bass, drums and tenor [sax]. And of course, Marty Ballou and Marty Richards were the guys, and they wanted to do it. So, we went in. I wrote a whole record's worth of stuff. And we went over to Jack Gauthier's studio, Lake West, and we recorded the first Tres Muse record, and I had a good friend Steve Fera that's been doing Jazz on the Lake down here (Washington County).  He's been very helpful in being executive producer on a lot of stuff.  He's been great. That Tres Muse [album] came out.  That came out and Carrie promoted it. It did well.
GLOBETROTTING
To backtrack a bit, one important block of time was from about 2000 to 2011. This was when I'd had an opportunity to meet Dr. Gianni Blasi (Ph.D.) from Italy. I met him in the late '90s and he expressed interest in bringing me to Italy.  He was especially interested in my family history, which I knew very little about. My grandfather came from Italy like most of the Italian immigrants in the early 1900s and my father knew very little about his story because he died when my father was very young.  After several years of communicating with Gianni Blasi, he spent some time doing research and actually found the travel records of my grandfather coming from Naples to Ellis Island in New York and through a set of coincidences and circumstances was able to link my grandfather to his hometown, Monticelli De Esperia which was not far from where Gianni lived in Italy.  It was shortly after learning all these details that he had an idea to invite me to come to Italy to work initially with some small-town bands and some Italian gospel choirs. Yes, that's right – the Italians sing American gospel music in English! So, I was welcomed to Italy and the first visit we went to the birth town of my grandfather, Monticello De Esperia, where the mayor and the town council welcomed me along with the town band. From that point forward Johnny Blassi became my Italian manager, and we did multiple concerts and performances with local orchestras and gospel choirs including some jazz performances in Rome. This continued for over 10 years during which I went to Italy several times a year. It was during this time that I met the Piccola Orchestra La Viola a traditional Italian accordion orchestra.  Then a former online student of mine Angelo Valori from The Pescara Conservatory Italy brought me over to do some seminars and performances.  That led to the collaboration and the recording of The Journey which was released on the Dodicilune Label. I ended up going to Italy and putting the [Italian] ethnic orchestra recording project together with the accordion players. They were already together [as a band], but they were doing more real traditional-rooted Italian music. The younger accordion player,  the lead accordionist, was Alessandro d'Alessandro. All these accordion players were killer players. But it's not the accordion from here [the United States], it's the ones that are handmade accordions from Italy. They're like amazing sounding. They had their whole band of thirteen accordions, percussion, bass player, drummer, singers, and they wanted to do a hybrid record. So, I brought some music, and we did their music. When the recording was released on Dodicilune Records in 2011 we went back and did a summer mini tour of Italy playing in small hilltop villages. There's some video out there of it. It's not great quality but the band was tight !!  I also played the Liri Blues Festival several times. I later connected back to Italy again after meeting Angelo Valori and did several more visits to Pescara to do clinics and performances including playing the Pescara Jazz Festival in 2019. 
So, after I did the album and tour in 2011, I decided to start my own label called Roots Grooves Records. Then we did Dan Moretti and the Hammond Boys Live at Chan's. And that's a great record, with Duke Robillard. We had a lot of fun doing that. That was 2014. Then I did this other record, Invoke [Jazz Quartet and Strings]. Had this idea to do a jazz quartet with strings on half of it, live. We did that…
Rick: It's [Invoke] unbelievable. 
Dan: …and Dodicilune put that one out as well. Dodicilune is like an Italian ECM Records. They put out all these records, and [are] very arts-oriented, into artistic records. The Italians are still buying CDs, and they still listen to CDs. There's a market there, and in Europe there's still some market [for CDs]. But they don't distribute here. There's this VAT tax in Italy on records, on CDs, and in order for it to leave the country, it's heavily taxed. I couldn't even get copies of my record without paying an exorbitant amount of money. They said, "We'll give you 500 free records, but you gotta pay the tax on it. But I managed to get them into the states in a round about way.  And that's the story on that one. Recently, a couple of years ago, Steve DeConti and I collaborated, and we did this thing. He came up with the name Sonic Surfers. We did this real different kind of record that's half his music, half mine, with Marty [Richards] and a bass player from Connecticut, Lou Bocciarelli. That's a different kind of thing. And then, during pandemic, I did this other recording called Tres Libre which is all different trios. Completely different sonically. More of an experiment artistically. That came out and it got promoted. That did pretty well. It got airplay, made the Top 20, #15 or something, on the charts. Kari Gaffney promoted The Hammond Boys, Invoke, and Tres Libre. She's been heavily involved with my stuff since then. That's kind of the discography, you might say.
Rick: Yes. 
Dan: In the meantime, I had a great experience. That's how I met Liebman in the mid-'90s. I was playing Amsterdam's. This whole resurgence happened in the '90s. I owe it to my passed ex-wife. We were going down South Main Street [in Providence], and there was this club that had opened up. It was called Amsterdam's. And she said, "You ought to go in there and talk to those people. I bet they would like to hire you – somehow get some music going there." And I said, "Nah, I hear they're from New York. I don't want to deal with them. They think they know everything." I had an attitude – I hadn't even met anybody there yet. I'd heard one of the guys used to be an actor or something, and now he's a restaurateur. Finally, she talked me into it. Went in there one night, and it just so happened that night that this friend of mine, Sal Corio, was in there. He used to do some promoting locally – he did the Providence Jazz Festival a couple of times and some other things and helped with my 2nd album. He was sitting at a table with the owner. He said, "Dan, come over here! I'm gonna introduce you to this guy, Peter DuPre. Peter is one of the owners."He used to be an actor on soaps. [As The World Turns] They had opened an Amsterdam's on Amsterdam Avenue in New York. Then they opened up this one and the place was doing really well. He goes, "Yeah. I had a place in Coconut Grove. I'm hearing a lot about you. I hear you can do some good music for me here." I said, "Well, I guess we could." He goes, "Well, let's just start out doing something small and see what happens." I said, "Alright." We started off with a duo on Monday nights. It was just two of us. I can't remember who was playing. Maybe it was me and Paul Murphy [inducted 2018]…I don't remember. Just a duo. Then, we had a trio. Then people were starting to get really into it. Then it was a quartet. Then a quintet. And after about three months, it was so popular. It was crazy. It was in the middle of the winter, and there were lines out the door, even in the winter when it was snowing, to get into this place. It was just a total scene. It was almost like Studio 54 but jazz.
Rick: [laughter]
Dan: Seriously! That was kind of like what it was. It was crazy. Packed. And then they added a Sunday night, and I was booking blues there. Then all these other club owners would start coming in to see this stuff going on, and they'd go, "I wanna do something. What night can you do something at my place?" Monday night I stayed out of it because of the big bands. [It became] Tuesday night at the Fish Company we did Psychic Horns. Dennis McCarthy was doing Wednesday nights at the Last Call. And then, Thursday nights at the bookstore. And then Friday night, and then it became, all of a sudden, I was booking five or six gigs a week. And then, the Westin [Hotel] opened and Steve Davenport (Current owner of The Park Side, formerly Amsterdams) introduced me to them. And the Westin had seven nights a week of jazz, and I was booking that for two years. So, I was completely crazy: booking agent, musician, playing, writer, producer. And I had no time in my life. I looked at my calendar a couple of years ago. In 1992 I averaged forty gigs a month. It was ridiculous. Between parties on the weekends, it was just complete insanity. And that went on for almost three years. And then I said, "I don't know if I can do this anymore." In the meantime, the cool thing that happened was a guy came in who was the rep for Besson brass and Gemeinhardt flutes. He was from another state. He had just moved. His name was Ike Eichmann. Ike was a great guy. Great. Loved jazz. He goes, "Man, you sound great, man." He goes, "I rep these saxes called Keilwerth saxes. You should try one." So, I tried one. I really liked it. They're from Germany. And he hooked me up with Keilwerth, and that's how I got endorsed with Keilwerth. When I got endorsed by Keilwerth, that's how I met Liebman, Ernie Watts, Mike Smith, James Moody, Stanley Turrentine, and all these cats. I met them all because of Keilwerth. That's how I met Liebman, and I got him involved in the project with the Latin Genesis thing. Ike opened the door for me there. I'm sorry he's no longer with us either.  Moving forward a little more, '96, '95 comes along, and I'm burned out with the whole scene. Just crazy. I said, "I think I'm gonna apply to Berklee. Try to get a gig there." 
Rick: That was my [next] question! 
Dan: I had actually been offered a job there in 1986. 
Rick & Allen: Oh!
PROFESSOR MORETTI
Dan: I was offered  a full time job in the Harmony Department. And I turned it down because my record had just come out, and back then you had to work every day, five days a week, and it [Berklee] was a huge commitment for not a lot of money, before the Union was in there, and I just turned it down. I just said, "I'm so sorry." Warrick Carter was the provost then. And I said, "I can't do it." Ten years goes by, and I'd run the course with everything that I wanted to do. I said, "Look, I need to get out of this mode that I'm in." I called an old friend of mine, Gary Lindsay, who I went to URI with. He was an alto player, and a great arranger, and he had left Rhode Island, got his master's, and he went to University of Miami and had been teaching the master's arranging program down there for years. And Gary's a great guy; a great alto and clarinet player. He was in the big band at URI when I was there; a couple of years older than me. I called him. My in-laws used to live in Miami. I would go down there, and every time I would go there, almost every year, I had a new recording out. And I would give him a call, "Hey, Gary. What's happening?" I would go visit him, have a cup of coffee. Give him a new CD. We kept in touch. I said, "Listen, do you know anybody at Berklee because I wanna try to get a job there?" He said, "Yeah. Try this guy, Joe Smith. He's the dean of the writing division, and he was my student. He graduated from here a couple years ago, and he ended up going up there, and then he was teaching there. Now he's the dean. Send him your stuff." So, I put a package together with a cover letter. It was, basically, "Gary told me to give you a call or send this to you." I sent it up there, and email was active then obviously. About a week later I emailed him, and I said, "Did you get the package"? He goes, "Yeah, I got the package and it's really cool, and I forwarded it to Jay Kennedy who is the Chairman of the Contemporary Writing and Production Department. He's gonna give you a call." I said, "Oh, that's interesting." Jay gives me a call and said, "Listen, we'd like you to come up. We're interested in your stuff. The department is just changing from just arranging to producing and arranging, and you seem a good fit. And you've got all of these records." He said, "We want you to come up and do a presentation." I said, "Great!" It was a presentation – I can tell you the story which is funny – on Arranging II, which is writing for five horns. They put me in this classroom. I prepared for it. I had some materials, and they gave me some stuff. I went in, and Joe Smith was there, the dean. Jay Kennedy was there, the chairman. The assistant chair was there, his name was George Hargan, one student and one other faculty member, Donny Nolan. Donny Nolan knew Gary Lindsay too. 
Rick: They stacked the deck.
Dan: Yeah, yeah. They're all in there. I'm starting to teach. I'm showing them this and that. I put this [chord] voicing up, and I said, "This is this." Donny Nolan says, "I have a question." I said, "Okay, what is it?" He goes, "Why is it that"? The technical thing was when you have the root in the lead of a major seventh chord, when you do the voicing, you can't put the major seventh next to it. You have to use the sixth because it creates a half step dissonance in the top, and two horn players can't play it. That's the explanation. He goes, "Why? It sounds good on piano." I'm in the middle of my presentation, and I can feel that my temperature started rising a little bit. The room – there was silence. And I go, "Well, because the piano is piano, and when you have horns, there's a difference because horn players aren't perfect like pianos, so they can't play those dissonances in tune." He goes, "Well, I don't get that. I don't see why it should be like that." He's giving me a hard time. I said, "Okay, wait a minute." I took a breath. I said, "What's your name again"? He says, "Donny." I go, "Donny, it seems like you're really confused about this subject, right? So, listen to what we're gonna do. After class, we're gonna have a little meeting, and I'll explain it perfectly. How does that sound"? And then, everybody in the room went,  "Yeah!" [Laughter] They all clapped for me because he was busting my balls, but I kind of took care of him. Put him in his place, and I got the job.
Rick & Allen: [Laughter]
Dan: So, when I got the letter from Berklee, this is actually what happened. I was home alone. I got the letter. "We'd like to offer you a position. Assistant Professor." I was jumping for joy in my living room because, in that moment, for me, I could see all the bullshit in my life that I had to deal with musically that I really didn't wanna do could be put aside. I only did it 'cause I had too. A lot of that stuff was gonna go. I wouldn't have to do that anymore. I was so happy. That was the beginning of that whole story, moving forward. And then of course, twenty-six years later, here I am.
Rick: You're still at the school, right?
Dan: Yeah. Yeah. Yeah. I'm on my part-time phase out at this point.
Rick: Wow! I did not know anything about that.
Allen: Great story. Exactly!
Dan: It's what it is. I've been there ever since. I've been kind of the squeaky wheel most of the time up there, and it's helped in some ways. In some ways, it hasn't. [Laughter] 
Rick: You're not a snob.
Dan: Yeah. Yeah.
Rick: A lot of kids came in since you've been [there] who're not interested in playing big band charts or whatever.
Dan: Yup. 
Rick: And this is my other question, 'cause you have been so thorough. 
Allen: Beautiful! 
Dan: I don't know how I'm remembering all of this. 
Rick: Oh, it's perfect! And it's [more or less] chronological! When did you – I don't know how it ended and I'm not trying to pry – but you left Celebration [Sound] and David took it over…
Dan: Yeah.
Rick: When was that? 
Dan: That was just before I got hired at Berklee, and…
Rick: Oh! I had that mixed up.
Dan: About ten years, I had been there. Maybe twelve years, I had worked with him. What happened was this. David is a great businessman, and he wanted the business to be successful. In the beginning, we were both doing anything and everything to make it successful. Then I said, "Look, I want to be an artist, too. I want to produce my own records." Then it became this little bit of a tug of war between, "Well, wait a minute, it's not just about you."  So, we both agreed. He and his wife Cathy wanted to make a go of it in the business world. My involvement was no longer helping out with that so much as it should have. And we both agreed. It was all amicable. But Dave and Cathy were very understanding in the first few years.  But then he moved to Normandy [Sound, pioneered by Phil Greene, inducted 2017]. And he took over Normandy.
Rick: Right.
Dan: That was their big jump. And they were there for many years, successfully doing that. He still has a studio.
Rick: Yes, in Seekonk [Massachusetts]. Triad Recording, Tony Ricci's company, is at Normandy now. They've brought back Phil. Back to Berklee one more time.
Dan: I'm a full Professor now.
Rick: Contemporary Writing and Production. When you put in your resume and your credits for the job, the connection of working at Celebration must have helped you get the job; that's the point I was trying to make.
Dan: Yeah, that definitely helped.
Rick: You were not a snob. You were…
Dan: Exactly. Right. At that point I had had seven or eight records out, even more. And they said, "Oh look. He's doing it. This is what he's done. And he's also a good arranger, and he's a player, so that's perfect for what we want to do here." 
Rick: Right. "You're the future of what these kids need."
Dan: Back then. It's interesting. That was the truth. Right, and it's even gone beyond all that now. But I've held my ground on certain things and have my approach to doing stuff. 
Rick: A perfect fit at a perfect time.
I NEED A SHOT OF RHYTHM & BLUES
(WITH JUST A LITTLE ROCK 'N' ROLL ON THE SIDE)
Dan: Yeah. Yeah. That was an interesting thing. It was actually Curt; let me see. I first played with Nile Rodgers in, it had to be 2002 maybe. I can't remember – around then. And that came from Curt Ramm 'cause Curt was… let me back it up a second. Pianist Al Copley [inducted with Roomful of Blues, 2012], who's been part of my musical life for many, many years – one of the cofounders of Roomful of Blues – I'd been playing with Al Copley even before that, since the late nineties, early two-thousands. Al has his band here, and then he was going to Europe for six months, staying in Europe and coming back. Curt was playing trumpet with Al Copley, and Jimmy Biggins was the sax player – he passed away a couple of years ago. Curt and I obviously knew each other for years and he said, "Hey, you wanna come and play with this band, Al Copley? You can play with me. I have some gigs." That's how I met Al. And that's how Curt and I played with Al, and then Curt got the call to do [play with] Nile, because Bill Holloman – the sax player from Connecticut – oh, and I forgot that Bill played in a blues band from Connecticut called B. Willie Smith.  I ended up joining them in the early 80's when their lead singer moved away and Dennis McCarthy started singing with them along with the leader for the past 35 years of Roomfull of Blues, Chris Vachon.  So I digressed. Bill Holloman and Curt had been playing with Nile Rodgers [from Chic]. Nile reformed his band after Jerry Barnes – his bass player from North Carolina – who wasn't playing [at the time]. Jerry Barnes loved Nile's music. And Nile's partner had passed away, the bass player Bernard Edwards. They had written all the songs together. So, then Jerry Barnes came to New York and showed Nile. "I can play all that bass stuff. And this is how I sound. You should put the band back together." And that's how he put his band back together. Bill Holloman was involved. Bill calls Curt, so now Curt's playing in Nile Rodger's band. Then, Bill needs a sub, so Curt calls me to sub with him. And that's the story of how we ended up playing together in that band [Nile Rodgers & Chic].
But that band is what led me to play with all the [players] on the pop side. One thing that I wanted to back up and say that I didn't say is, back in the Milestone era, I was also playing with R&B stars, like when the Four Tops or the Temptations would come to town. I contracted [put the band together] for Ray Charles at the PPAC in 1984 or '85 with the symphony and I got to meet Ray. All that stuff was going on. And Milestone backed up Little Anthony from Little Anthony & The Imperials for a little while. Frank [Potenza] had left. Frank moved to California. So, we backed up Little Anthony without a guitar player, I think. During that period, I remember we went to Philadelphia to play a show with Little Anthony, there was no more Imperials, and Ben E. King was on the show. And that's when "Stand by Me" was a hit [for the second time] and he was on the show. He was the headliner. We were opening up. I'm in the horn section. And then the musical director for Ben E. King comes up to me; and first of all, they were all African American players. There were no white guys in the band. The music director comes up to me, says, "Hey, man. You wanna play with us tonight?" I went, "What?" He goes, "Our tenor player's sick." I went, "Uh, yeah!" So, I ended up playing with Ben E. King then.
Rick: Wow!
Dan: Fast-forward, 2004 – over twenty years, twenty-five years later – we're in Montreux with Nile's band, backing up all the stars of Atlantic Records, and Ben E. King singing "Stand by Me." 
Rick: [Laughter]
Dan: It was such a cool thing to have that whole full-circle thing happen. It leads us up to – I don't know where we're ending up here – but during my career at Berklee I co-wrote a book called Essential Grooves and got involved with this company. We did these really cool things called, which are now called, "sound slices" that are interactive video [with] scrolling scores. And the app "Essential Grooves" just came out this last week of stuff. So, things have kept up. My boss became the head of Berklee International Network Department.   He was a co-worker of mine who became my chairman, Matthew Nicholl, and then he became the dean.  So, everyone's grown in different ways. Oscar Stagnaro (bassist) is still there. We played last weekend together. He's the head of the Latin Studies Department that focuses on bringing all Latin people in. Everyone's been doing great, and their careers have grown, and they've done all these things. I've gotten to the point there where I can leave. My wife Linda, who I actually first met when I was playing in Back Bay Brew in the 70's, has been retired for the whole time we've been married, so it's over ten years.  Being with her has really changed my life for the better.  We actually reunited in 2011 after all those years by accident. There's a whole story there with enough material for a movie. She's such an awesome person and has been really super supportive in terms of the music. She has actually created an extended family for me in Texas with a step-son and -daughter. But now I'm at the phase where, "I could stay at Berklee. It's not so much about the institution of higher ed but it's more about the commitment.  It's about knowing that, for the next three months, four months, I have to do this." That's what it's more about for me now.  I'm thinking so I don't have a commitment there, and I can do anything I wanna do. People in Italy want me to come back. I wanna go for a month. I don't wanna go for a week. I want to record new music and travel and play with folks outside of my usual crew.  That's what I'm thinking, while I'm still able to walk and breathe normally I would like to refocus on writing and playing and not teaching. [Laughter] Oh…that reminds me. Another full-circle experience is that my daughter Lee Moretti went to Berklee, I can't remember the years, the mid 2000's, then she left to tour with 3EB [Third Eye Blind] and then did her own band and recordings with The Furies.  After that she came back to school and eventually got her double major degree in performance and music business. Then, during the pandemic she got her masters at Berklee Online for Music business. In September 2022 she got hired as an Assistant Professor at Berklee in the song writing department.  Lee is also currently playing guitar on Broadway in NYC in various shows including the MJ [Michael Jackson] show and The Six and Without You where she has the full time chair.  Crazy right?  I  follow her in a classroom this term on Tuesdays – ha ha!
Rick & Allen: [Laughter]
Dan: And throughout this whole thing I've been surfing. I still surf. [Off topic about surfing locations in Washington County.] Then, the Hall of Fame [induction] was an amazing experience. I was so happy to be inducted into that. That was a great moment for me.  Thanks to the RIMHOF for all the efforts to document and host the awards etc.
Rick: That was a great day.
Dan: Yeah. That was a great day. Just having that recognition is awesome. I really appreciate all the stuff you guys do. I know it's volunteer [work], and it's out of the love for getting this stuff done. I'd also like to mention that over the years, my endorsements with Keilwerth Saxophones [1995 to 2012], Shure Microphones [1993 to 2011], Vandoren Reeds [1991 to the present] and Yamaha Saxophones [2012 to the present] have been a huge help in supporting my musical journey.  I have also been a voting member of the Grammys for over twenty years.  
Rick: Well, thank you very, very much.
Dan: Okay!
Unless otherwise noted, all images appear courtesy of the Dan Moretti Collection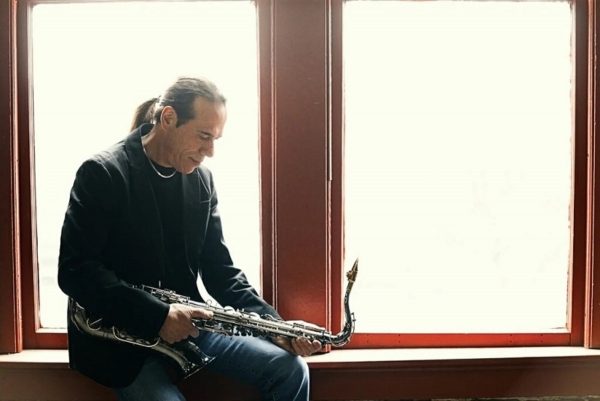 DAN MORETTI DISCOGRAPHY
Compiled by Rick Bellaire
AS A LEADER OR CO-LEADER
1985 Dan Moretti – Some Time Inside (Celebration Music 8603)
Original independent LP pressing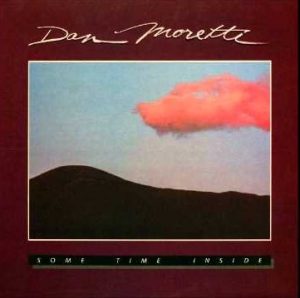 1986 Dan Moretti – Some Time Inside (Black•Hawk Records BHK-51901)
Second pressing licensed for worldwide release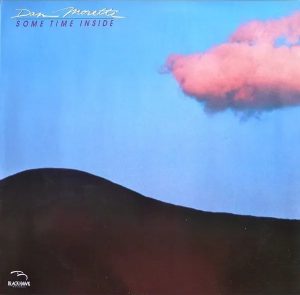 1992 Dan Moretti – Point of Entry (Par Records PAR-2006-CD)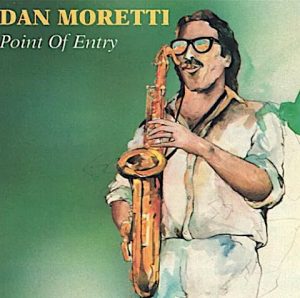 1994 Dan Moretti – Saxual (Par Records PAR-2019-CD)

This original release saw limited distribution as the label was
collapsing – financially and literally – as a result of the great
Northridge earthquake of '94 in southern California.
1994 Dan Moretti – Waiting For The Call (Morean Music Digital Dowload)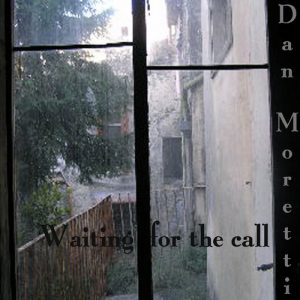 Moretti recovered the master, retitled the album after its
leadoff track, and reissued it as a digital download to all
of the major platforms worldwide
1996 Dan Moretti – Impressions (Soundworks CD-1012)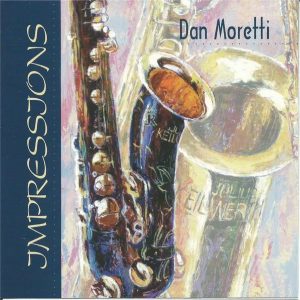 1995 Dan Moretti and Brazilia featuring Greg Abate – A Concert for The Music School: Live at Chan's
(Brownstone Recordings BRCD-958)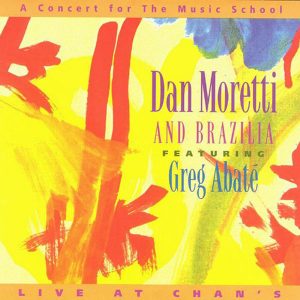 1999 Dan Moretti – That's Right (1201 Music CD-5012-2)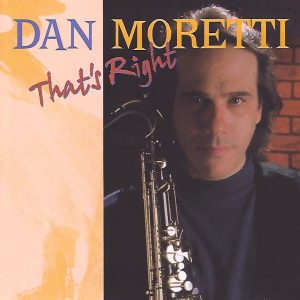 1999 Dan Moretti – December Solstice: A Christmas Album (Blue Orchid/1201 Music CD-5012-2)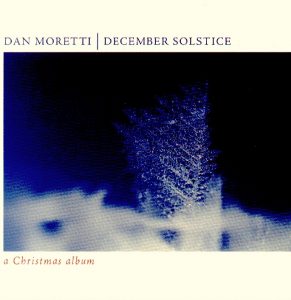 2000 Once Through – Once Through (Whaling City Sound WCS-002)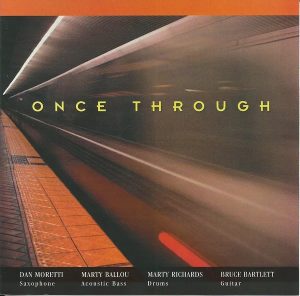 2001 The Psychic Horns – The Psychic Horns (Whaling City Sounds WCS-003)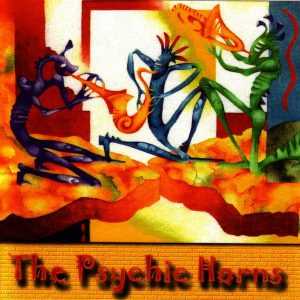 2002 Dave Liebman, Don Braden & Dan Moretti – Latin Genesis (Whaling City Sound WCS-013)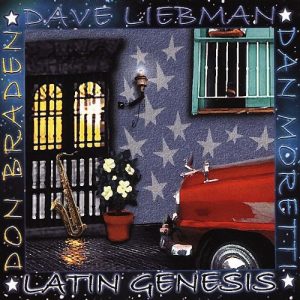 2003 Dan Moretti and Once Through – Stories (Whaling City Sound WCS-019)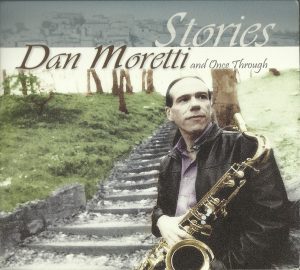 2005 Dan Moretti & Once Through – Passing Place (Whaling City Sound WCS-028)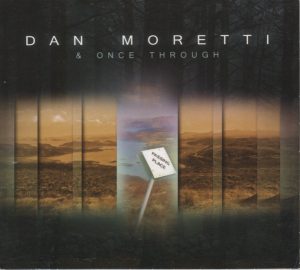 2009 Curt Ramm, Dan Moretti & Bill Cunliffe – Foundations (Foundations Jazz Records/CD Baby 753182118079)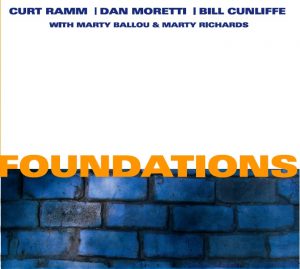 2009 Dan Moretti – Tres Muse (Foundations Jazz Records FJR-CD-902)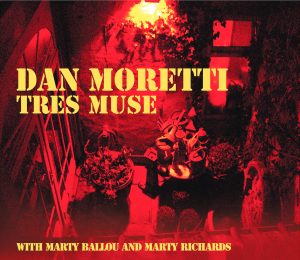 2010 Dan Moretti – Dan Moretti Celebrates 25 Years of Recording (CD Baby limited release)
A "best of" compilation subsequently available for streaming on SoundCloud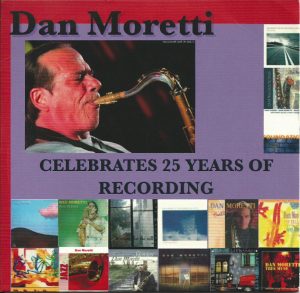 2011 Dan Moretti & Piccola Orchestra La Viola – The Journey (Dodicilune ED-281 [Italy])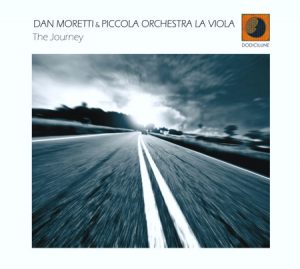 2018 Dan Moretti – Invoke (Dodicilune ED-397 [Italy])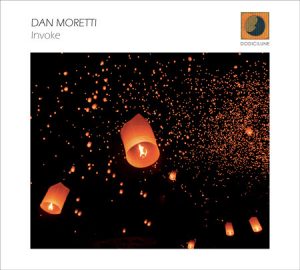 2014 Dan Moretti & The Hammond Boys – Live At Chan's (Rootsgrooves/CD Baby 5638328404)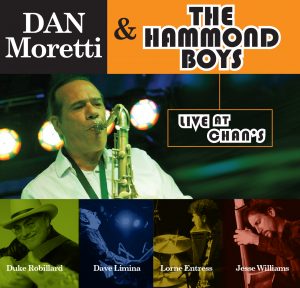 2019 The Sonic Surfers: Steve DeConti & Dan Moretti (Rootsgrooves download available on all major platforms)

2021 Dan Moretti – Tres Libre (Rootsgrooves download available on all major platforms)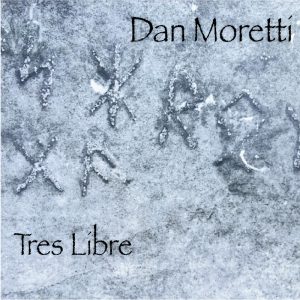 OTHER RECORDINGS OF NOTE
1975 Back Bay Brew – Girl It's You (Brew Music EP VI2055
Dan Moretti's first released recording with the popular New England soul/funk band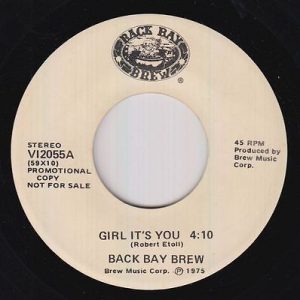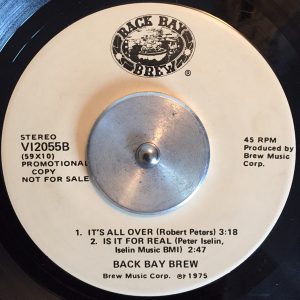 1992 Wayne Henderson & The Next Crusade – Back To The Groove (Par Records PAR-2013-CD)
Dan Moretti guests on soprano saxophone on the track "Acoiris (Rainbow)"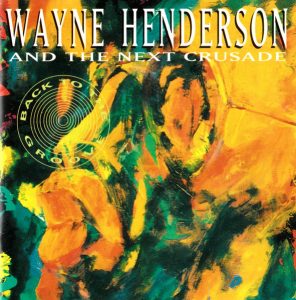 2001 The John Allmark Jazz Orchestra featuring Clay Osborne (Whaling City Sound WSC-CD-007)
Produced by Dan Moretti & John Allmark, Recorded by Dan Moretti & Mark Wessel, Mixed by Dan Moretti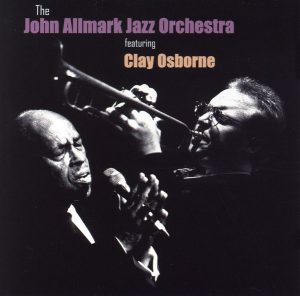 PUBLICATIONS AS A MUSIC EDUCATOR AND AUTHOR
2006 On Campus Course:
Groove Writing
2008 Producing and Mixing Contemporary Jazz, Dan Moretti, Berklee Press/Hal Leonard Publishing, Book/DVD Rom ISBN: 0-87639-088-2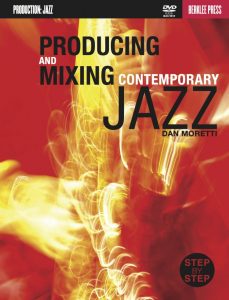 2008 Related Online Courses:
Arranging 1: Rhythm Section
Arranging: Contemporary Styles
Master Arranging and Orchestration Certificate Program
2011 Essential Grooves for Writing, Performing and Producing Contemporary Music,
Dan Moretti, Matthew Nicholl & Oscar Stagnaro, Sher Music Co., Book/CD/DVD
ISBN-10: 1883217652, ISBN-13: 978-1883217655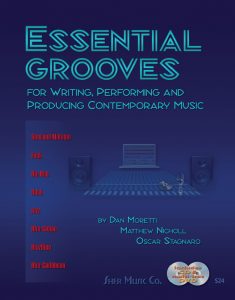 A DAN MORETTI SCRAPBOOK
Dan through the years and circling the globe with partners, friends and heroes
RESOURCES AND LINKS
DAN MORETTI OFFICIAL WEBSITE
https://danmoretti.com/
DAN MORETTI FACEBOOK PAGE
https://www.facebook.com/dan.moretti.98
DAN MORETTI INDUCTION INTO RIMHOF DOCUMENTARY SHORT
Produced and Directed by Norm Grant and Dr. Tom Shaker, Pete & Buster Films (2017)