2018 INDUCTEE
Folk, Songwriter
DAVID BLUE (1941-1982)
RHODE ISLAND'S ORIGINAL OUTLAW MAN
by Rick Bellaire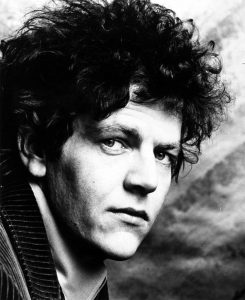 After getting his start alongside fellow Rhode Islanders Tom Ghent, Paul Geremia, Kenny Lyon and George Leonard on the New England folk scene which revolved around the East Side of Providence and Cambridge, Massachusetts, singer-songwriter Stuart David "Dave" Cohen of Pawtucket moved to Greenwich Village in 1964.
He was quickly recognized as an important new voice by both the old guard and the new and was taken into the inner circle of the era's most important singer-songwriters including Tom Paxton, Dave Van Ronk, Eric Andersen and Bob Dylan. Within months, he made his recording debut on the now-legendary Broadside Singers compilation alongside Dylan, Paxton, Andersen and Pat Sky among others.
Because he shared his name with two other nationally known musicians (guitarist/keyboardist David Cohen of San Francisco's Country Joe & The Fish as well as the "other" David Cohen, a well-known Los Angeles session guitarist), Eric and Bob urged him to adopt the stage name "David Blue" after his deep, blue eyes to avoid confusion.
His self-titled 1966 Elektra album is considered one of the greatest recording debuts in the history of folk music and its success propelled him into a decade-long career as a major label recording artist which yielded another six critically acclaimed albums.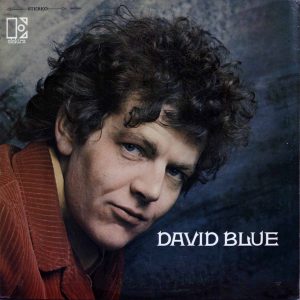 The track "Outlaw Man" from his 1973 Asylum Records release Nice Baby and the Angel provided labelmates the Eagles with a song which was not only integral to the storyline of their second album, Desperado, but also provided them with a major hit when it was released as a single.
In 1976, Bob Dylan hit the road to promote his latest album, Desire, which was released to much critical acclaim and became one of the best-selling records of his career. David was invited to participate in the tour which gathered together musicians, artists, writers and actors with whom Dylan had been associated in the first 15 years of his career including Joan Baez, Bobby Neuwirth, Allen Ginsberg, Ramblin' Jack Elliott, Ronee Blakely and Roger McGuinn. The company was dubbed "The Rolling Thunder Revue" and Dylan filmed the proceedings simultaneously documenting the music and creating fictional scenes involving the participants which would eventually see limited theatrical release as the four-hour movie Renaldo & Clara. David appeared in the film as himself which led to a side-career as an actor with appearances in three more feature length movie projects.
David passed away at just 41 in 1982. Although he never achieved major stardom, he was recognized by Leonard Cohen during his eulogy as a "songwriters songwriter" stating that, "David Blue was the peer of any singer in this country."
In 2018, David Blue was inducted into the Rhode Island Music Hall of Fame (RIMHOF) in a ceremony during which he was honored by his wife, Nesya Shapiro Blue (who played segments from David's final unreleased album), Hall of Fame Archivist Rick Bellaire, and with the reading of a testimonial from his longtime friend Eric Andersen as well as selections of his music performed by two fellow RIMHOF inductees, singer-songwriters Bill Harley and Mark Cutler.
LINKS AND RESOURCES
OFFICIAL DAVID BLUE WEBSITE
http://folk.uio.no/alfs/blue.html
This is an excellent site created with the cooperation and participation of David's widow, artist and cinematographer Nesya Shapiro Blue, and is the major source for information on his life and career including a complete discography and many rare photos and images.
WIKIPEDIA PAGE FOR DAVID BLUE
https://en.wikipedia.org/wiki/David_Blue_(musician)
Another excellent source of information particularly about his early days in the Village.
BOOK: American Troubadours: Ground-Breaking Singer-Songwriters of the '60s
by Mark Brend (Backbeat Books) ©2001
An excellent book with a terrific critical view of David's career alongside the work of a group of some of his most important contemporaries showing how he, "…David Ackles, Tim Buckley, Tim Hardin, Fred Neil, Phil Ochs, Tom Rapp, Tim Rose and Tom Rush each expanded the standard pop blueprint of the day and made a significant contribution to rock's coming of age." (Amazon.com)