2015 INDUCTEE
Jazz
THE BEAT GOES ON!
The Story of
DUKE BELAIRE (1932-2020)
by Bob Bovi & Rick Bellaire
DUKE BELAIRE: AN INTRODUCTION
by Rick Bellaire
Drummer Anthony "Duke" DeCubellis was born to his calling. His father, Ray Belaire, led one of New England's top big bands of the Swing era and also ran The Arcadia Ballroom in downtown Providence where Duke soaked it all in as a youth. In the early 1950s, he adopted the Belaire stage name and began touring with various name bands including The Johnny Long Orchestra and Tex Beneke & The Glenn Miller Orchestra and led small groups with trumpeter Legs Osborne and pianist Freddie Starks. He became the house drummer at The Celebrity Club, New England's first integrated nightspot, opening for and/or backing every major star who came through the area including Coleman Hawkins, Roy Eldridge and Slim Gaillard. In 1967, he founded his own big band and secured a Monday night residency at Bovi's Tavern in East Providence in 1969. Duke is credited with keeping the big band sound alive for the next 30 years. The orchestra, still based at Bovi's and now under the direction of trumpeter John Allmark, is considered the longest continually running big band in the United States.
DUKE BELAIRE: THE EARLY YEARS
By Rick Bellaire
Anthony DeCubellis was born in Providence, Rhode Island, in 1932. His father, Pasquale DeCubellis, was a successful musical contractor and band leader, well known throughout New England. Beginning in the 1920s, Pasquale used the stage name "Duke Bellis." He was very successful playing society music as well as with other general business work such as restaurants, hotels, dance halls, weddings and other private functions. In the 1930s, he formed a big band to present the new sounds of the Swing era and adopted a new stage name, "Ray Belaire." The band was a big success, performing all over the Northeast and holding down a residency at the Rhode Island branch of The Stork Club. In the late 1930s, Ray took over the lease on The Arcadia Ballroom, a large venue in downtown Providence, and began presenting touring name bands who came through the area including Artie Shaw, Gene Krupa and Tommy Dorsey.
By the time Anthony entered Central High School in Providence, he knew that he wished to follow in his father's footsteps and pursue a career in music. He decided on the drums and began performing with bands while still a high school student. His musical education was expedited by spending a lot of his time at the Arcadia, soaking it all in while he swept up the place and ran errands for his dad.
(During interviews for this piece in 2015, Duke Belaire recalled the visit by the Dorsey band with special fondness. He and his dad were there to greet the band as their bus pulled up to unload into the Arcadia. Tommy threw open the luggage compartment at the bottom of the bus to reveal a beautiful drum kit and asked them if they knew anyone who was looking to buy a trap set. It turned out that not only had Dorsey's star drummer, the one and only Buddy Rich, defected from the band without notice, but had failed to make good on pay advances he'd received. Ray asked Anthony if he'd like to have the drums and a deal was struck – Dorsey recouped his losses on the errant drummer and Anthony became the proud owner of Buddy Rich's drum set!)
After graduation, he moved on to the New England Conservatory, but dropped out after a year to take a gig with The Johnny Long Orchestra in 1951. Long had been leading his band since the 1930s and, although he never became a household name, he'd had a number of successes including backing up Ella Fitzgerald for a time including her hit recording "Confessin' That I Love You" and scoring a million-selling single of his own, "In A Shanty In Old Shanty Town," for Decca Records in 1942. Long's Orchestra was well-loved as a dance band and, despite the post-war end of the big band era, he was able to parlay his reputation into a career which lasted into the 1970s. By the time Anthony joined the Long band, he had taken on a stage name of his own derived from his father's two alter-egos, "Duke Belaire." The year he spent traveling the country with Johnny Long was Duke's first taste of "the big time" and only reinforced his plan to remain a full-time, professional musician.
Duke spent the next two years, 1953-1954, in the United States Army. Thanks to his drumming skills, after basic training he was stationed at Fort Hood in Texas where he became a member of the 1st Armored Division Mounted Army Band. The band continued the tradition of mobile cavalry bands which dated back to the 1840s, but became world famous by modernizing their approach to keep up with the mechanized cavalry divisions which had spring up during World War II and paraded in jeeps instead of on horseback.
When his service ended, Duke hit the road again with another big band: Tex Beneke & His Orchestra. As a saxophonist and featured vocalist with The Modernaires, Tex had been one of the biggest stars of one of the biggest bands of the Swing era: The Glenn Miller Orchestra. During second world war, Miller and the bulk of his musicians either enlisted or were drafted and formed the U.S. Army Air Force Band which served with the Special Forces in Europe. Beneke continued to lead the Modernaires for a year and then enlisted in the Navy where he led a band. Miller was lost in action in 1944 and in 1946, the Miller estate asked Tex to assume leadership of the Miller band. He led the orchestra until 1950 when he parted ways with the estate. His new band found success of its own as a recording and touring act and often featured more Miller alumni and Miller material than the official "ghost" band. Duke criss-crossed the country with Beneke for two years, 1955-1956, performing in concert in every major city and at virtually every major night spot in the United States. By 1957, Duke decided it was time to settle down a bit and returned to Rhode Island to continue his career on the homefront.
On his return, Duke found himself in great demand as a general business drummer and also began offering his services as a musical contractor, booking gigs for any sized combo required from a trio to a full orchestra. He kept his hand in jazz by forming a trio with trumpeter Clarence "Legs" Osborne and pianist Freddie Starks. He also became the drummer for the house band at The Celebrity Club, New England's first integrated nightspot, which featured nationally known Jazz and R&B stars. The house musicians not only opened the show for the big stars who came through Providence, but also provided the backing for those who traveled as a solo. During his run at the club, Duke performed with a "who's who" of postwar jazz greats including Coleman Hawkins, Roy Eldridge, June Christy, Chris Connor and Slim Gaillard. Duke recalls the Gaillard show as his first taste of playing R&B. Guitarist/vocalist Gaillard had been a jazz star in the 1940s as one half of Slim & Slam with bassist/vocalist Slam Stewart and had made the transition to R&B in the '50s as a solo act. At the Celebrity Club, Slim wanted it loud and solid and, as Duke tells it, "He had me chopping wood all night!"
During his tenure with the Celebrity Club band, Duke played regularly in a jazz trio with pianist Ronnie Brown and bassist Bob Petteruti. Brown doubled on vibes so the group was able to take on gigs in other styles and settings, changing the size of the combo as needed.
After the Celebrity closed its doors in 1960, the jazz scene in Rhode Island began to wane, but Duke still had plenty of work. He spent the next several years performing regularly as a general business drummer and continued to operate as a contractor.
But by the late 1960s, Duke was getting itchy to play some music more challenging than foxtrots and decided it was time to get back to his roots: Big Band Jazz.
DUKE BELAIRE AND THE  BOVI'S TAVERN BIG BAND
by Bob Bovi
In 1967, Duke formed his first large group, a 16 piece big band he christened The Duke Belaire Jazz Orchestra. At first the outfit was primarily a "rehearsal" band – everyone playing just for the fun of it to keep up their chops –  but as word got out, he began to find an audience. The band began performing at The Cobblestone Tavern in East Providence and as the number of patrons grew, they began having visiting jazz greats sit in with the orchestra.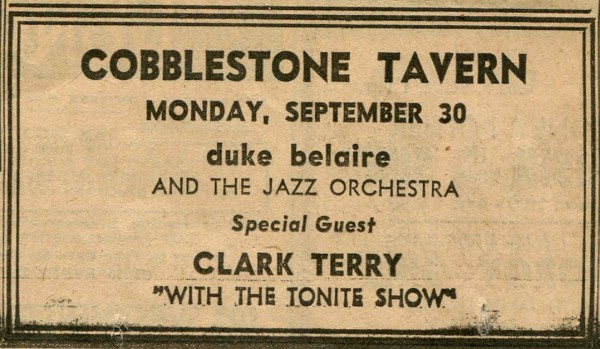 When The Cobblestone shut its doors in 1969, Duke stopped in at another East Providence nightspot, Bovi's Tavern. He was looking for a new rehearsal space for the band  and he asked owner John Bovi if they could use the Tavern on a Monday, the club's only off night. He asked to use it for just one night and, if it worked out, then every Monday for practice.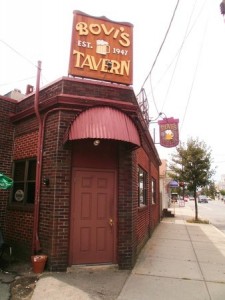 Well, I guess it worked out well – thirty-two years later, the band is still playing there for the cover charge they receive at the door! They began packing the place and, because it was a Monday – an off night for most musicians – many other players started coming by to sit in. They had legends sitting in – local and national – almost every Monday night from day one. Talent from our southern New England pool included, at first, Art Pelosi (tenor sax), Mike Renzi (piano), Zolman "Porky" Cohen (trombone), Dick Johnson (alto sax) and Lou Colombo (trumpet); and later, younger players including Scott Hamilton (tenor and baritone saxes), Paul O'Day (piano), the great hometown legend Clay Osborne (vocals), Greg Wardson (piano) and Hal Crook (trombone). The list goes on and on and many of the players came through just for the experience of playing in a big band. Among the list of nationally known performers who came by to sit in were Doc Severinsen of Johnny Carson's Tonight Show Orchestra; Rhonda Ross-Berry (daughter of Motown legends Diana Ross and Gordy Berry); Clark Terry, who  was so knocked out by Hal Crook that he got him a job with the Tonight Show Orchestra; and Clay's younger brother, Jeffrey Osborne, who had hit the big time, first with his group L.T.D., and later as an acclaimed solo artist.
The personnel was also looted over the years by national acts looking for new talent, but mostly with Duke's blessing. One night, big band leader Artie Shaw stopped by to talk to Dick Johnson about taking over his band, traveling the country and recording an album. Well, there went Dick! In 1979, Roomful Of Blues returned to their roots and talked Porky Cohen into going on the road and recording with them. Well, there goes Porky! (He got his nickname because his best friend – his cousin – was called "Beans"! Porky had a favorite arrangement, "Caravan", which became his feature at Bovi's and with the other top area acts with whom he performed including Tony Tomasso & The Jewels Of Dixie and the aforementioned Roomful as they achieved national success).
In 1980, the band recorded a live album at the Tavern which became a local bestseller and is now internationally recognized as a landmark of the modern big band era.
Bovi's is the only club in in the country – maybe the world – where a big band has performed every week for more than forty years. (A few years ago, someone contacted the Guinness Book Of Records to ask if this record was in their book yet. Their answer was that there was no category for it! Perhaps there should be…)
In 1999, for a variety of reasons, Duke decided to start winding down toward retirement. Thirty years of running a big band had finally taken its toll! Without skipping a beat, John Bovi found a new group to take over the slot, another 16 piece big band whose leader was John Allmark, the great, young English trumpeter.  The band is still there every Monday as of this writing. It is a more modern and progressive unit than it was in Duke's day, but the legend and legacy of Bovi's Tavern and the Big Bands lives on. Jazz followers love this band and Bovi's is still the only nightclub around to feature a big band every week. The beat goes on and now you know the inside story.
POSTSCRIPT
by Rick Bellaire
Throughout his tenure with the big band, Duke continued performing as a general business drummer and operating his musical contracting business to keep things afloat, but the ever-swinging drummer will be best-known in Rhode Island music history for his incredible hard work and dedication to the thing closest to his heart: The Duke Belaire Jazz Orchestra.
On April 20, 2015, Duke Belaire was inducted into the Rhode Island Music Hall of Fame by John Allmark in a ceremony held at Bovi's Tavern before a performance by the big band. Tavern owner John Bovi received a special citation in recognition of his commitment to keeping the big band sound alive.
Anthony "Duke Belaire" DeCubellis passed away on October 15, 2020.
DUKE BELAIRE DISCOGRAPHY
Argonne Records LP-001
Duke Belaire Jazz Orchestra – Live At Bovi's (1980)
Reissued on CD in 2015
Unless otherwise noted, all images appear courtesy of the Duke Belaire family archive.
Photo at top shows Duke Belaire during a performance at the Griswold Hotel in Groton, Connecticut in the early 1960s..