2014 INDUCTEE
Blues/Jazz
IT ROLLS! IT ROCKS! IT SWINGS! IT'S…
NEW BLUES FOR MODERN MAN
The Story of
DUKE ROBILLARD
by Rick Bellaire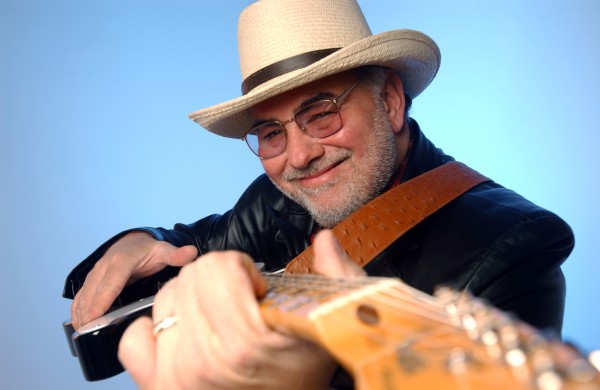 PREFACE
Growing up in the wilds of Burrillville, Rhode Island in the early 1950s, there was plenty to interest the young Michael Robillard. The woods presented daily adventures right outside his backdoor and, along with most of the rest of his postwar, nuclear age schoolmates, he developed interests in science and early home electronics. But what mainly interested him was music. And what mainly interested him about music was the guitar.
There were always guitars around the Robillard household. Early on, there was an old mail-order acoustic his uncle had left with the family which he and his older brothers banged around on. Then, his brothers got their own guitars – one an electric and the other an acoustic. But, Mike was not allowed to play those. He secretly began to teach himself on the forbidden instruments and soon realized he must have a decent guitar of his own in order to put in the kind of intense practice schedule he needed to progress.
And so, he began to build his own. The day the guitar was completed, young Mike stepped onto the path from which he would never stray for the rest of his life – a path which would lead him to worldwide success and international acclaim as one of the greatest blues and jazz guitarists of his generation.
The author would like to thank Duke Robillard for his generosity, cooperation and attention to detail during the interview process for his Rhode Island Music Hall of Fame Historical Archive entry.
INTRODUCTION
By the end of the 1960s, Duke Robillard had already earned a reputation as one of the finest blues guitarists in Rhode Island after stints with the short-lived original lineup of Roomful of Blues, Ken Lyon's Tombstone Blues Band, and The Black Cat Blues Band. In 1970, he discovered the horn-driven energy of the "jump blues" via Buddy Johnson's classic LP "Rock'n Roll" and he reformed Roomful with a three-piece horn section. Under his leadership, the band almost single-handedly revived the genre and gained national attention with two albums for Island Records. Never one to rest on his laurels, Duke left the band and began to pursue a solo career in the early 1980s and released his first two albums as a leader for Rounder Records. During this period, the jazzier side of his far-flung influences (especially the Texas masters Charlie Christian and Herb Ellis) began emerging more strongly and he released his first jazz project, "Swing," in 1987 to critical acclaim. At the time of his induction into the Rhode Island Music Hall of Fame in 2014, he has not only maintained his status as one of the world's greatest blues guitarists, but has also become known around the globe as one of our finest jazz players as well. Along the way, he has recorded and/or toured as a collaborator or sideman with some of the greatest artists in music history including Herb Ellis, Jimmy Witherspoon, The Fabulous Thunderbirds, Bob Dylan, Tom Waits, Dr. John and Ruth Brown and now stands alongside those giants on the list of all-time greats.
EARLY YEARS
Michael Robillard was born in Woonsocket, Rhode Island in 1948. He was raised in Burrillville in the rural area between the village centers of Mapleville and Harrisville. It was a great place to grow up and the early 1950s was a great time to be growing up. The woods and the wildlife behind his house presented endless hours of exploration and discovery. But early on, his interests beyond grammar school subjects and sandlot sports began to focus on music. Thanks to the newly modern wonders of home electronics – the portable radio and phonograph, and soon after, the television, the tape recorder and the transistor radio – Mike was exposed to all America had to offer musically.
Singers ruled the record charts. Big band vocalists like Frank Sinatra and Doris Day had become stars in their own right and paved the way for their younger counterparts such as Patti Page and Eddie Fisher. The sounds of the big bands were still everywhere except in the nightclubs and dance halls. The variety shows remaining on radio such as Arthur Godfrey's daily broadcast and the early television presentations like The Perry Como Show and Ed Sullivan's Toast Of The Town were all anchored by big bands supplemented with string sections. Added into the mix were French-Canadian broadcasts originating out of Woonsocket and Holyoke, Massachusetts; Country & Western shows beamed in from Boston and Providence; and, by the mid-1950s, the first strains of early Rhythm & Blues and Rock 'n' Roll as they crept onto the hit parade playlists or when tuned in late in the evening from New York City, Baltimore, and even Chicago or Memphis on a really clear night.
And so, while still a grade school student, Mike's main interest became music. And what mainly interested him about music was the guitar.
FIRST GUITAR
There had always been a guitar around the house. An uncle had presented the family with an Old Kraftsman acoustic. Old Kraftsman was an affordable guitar manufactured by the Kay Musical Instrument Company for sale at Montgomery-Ward department stores and via the Spiegel catalog much in the same way as Danelectro provided Sears-Roebuck with the Silvertone line. Mike and his older brothers all tried their hand at the instrument and began to learn the basics, but it was an older guitar which resembled a mandolin and it was hard to play. None of them got too far on it.
Between the mainstream crossover of country music, the hit-making machine of Les Paul & Mary Ford, the folk music revival, and the rise of Rock 'n' Roll, by the late 1950s the guitar had become the principal instrument in popular music. Mike's older brothers each acquired a top-of-the-line instrument: Jerry bought a Fender Stratocaster electric guitar and Russell purchased an antique Martin acoustic. Jerry was soon holding forth on the exciting new guitar sounds of Link Wray's "Rumble," Duane Eddy's "Rebel Rouser," and everything coming from Chuck Berry. For Russell, the vintage Martin remained in its case as an investment. By the time Ricky Nelson began closing out "The Ozzie & Harriet Show" each week with a Rock 'n' Roll number featuring Rockabilly pioneer James Burton on lead guitar, Mike knew he wanted in. However, he was forbidden to use their guitars. He'd listen to Jerry practice, watching his fingers closely, and began secretly teaching himself on his brothers' instruments whenever they weren't home. He started making progress, but realized that he would not be able to get in the kind of practice time he needed while sneaking around with their guitars and that he needed one of his own.
For his eighth grade science project, Mike decided to build an electric guitar and asked for his father's help. He drew the shape of the body, based on the design of James Burton's Fender Telecaster, on a block of wood and his dad cut out it out with a jigsaw. Next, they bolted the neck from an old acoustic Kay onto the body, then painted the whole thing Robin's Egg blue. They fabricated a bridge from a strip of wood fitted with a popsicle stick as a saddle bar for easy filing to adjust string height, and installed a DeArmond pickup in the center. The finishing touch was a pick guard cut from a leftover piece of gold-fleck Formica counter top. When they were done, Mike plugged it into the input jack of the family's tape recorder for an amplifier, and it was off to the races!
WOODSHEDS AND MELTING POTS
Armed with his own guitar, Mike made quick progress, figuring out the chords to his favorite songs and teaching himself the guitar solos on his favorite records. After an initial period spent soaking up the styles of the aforementioned James Burton and Elvis Presley's lead guitarist, Scotty Moore, he began to focus on the work of two musicians whose work looms larger in the Rock 'n' Roll cannon than anyone's barring, perhaps, only Elvis himself: Buddy Holly and Chuck Berry.
Holly and Berry were consummate musicians who each led their own band, sang the lead vocals, played lead guitar and, though quite unusual for the time, wrote most of their own material. Each had become the equivalent of what would come to be known as a musical "superstar" in the 1970s, achieving great artistic and commercial success on their own terms. They arrived at the pinnacle of Rock 'n' Roll stardom via almost identical, parallel paths.
From St. Louis, Missouri, Berry was influenced by the hard-driving jazz coming from across the state out of Kansas City (Count Basie, Jay McShann), studied the guitar styles of T-Bone Walker and Charlie Christian, and had a great fondness for country music. His first hit, "Maybelline" in 1955, was a clever rewrite of the country fiddle tune "Ida Mae." Holly, from Lubbock, Texas, started out playing Country & Western, but had a great love for the blues. He began incorporating a steady stream of R&B numbers into his act, later recording many of them for his albums. By 1957, he and his band, The Crickets were at the top of the charts with "That'll Be The Day."
The work of these two artists, especially, Berry whose "Deep Feeling" (the B-side of "School Days") was a straight-ahead Chicago blues instrumental, became primal influences on every aspect of the young Robillard's musical development. Their music, along with the hundreds of other recordings which graced Mike's turntable in the late 1950s and early '60s, all went into the cauldron which would eventually serve up the style he could call his own.
On a local level, Robillard cites guitarist Raymond "Jerry" Leveille as an inspiration and influence. Jerry led one of Rhode Island's first Rock 'n' Roll bands, The Belairs, and the group used to put on their own youth dances at the Harrisville Fire Hall. Mike made his first professional appearances sitting in with the band, often on the tricky Rockabilly instrumental "Bust Out" by The Busters.
(As of 2014, The Belairs are still performing and are considered the oldest continuously running rock band in Rhode Island.)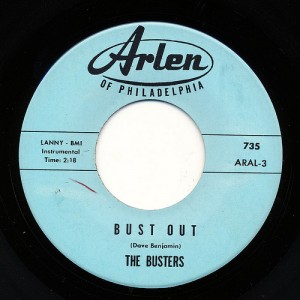 ROCK 'N' ROLL HIGH SCHOOL
Whenever Mike plugged into the tape recorder to begin his after-school practice sessions, he used to point the speaker out the window so as not to disturb his mom. One afternoon, there was a knock on the door. It was a guy named Ernie Potter who had heard the music while visiting his girlfriend next door. He said he was a drummer and told Mike he was looking to start a band. They asked Frank Pezzullo from nearby Pascoag who owned a Fender Jazzmaster to come on board as rhythm guitarist and Mike's first band, The Wildcats, was born. They found success on the teen circuit performing at CYO (Catholic Youth Organization) mixers and school dances.
While a sophomore in high school, Mike formed his next group, The Stingers, with Dick Smith on rhythm and vocals, Lenny Albanese on bass (a Kay upright electrified with a DeArmond pickup) and Richie Charbonneau on drums. Richie's mom provided the group with matching stage uniforms, collarless yellow jackets with black trim she sewed herself. The outfits were completed with white shirts, western string ties and mondo boots. The Stingers became popular throughout northern Rhode Island performing at school dances and summertime block parties and even opened for an Elvis Presley movie playing on the roof of the snack bar at the Lonsdale Drive-In.
Mike had his first brush with the big time in the summer of 1964. One of the top bands in southern New England, Florian Monday & The Mondos based in Woonsocket, had lost their bass player and had an important road trip coming up. Monday asked Mike if he'd fill in on bass guitar for the dates and Mike quickly learned their material. The jaunt included a performance at the New Jersey pavilion at the 1964 World's Fair in Flushing Meadows, New York; an appearance on a locally produced Rock 'n' Roll television show in Manhattan; and a slot opening up for Randy & The Rainbows ("Denise") across the river at Palisades Park. Mike did well and thought he'd scored a permanent gig. As Duke tells it today, "That was the big time for me! When we got back, they dropped me off and were supposed to pick me up for a gig the next weekend. They never showed up and I never heard from them again!"
But it all worked out for the best. Had Mike switched to bass, his career may have taken a different path and, besides, just as he was about to begin his junior year in high school, the Robillard family relocated to Westerly in the southernmost area of Rhode Island.
LIVING THE BLUES
Mike's first order of business in Westerly was to check out the music scene and line up musicians for a new band. In short order he enlisted bassist Ed Parnigoni, Fran Valliere, who doubled on rhythm guitar and Vox organ, Greg Piccolo on vocals and alto sax, and drummer Richie Ainsworth from nearby Pawcatuck, Connecticut. They dubbed themselves The Variations and got down to business.
Like so many of the thousands of other teenage Rock 'n' Roll bands springing up across the country, The Variations borrowed heavily from the music of the British Invasion with The Beatles, The Rolling Stones, The Animals and The Yardbirds topping the list. But unlike so many of the other young musical hopefuls, The Variations had a secret weapon: Mike's ever-growing record collection. He was not content to just pick up a new Stones or Animals single so they could cover the latest hits. He was checking out the B-sides to find material which would set the group apart from their peers and competitors. (For instance, The Variations performed Buddy Holly's "Tell Me How," the B-side of "Maybe Baby," which he's kept in his repertoire for his entire career, ultimately recording it for his 1991 release "Turn It Around.") He was also buying their albums and devouring the liner notes and minute label copy in search of information.
After the arrival of the beat groups, Mike realized early on that they were in turn borrowing heavily from American musical styles which had become marginalized or even passé in the wake of Rock 'n' Roll (R&B, Rockabilly, Country & Western and the Blues) and feeding it back to us, albeit in a tidier, teen-oriented, media-ready package. He began to seek out the original recordings the Brits were covering so that he could come to understand the music from the true sources. Of course, Mike was fully aware of and performing the music of the bluesmen and R&B artists (Chuck Berry, Bo Diddley, Fats Domino) and country musicians (Elvis Presley, Carl Perkins, Johnny Burnette) who had made the successful transition into Rock 'n' Roll, but now he was digging deeper – all the way to the roots.
Looking at the backs of the LPs, Mike would wonder, who is this "B. B. Arnold" who wrote "I Wish You Would" for The Yardbirds or where did The Rolling Stones get "I'm A King Bee," composed by someone named "Moore?" He'd call a road trip down to New London Connecticut, to Roberts Music, the most fully-stocked store in the area to look for answers. Roberts carried everything, not just the latest hits and Broadway scores. They stocked Blues and R&B labels such as Vee-Jay (coincidentally The Beatles' first American home), Excello and, most importantly, Chess/Checker out of Chicago. There, Mike could find out that "B.B. Arnold" was bluesman Billy Boy Arnold and that "Moore" was James I. Moore who recorded under the stage name "Slim Harpo." With Arnold's original single of "I Wish You Would" on Vee-Jay subsidiary Vivid and Slim Harpo's first Excello LP "Raining In My Heart" with "King Bee" under his arm, Mike would return home to study the original versions of these songs and immerse himself in the blues in search of the subtle nuances which would not only set The Variations apart from their peers, but ultimately coalesce into Mike's own unique guitar style.
Another Westerly musician, bassist Dave Turano, became a friend and mentor to Mike during this period. A few years older than Mike, Dave and his buddy, harmonica player Tony Lamb, had attended the 1964 Newport Folk Festival where they'd not only seen Bob Dylan and the original lineup of The Jim Kweskin Jug Band with Geoff and Maria Muldaur, but had witnessed performances by blues legends Jesse Fuller and Sleepy John Estes. Newport had been a life-changing experience for Dave and he'd immersed himself in the Blues. Dave took Mike under his wing. He shared his record collection with Mike, playing him all of his hard-to-find Chess LPs by Muddy Waters and the Howlin' Wolf and would accompany him on the trips down to New London to advise him on his record purchases. He also encouraged the rather shy Mike to step out front and become more forceful on stage.
Mike attended the '65 Folk and Jazz Festivals where he took part in a workshop presented by Muddy Waters accompanied by the virtuoso pianist and harmonica player from his band, Otis Spann and James Cotton. He stood behind the piano and took it all in and later saw performances by Robert Pete Williams, Mississippi John Hurt and got to meet the legendary Son House! Between Roberts Music, Dave Turano and his experiences at Newport, by the time school started up again, Mike knew where his future lie and he set sail on a course straight to the heart of the Blues.
BURIED ALIVE IN THE BLUES
During Mike's senior year in high school, The Variations were winding down. Greg Piccolo had left to form his own band, The Groupe (later known as Greg & The Groupe) and Duke's interest in Rock 'n' Roll had waned. His musical pursuits had become focused solely on straight-ahead blues. Before, it had been Link Wray, Duane Eddy and Chuck Berry. By senior year, it had become the "Kings" – B.B., Albert and Freddie. After graduation, The Variations disbanded and Mike spent some time on a hippie commune up in Maine. That didn't last long. He quickly returned to Westerly and took a job at the world-famous Guild Guitar factory. As Mike began plotting out his next musical move, he met pianist Al Copley.
Copley was something of a prodigy and was well-known on the southern Rhode Island scene. By age 15, he had mastered the boogie boogie stylings of the original masters – Albert Ammons, Pete Johnson, Meade Lux Lewis – and had begun incorporating elements of the more contemporary blues stylings of Sunnyland Slim, Little Brother Montgomery and Otis Spann. With encouragement from Dave Turano, Mike and Al began to play the blues full time and assembled the loose aggregation of like-minded players from which would spring one of the most important blues bands in history.
A ROOM FULL OF BLUES
They took their original name, A Room Full of Blues, from a line in a poem written by a friend of Al's, Randy Saunders. The first regular lineup featured Larry Peduzzi on bass, Tony Lamb on harmonica and vocals (with Fred Jackson occasionally pinch hitting for Tony), and alternating drummers Chuck Riggs and Joe Ferraro. In late 1967 or early 1968, Robillard, Copley, Peduzzi, Lamb and Riggs (augmented by their friend George Peterle on rhythm guitar and C-melody saxophone) entered the East Coast Sound recording studios in New London and cut a five-song demo. A few copies were cut direct to fragile 10" acetates, at least one of which survives. It showcases a band immersed in the Chicago blues and clearly steps ahead of anything else happening on the local scene.
After the recording, a new drummer, Fran Christina, was brought on board and shortly after, two saxophonists, Greg Piccolo, now on tenor, and Rich Lataille also on tenor were added to the band. This marked the first appearance of horns with Roomful and the repertoire soon grew to include then-current material by B. B. King (the "Blues Is King" album in particular) and Albert and Freddie King. However, in the fall of 1968, the band was put on hold when Fran had to move to Kentucky with his wife who'd gotten a job offer they couldn't refuse. Mike accepted an offer to join the first lineup of Ken Lyon's Tombstone Blues Band.
Lyon had been a major label recording artist since the late 1950s working with the Brill Building production team of Mike Lewis and Stuart Weiner out of New York City. His singles ran the stylistic gamut from teen idol, to folk music to psychedelic rock, but after three times at bat with no hits, Lewis and Weiner got behind his desire to form an electric blues band. Lyon assembled what can now be seen as what amounts to a 1960s Rhode Island "supergroup" – Mike on guitar, Tommy DeQuattro on drums, Al Lobello on bass, Mark Taber on piano, Steve Nardella on harmonica – with Lyon's powerful vocals out front.
Lewis and Weiner got the band signed to a one-album deal with Metromedia Records and they entered the studio to cut a single. Although a fine record, it was not a clear reflection of where the band was at musically, coming off more like The Rolling Stones than The Butterfield Blues Band. Unhappy with the direction, Lyon opted out of the album deal and Mike left the group to be replaced by Phil Greene. (Besides Mike, every other member of original The Tombstone Blues Band went on to long careers on the national music scene, but that's another story…)
In 1969, Mike next formed another band which looms large in Rhode Island lore: The Black Cat Blues Band. The group featured guitarist/vocalist Johnny Nicholas (formerly of popular band The Vikings), drummer Fran Christina (just back in town from Kentucky), bassist Larry Peduzzi and Steve Nardella on harmonica. (Mike had talked Steve into leaving The Tombstone Blues Band shortly after he did. Ken Lyon replaced him with Scott Hamilton, the now-world famous tenor saxophonist, who was then playing blues harp and alto sax in The Bottomlands Blues Band.) The new group took right off, but went through the roof when, a short time later, Al Copley was brought in on piano. During this time, Mike acquired his first, albeit short-lived, nickname – Honeybear – thanks to his newly grown-out "Afro" and mutton chop sideburns. The second lineup of Black Cat is considered one of the greatest bands in Rhode Island music history and under Mike's leadership they took the scene by storm. But, for a group with that much talent jammed together, longevity was not in the cards. By the autumn of '69, Nicholas and Nardella left to pursue their own musical visions and the remaining members, Robillard, Copley, Peduzzi and Christina reverted to a slightly altered, sleeker version of their original name, Roomful of Blues.
ROOMFUL OF BLUES
The quartet, with the occasional addition of Fred Jackson, began performing regularly around the state at colleges, coffeehouses and clubs. Their reputation grew quickly and Mike was rechristened with the new, more stately nickname by which he would become known worldwide: Duke.
In the summer of 1970, Duke and Al headed out to Michigan to attend the Ann Arbor Blues Festival. It was a star-studded affair which presented almost every major blues star in the country, but they were most taken with performances by Big Joe Turner, Junior Parker and Eddie "Cleanhead" Vinson, all of whom were backed by the B.B. King-styled Mighty Joe Young band which featured a horn section. During the return trip, the two musicians began to discuss the possibility of permanently adding a horn section to the band.
In the fall, Duke was record hunting at Muffett's Music in downtown Providence when he came across an album called "Rock'n Roll with The Buddy Johnson Orchestra." It looked like a big band album, but between the use of "Rock 'n Roll" as a title and the intriguing song titles ("Doot Doot Dow," "It's Obdacious," "Crazy"), Duke figured he'd take a chance. As soon as Duke got the album on the turntable, he knew it was the best three or four bucks he'd ever spent on a record.
Pianist Buddy Johnson and his vocalist sister Ella had been leading a big band since the late 1930s and had enjoyed a string of across-the-boards hits in the 1940s. During the waning years of the swing era in post-war America, the Johnsons (unlike so many of their contemporaries who'd simply thrown in the towel) had successfully made the transition to Rhythm & Blues and Rock 'n' Roll by slightly downsizing the band and concentrating even more heavily on dance rhythms. What Duke heard was music every bit as rockin' as the horn-driven sounds coming out of the pen of New Orleans' Dave Bartholomew (Fats Domino, Smiley Lewis), but which still retained the full "swing" of the hardest driving orchestras of the big band era (Count Basie, Chick Webb).
The Ann Arbor trip and the Buddy Johnson album were the one-two punch which set the stage for the next phase of Duke's career: the permanent addition of a horn section to Roomful of Blues.
INSPIRATION BLUES
Once his mind was made up, Duke began digging into his record collection, pulling out any horn-based music he could find for song and arrangement ideas and also began searching the record stores for anything he could get his hands on. Before long, the pile included T-Bone Walker, Ray Charles, Chuck Willis, Fats Domino, and dozens of other R&B, Rock 'n' Roll, Swing, Jump and Blues records. He began compiling cassettes of his ideas for the guys in the band which he dubbed "Duke Picks 'Em" to share the material. By the end of the year, they'd brought back the horn players, Greg Piccolo on tenor sax and Rich Lataille now concentrating on alto. Rich was an important factor in the band's development. He was committed to playing swingin' dance music and his knowledge of the various genres in question went all the way back to the birth of the music in the 1930s and '40s. He brought along Lucky Millinder, Tab Smith and, most importantly, got everyone hooked on the hardest swinging band of them all, the Count Basie Orchestra.
By early 1971, the band began testing the waters by performing whenever and wherever an opportunity presented itself and the reaction was positive. They recruited a new bass player, Ed Parnagoni, and a new drummer, John Rossi.
Rossi had been playing with the first incarnation of the Hamilton-Bates Blue Flames, a group formed by Scott Hamilton after he'd switched to tenor sax and made rapid progress in the styles of the masters Coleman Hawkins and Ben Webster. The group included the guitarist from The Bottomlands Blues Band, Fred Bates, and Preston Hubbard who had recently made the switch from playing bass guitar in rock bands to the upright bass. The quartet (along with vocalist Sue Melikian) were doing for small group jazz what Roomful was doing for big bands: returning the music to the swing, class and style of the bygone eras of the '30s, '40s and '50s. John's interest, however, was more in the larger bands of Basie and Webb and he had a deep affinity for early Rock 'n' Roll. In a move reminiscent of baseball trades, Roomful arranged for former stick man Chuck Riggs to join the Blue Flames while John slid into the drum chair down in Westerly.
They started performing again and momentum was building. Later in the year, they made one more important addition: Doug James on baritone sax. With the bari at the low end, the horn section now had the full harmonic spectrum of a big band with which to experiment, but by sticking with reeds instead of adding brass (trumpet, trombone), the sound stayed closer to the Blues, R&B and Rock 'n' Roll roots of the band. With the seven-piece lineup in place, Duke Robillard set out to conquer the music world.
LET'S HAVE A PARTY!
The following section is from the author's Roomful of Blues biography and originally appeared on the Rhode Island Music Hall of Fame website.
The repertoire and intent were drawn from a wide variety of sources such as the harder-rocking big bands of Count Basie, Illinois Jacquet and other swing era outfits which had made a deep impression on Rich Lataille; Duke's interest in the classic R&B horn bands such as Freddie Mitchell's and Paul Williams' as well as the smaller R&B units which featured saxophone like Louis Jordan's Tympany Five and the Chuck Willis band; and Al's and John's love of the larger Rock 'n' Roll bands which sported horn sections, particularly those under the guidance of the great New Orleans arranger and producer Dave Bartholomew including Fats Domino's and Little Richard's Upsetters. In addition to the "honkin'" sax sound, they incorporated a big slice of the blues "shouters" repertoire and styles (Roy Brown, Wynonie Harris, Big Joe Turner) to deepen the pool of influences from which they drew their early identity.
When all of these influences were run through the mill of the new Roomful, an amazingly original sound resulted. Duke's guitar playing had reached a new plateau in the two previous years and instead of playing straight-ahead Chicago blues with the new lineup, he was by then playing in a manner more akin to the jazzy stylings of T-Bone Walker and Tiny Grimes with a dose of Charlie Christian and a pinch of Oscar Moore thrown in for good measure. The horn section, with only three players, was carefully arranged to highlight signature riffs and propel the song, but to never overwhelm the rockin' rhythm section nor vocals.
There was nothing "precious" about the original Roomful. They did not approach the music as traditionalists nor as preservationists, but rather as a vibrant, contemporary band looking to move the music into the future and recreate it in their own image. They did, of course, wear their influences on their sleeves. From the thrift shop '40s and '50s hipster fashions of their stage wear to their between song patter when they openly urged audiences to seek out the original recordings of the material in their repertoire, they more than paid tribute to the masters. But these were young men on a mission – they were determined to reintroduce swing, jump and horn-based blues styles to the world and hit the big time doing so. They succeeded well beyond their own expectations.
The band practically exploded onto the Rhode Island music scene in 1972. Playing whenever and wherever they could find a gig – coffeehouses, rock clubs, restaurants – their audience grew exponentially with each performance. Due to the virtuoso levels at which each of the seven musicians was playing, they could perform for a listening audience and their improvisatory skills would astound even jazz fans. Give them a dance floor to fill, and they'd have everyone out of their seats before the first chorus of the first number was over. The pivotal venue for the development of Roomful was the Knickerbocker Cafe in Westerly.
The dance hall dated back to the heyday of the Swing era (from the mid-1930s to the end of World War II) and sported a gigantic dance floor perfect for the growing number of fans who, inspired by Roomful's hard-swinging sound, had taken up jitterbugging. The band assumed a residency at the Knick on Sunday nights working for the door which gave them free rein over the repertoire and presentation and the opportunity to try new material and arrangements. Attached to the dance hall was an old-fashioned, intimate cocktail lounge dubbed "The Alcove" which provided a spot to hang out and review their performances and plan their next moves in relative privacy. The club became the nominal headquarters for the band for the next decade or so and, on Sunday evenings and during their frequent weekend bookings, every stylistic experiment they attempted was introduced at the Knickerbocker. Playing to their most dedicated fans and closest friends gave the group an experience not unlike the benefits of a "focus group" and allowed them to avoid the pitfalls of "road testing" new ideas.
Over the next three or four years, they gradually expanded their territory until they were one of the biggest acts in all of New England and had begun making inroads onto the New York scene. During the 1970s, they had opportunities to share the stage with many of their heroes including opening slots for Count Basie and Fats Domino and other shows where they also accompanied the stars such as Sil Austin and Red Prysock. They had also begun introducing original material into their act and, in 1975, the band decided to test the waters by releasing their first proper record on their own label, Room-Tone. The A-side was a Duke Robillard original, "Don't You Want To Roll With Me," and the B-side was their arrangement of the swing/blues chestnut "You Rascal You." The record was well-reviewed and sold well to their fan base and, all-in-all, helped to spread the word on the band even further.
It seemed to everyone on the Rhode Island scene that it was only a matter of time until Roomful would hit "the big time," but there was one more ingredient needed to put the finishing touch on their musical stew. For some time, the band had been eager for a change in the rhythm section sound by making the switch from electric bass guitar to upright bass fiddle and had had their eye on Preston Hubbard of Providence. Preston had come up through the late '60s underground rock scene, but his love of jazz and blues led him to switch from bass guitar to upright by 1972 when he became a member of a local jazz group, the aforementioned The Hamilton-Bates Blue Flames, with future tenor sax jazz legend Scott Hamilton, guitarist Fred Bates, and early Roomful drummer Chuck Riggs. As the Blue Flames were all close friends of the Roomful crew, no one wanted to upset the apple cart by trying to "steal" Hubbard, but as word got around about Roomful's search for an upright bassist, Preston expressed his interest in making the switch to Hamilton who gave his blessing.
With the final piece of the puzzle in place, Roomful Of Blues continued honing their craft, refining their sound and expanding their fan base and by 1976, they'd come to the attention of Doc Pomus.
Jerome "Doc Pomus" Felder was one of the most legendary characters on the national music scene. He was an incredibly successful hit songwriter in the R&B, Pop and Rock 'n' Roll arenas having scored big with such classics as "Lonely Avenue" for Ray Charles, "Save The Last Dance For Me" by The Drifters, Dion's smash "A Teenager In Love" and "Can't Get Used To Losing You" for Andy Williams. (This is just the tip of the iceberg! Pomus had dozens of hits and wrote hundreds more songs during his forty-year career.) He was also an incredibly generous person, acting as mentor, guide and "godfather" to many a young musical hopeful including Rhode Island's own Peter Anders and Vini Poncia. But that's all music business legend. What is not generally known is that Pomus had begun his career as a recording artist in the blues "shouter" tradition. From the mid-1940s to the early '50s, he had a great run as one of the first successful white blues singers and only turned his primary attentions to songwriting when he was forced to leave his stage career for medical reasons. (Childhood polio had put him on crutches as a teen, but a bad fall later necessitated the use of a wheelchair for the rest of his life.) Horn-driven R&B was his first love and as soon as he heard Roomful Of Blues in a New York nightclub, he knew he'd have to help.
Doc realized that taking a band like Roomful around to the labels in search of a recording contract might be a hard sell, so he decided to produce a master himself and then try to get it picked up for release. Working with his friend, the hit record producer Joel Dorn (Roberta Flack, Bette Midler) whom Pomus had mentored in the 1960s, the two partners produced a perfect snapshot of Roomful Of Blues in the mid-1970s which is now considered a blues classic. Although mostly covers (three songs by Chuck Willis and two by T-Bone Walker among them), their self-titled 1977 first album is a hard-swinging affair which showcases all of the talents of all of the members and the master was snapped up by Island Records for national release. The album sold well and was well-received in the press which allowed the band to begin touring around the country. They were getting noticed by more and more people in the upper levels of show business and packing the clubs.
One interesting interlude during this period involved comedians John Belushi and Dan Ackroyd of "Saturday Night Live" fame. Belushi and Ackroyd had introduced a bit on the show involving two white R&B musicians they called "The Blues Brothers." The recurring characters, backed by the show's house band, became tremendously popular and offers to take the act on the road poured in. As the show's musicians could not leave the NBC studios for road work, John and Danny were on the lookout for a backing band. They were steered toward Roomful by Curtis Salgado, the lead singer of the original Robert Cray Band out of Seattle. (Belushi and Salgado had become friends – and Curtis, John's musical mentor – when Belushi was in the northwest filming his first feature, "Animal House.") Thinking it a perfect fit, Curtis brought the Blues Brothers to see Roomful and they agreed. Roomful backed the Blues Brothers on more than one occasion, but when Belushi and Ackroyd offered them a tour as their backing band, the group declined thinking that it might interrupt their career trajectory and/or cause them to be seen as a "novelty" act by the public. (The final straw may have actually occurred during an incident where Belushi's increasingly outrageous, Punk Rock-influenced behavior led him to spray beer all over the stage, soaking Duke and, most regretfully, Duke's guitar!)
It all worked out in the end for everyone: The Blues Brothers became a major hit recording act and the subject of a feature film while Duke and Roomful continued on their chosen path.
During the 1978-1979 period however, the first cracks began to appear in the Roomful story. A second album was recorded, this time produced by Joel Dorn alone. Duke was coming into his own as a songwriter and placed two originals into the mix, "Stickin' With You," and "Look Out." It is another fine piece of work by the entire team, but Island, unhappy with the sales of the first album, delayed its release.
(To put this into perspective, this was the era of "Frampton Comes Alive," Fleetwood Mac's "Rumours," and "Kiss Alive," albums which all sold over six million copies during their initial runs, and the major labels had turned their attentions to promoting product which they hoped would sell at least a million units. Despite selling thousands of copies and turning a clear profit for all involved, Island was unsure of what to do with the second Roomful album.)
Roomful soldiered on and, in 1978, added a new instrument to the lineup for the first time since '71, a trombone as played by another Rhode Island musician, Carl Querfurth. Doug James took a leave of absence around the same time to take advantage of an opportunity to co-lead the National Lampoon Orchestra with founder Matty Simmons' son Mike. His temporary replacement was Luke McMenemy and Doug was back in the fold by 1979. By the time the album was released in 1979 on Island's budget sister label, Antilles, Duke Robillard was ready to move on. Having mastered the styles needed to present Roomful in the proper light, Duke had become interested in exploring new territories and in 1980, he announced his departure from  the band.
BACK TO THE ROOTS
The next couple of years proved an interesting time for Duke. He began experimenting with different lineups in search of a new direction and took on outside work to keep things afloat. At first, he put together another large band in hopes of taking the horn section concept into another style, but things didn't click. He next accepted an offer to replace British guitar legend Chris Spedding in the lead guitar chair of neo-Rockabilly artist Robert Gordon's band, The Wildcats. Working with Gordon afforded Duke the opportunity to to revisit some of his early influences such as Link Wray (who had played on Gordon's first two albums), James Burton and Scotty Moore and dust off his Rockabilly and Rock 'n' Roll chops. After a time, the rhythm guitarist, Lance Quinn, was replaced by a second lead guitarist – none other than Danny Gatton. Danny had already achieved legendary status nationwide amongst musicians thanks to a series of self-released recordings which made their way across the country (Guitar Player magazine dubbed him "The world's greatest unknown guitarist"), but his refusal to tour beyond his home base on the Maryland/Virginia/D.C circuit kept him from breaking out nationally. The two-guitar lineup of the Robert Gordon Band featuring two of the world's greatest players, lives on, unfortunately, only in legend. There are no known recordings nor even a photograph. Ready to return to the blues, Duke gave his notice in late 1980. (Gatton stayed on and recorded Gordon's next album and finally began touring the country.)
Duke decided it was time to put another band together. He began auditioning players and trying out different lineups. He also got involved in the career of The Legendary Blues Band. The band was essentially the final lineup of the Muddy Waters Blues Band who had been left without their leader when Muddy was forced into retirement in 1982 due to illness. Even without the legendary bluesman on board, the group was an all-star aggregation featuring several musicians who were stars in their own right: Pinetop Perkins on piano, Louis Myers on harmonica and guitar, his brother Dave Myers on guitar, Jerry Portnoy on harmonica, and a killer rhythm section of Willie "Big Eyes" Smith and Calvin "Fuzz" Jones on drums and bass guitar respectively. Much like the Robert Gordon story, there is not a lot of evidence of Duke's involvement, but he worked behind the scenes on their first two albums for Rounder Records, suggesting material and arrangements, guesting on guitar and co-producing their first album "Life Of Ease" with Portnoy, and guesting on guitar again (alongside the Roomful Of Blues horn section) on their second album, "Red, Hot "N" Blue."
Since leaving Roomful of Blues in 1980, Duke had been managed by Ronald Martinez, the original manager of Roomful from their earliest days, and by 1982 after several attempts at putting a band together, they had decided that Duke's next move should be a trio – not a "power" trio, but a powerful trio to fully showcase the depth and breadth of Duke's talents as a guitarist, vocalist and composer. The first trio, dubbed The Duke Robillard Band, featured a young bassist, Rory MacLeod, and another young Rhode Islander, Jack Moore, for a short time. Moore was replaced by one of the area's finest drummers, Tommy DeQuattro, with whom Duke had played in the earliest lineup of Ken Lyon's Tombstone Blues Band. Martinez set up a management company called The Beacon Agency to handle bookings and business and started up a label they called Wham! Records. In early 1983, the trio recorded a single of two Robillard originals, "Let Me Love You" b/w "Sleepin' On It."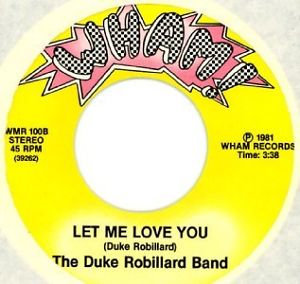 The blues world sat up and took notice. The record sold well and saw heavy airplay on blues stations nationwide and 1983 culminated in Duke's first national tour as a solo artist which included a showcase appearance at the San Francisco Blues Festival. Next, things really swung into high gear in the Fall of '83 with the departure of MacLeod and the arrival of Thom Enright. Enright was a well-respected figure on the southern New England scene highly regarded as both a lead guitarist and a bass guitarist. He had been one of the first out of the box of his generation having recorded a nationally released album on bass for Paramount with Boston band Shakey Legs. The addition of Enright put the trio over the top and the all-star rhythm section was christened with a name of its own.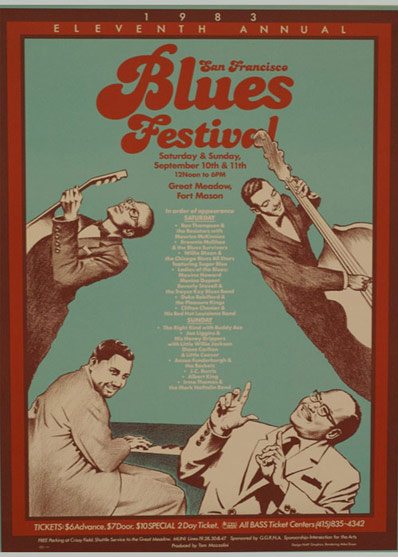 THE PLEASURE KINGS
Now billed as Duke Robillard & The Pleasure Kings (a name given them by Keith Ferguson, the bass player in The Fabulous Thunderbirds), the new trio took the blues scene by storm. After the success of the Wham! single, the group was offered a Rounder Records contract and recorded their first album in late 1983. Their self-titled release, co-produced by Duke and Rounder staffer Scott Billington, included eight Robillard originals and was an instant success.
It was released internationally, was well-reviewed in all the major blues and general music publications, and became a best-seller. It's impact on the blues guitar scene is comparable only to the arrival Texan Stevie Ray Vaughan with his first album, "Texas Flood," released about the same time. These two albums upped the ante for what modern blues guitar could be and should be and ushered in a new era for the instrument. Their impact is felt to this day.
The album's success led to a European tour in 1984 which introduced Duke to the world-at-large. (The two Island Records albums by Roomful Of Blues had been released only in the United States.) The band went quickly back into the studio. The new album, "Too Hot To Handle," was another tour-de-force. Duke continued to stretch the boundaries of his instrument – even using a guitar synthesizer on one track! – and of the trio with appearances by Roomful baritone sax man Doug James and piano accompaniment by Billington and "Little" Anthony Geraci on several tracks. Released in 1985, it was another major success and several national tours followed. The group returned to Europe for another successful tour which culminated in an appearance at the world-renowned Montreux Jazz-Blues Festival.
IT DON'T MEAN A THING IF IT AIN'T GOT THAT SWING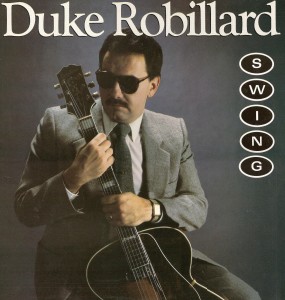 At this time, Duke assumed management of his own career and after the whirlwind success of the two Rounder albums and the intensive touring schedules which followed each release, the group decided to take some well-deserved time off in early 1986. Duke, of course, could not sit still for long. Ever the searcher, Duke decided that he'd like to use the down time to stretch out and explore another side of his instrument: straight-ahead, swing-based small group jazz. He took his cues from the early electric guitar masters he'd been listening to (and studying) since his teenage years such as Charlie Christian, Irving Ashby, Oscar Moore and Tiny Grimes. Although Grimes was a tenor (or four-string) guitarist, his style and sense of swing was easily translatable to any instrument. His career was spent swinging back and forth between straight-ahead jazz (The Art Tatum Trio, Charlie Parker) and jumpin' R&B with his own Rockin' Highlanders and he became not only an influence, but a role model of sorts for Duke. Duke put together a program which was a mix of standards, jazz classics and originals and enlisted the aid of his old friend Scott Hamilton to record an album. Scott brought along the rhythm section from his group, bassist Phil Flanigan and drummer Chuck Riggs, and the quartet was augmented by keyboard man Mike Ledonne and another Rhode Island guitarist on rhythm, Jim Kelly. Released in 1986, "Swing" was another instant success. Duke's side project would not be considered an avocation for long. He was now being hailed around the world as a jazz guitar master and the album's critical and commercial reception would set the stage for the pattern of Duke's career from that point on as he began to move effortlessly back and forth between the blues and jazz scenes.
ANYTHING IT TAKES
The Pleasure Kings regrouped in 1987 to record another album for Rounder. It became their swan song. Augmented by New Orleans piano legend Dr. John, Roomful organist Ron Levy, and Stevie Ray's brother Jimmie Vaughan of The Fabulous Thunderbirds on second guitar, "You Got Me" again stretched the limits of the modern blues guitar and the trio format and was greeted upon its release in 1988 with great reviews, healthy sales. Change was in the air, however. Duke had disbanded The Pleasure Kings in September of 1987 before the album's release and had hired a new rhythm section in December consisting of Doug Hinman on drums and Scott Appelrouth on bass and began touring under the name The Duke Robillard Band. That lineup stayed together through July of 1990. Duke had already decided that he did not wish to stay on the album-tour, album-tour treadmill and that he'd taken the "guitar hero" thing as far as he wanted it to go. He was looking for new challenges, a new direction and some time to woodshed and reflect on where he might head next.
He did not disappear from the scene altogether – he continued performing nationwide and in Europe with the new band while he planned out his next moves. He had developed a big fan base in Scandinavia and was making frequent trips to the north countries.
During one such trip in 1989, he was offered a role in a movie being produced by the Finnish Film Foundation called Leningrad Cowboys Go America. The movie is a delightful farce which tells the story of a Rock 'n' Roll band made up of Russian peasants who make their way to the United States in search of fame and fortune. Duke accepted the part and appears as mysterious and taciturn club owner who hires the group, but quickly realizes his mistake and sends them packing. To date, it is his only appearance as an actor in a motion picture.
He recorded a series of guest appearances on albums by old friends including original Roomful members Al Copley and Greg Piccolo, his Roomful replacement Ronnie Earl, and vocalist Miki Honeycutt. He also began a three album arc assisting the revitalization of the career of New Orleans blues and R&B singer Johnny Adams, "The Tan Canary." Adams had enjoyed a string of hits in the late 1960s (most notably the #8 single "Reconsider Me"), but his career had been lagging for the past two decades. Ably assisted by Duke, his three album run for Rounder put him back in the public eye and brought renewed interest to his entire recorded output.
Rounder also kept Duke in the public eye with a greatest hits CD, "Rockin' Blues." (The first two albums had been released before the advent of the compact disc.) The Duke Robillard Band with Hinman and Appelrouth headed into into the studio in late 1990 for a session which also featured vocalist Susan Forrest and produced "Turn It Around." The album moved Duke away from the intensity of the Pleasure Kings/Double Trouble mode and into a more well-rounded setting where it's a little more straight ahead Chicago blues, a little bit jazzy here and there, and a little bit rock 'n' roll with the inclusion of Duke's take on a cover of "Tell Me How" by his early hero Buddy Holly. The album is another milestone as it takes him one step closer to the no-holds-barred approach he has taken for the rest of his career – exploring new directions as inspiration strikes or opportunity presents itself. And opportunity came-a-knockin' just as "Turn It Around" hit the record stores: an invitation to join The Fabulous Thunderbirds.
WORK TOGETHER
By 1990, The Fabulous Thunderbirds had reached career heights previously unknown in the blues world. Led by singer-harmonica player Kim Wilson and guitarist Jimmie Vaughan (older brother of Stevie Ray Vaughan), the band had been on an upward trajectory since forming in Austin, Texas in 1974. The T-Birds and Roomful of Blues had become fast friends thanks to their incessant touring schedules which provided many opportunities for the two bands to interact. By 1979, they were recording for a major label, Chrysalis, touring the country, and building a rabid fan base. In the late 1970s, their drummer, Mike Buck, was replaced by original Roomful drummer Fran Christina. The big break came in 1986, when they secured a new record deal with Epic, a new bass player, with Preston Hubbard of Roomful replacing Keith Ferguson, and a new producer, Welsh guitar master Dave Edmunds, fresh off his runaway success behind the board for The Stray Cats. With the band now running on 50% Little Rhody power and Edmunds putting just a touch of gloss on their sound, "Tuff Enuff" became a Gold album and gave them two Billboard Hot 100 hits, "Wrap It Up" and the title song which went all the way to #10. The streak continued until 1989 when the title track of their album "Powerful Stuff" was chosen for the soundtrack of the Tom Cruise movie "Cocktail" and released as a single. It reached #7 on Billboard's Top Ten. Despite their almost unimaginable success, Jimmie Vaughan announced in 1990 that he'd be leaving the band to work with his brother Stevie Ray.
In September of 2011, Duke explained his connection to the T-Birds in an interview with Guitar World:
"I first heard them when I was in Roomful of Blues, when they first came up to New England where I'm from. We heard them in Boston and we loved them and they came to see us and they loved us and we became very good friends. In fact, half the band ended up being Roomful of Blues people. But we used to get them opening for us on our shows when it was smaller and when they were just starting out. Eventually we'd do double bills. As many times as we could play together, we would 'cause we just loved to play with each other. In fact, when Jimmie Vaughan decided to leave he just said 'Call Duke' so they did."
They also made one other call, to Kid Bangham. Duke had been looking after the Kid since meeting him in Boston in the 1970s and helping him secure the lead guitar chair in Ray Norcia's band, Sugar Ray & The Bluetones. Rather than just replacing Jimmie, the band had decided it was time to shake things up a bit and that a two-guitar attack would do the trick. "Walk That Walk, Talk That Talk" was a return to the more straight-ahead blues approach of their earliest albums, but with drummer extraordinaire Steve Jordan in the producer's chair, it maintained the high production values to which their fans had become accustomed. Duke and the Kid both shine as soloists and their interplay is reminiscent of the early Rolling Stones guitar team of Brian Jones and Keith Richards which Keith had dubbed "the ancient art of weaving." Although not a huge hit, the album sold well and kept the band on the road with a stream of steady work. In terms of Rhode Island music history, Duke is fond of pointing out that three of the five members of this "Austin band" were Rhode Islanders for this album, and it gives us yet another setting in which to appreciate Duke's seemingly endless talent for adapting to any musical situation.
AFTER HOURS SWING SESSION
While with the T-Birds, Duke pursued his solo career as time allowed. He had recorded his second straight-ahead jazz date in the spring of 1990, but it had been decided to delay its release until another blues album could be completed. After his tenure with the Thunderbirds overshadowed the release of "Turn It Around," Rounder records sat on the jazz album until they knew Duke would be able to promote it properly. Released in 1992, "After Hours Swing Session" was another tour-de-force which firmly established Duke in the jazz field. Made up of standards and jazz chestnuts (with a couple of Robillard originals thrown in for good measure), the session was a mini-Roomful reunion which featured Al Copley, Preston Hubbard, Doug James and Rich Lataille along with another Rhode Island compatriot, tenor saxophonist Greg Mazel, and another New Englander, drummer Chuck Laire. Although the album refocused the world-at-large on Duke's jazzier side, it was his reputation as a blues player which once again led to the next big turning point in his career: a major label record deal.
TEMPTATION
In 1993, Duke met Holger Petersen, the head of Canadian label Stony Plain Records. He mentioned to Petersen that he was eager to record a new album of straight-ahead blues without the R&B, jazz or Rock 'n' Roll components of his work in the last five years. Petersen was interested and the album was recorded using Duke's then-current rhythm section, Marty Ballou on bass and Jeffrey McAllister on drums, with only minimal sweetening by a small horn section and piano.
But before the release date could be set, Duke was offered a contract with Pointblank Records, the R&B subsidiary of the giant Virgin entertainment company. The label had been successful in reviving the careers of several R&B stalwarts such as John Lee Hooker and Solomon Burke and was beginning to focus on doing the same thing for their roster of second-generation bluesmen including John Hammond, Van Morrison and Johnny Winter. Recording for a major, international conglomerate with an aggressive public relations machine was too good an offer to pass up. Petersen encouraged Duke to take the offer and delayed the release of the blues album.
A new album called "Temptation" was recorded and became Duke's first release for Pointblank/Virgin. Despite its glossy production and a big publicity push from the label, the album failed to click. The label expressed their disappointment to Duke and he suggested that perhaps his fan base was ready to hear him get back to the roots and simply play the blues. They agreed and arrangements were made to lease the Stony Plain master from the previous year as his second Pointblank album. "Duke's Blues" did the trick, enjoying brisk sales and re-establishing him as a major figure in the world of blues guitar.
For the next couple of years, Duke enjoyed a busy and far-flung touring schedule (even traveling to South America) and spent much time in the studio as a guitarist and producer helping out friends and heroes including Gerry Beaudoin and David Grisman, Jimmy Witherspoon, label mate John Hammond and ex-bandmate Kim Wilson. A third release for Virgin, "Dangerous Place," became his last for the company in 1997. The album was a tour-de-force which showcased the many sides of Duke's talents and touched-on all of the styles he'd previously explored during the last twenty years, but, like "Temptation," sales were disappointing and his contract was not renewed.
STONY PLAIN
This development set the stage for Duke's longterm relationship with Stony Plain Records which continues to the present day (2014 at the time of this writing). His arrangement with the company allowed for Duke to continue recording at a steady pace knowing he'd have a home for the master. Should a distribution deal with a larger company surface (such as the two Shanachie albums, "New Blues For Modern Man" and "Explorer"), Stony Plain would lease out the master and retain the Canadian rights. Otherwise, Stony Plain would handle the entire release themselves.
In addition to giving Duke artistic control, the Stony Plain deal gave him free reign to pursue his other musical interests as a producer, composer, collaborator, session guitarist and educator.
In the last two decades, Duke Robillard has energetically pursued all of those interests and released an astonishingly vast amount of material. His post-Pointblank career is extremely well documented, but here are some of the highlights.
AS A SIDEMAN AND/OR PRODUCER
With Duke's assistance, Rounder's Bullseye Blues subsidiary did the same the thing for early R&B superstar Ruth Brown as it had for Johnny Adams. Brown had been Atlantic Records' first across-the-board success in the early 1950s, but by the 1990s, her career was in a downswing. These two albums re-established her as a recording artist and major touring attraction for the rest of her life.
He continued working with old friends including Jimmy Witherspoon, Kim Wilson, Jay McShann, John Hammond, Jerry Portnoy, Pinetop Perkins and most of the original members of Roomful of Blues as they pursued solo projects and, in 1997, he was invited to contribute to the sessions for Bob Dylan's Grammy winning return to form, "Time Out of Mind."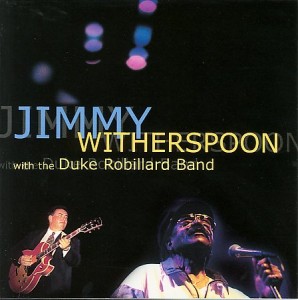 In 2006, Tom Waits released a triple album of outtakes and unreleased material which spanned his career called "Orphans." Much of the material had remained in the can because it had not fit in with the direction of his regular album releases as the songs ran the gamut from blues to R&B to Tin Pan Alley-styled torch songs. When his regular guitarist, Mark Ribot, was unable to undertake a promotional tour for the set, Waits knew he'd be needing a very special musician to take his place, one who could play in all styles represented in American music. He called on Duke Robillard. The tour was an artistic triumph for both Waits and Robillard playing to packed houses and critical acclaim.
Bob Dylan enlisted Duke again in 2013 to join him on his "Never Ending Tour." The first leg of the tour was a smashing success, documented by rave reviews, which saw Dylan featuring Duke nightly. After a two-week break during which Duke played some previously booked shows of his own, he returned to the Dylan band and a new musical landscape. Many of the arrangements had changed and Dylan suddenly became critical of Duke's work. The two musicians could not reach middle ground and Duke departed the Dylan band just a few dates into the second leg of the tour under circumstances which can best be described as a parting of the ways due to "musical differences."
AS A CO-LEADER
In 1999, Duke entered the studio for what was to be a two-song session with one of his greatest heroes and influences, Herb Ellis. The two masters hit it off so great and the session jelled so well that they wound up recording two albums worth of material. The first, "Conversations In Swing Guitar," was an artistic triumph and the remainder of the sides were released by popular demand in 2003.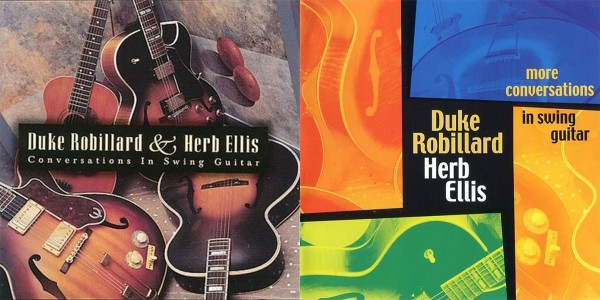 He has an ongoing project called The New Guitar Summit with Jay Geils, the namesake of The J. Geils Band, and his old friend, jazz guitarist Gerry Beaudoin. The trio has released three albums and a live DVD to date.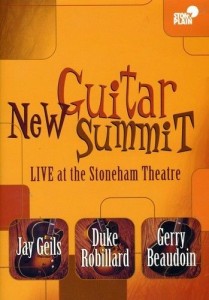 Another ongoing project is a band he leads behind vocalist Sunny Cronover called Sunny and Her Joy Boys which teams him with guitarist Paul Kolesnikow in a collaboration reminiscent of Django Reinhardt's Hot Club of France groups.
2005 saw the release of "The Duke Meets The Earl," an album written in the stars, but a long time in the making: the musical meeting of Duke and his Roomful of Blues replacement, Ronnie Earl.
AS AN EDUCATOR
Duke Robillard is always ready to share his knowledge and the secrets behind his style with the younger generation and anyone wishing to broaden their horizons. His first venture into teaching, "Uptown Blues, Jazz Rock & Swing Guitar" recorded for instructional video pioneers Hot Licks was a best seller and remains in print. He later signed with the Hal Leonard Corporation, one of the world's biggest music publishers and a leader in music teaching materials, and has released a steady stream of books, CDs and DVDs for the serious guitar student. He currently offers a continuing series of lessons available online through the Sonic Junction website.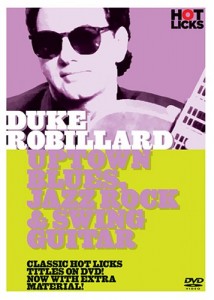 AS A LEADER
Since winding up the Shanachie deal in 1999, Duke has released more than a dozen albums under his own name through Stony Plain. Duke continues to explore the many styles for which he's become known and continues to stretch their boundaries. Each and every one is a gem and must-have for his fans and anyone interested in the state of modern guitar-based music.
At the time of this writing (2014), Duke was preparing for the release of not one, but two new albums: "Calling All Blues" under his own name and yet another lovingly produced project behind one of the all time greats, "The Blues Soul Of Billy Boy Arnold." Both albums were recorded with Duke's current band, bassist Brad Hallen, drummer Mark Teixeira and keyboard man Bruce Bears and feature backing from the current lineup of the Roomful of Blues horn section, Rich Lataille on alto and tenor sax, Mark Earley on tenor and baritone and Doug Woolverton on Trumpet.
AWARDS
Duke is one of the honored musicians in the history of the Blues Music Awards (formerly the W. C. Handy Awards). He has been nominated more than 20 times for "Best Blues Guitarist" and won the category in 2000, 2001, 2003 and 2004. Also in 2004, Joe Bonamassa's Keeping The Blues Alive Foundation awarded him Producer Of The Year.
In 2007, he received one of Rhode Island's highest honors, The Pell Award For Excellence In The Arts, and his first Grammy nomination for "Guitar Groove-A-Rama" in the Best Contemporary Blues Album category.
He got a second Grammy nod in 2010 for "Stomp! The Blues Tonight" for Best Traditional Blues Album and, the same year, won another Blues Music Award as Best Traditional Blues Male artist.
In 2012, he was inducted into the Rhode Island Music Hall of Fame as a founding member of Roomful of Blues and was inducted a second time in 2014 as a solo artist.
DUKE ROBILLARD ALBUM DISCOGRAPHY
Courtesy Duke Robillard's official website with additions by Rick Bellaire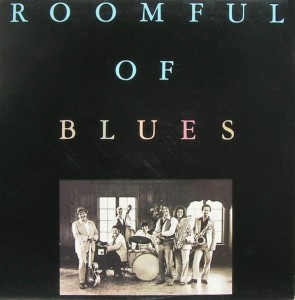 WITH ROOMFUL OF BLUES
1977 Roomful Of Blues: Roomful Of Blues (Island)
1979 Let's Have A Party: Roomful Of Blues (Antilles/Island)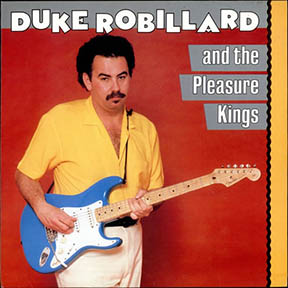 AS A LEADER & CO-LEADER
1984 Duke Robillard & The Pleasure Kings: Duke Robillard & The Pleasure Kings (Rounder)
1985 Too Hot To Handle: Duke Robillard & The Pleasure Kings (Rounder)
1987 Swing: Duke Robillard (Rounder)
1988 You Got Me: Duke Robillard & The Pleasure Kings (Rounder)
1988 Rockin' Blues (compilation): Duke Robillard & The Pleasure Kings (Rounder)
1991 Turn It Around: Duke Robillard (Rounder)
1992 After Hours Swing Session: Duke Robillard (Rounder)
1994 Temptation: Duke Robillard (Pointblank/Virgin)
1996 Duke's Blues: Duke Robillard Band (Pointblank/Virgin)
1997 Dangerous Place: Duke Robillard Band (Pointblank/Virgin)
1997 Duke Robillard Plays Blues (compilation): Duke Robillard (Rounder)
1997 Duke Robillard Plays Jazz (compilation): Duke Robillard (Rounder)
1998 Stretchin' Out – Live: Duke Robillard Band (Stony Plain)
1999 New Blues For Modern Man: Duke Robillard (Shanachie)
1999 Conversations In Swing Guitar: Duke Robillard & Herb Ellis (Stony Plain)
2000 Explorer: Duke Robillard Band (Shanachie)
2001 Retrospective: The New Guitar Summit – Gerry Beaudoin, Jay Geils & Duke Robillard
(Stony Plain)
2002 Living With The Blues: Duke Robillard Band (Stony Plain)
2003 Exalted Lover: Duke Robillard Band (Stony Plain)
2003 More Conversations in Swing Guitar: Duke Robillard & Herb Ellis (Stony Plain)
2004 Blue Mood – The Songs of T-Bone Walker: Duke Robillard Band (Stony Plain)
2004 New Guitar Summit: The New Guitar Summit – Jay Geils, Duke Robillard & Gerry Beaudoin
(Stony Plain)
2005 The Duke Meets The Earl: Ronnie Earl & Duke Robillard (Stony Plain)
2006 Guitar Groove-a-Rama: Duke Robillard Band (Stony Plain)
2007 Unheard Duke Robillard Tapes Vol. 1 – Outtakes and Oddities: Duke Robillard (Duke Robillard)
2007 World Full of Blues: Duke Robillard (Stony Plain)
2008 A Swingin' Session With Duke Robillard: Duke Robillard Band (Stony Plain)
2008 Shivers: The New Guitar Summit – Jay Geils, Duke Robillard & Gerry Beaudoin
with Randy Bachman (Stony Plain)
2009 Introducing Sunny & Her Joy Boys with Duke Robillard: Sunny and Her Joy Boys (Stony Plain)
2009 Stomp The Blues Tonight: Duke Robillard's Jimpin' Blues Revue (Stony Plain)
2010 Passport To The Blues: Duke Robillard (Stony Plain)
2010 Tales From The Tiki Lounge – A Tribute To Les Paul & Mary Ford:
Duke Robillard & Sunny Crownover (Blue Duchess)
2011 Low Down And Tore Up: Duke Robillard Band (Stoney Plain)
2012 Wobble Walkin': Duke Robillard Jazz Trio (Blue Duchess)
2013 Independently Blue: Duke Robillard Band with Monster Mike Welch (Stony Plain)
2014 Calling All Blues: Duke Robillard Band (Stony Plain)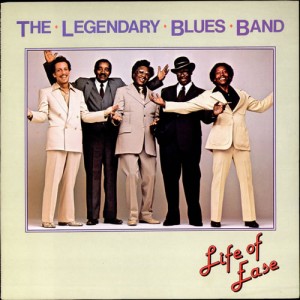 WITH THE LEGENDARY BLUES BAND
1981 Life Of Ease (Rounder)
1983 Red, Hot 'n' Blue (Rounder)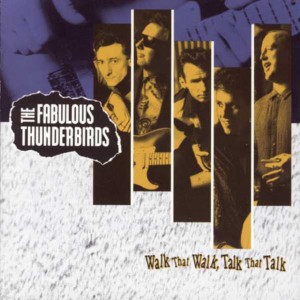 WITH THE FABULOUS THUNDERBIRDS
1991 Walk That Walk, Talk That Talk (Epic/ Sony)
1992 Hot Stuff: The Greatest Hits (compilation) (Epic/ Sony)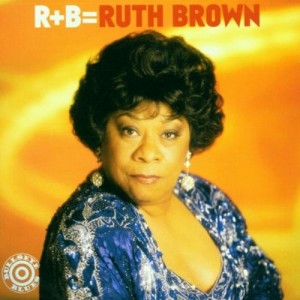 WITH RUTH BROWN
1997 R+B = Ruth Brown ( Rounder)
1999 A Good Day for the Blues (Rounder)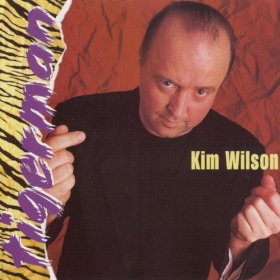 WITH KIM WILSON
1993 Tiger Man (Antones)
1994 That's Life (Antones)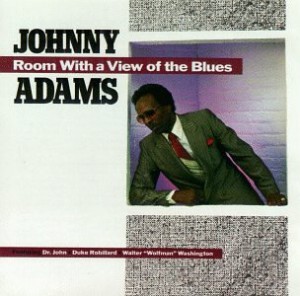 WITH JOHNNY ADAMS
1989 Room With A View Of The Blues (Rounder)
1989 Walkin' On A Tightrope (Rounder)
1991 Johnny Adams Sings Doc Pomus (Rounder)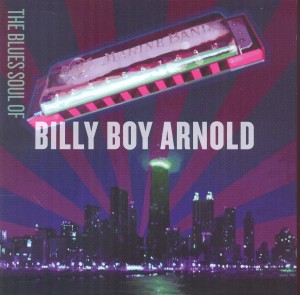 AS A SIDEMAN AND/OR PRODUCER
1988 Soul Searchin': Ronnie Earl & The Broadcasters (Blacktop)
1989 Soul Deep: Miki Honeycutt (Rounder)
1990 Heavy Juice: Greg Piccolo (Blacktop)
1990 Royal Blue: Al Copley & Hal Singer (Modern Blues)
1991 Texas Bluesman: Zuzu Bolin (Antones)
1991 Too Cool To Move: Snooky Pryor (Antones)
1991 Poison Kisses: Jerry Portnoy (Modern Blues)
1992 Pinetop's Boogie Woogie: Pinetop Perkins (Antones)
1993 Toolin' Around: Arlen Roth (Blue Plate)
1993 Good Understanding: Al Copley & The Fabulous Thunderbirds (Suffering Egos Records)
1994 Minor Swing: Gerry Beaudoin & David Grisman (North Star)
1995 Married To The Blues: Mark Hummel (Flying Fish)
1995 Get Down With The Blues: Tony Z (Tone Cool)
1995 Spoon's Blues: Jimmy Witherspoon (Stony Plain)
1996 Found True Love: John Hammond (Pointblank/Virgin)
1997 Time Out Of Mind: Bob Dylan (Columbia)
1997 Hootie's Jumpin' Blues: Jay McShann (Stony Plain)
1999 Jimmy Witherspoon & The Duke Robillard Band: Jimmy Witherspoon (Stony Plain)
2000 Still Jumpin' The Blues: Jay McShann (Stony Plain)
2001 Blow Mr. Low : Doug James (Stony Plain)
2014 The Blues Soul Of Billy Boy Arnold: Billy Boy Arnold with the Duke Robillard Band
(Stony Plain)
DUKE ROBILLARD LINKS & RESOURCES
Duke Robillard Official Website
http://dukerobillard.com
Stoney Plain Records
http://www.stonyplainrecords.com
Online guitar lessons with Duke Robillard
http://www.sonicjunction.com/duke-robillard
Barrelhouse Blues online magazine interview with Al Copley
http://www.barrelhouseblues.com/al_copley.htm
Rip It Up R.I. online webpage about Florian Monday & The Mondos
http://www.ripitupri.blogspot.com/search/label/Florian%20Monday%20And%20The%20Mondos