2014 INDUCTEE
R&B
FREDDIE SCOTT
Rhode Island's Original Soul Man
by Mike Edwards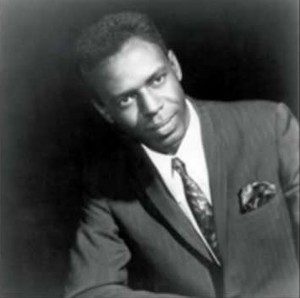 When "Hey Girl" reached # 10 on the Billboard charts in September 1963, Freddie Scott became the first Rhode Islander to reach the Top-10. Although it was his only Top-10 entry, Freddie was no one-hit wonder. He placed 8 singles on the charts in the 60s and a few more on the R&B charts. He excelled in all aspects of 60s' soul music, moving effortlessly from doo-wop through uptown soul, the more grittier mid-60s s' soul and onto more contemporary material, as he surely noted  what the Temptations and Sly & The Family Stone were doing at the end of the decade. His recordings feature arrangements by the best in the business; principally Gary Sherman, who was with Freddie for most of the 60s. Although a song-writer himself, Freddie was astute enough to find material written by such top-shelf names as Carole King-Gerry Goffin, Van McCoy, Van Morrison, Tommy James and Bert Berns.
Freddie was born in Providence in 1933. His grandmother, Sally Jones got Freddie involved in music, as she was a gospel singer with her own group, the Gospel Keyes. He followed through on this by becoming a member of the Swanee Quintet Juniors while attending pre-med school at Paine College in Augusta, Georgia. In between, Freddie went to school in New York and took a medical course at the University of Rhode Island.
The Quintet released a single that did not sell and by 1956 Freddie was back in New York working with Zelma "Zell" Sanders, owner of J&S Records and producer of "Lonely Nights" by the Hearts (1955); one of the very first big hits by a female R&B group. (A few years later, in 1962/3, J&S produced two big hits: "Smokey Places" by the Corsairs (#12) and "Sally Go Round The Roses" by the Jaynettes (#2).) Freddie wrote "Turn The Lamps Down Low", intending it for Johnnie & Joe, label mates and hit makers with "Over The Mountain, Across The Sea". Zell suggested Freddie cut it himself, which he did and it became J&S 1761, selling enough to get him bookings at venues such as the famed Apollo Theater.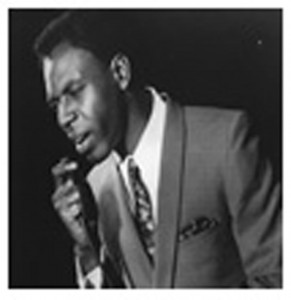 Freddie left J&S when he was called up by the Military. He served some time in Korea but was mainly working in Special Services which afforded him the opportunity of making some more records; three, in fact; for two labels, Bow and Arrow. The songs, a couple of which were written by Freddie, were late 50s' beat ballads and up-tempo rock and rollers, but they did not chart. Although the labels (both owned by the same person) were small, they did feature such artists as Buzz Clifford (pre-"Baby Sitting Boogie") and Jimmy Jones (pre-"Handy Man"). Freddie closed out the decade on another small label, Enrica, where, backed by some friends in a group named the Symphonics, he recorded another of his own compositions, "Come On Honey". As with Bow and Arrow, Enrica was probably more famous for the artists that once recorded there, rather than their hit recordings. Their most famous signing? Screamin' Jay Hawkins (post-"I Put A Spell On You") – in 1962, shortly before the label closed.
As the 60s dawned, Freddie began emphasizing his song writing skills. He was signed to Al Nevins' and Don Kirshner's Aldon Music, where his co-workers included Carole King, Gerry Goffin, Barry Mann, Cynthia Weill and Neil Sedaka. Freddie's partner, though, was Helen Miller. She is maybe not as well known as the others mentioned here – and, unlike them, she was in her 40s at the time – but she wrote such memorable hits as "It Hurts To Be In Love" for Gene Pitney (# 9 in 1964) and "Foolish Little Girl (#4 in 1963) for the Shirelles. She became a talented producer too; scoring a Top-20 hit with Beverly Bremers' "Don't Say You Don't Remember" in 1971, a song she also wrote. The BMI catalog shows that Freddie wrote about a dozen songs with Helen and we show some of these in his "songography". Their most famous was probably "The Door Is Still Open" – a wonderful beat soul ballad, sung by Tommy Hunt in a style that Freddie might easily have utilized himself . This was a #92 hit in 1962. Other songs were recorded by Paul Anka, Tony Orlando, Billy Bland, Tony Williams (the former lead singer of the Platters) and Gene "Duke Of Earl" Chandler. The Paul Anka song, "It Only Lasts For A Little While" was recorded at the very end of Paul's stay at ABC, with the great Teddy Randazzo arranging. Paul, who typically wrote his own songs, was trying some new material from Aldon Music. But time was running out. ABC released five Paul Anka 45s after his 1961 mid-summer hit, "Dance On Little Girl", during which time Paul had already signed with RCA and released "Love Me Warm And Tender" in January 1962. "It Only Lasts For A Little While" was not among those 45s but ABC included it on a close out LP, "Paul Anka Sings His Big 15, Vol III".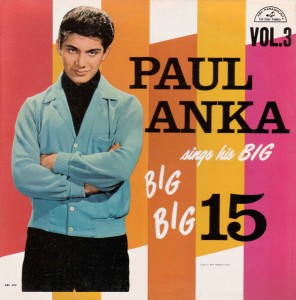 The song Gene recorded, "From Day To Day" was co-written with another talented gentleman, Big Dee Irwin. Dee had sung lead on the Pastels' doo-wop classic, "Been So Long" (#24 in 1958) and in 1963 teamed up with Little Eva for the world wide smash, "Swinging On A Star". Freddie wrote a few sides with Dee, another of which was a nice up-tempo doo-wop, "If You Need Me, I'll Be There" by the Laddins, released on Angie in 1962. Over the course of his songwriting career, Freddie wrote with others, notably Jackie Wilson and Sal Trimachi – yes that Sal Trimachi – he of such bubblegum goodies as "123 Red Light", a # 5 hit for the 1910 Fruitgum Company in 1968. Clearly Freddie did not believe in being pigeon holed. Recordings of Scott-Miller songs are hard to find these days but their scarcity combined with their strong musical qualities make them a target for collectors of northern soul and Belgian popcorn. A title such as Gloria Grey's "It's A Sweet World" would fetch over $100 at auction.
Freddie picked up his recording career by signing with New York's Joy label in 1961. This was the time of the Drifters, the baion/latin rhythms and the uptown soul ballad. Freddie's first was the somewhat unusually titled, "Baby – You're A Long Time Dead" coupled with "Lost The Right" in 1961 – an up tempo rocker backed with a big voiced ballad. There was no chart action, as was the case with the second 45, "When The Wind Changes" coupled with a melodic pop item, "I Gotta Stand Tall". Both of these sides were arranged by former Juilliard student, Mort Garson, who gave us one of the biggest hits of 1963, when Ruby & The Romantics took a song be wrote with Bob Hilliard, "Our Day Will Come", to #1.
Things, however, were about to change – and seriously. Carole King and Gerry Goffin would do it again! In 1962, they cut a demo with their babysitter, Little Eva, "The Locomotion". Don Kirshner listened to it and put it out on his own Dimension label. By the time summer ended in 1962, there was barely a market where it hadn't gone Top-5. Goffin-King's demo this time round was with Freddie Scott on a song they wrote called "Hey Girl". They approached Chuck Jackson with the song, who, at the time, was defining the soul ballad genre with such classics as Burt Bacharach's "Any Day Now".  Chuck passed, so Freddie reworked the song, with Gary Sherman as the arranger and Colpix put it out. By September 1963, it was the # 10 record in the nation (at a time when the Angels were #1 with "My Boyfriend's Back"). The flip was a twister, giving us yet another new dance, "The Slide". The twist and related dance crazes had run their course by mid '63, but with its energetic sax break, "The Slide" is still a lot of fun. "Hey Girl" had longevity as was evidenced by subsequent hit recordings from Bobby Vee (#35, 1968), The Lettermen (#104, 1970) and Donny Osmond (#9, 1972).
Colpix followed with an LP, "Freddie Scott Sings And Sings And Sings". It was a mixed bag with the stand-out tracks being the Goffin-King originals: the title track, "Where Does Love Go" and "What Do I See In The Girl". It was as if Freddie was to Goffin-King as Lou Johnson was to Bacharach-David; a very talented interpreter of their songs. One track became Freddie's follow-up single, a soulful reading of Ray Charles' 50s' hit, "I Got A Woman" (#48). The flip was stronger; Goffin-King's "Brand New World". "Where Does Love Go" from the LP followed and while the Beatles were then tearing up the US charts, Freddie managed a respectable #82 with this very reflective Goffin-King ballad. Colpix then began to wind down but they snuck out one last 45 form the LP, "On Broadway" / "If I Had A Hammer". Nothing wrong with Freddie's interpretations of the Drifters' and Peter Paul & Mary hits; by then, he just needed something fresher.
Moving to Colpix's parent, Columbia Records, Freddie was now with the majors. As big labels tended to do, Columbia steered Freddie towards MOR material, especially on album. His first 45, however, was a good soul offering, "Mr. Heartache" / "One Heartache Too Many", with the second side co-written by Freddie. Clyde Otis, best known for his collaboration with the great Brook Benton was the producer and Gary Sherman was again the arranger. His first album, "Everything I Have Is Yours" came out in 1965 full of standards such as "Secret Love" and "Love Is A Many Splendored Thing" and, simply, did not offer anything new. Columbia reverted to more soulful beat-ballad material for the second LP, "Lonely Man". As if to emphasize this, the title track was released as a 45 with Van McCoy's "I'll Try Again" as the b-side.
Columbia issued two further singles. "Don't Let It End This Way" (co-written by Freddie) with its flip, "Come Up Singing" displaying Freddie's gospel roots. The Sweet Inspirations were in the background. "Forget Me If You Can" was a good pop item, from the pens of the aforementioned, Mort Garson and Bob Hilliard. The flip side, "One Iddy Biddy Needle" was another pop tune from Wes Farrell, who played such an important part in the Cowsills' career. More about Wes on our Cowsills' page.
Freddie became disenchanted with his stay at Columbia, particularly with the personnel changes (Gary Sherman was no longer his arranger) and the fact that none of his recordings for the label charted. He left a small but top quality catalog at Columbia but, in the very fast moving 60s, the times had changed. Whereas "Hey Girl" fitted right in there in 1963, his Columbia offerings did not in 1965.  And so, he entertained an offer from a new label that a colleague, Bert Berns was starting. Shout was to be a subsidiary of  New York's Bang label (then the home of Neil Diamond) and intended for soul releases.
Bert Berns was hugely experienced by 1966, as a producer, arranger and song writer. He'd worked with and scored big hits for the Drifters, the Exciters, Garnet Mimms and Solomon Burke. His song compositions include, "Twist And Shout, "Tell Him", "A Little Bit Of Soap" "Piece Of My Heart" and "My Girl Sloopy". He has a very extensive catalog. (To find out more on Bert Berns, one of Freddie Scott's key collaborators, we highly recommend that you visit: http://www.bertberns.com/index.html). Freddie's first single for Shout was his second biggest hit, "Are You Lonely For Me", a song written by Bert Berns, arranged by Gary Sherman and with The Sweet Inspirations again singing back-up. Today it is regarded as a soul classic, having been covered by Otis Redding, Chuck Jackson, Al Greene and the Grateful Dead. None match Freddie Scott's original, though, and he had absolutely found the right groove for 1966. For the b-side, Shout put out one of Freddie's original songs, "Where Were You".
The all important follow-up was a revival of the Bert Berns' song, "Cry To Me", previously a hit for both Solomon Burke and Betty Harris. Freddie's version was maybe not fresh enough to go beyond a still respectable #70 on the pop charts. The very appealing LP that followed was tagged after the hit 45, "Are You Lonely For Me" and Freddie offers soulful versions of earlier hits such as Ed Townsend's "For Your Love", Sam Cooke's "Bring It On Home To Me" and Darrell Banks' "Open The Door To Your Heart". Today, clean copies of this LP can sell for in excess of $50; a testament to how well-thought of the album is. Fortunately, Sony and UK Kent have reissued much of the Shout material on CD, including many tracks from this album.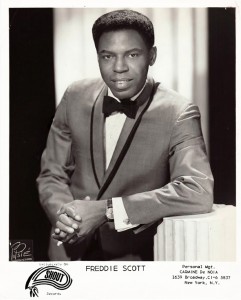 "Am I Grooving You", a funkier song, written by Bert Berns and Jeff Barry, followed "Cry to Me" into the charts (# 71) backed by another of Freddie's compositions, "Never You Mind". A track from the LP, a revival of Jerry Butler's "He Will Break Your Heart" was issued as the next single (with Freddie's up-tempo, "I'll Be Gone" as the flip) and reached # 120. (A gentleman who had recorded one of Freddie's songs in his early career, Tony Orlando, took his version of "He Will Break Your Heart" to #1 in 1975.)
Bert Berns had been one of the few American record producers to have traveled to London, where he produced artists such as Them and Lulu for UK Decca. Them's lead singer, Van Morrison continued his association with Bert Bern's after he left the group in 1966, scoring with "Brown Eyed Girl" (#10) on Bang in 1967. Van provided Freddie with his next 45, the beat ballad, "He Ain't Give You None", which Shout released with a revival of Louis Jordan's "Run Joe" (from 1948) as the flip. "He Ain't Give You None" turned out to be Freddie's last chart hit when it crested at #100 in November 1967.
"Just Like A Flower" (which Freddie wrote with the aforementioned, Sal Trimachi) did not chart even though Shout coupled it with Freddie's wonderful version of "Spanish Harlem" from the "Are You Lonely For Me" LP. They tried something different for the next 45. Kenny Gamble and Leon Huff were still about five years away from their world wide successes with Philadelphia International Records but they had already built some traction in the business with hits such as "Expressway To Your Heart" by the Soul Survivors (#5, 1967). Bert Berns suggested Freddie hook up with Gamble-Huff and the result was "(You) Got What I Need" (backed with another Freddie original, "Powerful Love"). This 45 missed the Pop charts but made it to # 27, R&B. It is not unlike some of the recordings that Gamble and Huff were making with Jerry Butler at the time; in particular, "Only The Strong Survive", a # 4 charter on Mercury in 1969 .
Sadly we lost Bert Berns on December 31, 1967. He passed away after a heart attack. The Shout label continued until the mid 70s but with its driving force gone, Freddie left. Shout put out one final 45, "No One Could Ever Love You" (a Bert Berns-Jerry Ragavoy song, that was the b-side of Freddie's "Cry To Me" 45) coupled with "Loving You Is Killing Me". This track was written by one of Vini Poncia and Pete Anders' collaborators at the time, Bobby Bloom together with Marty Sanders of Jay & The Americans.
Freddie took a break from recording until he joined the small Elephant V label in 1969. One of the principals was the arranger/songwriter, Tommy Kaye, who did the arrangement on Jay & The Americans top-5 hit that year, "This Magic Moment". Freddie and Tommy wrote a very moving song about a deceased soldier returning home by train to be buried and called it "Johnny's Hill". The flip would appear to have been a strange choice; a version of Tommy James' "Sugar On Sunday" which had appeared on Tommy's "Crimson And Clover" LP and was a #22 hit when recorded in the style of "Crimson And Clover" by the Houston band, the Clique, on White Whale. Freddie's version is much more soulful and works surprisingly well. It was produced by former Motown A& R man, Mickey Stevenson. As the name might suggest, Elephant V was not a serious label and although Freddie and Tommy Kaye made more recordings, ostensibly for that label, they
were able to place them with Probe, a subsidiary of ABC. One of these was issued as a 45; the Bob Dylan song from the Band's "Music From The Big Pink" LP, "I Shall Be Released". It was not a pop hit but it returned Freddie to the R&B charts for one last visit when it peaked at #40 in 1970. Probe rounded up the tracks for an 8 track LP, which included a 7 minute version of Joe Cocker's "With A Little Help From My Friends". Another track, "Learnin' How To Fly" was written by Tommy Kaye in conjunction with Sandy Yaguda and Kenny "Lookin' For An Echo" Vance of Jay & The Americans.
As the 70s dawned, Freddie's recording career was winding down. After Probe, three further 45s followed on Vanguard, Pip and Mainstream. The Pip one is interesting in that both sides of the 45, "The Great If" and "Deep In The Night" were written by his former sidekick from the Aldon Music days in the early 60s, Helen Miller. Helen also produced Freddie's disc along with the very talented arranger for the 4 Seasons, Charlie Calello, who was also the arranger for both these sides. The song was from a 1971 Broadway show, "Inner City" for which Eve Merriman supplied the words and Helen the music. Harvey Milk, who was assassinated in 1978 while serving as a Supervisor for the City of San Francisco, was one of the show's producers. The show starred R&B great, Linda Hopkins and the song "Deep In The Night" was recorded additionally by Barbara Streisand, Etta James and Sarah Vaughan. Freddie was again in top-class company.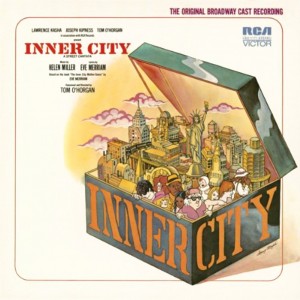 "You Are So Hard To Forget" a soul ballad (and another Helen Miller song) released on Mainstream in 1974 turned out to be Freddie's last 45. He had taken acting lessons and was able to put these to good use by landing small roles in films such as "Stiletto" (based on the Harold Robbins' book) in 1969. Mostly, Freddie wrote and sang advertising jingles but still continued on the road, where covers of his hit songs (such as "Hey Girl" by Billy Joel, George Benson and Michael Macdonald – all of which can be seen on You Tube) kept his name out there. Some of Freddie's best tracks have been reissued on 45 and CD and in 1989 the rap singer Biz Markie used his 1968 shout single, "(You) Got What I Need" as the basis for "Just a Friend". Fast forward to 2001 and R&B enthusiast Jon Tiven recorded a new album with Freddie, "Brand New Man", which featured contributions from Issac Hayes and Felix Cavaliere (formerly of the Young Rascals) as well as three new songs from Freddie. It was one of a number of CDs that Jon produced, featuring such R&B greats as Freddie, Don Covay and Wilson Pickett. And proving once again, that what goes around comes around; Freddie recorded "Brown-Eyed Girl" for the Van Morrison tribute album produced by Jon Tiven, "Vanthology", in 2003.
We lost Freddie in June 2007 at the age of 74. He was truly one of the best soul singers of the 60s with a world wide reputation that is just as intact today as it was back then. The fact that he came from Providence is surely a source of pride for the City.
———————————————————————————
Freddie Scott's recordings available on CD:
Freddie Scott Sings And Sings And Sings (Collectables)
most of his Colpix recordings
The Best Of Freddie Scott (Sony Legacy) most of his Shout recordings
Mr. Heartache (Kent Soul, UK) most of his Columbia recordings and some from Shout
———————————————————————————
For further information about Freddie Scott, please try the following websites:
http://www.soulexpress.net/freddiescott.htm
http://www.independent.co.uk/news/obituaries/freddie-scott-451886.html
FREDDIE SCOTT DISCOGRAPHY: Original Releases
by Mike Edwards
Singles/45s
SWANEE QUINTET JUNIORS
1950/1951?
Far Away Places b/w ? (Nashboro?)
Freddie Scott's first known release, Nashboro was the then-current label of the parent gospel group, The Swanee Quintet
FREDDIE SCOTT
1956
Turn The Lamp Down Low b/w Running Home (J&S 1760/1761)
FREDDIE SCOTT & THE CHIMES
1957
Tell Them For Me b/w Hold My Hand (Bow 307)
1958
Please Call b/w The Letter Came This Morning (Arrow 724)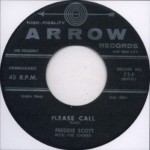 A Faded Memory b/w Loving Baby (Arrow 726)
FREDDIE SCOTT & THE SYMPHONICS
1959
Come On Honey b/w A Blessing To You (Enrica 1002)
Re-issued in 1964
FREDDIE SCOTT
1961
Baby – You're A Long Time Dead b/w Lost The Right (Joy 250)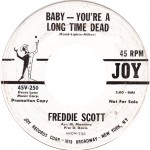 When The Wind Changes b/w I Gotta Stand Tall (Joy 255)
1963
Hey Girl b/w The Slide (Colpix 692)
When The Wind Changes  b/w I Gotta Stand Tall (Joy 280)
I Gotta Woman b/w Brand New World (Colpix 709)
1964
Where Does Love Go b/w Where Have All The Flowers Gone (Colpix 724)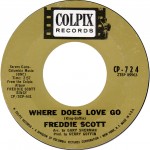 If I Had A Hammer b/w On Broadway (Colpix 752)
One Heartache Too Many  b/w Mr. Heartache (Columbia 43112)
1965
Lonely Man b/w I'll Try Again (Columbia 43199)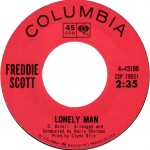 Don't Let It End This Way b/w Come Up Singing (Columbia 43316)
1966
Forget Me If You Can b/w One Iddy Biddy Needle (And A Little Bit Of Thread)
(Columbia 43623)
Are You Lonely For Me b/w Where Were You (Shout 207)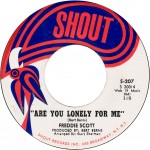 1967
Cry To Me b/w No One Could Ever Love You (Shout 211)
Am I Grooving You b/w Never You Mind (Shout 212)
He Will Break Your Heart b/w I'll Be Gone (Shout 216)
He Ain't Give You None b/w Run Joe (Shout 220)
Just Like A Flower b/w Spanish Harlem (Shout 227)
1968
You Got What I Need b/w Powerful Love (Shout 233)
No One Could Ever Love You b/w Loving You Is Killing Me (Shout 238)
1970
Sugar On Sunday b/w Johnny's Hill (Elephant V Ltd. 1)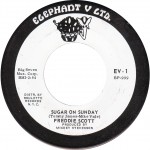 I'll Be Leaving Her Tomorrow b/w I Shall Be Released (Elephant V Ltd.  4)
I Shall Be Released b/w Girl I Love You  (Probe 481)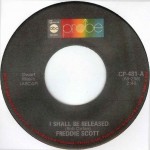 1971
I Guess God Wants It That Way b/w Please Listen (Vanguard 35137)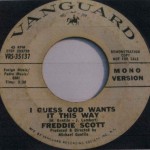 1972
The Great If b/w Deep In The Night (Pip 8932)
1974
You're So Hard To Forget    b/w same (Mainstream 5562)
Albums/LPs
FREDDIE SCOTT
1963
Freddie Scott Sings (Colpix 461)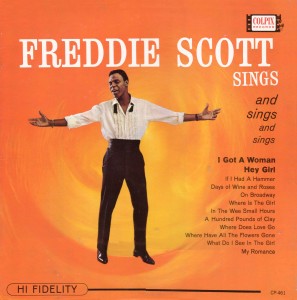 I Got A Woman
What Do I See In The Girl
If I Had A Hammer
In The Wee Small Hours Of The Morning
Where Have All The Flowers Gone
Days Of Wine And Roses
Hey Girl
A Hundred Pounds Of Clay
Where Does Love Go
On Broadway
My Romance
1965
Everything I Have Is Yours (Columbia 2258)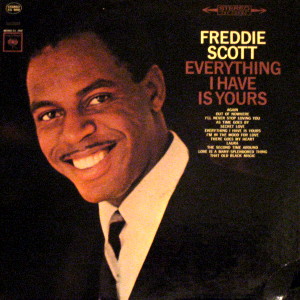 Secret Love
There Goes My Heart
Everything I Have Is Yours
I'm In The Mood For Love
As Time Goes By
Out Of Nowhere
That Old Black Magic
Again
The Second Time Around
Laura
Love Is A Many-Splendored Thing
I'll Never Stop Loving You
1965
Lonely Man (Columbia 2660)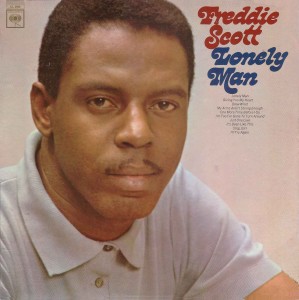 Lonely Man
Giving You My Heart
Blow Wind
My Arms Aren't Strong Enough
One More Time Before I Go
I'm Too Far Gone To Turn Around
Just One Look
It's Been Like This (All Of My Life)
Sing, Girl
I'll Try Again
1967
Are You Lonely For Me (Shout 501)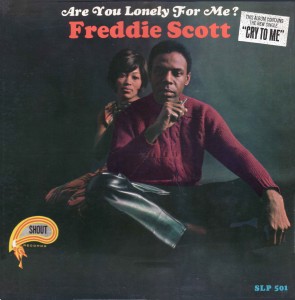 Are You Lonely For Me
Let It Be Me
Open Up The Door To Your Heart
Where Were You
Spanish Harlem
Shake A Hand
He Will Break Your Heart
Who Could Ever Love You
Cry To Me
For Your Love
The Love Of My Woman
Bring It On Home To Me
1970
I Shall Be Released (Probe 4517)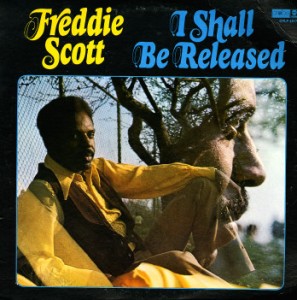 If Tomorrow Never Comes
I Shall Be Released
Girl I Love You
I'll Be Leaving Her Tomorrow
Learnin' How To Fly
With A Little Help From My Friends
Don't Let Me Fall
Out Of My Mind
Albums/CDs
2001
Brand New Man (Evangeline 4021)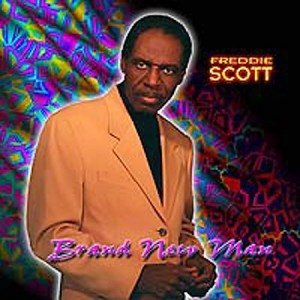 All I Wanna Do Is Sing
Laugh to Keep From Crying
Brand New Man
Your Love
Everybody Loves Soul Music
Second Hand Paradise
Midnight Train
Other Side of Town
Just Enough to Keep Me Holding On
Yes Man
Look Into Your Soul
Last Night
Don't Reward the Sinner
Protection
Locked in a Mystery
2003
VARIOUS ARTISTS
Vanthology: A Tribute To Van Morrison (Evidence 26128)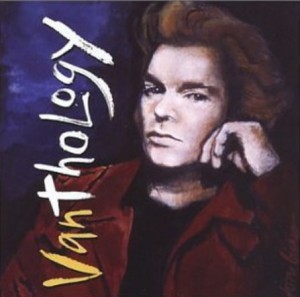 includes one track by Freddie Scott
Brown Eyed Girl
FREDDIE SCOTT SONGOGRAPHY:
Original Compositions by Freddie Scott
by Mike Edwards
Song Title                  Co-Writer(s)             Recorded By          Label                 Year
| | | | | |
| --- | --- | --- | --- | --- |
| All I Wanna Do Is Sing | Jon Tiven, Charles Reale, Sally Tiven | Freddie Scott | CD Evangeline | 2001 |
| Come On Honey | | Freddie Scott & The Symphonics | Enrica 1002 | 1959 |
| Don't Let It End | Freddie Briggs, Johnny Northern | Freddie Scott | Columbia 43316 | 1965 |
| Door Is Open | Helen Miller | Tommy Hunt | Scepter 1226 | 1961 |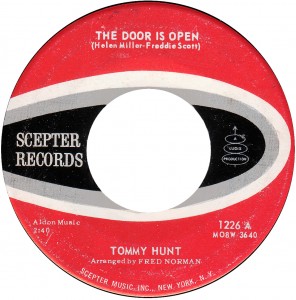 | | | | | |
| --- | --- | --- | --- | --- |
| Everybody Loves Soul Music | Jon Tiven, Charles Reale | Freddie Scott | CD Evangeline | 2001 |
| Farmer In The Dell | Helen Miller | Billy Bland | Old Town 1143 | 1963 |
| From Day To Day | Helen Miller, Dee Irvin | Gene Chandler | Constellation 104 | 1963 |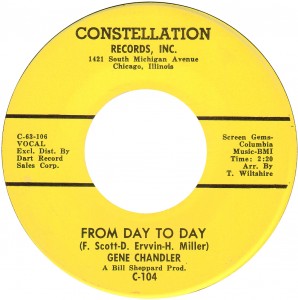 | | | | | |
| --- | --- | --- | --- | --- |
| Girl I Love You | Gerry Ginsberg | Freddie Scott | LP Probe 481 | 1970 |
| Giving You My Heart | Dorothy Hughes | Freddie Scott | LP Columbia 2660 | 1965 |
| Ha Baby I'm Coming On Back | Gones | Lee Pratt | J&S 42833 | 1968 |
| Hey Ya'll We're Miami | Various | Miami | Drive 6238 | 1975 |
| His Greatest Creation | Gordon Barlin | Sunny & The Sunliners | Tear Drop 3040 | 1964 |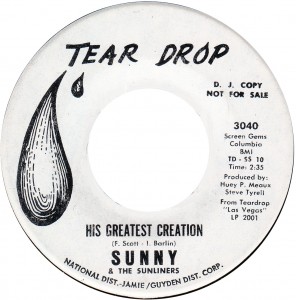 | | | | | |
| --- | --- | --- | --- | --- |
| I'll Be Gone | Rose Marie McCoy | Freddie Scott | Shout 216 | 1967 |
| If Tomorrow Never Comes | Gerry Ginsberg | Freddie Scott | LP Probe 481 | 1970 |
| If You Need Me I'll Be There | Dee Irvin | Laddins | Angie 1790 | 1962 |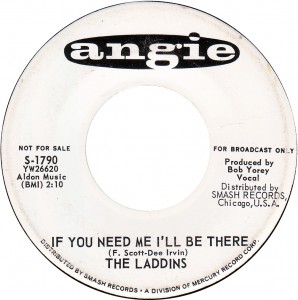 | | | | | |
| --- | --- | --- | --- | --- |
| It Only Lasts For A Little While | Helen Miller | Paul Anka | LP ABC 409 | 1962 |
| It's A Sweet World | Helen Miller | Gloria Grey | Warners 5287 | 1962 |
| It's Been Like This (All Of My Life) | Luther Dixon, Robert Mosely | Freddie Scott | LP Columbia 2660 | 1965 |
| Johnny's Hill | Tommy Kaye | Freddie Scott | Elephant V Ltd 1 | 1970 |
| Just Like A Flower | Sal Trimachi | Freddie Scott | Shout 227 | 1967 |
| Last Night | Jon Tiven, Charles Reale | Freddie Scott | CD Evangeline | 2001 |
| Look Into Your Soul | Jon Tiven, Charles Reale | Freddie Scott | CD Evangeline | 2001 |
| Lost The Right | Helen Miller, Nathaniel Lipkin | Freddie Scott | Joy 250 | 1961 |
| Love On Your Lips | Helen Miller | Tony Orlando | Epic 9502 | 1962 |
| Never You Mind | Clyde Wilson | Freddie Scott | Shout 212 | 1967 |
| One Heartache Too Many | Freddie Briggs, Johnny Northern | Freddie Scott | Columbia 43112 | 1964 |
| One More Time Before You Go | | Freddie Scott | LP Columbia 2660 | 1965 |
| Out Of My Mind | Gerry Ginsberg | Freddie Scott | LP Probe 481 | 1970 |
| Please Call | | Freddie Scott & The Chimes | Arrow 724 | 1958 |
| Powerful Love | | Freddie Scott | Shout 233 | 1968 |
| Save Me | Helen Miller | Tony Williams | Philips 40123 | 1963 |
| Stop | Dee Irvin, Connie St John | Clyde McPhatter | Mercury 72051 | 1962 |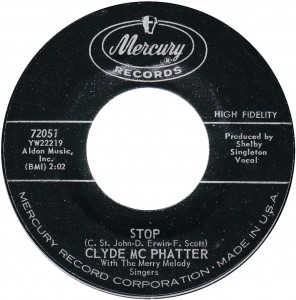 | | | | | |
| --- | --- | --- | --- | --- |
| Tell Them For Me | | Freddie Scott | Bow 307 | 1957 |
| When Will Our Day Come | Jackie Wilson, Alonzo Tucker | Jackie Wilson | LP Brunswick 754130 | 1967 |
| Where Were You | | Freddie Scott | Shout 207 | 1966 |
| Will It Happen | Gones | Lee Pratt | J&S 42833 | 1968 |