2015 INDUCTEE
Jazz
NO FRILLS, JUST MUSIC
The Musical Odyssey of
GEORGE MASSO
(1926-2019)
by Rick Bellaire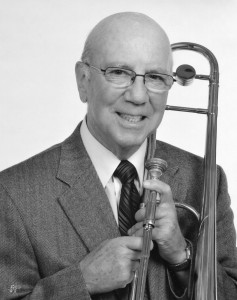 INTRODUCTION
Born in Cranston in 1926, jazz trombonist and pianist George Masso has excelled in just about every area of the music business: performer, composer, recording artist, arranger and educator. In 1945-46, he served as first trombonist and arranger for the 314th Army Special Services band in Europe, then spent a year on the road with Jimmy Dorsey. He later taught music in the Cranston public schools for eleven years and another eight at UConn. He returned to the road in the mid 1970s, touring internationally and/or recording with a host of musical giants including Benny Goodman, Bobby Hackett, The World's Greatest Jazz Band of Yank Lawson & Bob Haggart, Woody Herman and George Shearing. Along the way, he has recorded more than a dozen albums as a leader and co-leader which are considered classics around the world and is also a classical composer and arranger of note with many published works and orchestral performances.
GEORGE MASSO: THE EARLY YEARS
Like his fellow 2105 Rhode Island Music Hall of Fame inductees Bob Petteruti and Anthony "Duke Belaire" DeCubelliis, both of whose dads were band leaders, it can be said that George Masso was born to follow in his father's footsteps.
He was born in 1926, in Cranston, Rhode Island. His father was Thomas P. "Tommy" Masso who was very well-known throughout New England as a trumpeter, band leader and musical contractor.
As a youth, George studied the trombone with Walter St. Pierre who played in Tommy's band. He began his professional career as a teen playing his trombone with his dad's orchestra. During his senior year at LaSalle Academy in Providence, at the time a Catholic boys high school, he played a whopping four nights per week with the Don Mario band at Ray Belaire's Aracadia Ballroom in downtown Providence!
OVER THERE
George graduated from LaSalle toward the end of the second world war. He began playing with the Jimmy Palmer Orchestra, but within the year, he was drafted into the U.S. Army. By the time he'd finished basic training, the war had ended and, thanks to his musical background, he was assisgned to the 314th Army Special Services Band in Europe. He served as first trombonist and arranger and considers his time with the band one of the highlights of – and a turning point in – his career.
As he told Monk Rowe, director of the Hamilton College Jazz Archive, in an interview in 1997, "It was a marvelous experience. A 'band,' they called it, but it was an orchestra. I became the staff arranger in that band with a full string section and all that, and that was my laboratory. No pressure, just write."
The band was stationed in Weisbaden, Germany and each week broadcast a one hour show before a live audience to the Armed Forces Network. He worked alongside many talented musicians including Jack Elliott and Charles Eakin, both arrangers/composers who went on to long careers on Broadway, Hollywood and television, and began a lifelong friendship and collaboration with the band's librarian/vocalist, Anthony Benedetto, who would go on to worldwide fame in the 1950s under his stage name, "Tony Bennett."
One recording survives from this historic pairing, a live broadcast of "St. James Infirmary Blues" from 1946 which was released in 2011 on the Tony Bennett box set Rarities, Outtakes & Other Delights. The arrangement features Tony's vocal and a trombone solo by George. The reader can get a listen by visiting the Columbia Records/Sony Music YouTube page at the below link:
https://www.youtube.com/watch?v=mhufGPqL1F0
His experiences in the service led him to begin to consider a formal, college-level musical eduction, but first, he hit the road after his discharge and spent a year (1948-1949) traveling with the Jimmy Dorsey Orchestra followed by several months with the orchestra at the famed Manhattan nightspot, The Latin Quarter (1949-1950). By the time he left New York City, George had married and begun to raise a family and decided to get serious about his education and stick close to home. He furthered his trombone studies with John Coffey in Boston who encouraged George to pursue a career in music education. George enrolled at Boston University and earned his undergraduate degree in 1953 and his master's in 1959.
SCHOOL DAYS
In the mid-1950s, George began teaching in the Cranston Public Schools system where he remained for eleven years mentoring dozens of students who went on to careers in music. He then spent eight years employed by the University of Connecticut/Connecticut Department of Education where he became key teacher in the music program at E. O. Smith High School in Mansfield. The UConn Wind Ensemble introduced one of his early classical pieces, "Fantasy In Syncopation," with a performance in 1973.
While attending BU and during his years as a teacher, George took on a more active role with his father's band, which was then billed as the Tommy Masso & Sons Orchestra, performing alongside his dad and his brother, Tommy Masso, Jr., who like Tommy Sr., was a trumpet player. He also kept up a busy schedule performing on jazz dates and on general business and society gigs.
In the mid-1970s, he took a one week gig performing in Raleigh, North Carolina, with famed Providence trumpet master Bobby Hackett who was a lifelong friend of the Masso family. Once Bobby realized that the gig had been enough to whet George's appetite to get back on the road, he arranged for George to join the Benny Goodman Sextet. George resigned his teaching position and moved to New York City which became his headquarters for the next eighteen years.
IT DON'T MEAN A THING IF IT AIN'T GOT THAT SWING
George spent the next three years, 1973-1976, globe-hopping with the King of Swing in an all-star band which included Glenn Miller alumnus Al Klink on tenor sax, guitarist Bucky Pizzarelli and bassist Slam Stewart. The group recorded an internationally released live album in Germany, The King Swings. The jazz world rapidly took note of his improvisatory skills and there was great demand for his services.
The Goodman gig was followed by another tour with Bobby Hackett and then George joined The World's Greatest Jazz Band of Yank Lawson & Bob Haggart with whom he remained until 1996 when Yank and Bob retired.
During his tenure with the group, the WGJB recorded a series of LPs focusing on the work of great American composers including Duke Ellington, George Gershwin and Cole Porter as well as several live albums.
In between tours and recording sessions with the WGJB and with many other jazz masters, George kept busy working as a trombonist, composer and arranger in radio, television, movies and advertising and can be found on the soundtracks of several of Woody Allens films including Bullets Over Broadway and Crimes And Misdemeanors.
In 1981, he launched his solo career as a recording artist with the release of Dialogue At Condon's and has since released more than a dozen best-sellings albums as a leader or co-leader to critical acclaim and toured internationally behind several of those releases.
He also recorded another dozen or so albums and/or toured as a sideman or band member with a who's who of jazz greats including collaborations with Charlie Ventura, Ralph Sutton, Woody Herman, George Shearing and Peggy Lee, just to name a few.
In 1988, he participated in Bob Wilber's 50th anniversary recreation of Benny Goodman's legendary 1938 Carnegie Hall concert.
One wonders when he found the time, but Mr. Masso is also a classical composer and arranger of note with many published works and performances by the Brown University Wind Symphony and the University of Rhode Island Wind Ensemble and other southern New England ensembles. He has also composed third stream music (a synthesis of classical music and jazz) and has enjoyed performances of several works including "Themes and Variations," a jazz suite in three movements, "Serenade," a piece for trombone octet, and a jazz Mass.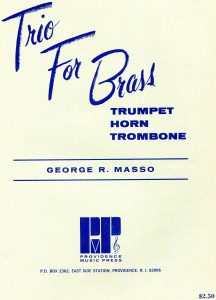 POSTSCRIPT
In 2012, at age 85, George Masso retired his trombone. In an interview with Rick Massimo of The Providence Journal, he cited his age and lack of gigs as the reasons: "I'm sick and tired of playing long tones every day (in practice), and having work be so sparse. It's time for me to concentrate on other areas because i don't enjoy playing the trombone that much now. I'm not playing the way I'd like to." But although his horns have gone into their cases, possibly for good, George has remained active as a pianist and as a composer with no end in sight.
On April 20, 2015, George Masso was inducted into the Rhode Island Music Hall of Fame in a ceremony held at Bovi's Tavern in East Providence, Rhode Island. He passed away on October 22, 2019.
GEORGE MASSO SELECTED DISCOGRAPHY
Original LP and CD Releases
by Rick Bellaire
AS A LEADER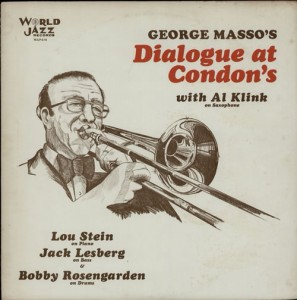 Dialogue At Condon's (World Jazz Records WJLP-S-18) 1981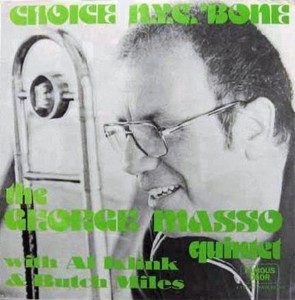 Choice N.Y.C. Bone (Famous Door Records HL-129) 1981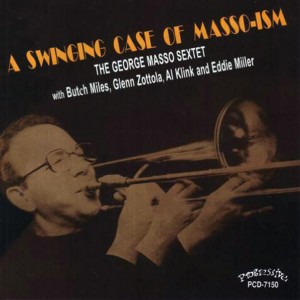 A Swinging Case Of Masso-ism (Progressive Records PCD-7150) 1981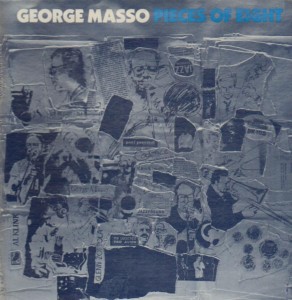 Pieces Of Eight (Dreamstreet Records DR-108) 1982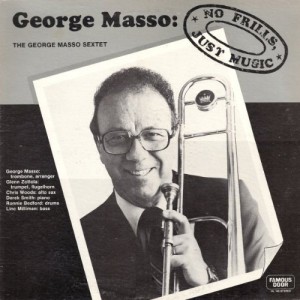 No Frills, Just Music (Famous Door Records HL-148) 1984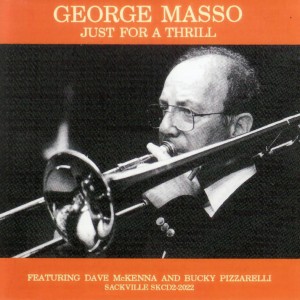 Just For A Thrill (Sackville Records SKCD2-2022) 1990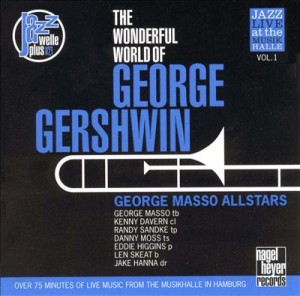 The Wonderful World Of George Gershwin (Nagel-Heyer Records NH-1) 1992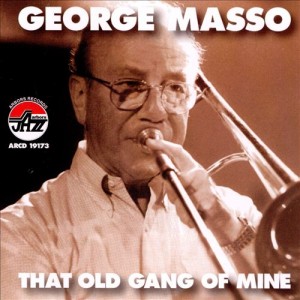 That Old Gang Of Mine (Arbors Records ARCD-19173) 1997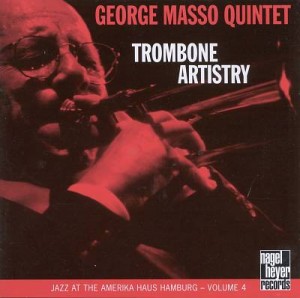 Trombone Artistry (Nagel-Heyer Records NHCD-014) 1998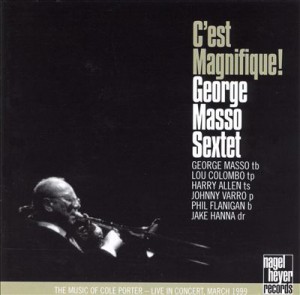 C'est Magnifique! The Music of Cole Porter (Nagel-Heyer Records NHCD-060) 2000.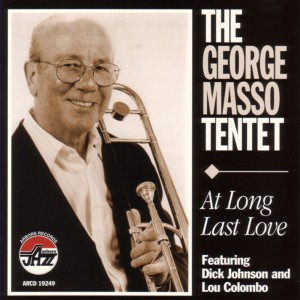 At Long Last Love (Arbors Recors ARCD-19249) 2001
AS A CO-LEADER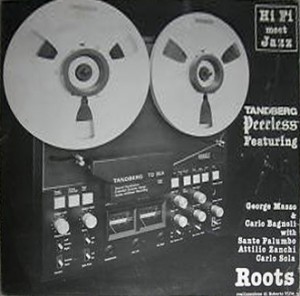 with Carlo Bagnoli
Hi Fi Meet Jazz (Tandberg Peerless MRR-1003) 1981
Italian-only stereo demonstration promotional album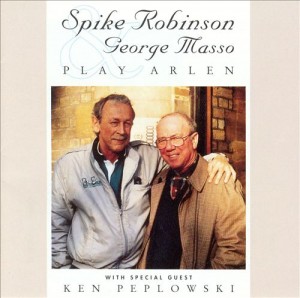 with Spike Robinson & Ken Peplowski
Play Harold Arlen (Hep Records (CD-2053) 1991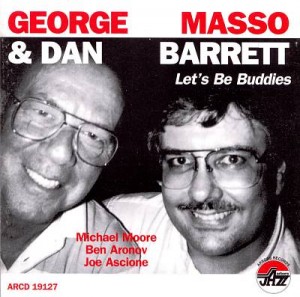 with Dan Barrett
Let's Be Buddies (Arbors Records ARCD-19127) 1996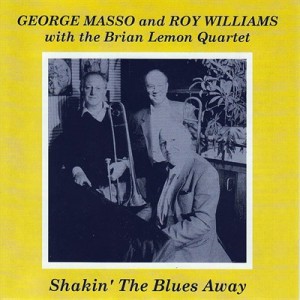 with Roy Williams & The Brian Lemon Quartet
Shakin' The Blues Away (Zephyr Records (ZECD-6) 1997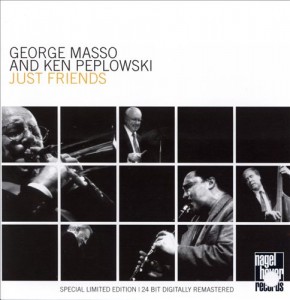 with Ken Peplowski
Just Friends (Nagel Heyer-Records NH-5001) 2002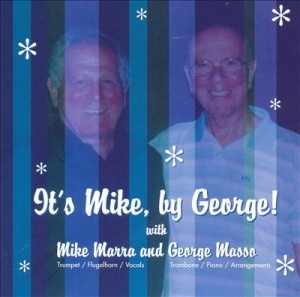 with Mike Marra
It's Mike, By George! (MarraMusic) 2003
WITH BENNY GOODMAN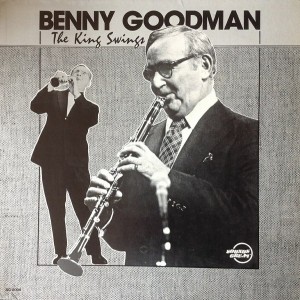 The King Swings (Sounds Great Records SG-8006) 1973
WITH THE WORLD'S GREATEST JAZZ BAND OF YANK LAWSON & BOB HAGGART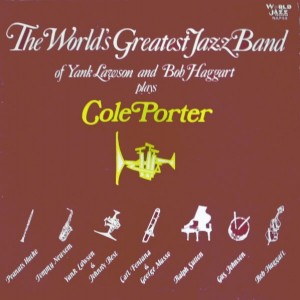 Plays Cole Porter (World Jazz Records WJLP-S-6) 1976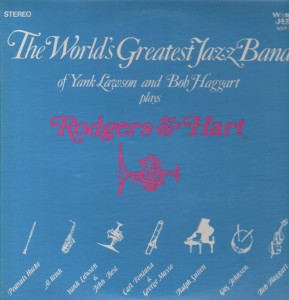 Plays Rodgers & Hart (World Jazz Records WJLP-S-7) 1976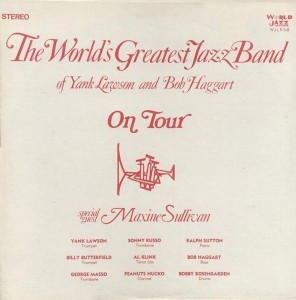 On Tour with Maxine Sullivan (World Jazz Records WJLP-S-8) 1976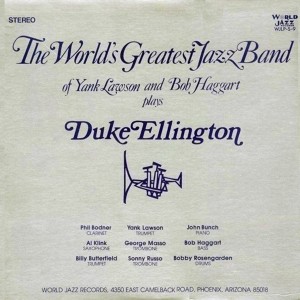 Plays Duke Ellington (World Jazz Records WJLP-S-9) 1976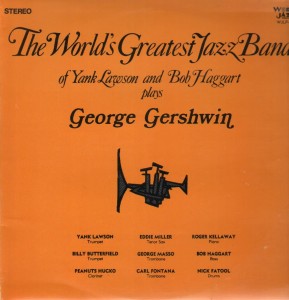 Plays George Gershwin (World Jazz Records WJLP-S-11) 1977
LINKS & RESOURCES
MERIDEN CONNECTICUT MORNING RECORD ARTICLE, APRIL 13, 1973
"On College Scene"
PROVIDENCE JOURNAL INTERVIEW BY RICK MASSIMO, MAY 20, 2012
"George Masso To Hang Up His Horn"
HAMILTON COLLEGE JAZZ ARCHIVE INTERVIEW BY MONK ROWE
https://www.youtube.com/watch?v=vr_JOmTHYXk&t=13s
ALL MUSIC GUIDE GEORGE MASSO ENTRY
http://www.allmusic.com/artist/george-masso-mn0000653594/biography