2016 INDUCTEE
Jazz
WITHOUT BOUNDARIES
Fifty Years of Dreaming in Color with
GREG ABATE
INTRODUCTION
by Rick Bellaire
Greg Abate was born in 1947 and grew up in Woonsocket, Rhode Island. He began his musical education studying clarinet and alto sax in the Woonsocket Public Schools system. After high school, he began his professional career playing with local Rock 'n' Roll and R&B bands while working at various day jobs. In 1970, he decided to get serious about a music career and he enrolled at the Berklee College of Music in Boston, Massachusetts. His primary influences were the modern jazz stylist Paul Desmond whom he'd admired since high school and be-bop innovator Charlie Parker. Upon graduating from Berklee, he moved to California where he secured a position playing lead alto for with the legendary Ray Charles with whom he toured the world and recorded an album in the mid-1970s. After two years, he returned to Rhode Island.
He then played for several years with the Bobby Shannon group at the El Toro Lounge in Forestdale spending his days woodshedding and composing and planning the launch of his solo career. In the late '70s, he left Shannon and began playing with the Duke Belaire Jazz Orchestra at Bovi's Tavern in East Providence and joined Jack Radcliffe & The New Vipers Revue who were regulars at Allary, the legendary jazz spot in downtown Providence. Among the Vipers, Greg found several like-minded musicians and, with the addition of guitarist Paul Murphy, he formed the fusion band Channel One in 1980. He released his first album, Without Boundaries, with the group in 1981.
In 1983, Massachusetts reed man Dick Johnson, one of Greg's section-mates in the Duke Belaire big band, was offered the opportunity to act as musical director for the relaunch of Artie Shaw's big band. In 1986, Dick and Artie offered Greg a position on tenor sax and he spent the next two years touring the world with the orchestra.
In 1987, Greg released his first solo album, Spirit, and embarked on a solo career showcasing his unique, hard post-bop style which has brought him worldwide acclaim. He was dubbed "The Prince of Be-Bop" by jazz impresario John Chan and has released nearly two dozen albums as a leader. His 2002 album Evolution and his 2014 release Motif both placed high on jazz charts around the globe and Mike Joyce of The Washington Post wrote that "Greg Abate is considered by jazz writers and aficionados to be one of the most exciting saxophone players out there today." He has collaborated and/or recorded with dozens of the all-time greats including Phil Woods, Richie Cole, Jerome Richardson, Kenny Barron and Claudio Roditi.
In 1999, Greg became an adjunct professor of Jazz Studies at Rhode Island College. At the time of this writing (2018), he continues his career as an international recording and touring artist and conducts workshops and master classes throughout the United States and Europe.
In April of 2016, Greg Abate was inducted into the Rhode Island Music Hall of Fame.
GREG ABATE IN HIS OWN WORDS
Excerpts from an Interview Conducted and Recorded
by Allen Olsen and Rick Bellaire
September 30, 2016
Allen: My name is Al Olsen and this is Rick Bellaire. We are interviewing Greg Abate today for the Rhode Island Music Hall of Fame at his home in Coventry, Rhode Island, and today is the 30th of September. How are you doing, Greg?
Greg: Good, good. Hi, Al.
Allen: Can you please tell us where you were born, when you were born, and a little about your family and neighborhood in Woonsocket?
Greg: I was born in Fall River (Massachusetts) in 1947, but my family is from Barrington and Bristol (Rhode Island). My parents moved to Woonsocket. My father was an X-Ray technician at the hospital there, so instead of making the commute every day, he found a house to rent right near the hospital. I moved there when I was about three and I grew up in Woonsocket – went to the elementary school and junior high school and high school. Lived there until I went to college at Berklee commuting from Woonsocket for the first few years.
Allen: Were you involved with any formal musical training while you were in grammar school, middle school, high school?
Greg: Yeah, clarinet; first instrument was clarinet. I took lessons from Henry Davis on Welles Street. I also had Saturday morning lessons with group clarinet. It was pretty cool, about 35 kids. I remember we'd put our fifty cents in a little bucket when we walked through the door, and we had an hour lesson with Henry Davis in a group.
Allen: Fifty cents?
Greg: Yeah.
Allen: Wow!
Rick: Learning how to play ensemble?
Greg: And learning how to read like certain little rhythms and things like that. "Mary Had a Little Lamb" which I still haven't mastered yet, but I'm getting to it… just kidding.
Rick: Your original introduction to the clarinet was through the school system.
Greg: No, it wasn't through the school system because it was a rental thing that happened. I was in the den of my house. My mom was there eyeing me at the time, and this guy came to the door and knocked, and he had three instruments. He had a trombone, he had a trumpet and he had a clarinet. And he took 'em all out, and he demonstrated how they sounded. Well after he asked if I wanted to maybe study an instrument and would you like to rent one of these, I said "Yeah! I wanna play the trombone," and my mom says, "You're not playing that! You can play that one (pointing to the clarinet)."
Allen: Why? Did she think it was too loud?
Greg: I don't know what her reasoning was, I never asked her, but I guess she thought that I should play saxophone. She had a whole plan for me, maybe, I don't know. But I liked trombone. I like the sound of it. And I know there're some trombonists out there doing what I do, but seems like there's more saxophonists to me that are out there playing; soloing with different bands. Don't you agree?
Allen and Rick: Sure.
Rick: There're not all that many famous guys…you've got Al Grey and J.J. Johnson and Kai Winding and around here George Masso and Hal Crook…
Greg: I wonder why that is. Do you think it's because of the appeal of the instrument in a small group setting rather than a big band?
Rick: Yes, I think that it's because of its timbre and its range; it's playing down at the bottom. It's like a baritone [sax].
Allen: It is like a baritone sax.
Greg: Yeah.
Rick: So I think might be the difference. It doesn't have the melodic reach?
Greg: Speaking of baritone, I play bari sax too, but there're more alto and tenor players than there are bari players playing solo. You don't see that many compared to tenor and alto.
Rick: Same thing. After Serge (Chaloff) and (Gerry)Mulligan, there's Pepper Adams, Ronnie Cuber, not too many others.
Allen: When you were younger, who were your musical influences and how did you become aware of them?
Greg: Well, because of school, high school band in 1959 it was. I was listening to Dave Brubeck's Take Five album and I liked the Paul Desmond tune "Take Five." So everybody was playing that tune. He was the first saxophone player that I really heard that was a professional that was famous. I didn't hear about all the other great ones until I got to Berklee.
Rick: Had you already switched to the saxophone when you hit high school, or were you still on clarinet?
Greg: Yeah, in ninth grade I started to play alto.
Rick: When you were in grammar school and junior high, were you playing with any ensembles other than the Saturday morning lessons? Was there a school band?
Greg: I was in school band all through junior high school plus marching band.
Rick: You played at games and things like that.?
Greg: Yeah. That wasn't my favorite thing to do. I kind of didn't like marching and doing that, but I had to do it. You know 'cause I just found it weird at that age to play music that way. I don't know why, but it felt uncomfortable to me.
Allen: And what kind of songs did they teach you for marching band?
Greg: You know "Stars and Stripes;" a lot of Sousa things. He's a great march writer, of course, but I guess my heart wasn't into marching and playing an instrument at the same time. I didn't have any idea that I was going to play jazz, but I just didn't like that getting up and going to march. Plus, I'm not a sports guy and I thought it was weird that people that played the music sitting on the bleachers were not as important as the sports figures. And that pissed me off!
Allen: Interesting.
Greg: And at that time you know you have the cheerleaders which you might've had a crush on someone, but they didn't care about the musicians. They just cared about the football players. So we're talking about kid stuff, right? So I can come out and tell you that – I just remembered all that stuff now!
Allen: That's good! So how were you exposed to jazz? Did that not come 'til Berklee?
Greg: No, I played jazz in high school in the stage band. I played music – written music – but I wasn't an improviser then.
Rick: It was a big band?
Greg: Yeah, you know, five saxes, and four trumpets, three trombones, and drums and maybe guitar. So that was it.
Rick: Who was the conductor or the teacher?
Greg: Al Lague – Alfred Lague – was the director at Woonsocket Junior High School then he went over to the high school so I had him for 7 or 8 years.
Allen: Okay, so that's a big influence. Did he give you any records or just sheet music?
Greg: Sheet music. And we played the record of "Take Five." We played that and tried to copy it, see how you could play the alto thing; the music to it so you could read it. That's early. But I had no idea about the jazz soloing technique. I had no idea about what was going on. Other than that it was playing by ear.
Rick: We're almost up to Berklee, but I have one more question about high school. Were you doing anything on the side – playing in a Rock 'n' Roll band or anything like that during that junior/senior high period?
Greg: Yeah. I remember there's a place in Woonsocket called "Shack Town." It's up on Mendon Road going up past the incinerator, you go away from Woonsocket and when you get to the intersection of Mendon Road and Diamond Hill Road there's a place – a little village on the Woonsocket-Cumberland line – called "Shack Town." And there was a kid that lived there that I played with. He was a guitar player, I can't remember his name, and Russell Tourneau who was the drummer in the school band 9th and 10th grades. We cut a 45. On Main Street, there was this recording studio, one machine, and he pressed 45s for people. So we recorded two sides of some song and I have no idea what it was.
Rick: What was the name of the group?
Greg: I don't know. It didn't have a name, I think.
Rick: Was it an acetate he cut on the spot?
Greg: No, this was an actual 45 he had pressed.
Rick: We have to try to track this down! This would be your first recording no matter what you think of it or what it was.
Greg: Yeah, I would love to have it.
Allen: Let's move on to Berklee. How did you end up going to Berklee, and can you tell us any experiences of going to Berklee?
Greg: Sure. Well Berklee was in 1970, I think it was. But I went there in January semester because the fall semester I went to Roger Williams Junior College. I remember going there every day driving to Providence. It was kind of depressing actually going there, you know? In back of the YMCA over there in Providence, that's where the college was. It was back where the courthouse is now. I didn't finish the semester there. I just quit because I didn't like the courses and I was kind of like bored with it really.
Rick: So you weren't set on a path to be a musician yet even after high school graduation.
Greg: No, I didn't know what I was gonna do. So, then I went and I auditioned on clarinet for New England Conservatory, but I didn't pass the audition, so then I ended up going to Berklee. I had to play sax to go there. I probably wasn't really adept enough to play at that level, but I did get accepted so that's when I started to play. You know I can still feel the vibe of the old Berklee School on Newbury Street. Small brownstone you know with two buildings. And then when you practiced piano, they had piano rooms on Commonwealth Avenue. We had to walk all the way from Newbury Street to Commonwealth, and you went through this other extremely old building with the smell. You know what I mean? It's like that "old" smell. And you're in this room with this huge upright piano that's kind of not new, and the whole vibe of it was incredible. I really liked the time, but then Berklee was great because I was studying with jazz musicians that were players.
Rick: Who were some of your instructors at Berklee?
Greg: Phil Wilson, Herb Pomeroy, Andy McGhee, Mike Rendish, Ray Santisi, John LaPorta, Dean Earl, Charlie Mariano…
Rick: He was your applied instructor; applied sax instructor?
Greg: Yeah, for one semester, then Joe Viola, then Rod Ferland. Rod still lives in Massachusetts and he's still playing. He does a lot of work with the Boston Pops and things like that. Roger Newman and Alf Clausen – those guys I'll mention later. I saw them when I moved to California years after that. Four years after I was at Berklee, I moved to California.
Allen: Before you left to go to California, did you get exposed to any jazz by way of records, radio? Is that where you started to get turned on?
Greg: Yeah, at school we listened to a lot of the big bands. Duke Ellington, Count Basie, Buddy Rich, Thad Jones, the Dorseys, Glenn Miller…
Rick: The bop stars too, right?
Greg: That school was Bebop. That was it. The II-V-I progression, you know?
Rick: You had ensembles? You had to play in bands?
Greg: Right.
Rick: So, the focus was on your individual performances.
Greg: No, actually, the focus was studying your instrument, taking a piano class every semester, taking arranging and composition, and history of jazz. Counterpoint, ear training, harmony…
Rick: So there wasn't really a lot of improvising as far as the school went.
Allen: As part of the curriculum…
Greg: Yeah, there was. If you were a good enough player you could play in the jazz workshop. I auditioned for that a few times, but I could never make the grade. I really wasn't a good reader and improviser through the first few years of Berklee. I really didn't study jazz in high school. I was playing classical music at my lessons. I'm a late starter, I think!
Allen: Well better late than never!
Rick: Were you doing any gigging in college, in Boston? You were commuting, correct?
Greg: Yeah, between Boston and Woonsocket.
Rick: Did you do any gigging in Boston or back here in Rhode Island?
Greg: I was in a band in Rhode Island called The Stingers. That was a group with Lenny Albanese, John Manzi on tenor, Jimmy Ryan was on guitar and, I believe, the bass player; the piano player, I know his name but I can't remember it – Tico somebody – he lived in Central Falls. He was from Poland. And then we had the Johnson brothers and those were the three young gentlemen who died in a crash coming to a gig one night. We were working up in Worcester somewhere at The Mohawk Club. There was a big blizzard that particular night. And of course you had to come up Route 146 at the time and that was the fatal thing. I also played at the Canopy Club in Pawtucket. That was great; Eddie's Canopy Club with The Stingers.
And I played with a group at Lang's Bowl-A-Rama (Cranston, Rhode Island). We did Blood, Sweat & Tears, stuff like that.
Rick: Do you remember the name of that band?
Greg. No I don't.
Rick: Can you remember anyone that was in the group?
Greg: Tony and Joe Giorgianni and I think Ed Vallee was in the band, too. Then, of course, I played with Albi & The Spellbinders.
Ed. After this interview, both Tony Giorgianni and Ed Vallee confirmed that the two bands in question were, in fact, just one band: Albi & The Spellbinders. After leaving Georgie Porgie & The Cry Babies in 1965, bassist/vocalist Al "Albi" Manfredi formed The Spellbinders. The band became one of the top cover bands in southern New England and many well-known musicians passed through the ranks over the years including bassist/vocalist Ken Lyon and saxophonist/keyboardist Diamond Centofanti. The Spellbinders lineup was normally 4-6 pieces, but was expanded to include a horn section in the early 1970s so that the band could cover the then-popular material of horn bands such as Blood, Sweat & Tears, Chicago and The Ides Of March. Albi kept the band going until his passing in 2007, then the remaining members carried on and the current lineup continues performing to this day making them one of the longest continually operating groups in Rhode Island music history. Joe Giorgianni became a member of the third lineup of Blood, Sweat and Tears then returned to Rhode Island where joined his brother Tony's popular 15-piece big band, Jazz Odyssey. Ed Vallee became the original guitarist in The Young Adults then became guitarist and arranger for Steve Smith & The Nakeds.
Rick: There was a break in your education and you went out to California.
Allen: How did you get to California?
Greg: Well, it was just a fluke thing. It was just a spontaneous invitation from someone I was working with who had played in California. There were two guys, New Bedford natives, George was the drummer and he had a friend named Matthew who played baritone. He asked me to go to California – they were putting a band together in Hollywood. We got a trumpet player, Joe Andrea, and Steven Faber on trombone. The four of us – it was a '65 Chevrolet Bel Air -we drove out there with the help of "certain things." We got there exactly three days after we left from Fall River.
Rick: How long did you take off from Berklee?
Greg: About a year.
Rick: What made you decide you'd better go back home?
Greg: I missed home. It was hard to make enough money to live at that time. And I ended up getting married there.
Allen: Oh! That's important.
Greg: Oh it was a really, really a bad scene, though. This woman was like 13, 15 years older than I was. And I was just like 22, something like that. Had a small wedding in Los Angeles at this little chapel. The priest tried to talk me out of it! Then we came back here together. We rented an apartment on Diamond Hill Road, and I started going back to Berklee. She working bagging Cheetos down in Cumberland at the Bachman Company. Then I stopped going to school and she got me a gig at Bachman. I was putting Fritos in bags and stuff. We ended up getting divorced later, she took off, and I never saw her again. And then I went back to Berklee and after that I left and went back to California.
Rick: So once you completed your studies at Berklee (Class of 1971), you did not have a gig lined up. You went back to California to see what would happen?
Greg: Right! Somehow, when I got off at the airport, I didn't have anywhere to go. I said, "Well I'm here!" That was really bold, man. I can't believe I did that. They say, there's angels watching over you – who knows, right? – and somebody said, "We got a house; we play music." It was me and three other guys who are musicians, and then there're two other guys that aren't musicians. They had a big place in Santa Monica right off Bundy Drive and they said I could crash there for a while until I could figure out what's going on. Then, I started working with Dave Clark, The Dave Clark Expedition (a showband), but it didn't last, so, I went to the union and they said that Ray Charles was holding auditions for a new band. I was kind of bold enough to go, so I went to the audition. I got called back for three or four days and got the job playing lead alto with Ray. They called every morning and I made sure I was near the phone. And I was just waiting for that phone to ring. "Come back," and "Come back," and then the third time I said I needed to talk to Mr. Charles, "because this is my fourth day now. I can't go another. It's like really nervewracking. I need to get the job. I mean I love working with the band, so I'd really be honored." So they took me up to see Ray in his office, and he asked me to come in, and I came right out and said "You know, I've been here four days, Mr. Charles." He says, "Yeah, I like your sound, Greg. Yeah, you wanna do the gig? You think you could do it?" "Yeah, I can do it." He said," Okay you got the gig." So that was it. That took a lot of endurance. And also at the audition, I think the first day – I mentioned my two teachers at Berklee and I'll bring their names up again: Alf Clausen and Roger Newman. They were writers for Ray, they wrote charts for Ray along with Quincy Jones and Bill Holman and all these great writers. They (Roger and Alf) saw me in the (horn) section and they were surprised to see me there. They congratulated me for being there, but they were surprised because I wasn't really a good reader at Berklee.
Allen: How'd it make you feel that you got the gig?
Greg: Oh, oh, it was really cool.
Rick: And this was a two-year, full time gig.
Greg: Yeah. It was mostly on the road in Europe and America, Japan for two months…
Rick: Basically you were touring around the world, right?
Greg: Well, yeah, I didn't go to every country, but I went to every European country. And I went to Germany, actually it was when Berlin still had the wall. We played on both sides of The Iron Curtain.
Allen: What was it like playing on the other side?
Greg: At that time it was kind of scary. We walked through a lot of different tunnels and stuff with the band and we could hear foot soldiers coming the other way. Stuff like that, and they weren't very friendly, but they knew that we were there for music. And we had a permit to be there. I guess that's how it worked. You know you're playin' the music though, there's no curtain at all. It's just straight on. You know, no one thinks, "They're American. We don't like them." You know, music is just a bond between humanity.
Rick: And he was a beloved character.
Greg: Oh yeah.
Rick: Did you do any recording with Ray?
Greg: It was a two day session, but I heard that only one tune got on the album which is "Louise."
Rick: "Louise"
Greg: Yeah.
Ed. Once Ray Charles started his own record company (originally Tangerine, later renamed Crossover) and buiilt his own recording studio, he cut sides on a regular basis whenever he wasn't on the road. He'd utilize his own band, top session players and arrangers from the L.A. music scene, and call in friends including many sessions with the bulk of the Count Basie band. He'd mix the tunes and put them in his vault and when it came time to assemble an album release, he'd choose selections from the many masters filed away in his library. Therefore, many of the albums from the 1970s included tracks from many different sessions recorded at different times. Although Greg Abate recorded many sides with Ray Charles and the orchestra, it appears that the only track on which he appears as lead alto which made it onto LP was "Louise" on Ray's 1974 album Come Live With Me.
Allen: In terms of performance, do you remember any outstanding experience while performing with Ray Charles?
Greg: Oh yeah! I'm a pretty sensitive guy, I'm an emotional-type person. I feel a lot of stuff. I'd be playing in the section so Ray was usually right close to the sax section with the piano. And you know, I'd always be picking up on everything. I could see what he was doing, and what he was meaning to do, and how he was. So it was always very…goosebumps! I'd play, and I'd be feelin' like, "Wow, these vibes are good!" What a vibe on that guy.
Rick: Did he ever play his alto while you were with him?
Greg: Yeah, he played the blues, man. He stood up and played the blues. He'd have other people playing, a guest piano player. He had Oscar Peterson. We were in England and Joe Pass and Oscar Peterson were on the bill too at the Royal Albert Hall. Oscar opened up for us – for Ray – and then Ray invited Oscar to play, and he would come up and play the blues, and Ray would play his alto. Carnegie Hall – I played with Ray there and I remember him playing "America." That was great. and "Eleanor Rigby," a Beatles cover.
Allen: So how did you get out of that? I mean, why didn't you make a run for the rest of your life?
Greg: Well it's women things again. I was young, right? Younger. Thinking about young, right? I mean I'm playing a gig last week at the Villa, and somebody brings me my first CD, my Live at Birdland album from 1991, and said, "Hey, look what I got! Will you sign it for me?" He said "Who's this young guy in the photo?" I said "What do you mean, 'young guy.' I'm the same person!" I don't see myself any different. How did I get into that? Oh, I thought was young. I was younger; I was in my 20s. We'd come back to L.A. after tours, and we'd go back out and play, and come back. It was always nice to come home, but I met this really nice young lady at the Air Force base in Montgomery, Alabama. And her father was a Lt. Col. in the Air Force. This particular family was in the front row at a big round table at the Air Force base hall we played at. We had eye contact, and I walked right off on intermission and went right to the table; I had to meet her, you know? And her father looked at me really kind of strangely 'cause I had long hair down to my shoulders and a huge beard. I was like "haired out", man! And we hooked up. She lived in Balboa Beach in the Hollywood area, so we started to get together and date. And then we started to live together. And then I went back out on the road, and then I was starting to miss her. A lot of the older guys (in the band) that wanted to go home for some reason, they would do something to upset Ray and Ray would fire them and send 'em home. So I said, "Let me try something. I gotta try." I think I did an injustice to Ray to to do that, but you know, women can make you crazy and this woman is the mother of my daughter.
Rick: That's the story. You should tell that story.
Greg: I'm glad it all happened. My daughter is great. Her mom is a really good mom, and the family – I play in Arizona. I go there a lot, and her grandmother lives there. At first her grandmother didn't like me. She came to see us when we were living in Mohegan (a village in Burrvillville), Rhode Island when I was playing gigs around here. We lived in a cabin. The mother said, "What are you gonna do? How are you gonna support my daughter? When are you gonna get a house"? I said to her "Don't worry. We can live in a cave. It doesn't matter."
Allen: Wow! That'll work.
Greg. That did it. That really clinched our relationship. But now she has the utmost respect for me for what I've done. She's almost like my mother, you know.
Allen: Mothers will do that.
Rick: You were missing your wife, and the old guys told you, "Get yourself fired."
Allen: Get yourself fired from Ray Charles.
Rick: And what did you do?
Greg: I was in the section and we were in Japan. A lot of times when reeds get soft you can put a quarter up against the mouthpiece. Not in the reed. You don't put the quarter up against the mouthpiece. Take the reed off the mouthpiece, put the quarter on it, and then you can light the reed, and it like burns the edge of it off. So I thought, "Maybe I should just light a reed and let it burn – maybe that would get me fired." So, I'm embarrassed to say that is the dumb thing that I did. And then at the end of the performance, the manager came up to me and said: "Mr. Charles would like to see you in his suite." It was the Tokyo or Osaka Hotel – huge place. And I went up the elevator, 35 floors or something, and I knock on the door and a guy answers and it's not Ray. Ray yells to come in. And Ray's walking down the hallway – it was kind of a big suite he had. He had, I remember, the red robe, and he had his glasses on. "Hi Greg. How are you doing, man?" "Oh, I'm good Mr. Charles. Good. Why do you want to see me?" He says "I wanna give you a raise!" I said "Oh man, really"? He said "Yeah." It was quite substantial per week. Like fifty bucks more. He said, "I know you wanna go home, but instead of me getting upset, I said 'I know you're young. You wanna go home.' You know I want you to stay. You'd be better off. Trust me." He said, "Oh, you'll get back home sometimes." He was really nice about it.
Allen: So you were still in?
Greg: Still in.
Rick: But when you got home you must've left the band, right. Because now it's two years. You gave him your notice….
Greg: Yeah. When I got back I left.
Allen: You gave your notice – for the girl.
Greg: Yeah.
Allen: Wow.
Greg: 'Cause we were in love.
Rick: Alright, so we're in the year 1975. I have a five year gap in my knowledge here. I pick you up in the late '70s with the original Channel One (Greg's fusion band) and you had started working at Bovi's (Tavern in East Providence with the Duke Belaire big band). So what happened between '75 and '78 or '79?
Greg: I was working with Bobby Shannon in the group at the El Toro (Lounge) in Forestdale (outside of Woonsocket). We lived in Mohegan (a village in Burrillville) in a cabin. I had two dogs. I had a Saint Bernard that I adopted and I had another dog that we had in California. We flew him in. We flew the dog in. So we got two dogs, and we had Jessica, you know, our daughter. I was playing at this place six nights a week.
Rick: I would like to insert here for Al's benefit and for those of you too young to remember – the El Toro was a major nightspot. They had two rooms, and they were really one of the last clubs to run maybe six or seven nights a week, often with two acts. Do you remember the stage?
Greg: Definitely!
Rick: It had, like in a theater, an elevator platform on the lower level where the band would set up, and they would raise you up onto the stage. It was a big; it used to be like a supper club, but they had stayed with the times…they had showbands that would play Rock 'n' Roll and R&B on into the disco era.
Greg: Yeah it was a dance band. We played all this; Bobby Shannon was the vocalist, we had another sax player, we had a drummer, guitar player and a bass player. We'd also do functions (general business gigs) in the afternoon on Saturdays and Sundays. So it was a pretty good, lucrative gig to have at the time.
Allen: So that fills up the gap.
Greg: Well one night, what happened with that band was, I was kind of an introvert. I was mostly an introverted person then. Like young and stupid I think a lot of times. I wasn't very sociable. I didn't like to talk to people, and that went on for a while. But I remember playing New Year's Eve with the band, and somebody asked me to play something. And I didn't want to play it. So what I did was I started to play like Ornette Coleman. And I started blowing my horn at the guy. And at the end of the night, I got fired. So then I had no gig again. I was looking. I went into Allary's one night and and the band asked me to sit in. It was Jack Radcliffe & The New Vipers Revue. Bobby Enos was in it, the trumpet player, and Leroy White, and Paul DelNero on bass. They also played at Harpo's (in Newport) on Wednesdays, and then they'd play at Allary's on Thursdays. So I joined the band. Arthur Manchester was in that band, too, the sax player. He's still in Newport. So it was Arthur, me and Bobby on the horns. Paul Murphy (guitarist) joined the band later and that lineup of the band turned into Channel One because I was writing music. We'd be doing like Lambert, Hendricks & Ross tunes, and then we'd do a Greg Abate tune, and then I started bringing more music in. And the band evolved more into a modern day fusion band. And some of the players left because they weren't able to play that music, and we got other guys who could. We had a pretty good band.
Rick: Just for the record, for people who are too young to remember Channel One – Channel One really took Rhode Island and southern New England by storm. You know fusion was really starting to hit the mainstream. I mean there was a point where the Mahavishnu Orchestra and Return to Forever would play at the Civic Center, but nobody around here was doing it.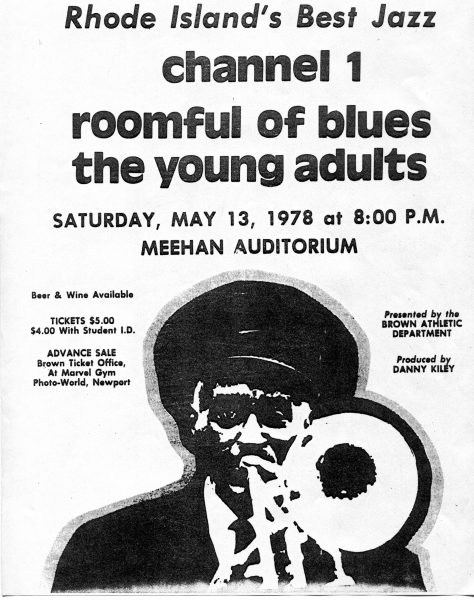 Greg: There's one more thing with Channel One, you may not know this – there was this agent from New York that got us hooked up with Teo Macero. Teo did a record for us.
Rick: For the record again, Teo Macero was a staff producer at Columbia Records. His principal client was Miles Davis. He produced Miles Davis for basically his entire Columbia career including into the fusion era with Bitches Brew and At Fillmore, On the Corner – all that stuff.
Allen: From Kind of Blue all the way through there. Wow!
Greg: Sketches of Spain. Yeah, I listened to a lot of that.
Rick: So he knew the band, Teo Macero.
Greg: He produced a record for us. It's on tape, but I haven't gotten it pressed. It was some stuff we did and he liked it, and the record company wanted to do something with us. And for some reason we were stubborn with the terms, and we declined. Stupid. Real stupid. We declined. I had no idea of the history that I was dealing with at the time.
Rick: He was still working for Columbia, I assume.
Greg: Yeah.
Rick: Which means he was doing it as a representative of Columbia, and the deal was probably for Columbia Records.
Greg: Yeah, he was trying to help us. But he produced the record very musically. He would be there giving us ideas and stuff like that. And I'm surprised; I had no idea that it was so heavy, you know? Unbelievable…
Rick: What led you to record the Channel One album on your own label?
Greg: Well, I made up that label. It was just something to put on the record, but it didn't get distributed. You know it was just a local album that we had pressed, and we paid back the guy that produced it, all the money that he paid for the session at Normandy Sound. Phil Greene did the recording for us. I still have some copies left.
Rick: It actually sold well. You used to sell them at your gigs. And it was in the local record stores.
Greg: The stores would take records on consignment. I listened to it (recently), and it really is a special thing. It's empathetic. It's like you could hear the rawness in it, you know? But it really wasn't like real developed with the tunes. People liked the tunes. They were really kind of melodic and all that, you know? A lot of people liked Channel One.
Rick: Were the songs any of the same tunes you recorded for Columbia?
Greg: No. All different stuff.


Rick: I want to revisit the fact that you were playing at the Bovi's big band on Monday nights with Duke Bellaire. And you're on that recording too. They only recorded one album, but you're featured on it.
Greg: I'm in the section. I didn't take any solos on it. And also I played with Tony Giorgianni's Jazz Odyssey (a 15 piece big band). That was great. That was at the Engine Company in Providence. It was a very, very good band. I wrote a lot of charts for that, too. I remember I did a chart on "Chameleon" once. And this is no word of a lie here, the chart was, I think, 12 pages long on each part. And I did it all by hand!
Rick: The Channel One album came out in 1981. The group lasted another one and a half or 2 years. They were very popular, but you were all doing other gigs. You weren't making a living off Channel One even though you were very popular. You were doing other kinds of things like general business gigs. Then Channel One called it a day in 1983. You're first major label album came out in 1990. What were you doing from the end of Channel One 'til the first Candid Records album?
Greg: Well I was still doing Bovi's and I was just living at my folk's house and thinking about what to do. I was still doing general business. And I was teaching a lot, I was taking private students and I was running a studio at Robert's Music (in North Smithfield). In 1985, I was still playing with the Bovi's band and that's when Dick Johnson formed the new Artie Shaw Orchestra.
Allen: How did that come about?
Greg: Dick's manager, Bill Curtis, on a fluke 'cause Artie Shaw was one of Dick's favorite clarinet players of all time, said, "Let's send Artie Shaw one of the CDs you just did; one of your recordings." So we sent it to him, and Dick's story is that Artie Shaw called back and said, "Man, I haven't heard a clarinet player like that in a long time." He said, "You sound great. I'd love you to lead my new band." And Dick was floored. Rightly so. And he hired him to put together all these guys including me. I joined in '86. I was disappointed I didn't get in on the first call.
Rick: Well, Artie had guys including some of his old guys when he reformed the band, and that's an important point. At first it wasn't just a legacy band. Artie was still there and involved, but when there was an opening…
Greg: Well, Dick asked me to play tenor saxophone in 1986, and I played for two years until 1988 about. And then we did mostly the United Sates. A lot of touring on the bus. And then we went on a cruise. We did the Royal Viking Sea down the Mediterranean; went through the Panama Canal and all of that. A couple of times Artie would come himself and sit in the audience. And he'd have a long trench coat on. Brown. And a hat that would cover his face with a brim. And he'd sit there and people are there dancing to his music – like great dancers – and we'd be cuttin' up saying, "There's Artie sitting right there and they don't even know it. If they knew that their idol was sitting there, they probably would freak out." That was another thing – he did quirky things like that.
Rick: Did he ever appear with the band?
Greg: Yeah. He didn't play, though, but we did a lot of things with him especially in the theaters, like some of those summer outdoor theaters like Tanglewood, Cape Cod Melody Tent. We actually would back up great singers. We played behind Rosemary Clooney; I got to know her. In Philadelphia, we did a week with Tony Bennett, Vic Damone and Mel Torme. So I got to work with all of these vocalists, hang out with them in dressing rooms and stuff with Artie Shaw. I called it "The Artie Shaw/Dick Johnson School of Music." I call it "The Ray Charles School of Music." I call it "Berklee School of Music." But the real education came when I left Berklee and did all this. A lot of dues; you know, business dues.
Rick: Had you played tenor before that gig?
Greg: Yeah. I played tenor with Channel One.
Rick: Oh, right – and flute. We didn't talk about adding the tenor and the flute.
Greg: Well I played tenor, flute, soprano, baritone and alto. I learned flute when I was with the Ray Charles Band because I had flute parts in my book! I didn't have a flute so I bought a Yamaha student model and I practiced a lot. I wasn't very good at it, but James Clay (one of Ray's reed players) would play the flute parts for me at the times he didn't have to play his tenor so it worked out. Ray didn't seem to care, but he probably didn't know it. Actually, he probably knew it, but he didn't say anything.
Rick: And the tenor; when did you start playing that one?
Greg: In 1978. I like tenor – like playing all the horns. They're all my favorites when I play 'em. When it's the soprano, that's it. I'm lucky to have that. I'm saying that because it's true. I'm fortunate to have that. It's not like playing the alto or the soprano. It's a different mindset altogether than the tenor.
Rick: Were the Artie Shaw charts actually out of his original book from the '30s and '40s?
Greg: Yup.
Rick: Wow. That must've been pretty heavy.
Greg: Yeah. The only thing is that the interpretation is different because we didn't try to copy the vibrato and tried to make it a little bit of a step above and beyond the tradition of the music. Artie Shaw's music had a lot of vibrato, but we didn't use wide vibrato, a fast vibrato. We'd do more of a slower vibrato. It's more of a modern sound.
Rick: You stayed with Artie for two years.
Greg: Yeah in that period, but we didn't go out constantly, but we would go out a lot – take the bus out from Brockton or we'd drive to California. On the way we'd play all over the country.
Rick: So you would come back here in between, and…
Greg: Yeah, I was living at my parents' house and then in 1987, my father told me about a club in Hartford, the 880 Club, that brought in jazz players. I started sitting in there and then playing more as a soloist. From there I asked Dick Johnson to do a regular quintet with me and then I met Claudio Roditi at the 880.
Ed. Claudio Roditi is a Brazilian jazz trumpeter who came to the United States in the 1970s to attend Berklee. He settled in New York City after graduation.
I asked him if he'd like to do something with me and we did Spirit together in 1989 (an independent cassette-only release on Greg's manager Sal Corio's Stage Door Productions label). I had just gotten married again, I'm divorced now, but we have two boys. Right now, they're 26 and 22. We went to Quebec City for our honeymoon and I said I wasn't bringing my horn, but my wife said, "Oh, bring your horn! Bring your horn." I said "Really? We're going on our honeymoon!" She said, "Bring your horn." So I brought my horn. So, we get to Quebec City and there's a jazz club there, The Clarendon Jazz Club, right in old town Quebec. I brought my horn there on the second night and asked if I could sit in and they said, "Sure." So I sat in, and then I got a gig to go back there myself. So I started playing there and I met some friends who got me started playing in Montreal. That led to me playing at the Quebec Jazz Festival where I met someone from France who booked the Vienne Jazz Festival and he hired me to play there a couple of times. Then one night, I'm driving to Montreal from Rhode Island in a blizzard. I always go to my gigs and I didn't let this snowstorm stop me. It was like a horrible blizzard, but I made it there and the doors were closed at the club. Everything was abandoned in Montreal down on St. Catherine Street except I saw a light on next door in a bakery which was open. I went in and I said, "I'm here to play tonight next door." He said, "Don't worry, they'll be here to plow you out." I returned a little later and they had plowed the sidewalk and the place was open. The (backing) trio was there and there were only three people in the place sitting at the bar, but we played like it was 100 people. One of the guys called me over and asked if I every play in New York. I told him no, and he said, "I produce with a guy from Candid Records in England. Would you like to record for Candid? I'll try to see what I can do." It took a year and a half or so, but the guy convinced (Candid owner) Alan Bates in England to give me an album which became Bop City – Live At Birdland. I showed up in New York City and I didn't know the rhythm section. It was James Williams on piano, Rufus Reed on bass and Kenny Washington on drums. I walk in, we do a little rehearsal, and we record that album live right off the cuff. And then the next night we played again. So that was the start of my recording career. Candid.
Ed. At some point between Spirit and Bop City, Greg recorded a second cassette-only album for Stage Door Productions called The Two Sides of Greg Abate and one more, The Greg Abate Quartet,  which was distributed by the independent label Buckley Records. Greg does not remember much about these albums and the Rhode Island Music Hall of Fame Historical Archive is eager to locate a copies for our library.
Rick: Just for the record here, the first two or three albums were on much smaller, independent labels. The second seems to be something of a mystery.
Greg: We can't find it, but we're lookin'.
Allen: Yeah!
Rick: But Candid, for the record, was now based in England, but that's like a legacy record company. Are you guys familiar with Candid from the early 1960s?
Allen: No.
Rick: It was home to a lot of modern jazz players who recorded for them when they had fallen out of favor with the major labels. So Mingus recorded extensively for Candid, Booker Ervin, Cecil Taylor; they did a lot of blues too including Otis Spann, so it's a venerable label with international distribution, and this is the beginning really of Greg's international major label career.
Greg: Yeah, I was thinking that was really spooky to me in a way because you know I'm driving up to Montreal, like I'm thinking if I hadn't gone there, would this have happened?
Allen: Right. Two things good that came out of the marriage then.
Greg: Yeah. And my two boys.
Rick: I find this to be a running commentary amongst our inductees who have made it big. You know, not to get too far into it, I'll just mention a couple. Beaver Brown had been playing for a dozen years, was so popular that it seems almost impossible that they hadn't been picked up. And their big break was the movie, but that was a coincidence. The guy who had been the producer…
Allen: Seems to be the thing, the coincidence.
Rick: Yes. They had been looked at by everyone. At the Bottom Line they had done radio broadcasts. They'd had a hit a hit record; they had sold 10,000 copies of the original "Wild Summer Nights." Still couldn't get a deal. But then the music producer for the motion picture "Eddie and the Cruisers" said, "We need a band like I heard at the Bottom Line last year." And that was it.
Greg: That's it.
Rick: And again, almost everyone – Roomful of Blues happened to come to the attention of Doc Pomus, the great songwriter and producer. And he got them the Island Records deal. If you hadn't worked in Montreal you might never have met the guy from Candid.
Greg: Yeah.
Allen: And then a dozen records later…
Greg: Unbelievable. Yeah they recorded me three times. Three records with them. It was that one and Straight Ahead with George Mraz, Hilton Ruiz, Claudio Roditi and Kenny Washington. And the third one was Live at Chan's with Richie Cole. They produced that. And then from there, the distributor that was distributing Candid, they split, and then they started their own record company, DA Music, and they recorded me two or three times. And then I started to do other stuff, you know, other small labels.
Rick: But still with international distribution and international touring. Once you reach that level, your career is not going to go away. You get invited to play all over the world – festivals, concerts, teaching…
Greg: Yeah, teaching a lot. The festivals are a little bit slow.
Rick: And now, we've gone past, or we're right about at, Rhode Island College.
Greg: Oh, Rhode Island College.
Rick: Tell us about the development of their jazz…
Greg: …minor…
Rick: …curriculum.
Greg: They had the jazz band. John Pellegrino was the director.
Rick: Yeah, I played in the jazz band when I was there, so it had a history. I was in the jazz band in '74, '75.
Greg: They also had a history of jazz course. Those were the two things that they had: history of jazz and the jazz band.
Rick: But there was no full curriculum.
Greg: No. In fact, somehow I was there during a concert for John Pellegrino. He used to bring guest artists in. I brought my group in with Artie Cabral, Bob Peterutti and Artie Marco. I was there and some kids who were studying there were really enthused about the gig. And they said they'd love it if I could teach at RIC. So what happened was, in 1999 they gave me a semester of doing the big band and I was teaching jazz, general jazz, and talking about it. When that semester ended it was summertime and there was no more talk about going back. I was like – man – I wanna go back. So what happened was I got in touch with the chair at the time and he said, "Yeah, come on me in and we'll talk about it." So I gathered up a lot of my stuff, the records I'd done and my reviews and that, and I went to see him. I go into his office, but he said, "You know, this is not a haven for people who want to teach." You know? Stuff like that. The guy was a nice guy, but I'm in there and it goes south. And I'm astonished that he said no. He didn't want to support me, he didn't want me to teach there. So I said, "I really have something to offer – I embrace the jazz form." But again he said, "Everyone who plays well wants to teach, but we just can't have people come in." I said okay and I left. As I closed the door, another door opened up and the guy who comes out, says, "Greg! What's happening?" I said "Oh, Dick. How are you?" He said, "I'm good. I love hearing your gigs, man. What's happening?" I told him the story. So he said. "Come with me," and he takes me to see the dean, and told him the story of what had just happened. And the dean said, "Oh, really? Let's take a walk." So we started walking around the campus, me, Dick and the dean.
Rick: Dick Lupino you mean?
Greg: No. Dick Keogh. He's retired now. He's a fan of mine. He was a fan of mine before I went up there. We ran into the department chair and the dean said to him, "Do you have an objection to Greg teaching here?" And the guy looked at him and said, "No, I don't have any problems with that."
Allen: Yup!
Greg: And that was it.
Rick: And this became the start of the Rhode Island College jazz curriculum.
Greg: And then, two years later, Robert Elam, one of the music professors, wanted to form a jazz minor program. And we wrote it up as four combos per semester – four combos for a person to take; then a jazz theory course, two semesters; four semesters of private lessons; and then jazz history. Then you get a jazz minor degree. And that's still intact!
Rick: Wow.
Greg: So I've been there since 2000 doin' this.
Rick: So you were very instrumental, obviously, if you wrote the curriculum for the minor. And then did you help choose the other instructors? Like Jimmy Seabra and…
Greg: Yeah, I suggested people.
Rick: It's quite a department. It's impressive.
Allen: I'm a teacher myself, and I'm interested in your approach to teaching jazz. When you get a new student, you know who might be a little green, how do you go about instructing that person?
Greg: Well, I gotta see what they're about first; how they play, and what their attitude is. I just had a new student the other day. Played guitar. And he knows what he wants to learn, and he knows what he needs to learn, and I try to help him. So when you get a student like that it's easier, but you know I like to be able to find their weaknesses about what they need to do, and try to build their strengths on that. And it goes slowly. I try to say, "Do this, but do it really slowly for a month or so. And then do it in different keys." But you have to put the time in. I say you can't just do it like you're not doing it again; you have to do it and keep doing it. And then you build your momentum up. But you always have those building blocks that you have to go back and reshape to keep them fresh because it's important to have those in your vocabulary and under your fingers. So then you can always use that as a strength to do stuff that's, you know, more fun!
Allen: So you don't just teach your instrument. There's a guitar player who came to you.
Greg: Oh I have a vibes student; I have a flute player; I work on harmony, on piano chords; I show how to write bass lines and compose and improvise and also arrange. Where are we now?
Rick: We are basically at the present. Between your website and my record collection, we can give people a nice overview of the fabulous career you've had since the early nineties that just is continuing, and the icing on the cake is Rhode Island College – your work as an educator. Greg travels all over the world teaching. If he goes to play Russia, he goes to the university and teaches there during the day, and then they come at night to see him play.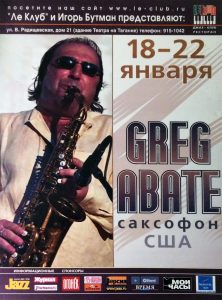 Greg: Well sometimes, yeah. Yeah I do that occasionally in England.
Allen: I've seen that video.
Greg: That was at a music store. I'm doing a video for them again this time. We're gonna do it on an improvisation night. I worked something out that will be informative – I talk about specific things. That (the video) was just like, get up and talk and play. You know I got off the plane. I was pretty shattered. It was a night flight. I got in there in the morning, real early, took a train and then went in front of the camera with the horn. But I'm going to England, I play at some schools and teach during the day two or three times maybe when I go. Then I've got that gig in Poland coming up in March for a week in Krakow.
Rick: Pretty heavy stuff.
Allen: Yeah, I'll say.
Greg: Yeah, Krakow.
Rick: So no plans to retire or anything like that.
Greg: No.
Rick: Your career is on a roll – it still seems to be in an upward swing. You just got four stars in Downbeat for your previous release. You are at the top of your field.
Greg: Yeah, but don't think that it's easy.
Rick: No, I don't.
Greg: Trying to get gigs is tough especially without an agent. That really bothers me – not to have an agent that could have some clout, you know. I don't know what it is. The experience with Phil Woods has been great. That was meeting him and getting his approval saying that he liked playing with me, and he enjoyed the energy and passion of my playing, was really a great compliment coming from him. And that's another thing. See, I called him and asked him if he would like to do something with me sometime, and he said, "I know who you are." And I sent him some stuff, and he said "Man, that's swinging." And I asked him right out; I said "What do you think of that?" He said "Oh man it's swingin'. I like it." When I asked him to play he said he's quite expensive. I said "Well, what do you want to record the first album?" He named a price and we got that together.
For the second album he was much more reasonable. And we did some gigs together around the country – Philly, Cleveland and Boston. It was a great experience, you know. That's the "Phil Woods School of Music." Unbelievable. Yeah, I learned so much from just playing with him. It's incredible what I still have in my head about that. I can't believe it. But you know I always admired him, and I never called him because I felt inadequate because I always felt like maybe I shouldn't.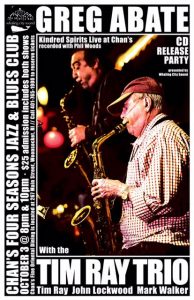 Rick: This might be the secret to your success: you're still seeking, still wanting to learn.
Allen: I was going to say that – still learning even after all these experiences.
THE GREG ABATE DISCOGRAPHY
Compiled by Rick Bellaire
AS A LEADER OR CO-LEADER
GREG ABATE/CHANNEL ONE
Without Boundaries
(World Records GA-115 LP) 1981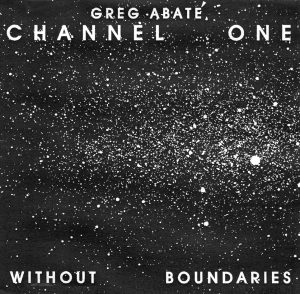 GREG ABATE
Spirit
(Stage Door Productions AVL-89131 Cassette) 1987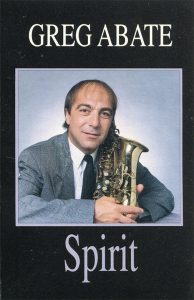 GREG ABATE
Two Sides of Greg Abate
(Stage Door Records Cassette) 1988
GREG ABATE QUARTET
The Greg Abate Quartet
(Buckley Records Cassette) 1989
GREG ABATE QUARTET
Bop City: Live at Birdland
(Candid Records CCD-79513) 1991)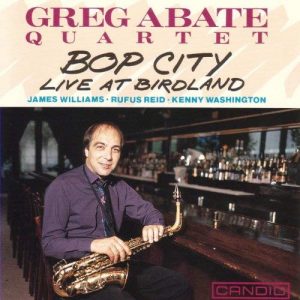 GREG ABATE FEATURING CLAUDIO RODITI
Straight Ahead
(Candid Records CCD-79530) 1993)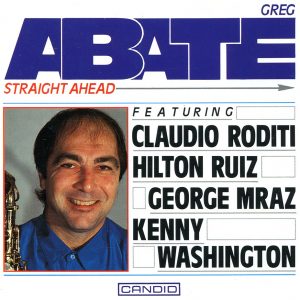 GREG ABATE QUINTET FEATURING RICHIE COLE
Dr. Jekyll & Mr. Hyde
(Candid Records CCD-79715) 1995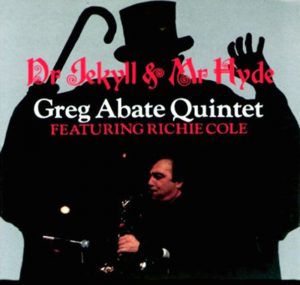 GREG ABATE
My Buddy
(Seaside Recordings SSMB-132) 1995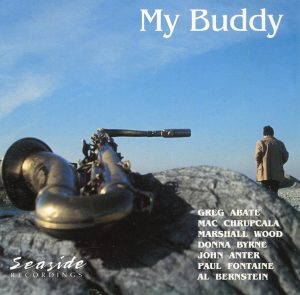 GREG ABATE
It's Christmastime
(Brownstone Recordings BRCD-959) 1995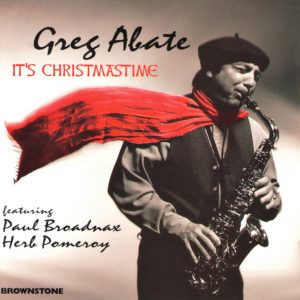 GREG ABATE
Broken Dreams
(Seaside Records SSBD-144) 1996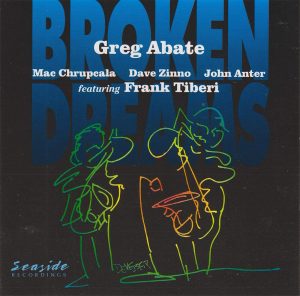 GREG ABATE QUINTET
Bop Lives!
(Blue Chip Jazz 4001-2) 1996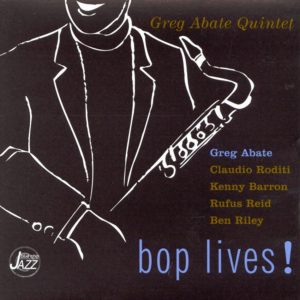 GREG ABATE QUINTET
Happy Samba
(Blue Chip Jazz 4004) 1998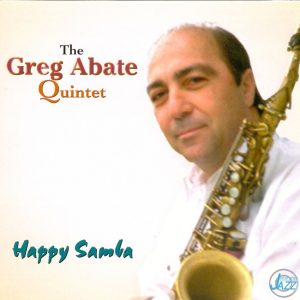 GREG ABATE
Evolution
(1201 Music 6013) 2002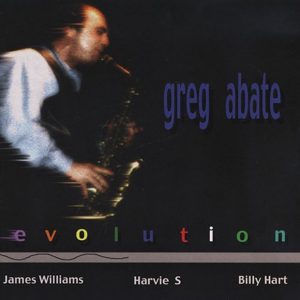 GREG ABATE QUINTET
Horace Is Here
(Koko Jazz Records KJRCD-001) 2005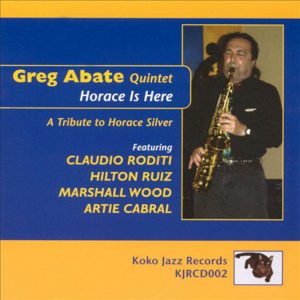 GREG ABATE QUINTET
Monsters in the Night
(Koko Jazz Records KJRCD-003) 2006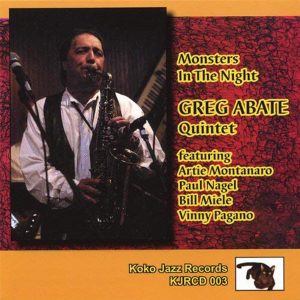 GREG ABATE & ALAN BARNES
Birds of a Feather
(Woodville Records WVCD-123) 2007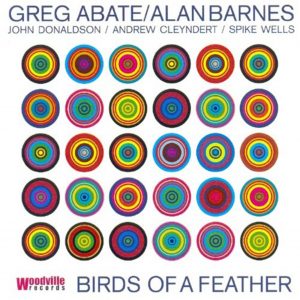 GREG ABATE
Wave Street Sessions: Live in Monterey
(Wave Street Studios WSS-0003) 2009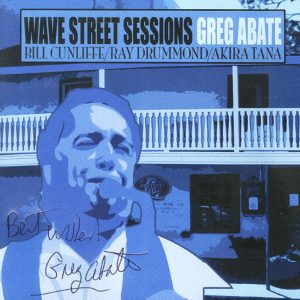 GREG ABATE & PHIL WOODS
The Greg Abate Quintet Featuring Phil Woods
(Rhombus Records 7112) 2012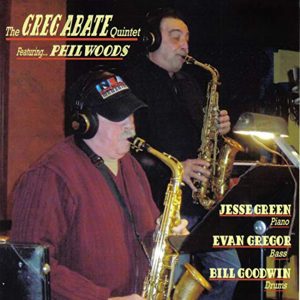 GREG ABATE & GARY SMULYAN
First Encounter
(1201 Music 4007-2) 2012)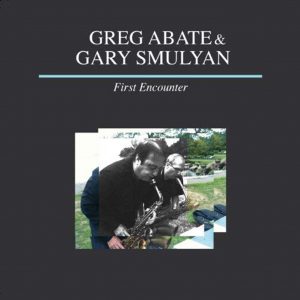 GREG ABATE QUARTET FEATURING MIKE LEVINE
Time For Dave – A Tribute to Dave Brubeck
(Downeast Jazz 884501-95633-8) 2013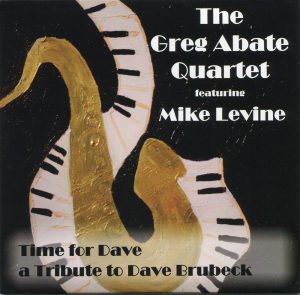 GREG ABATE QUARTET
Motif
(Whaling City Sound (WCS-070) 2014
THE GREG ABATE/CRAIG MILVERTON QUARTET
Greg's Groove
(Explore Records EXPLCD-004) 2015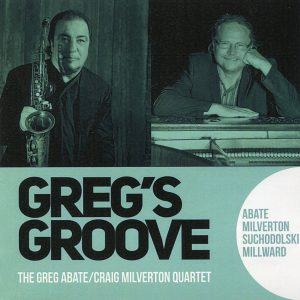 GREG ABATE & PHIL WOODS WITH THE TIM RAY TRIO
Kindred Spirits: Live at Chan's
(Whaling City Sound WCS-077) 2016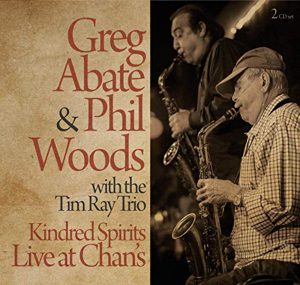 GREG ABATE WITH THE TIM RAY TRIO
Road to Forever
(Whaling City Sound WCS-090) 2017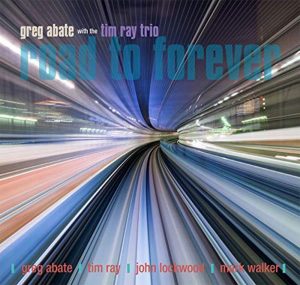 GREG ABATE WITH THE TIM RAY TRIO
Gratitude: Stage Door LIVE @TheZ
(Whaling City Sound WCS-114) 2019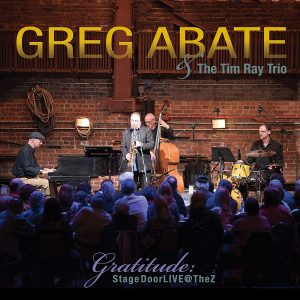 AS A SIDEMAN
RAY CHARLES
Come Live With Me
(Crossover Records CR-9000 LP) 1974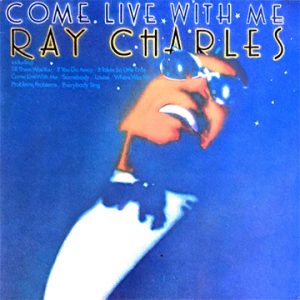 DUKE BELAIRE JAZZ ORCHESTRA
Live at Bovi's
(Argonne Records LP-001) 1980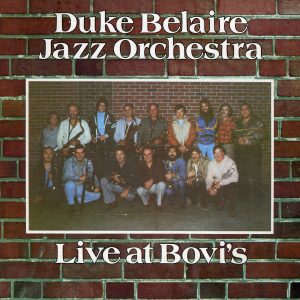 CLAUDIO RODITI
Samba Manhattan Style
(Reservoir Music RSR-139) 1994
DAN MORETTI & BRAZILIA FEATURING GREG ABATE
Live at Chan's
(Brownstone Recordings CD-958) 1995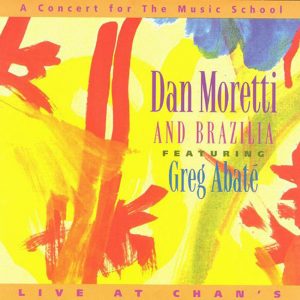 JUSTIN HOLDEN
Justin Time
(Bayside Records 101) 1997
ED ANDERS QUARTET WITH GUEST GREG ABATE
Wholeness
(NY Musikk NMO-499-1003) 1999