3472013 INDUCTEE
Blues/Folk
DIGGIN' UNCLE SAM'S BACKYARD
Forty-Five Years of the Real Folk Blues with
PAUL GEREMIA
by Rick Bellaire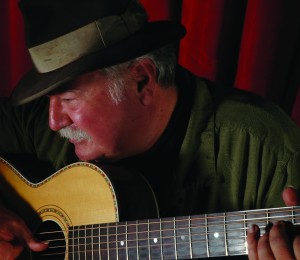 Paul Geremia is a true original. He is a folk singer of the highest order incorporating all the textures and colors which make up the fabric of 20th century American popular music into his deeply rooted blues. His vocal style is lyrical, yet unique and powerful. His approach to the guitar is elegant and his abilities virtuosic, yet dynamic and forceful. He has been described as "something of a national treasure" by musician and author Elijah Wald. And he hails from the Ocean State.
COME ON IN MY KITCHEN: THE EARLY YEARS
Paul Geremia was born 1944 in Providence, Rhode Island and spent his early years in the Italo-American enclave of Silver Lake in the West End of Providence.
His father's sales job caused the family to move to California and back twice during his early childhood, but they remained in Rhode Island after the second relocation, first settling in Johnston when he was six.
Although there was a piano in the house, he did not play the instrument and his earliest musical efforts were limited to teaching himself to play the harmonica. He was inspired by the "high" note achieved by Louis Armstrong on his recording of  "St. Louis Blues" and thought he might be able to get the same note on his harmonica.
He attended Mount Pleasant High School but had little to no interest in the Rock 'n' Roll scene beginning to blossom in the greater Providence area. (For instance, his classmates Peter Andreoli and Vini Poncia charted regional and national hits with their doo-wop group, The Videls – Paul took little notice.) In fact, the only pop music playing on the radio in which he remembers having some interest were Chuck Berry's Chess singles, Les Paul and Mary Ford's hits and Elvis Presley's "Hound Dog." He also had an uncle on his mother's side who was a well-known professional musician in Rhode Island, Lou Ciacca, but his music had little effect on Paul as well. Only one other musician caught his attention at the time. Geremia credits Rhode Island steel guitarist Tony Poccia of Eddie Zack & The Hayloft Jamoboree as an inspiration thanks to the band's frequent local television broadcasts in the 1950s.
SOMETHIN' DIFFERENT: 1959-1962
As far as the events which would shape the course of his life and career, Paul's junior year in high school was the year of his "perfect storm:"
– In the mid-1950s, his family had made the gift of a guitar to his father. He didn't take to the instrument and it fell into Paul's possession. By 1959, he'd begun teaching himself to play.
– He came across a newly published book on the roots of blues music, "Country Blues" by Sam Charters, and became fascinated by the stories and history within its pages.
– As most early music had not yet been transferred to LP format by the late 1950s, he knew that he'd have to find out-of-print 78s to hear the recordings documented in the Charters book. He quickly discovered that the best places to find these records were in thrift shops and junk stores and began making regular purchases at Piedmont Furniture, a junk store across the street from Classical and Central High Schools in South Providence, and at the Salvation Army thrift shops. Among early finds were sides by blues artists Big Bill Broonzy and Blind Boy Fuller, and delta bluesman Tommy McClennan.
This process, finding rare records and teaching himself to play the guitar parts on the recordings, continued during his senior year and into 1962 when he enrolled in the Agriculture College at the University of Rhode Island and moved into a dormitory on campus. He found a few like-minded individuals on campus and began playing music with two other students, Frank Russillo and Augie Hanson. At that time, they were playing "folk" music as defined during the aftermath of the folk revival of the 1950s – basically, anything you could play and sing with just a couple of acoustic guitars and a harmonica including blues, folk songs, country, bluegrass, etc.
I'M SO GLAD: 1963-1965
More important musical revelations occurred during Paul's early college years. In 1963, he and Augie went up to Club 47 in Cambridge, Massachusetts, to check out a new folkie beginning to make waves on the scene, Tim Hardin. At this time, the Oregon-born Hardin was ensconced in his early incarnation as a straight blues musician (as can be heard on his first recording, "This Is Tim Hardin" on Atco, recorded in 1964, but not released until '67).
Then, back at URI, he heard Dave Van Ronk during a live radio broadcast singing "Cocaine Blues." Van Ronk was a Brooklyn boy who'd risen to the top of the Greenwich Village folk scene in the late 1950s with a repertoire consisting largely of classic blues material.
Paul ventured up to Cambridge again for a concert by legendary delta bluesman Skip James at Club 47. James had recorded in the 1930s, but had fallen into obscurity until three young blues enthusiasts, John Fahey, Bill Barth and Henry Vestine (later of Canned Heat), made a pilgrimage to Mississippi where they found him and subsequently reintroduced him to the fans on the folk-blues revival scene. After the show, Paul hung around to speak with Skip and the elder statesman was kind enough to show him his special guitar tuning – an open D minor – which served as the key to unlocking many more secrets of the blues guitar for Paul.
And finally, he attended the 1963 Newport Folk Festival at Freebody Park for the Sunday programs. (Paul was putting himself through college and missed Saturday's events because he had to work.) On Sunday morning, he attended the Blues Workshop and witnessed another eye-opening performance, this time by the great Mississippi John Hurt. It is interesting to note that while he also stayed for the evening concert which saw headliner Joan Baez make history by introducing Bob Dylan to the world-at-large, it was still John Hurt who made the biggest impression on him that day.
During this period he also began to meet many more kindred spirits and interacted with more of the blues legends he'd come to admire. In 1964, he met Taj Mahal, a U-Mass animal husbandry major beginning to make a name for himself on the blues revival scene when Taj came down to URI to perform at a SNCC benefit. (The Student Non-Violent Coordinating Committee was then beginning to turn its sights on the war in Vietnam once the Civil Rights Act had been passed.) Taj would prove a good connection when they hooked up later in the year up in Cambridge when Paul witnessed a performance by the legendary Son House during the early stages of his rediscovery which was being engineered by another young blues musician, Alan Wilson (another future member of Canned Heat).
In 1965, Paul approached one of his URI agriculture professors to ask when the subject of organic farming would be introduced into his course of study and was told that URI had, "…no room for kooks." Paul dropped out of college.
Freed from school and unemployed, he decided to pursue music full time. He began performing at open mics at  coffeehouses in Boston, Cambridge and Rhode Island. At the Tete-a-Tete on Thayer Street on the East Side of Providence, Paul saw and was befriended by two Tennessee blues legends, guitarist Sleepy John Estes and mandolin virtuoso Yank Rachel. Yank had shown up without a mandolin and Paul lent him his instrument for the duration of his run which led to another pair of mentors and lifelong friends.
WHERE THE ACTION IS: 1966-1967
Unlike the bulk of his contemporaries who followed the day-to-day exploits of Paul Revere & The Raiders and their extended family of musical contemporaries on Dick Clark's "Where The Action Is," Paul knew that he'd have to set up shop someplace where there was really some action and he relocated to Cambridge.
In 1966, Cambridge still boasted a vibrant scene in the days since the breakouts of Joan Baez and Tom Rush had put the town on the map and Paul made many connections and friends. Among the many musicians with whom he brushed shoulders at the time were Spider John Koerner, John Hammond, Peter Wolf (J. Geils Band), Jerry Corbitt (Youngbloods),  David Blue (of Pawtucket, Rhode Island, whose star had shone briefly but brightly on the Greenwich Village scene), Patrick Sky (folksinger, Vanguard recording artist, the composer of "Many A Mile" and the producer of Mississippi John Hurt), the aforementioned Son House, and the Howlin' Wolf. One evening Paul invited Wolf and his band over to his place to hang out after their performance at Club 47. He mentioned to Wolf that one song he'd never been able to figure out was "Pony Blues" by Charley Patton, the father of the Delta Blues. Wolf replied that it was the first song he'd ever learned on the guitar and that he'd learned it directly from Patton himself! He proceeded to show Paul the tricky fingerings. Another secret unlocked!
For the next two years, he made headway onto the scene. He began playing the basket houses in New York City; he booked paying jobs at The Turk's Head and The Loft in Cambridge and The Sword in the Stone and The Unicorn in Boston; and he tried his hand on the open mic scene in New York City performing at Mike Porco's Gerdes Folk City and Izzy Young's Folklore Center.
He was also offered the opportunity to make his first professional recordings: three songs on an anthology of Rhode Island-based folk singers produced and released by Ashaway, Rhode Island entrepreneur Kenneth Kaye on his Folk Arts label in 1967. The album also featured Bill Madison from Florida, and Ray Clayton and Pam Coulahan who were about to become a team both professionally and as a married couple.
By this time, Paul knew that he'd have to pursue a record deal in order to take his career to the next level and while playing out on Cape Cod, Massachusetts at The Blues Bag opening for Patrick Sky, he asked his advice. Pat said, "Try Folkways – they'll record anybody!  You can buy recordings of the death moans of a dying Armenian shoe salesman on Folkways."
Pat was ill during that Blues Bag gig and Paul, who had an appearance scheduled at the Folklore Center, offered to drive Pat back to New York City. The two struck up a friendship and Pat began introducing him to some of the movers and shakers on the scene including Dave Van Ronk, Barry Kornfeld (the producer of Van Ronk and Tom Paxton), and Sam Hood, the owner of the Gaslight Cafe.
During his appearance at the Folklore Center, he mentioned to owner Izzy Young that he aspired to record with Moe Asch of Folkways but had no demo tape. Izzy informed him that WNYU, the powerful student-run radio station, was planning to tape the evening's performance and Izzy secured him a copy of his set. The next day, he met Asch for lunch and gave him the recording.
Paul, who had no permanent address at the time and was living in and operating out of his Volkswagen Microbus, returned to Rhode Island and was staying with friends out on Great Island in the fishing village of Galilee. He was out in the surf digging steamer clams when he was called up to the house to take a call from Pat Sky who informed him that he'd gotten the Folkways deal.
FOR THE RECORD: 1968
He recorded his first album with his new pal Pat Sky in the producer's chair and Just Enough was released in 1968 by the historic  Folkways Records company. The album put Paul right on the map as a major contender. Although still a young man, Paul had already found his true voice, developed a unique approach to his instrument, and established himself as a composer: in addition to six classic country blues, the album featured six original compositions. It became immediately clear that Paul Geremia was not mimicking the blues greats as so many others of his generation were doing; his was an original style which evoked and invoked the beauty and the mysteries of the blues. Just Enough was a best-seller for the label (it was still in print as of 2013 through the Smithsonian Institution's Folkways series), but Folkways was not in the habit of promoting their product – they felt the "brand" was what sold their releases. But in fact,  the album really sold itself based on airplay and Paul's heavy gig schedule. As his contract was a one-shot deal, Paul decided to look elsewhere.
First, he signed a publishing deal with the powerful MCA Music. His A&R man, David Wilkes, promised to help him secure a better record deal. He took him to Sire Records (home of the post-Rolling Stones British blues boom – Fleetwood Mac, Climax Blues Band, Duster Bennett, Chicken Shack) where he was signed in 1969 by label president Seymour Stein and his right-hand man, songwriter/producer Richard Gottehrer ("My Boyfriend's Back,"  "Hang On Sloopy"). Paul indicated that he wanted to make a solo, acoustic album. They countered that they wished to have a band behind him. When he balked, they said he could record solo, but would have to play to a click track. Realizing that meant they'd overdub their own musicians onto his songs after the fact, he fled to Chicago to stay with his friend, guitarist Jack McGann, where they worked out arrangements for the album. He returned to New York with McGann and cut the self-titled Sire album. This time, eleven of the ten tracks were original songs with only Blind Lemon Jefferson's "Bad Luck Blues" drawn from the well of blues classics. Again, the album sold well, especially in New England, but there was not enough action to warrant a second recording.
HARD LIFE ROCKIN' CHAIR: 1969-1973
Without a record deal, Paul decided in 1969 to concentrate on performing. He began traveling all over the country playing an endless number of gigs, further refining his skills and enhancing his reputation.
In 1970, thanks to a connection made by future Adelphi label-mate and fellow blues traveler, Roy Bookbinder, Paul visited blues legend Pink Anderson at his home in Spartanburg, South Carolina and brought along a tape recorder. Pink expressed an interest in coming up to Rhode Island for a weekend gig at Salt, an important acoustic venue on Thames Street in Newport. The dates were set up, necessitating a return trip to Spartanburg to pick up Pink, and Paul, Roy and Fats Kaplan opened the shows for him at Salt. As a result Paul and Roy became instrumental in returning Anderson to the spotlight and further shows took place at Yale University, Harper College and The Folklore Center in New York City.
In 1973, he was signed to the Washington, D.C. area roots music label Adelphi Records and released his third album, Hard Life Rockin' Chair. Ironically, the album sold well in most part due to the large fan base Paul had developed on the road, but after a second album was in the can, Paul and Adelphi were unable to coordinate his busy touring schedule with their ideas for promotion. They parted ways by mutual agreement. (The album remains unreleased.)
GONNA TIP OUT TONIGHT: 1974-1989
Paul spent the next nine years on the road. Although he was without a record deal and had no promotional support, his place on the roots music scene was secure and he had a full performance schedule, touring nationally on an annual basis.
During his travels, he'd become aware of a new roots music label out of Chicago, Flying Fish Records, started by blues and folk fan Bruce Kaplan. Paul decided it would be a good fit and for a few years, as Paul puts it, "I pestered Bruce Kaplan 'til he said yes!" In 1982, he recorded and released his fourth LP, I Really Don't Mind Living, an album of original songs about his travels and exploits on roads. A second Flying Fish album, My Kinda Place, was released in 1986.
SELF PORTRAIT IN THE BLUES: 1989-Present (2013)
In 1989, Paul Geremia made his first-ever European appearances in Germany. He'd brought along some cassettes of his Flying Fish albums to sell on the gigs and sold a pair to a German booking agent at one of the shows. The guy loved the tapes and later contacted Paul to say that he had a connection with the independent folk/blues label Shamrock Records out of Austria and offered to represent him. When the people at Shamrock heard the Flying Fish recordings, they immediately proposed a recording deal.
Paul considers this his biggest break because this development tied everthing together and set the stage for his career to the present:
– Shamrock offered to finance the recording of two albums which he'd be able to make in the U.S. and then send the masters over to Austria for European release;
– While performing on Block Island, Rhode Island after his return from Europe, he also sold some Flying Fish cassettes to a couple who said they'd like multiple tapes so they could give copies to a friend. Turns out the friend was Eric Von Schmidt, one of the most important musicians on the Greenwich Village scene of the early 1960s, a world-renowned painter, and one of Paul's musical heroes. Eric got in touch with Paul and offered to paint and design the cover for the first Shamrock release;
(Eric provided the cover art for three more Paul Geremia albums before he passed away in 2007.)
– When his first album under the deal with Shamrock, Gamblin' Woman Blues, was released in Europe, the label also began setting up annual European tours which established Paul as an international touring artist.
Another happy by-product of the Shamrock deal was that during an appearance at the Minneapolis Cedar Cultural Center, his performance was taped at the request of the highly-acclaimed singer-songwriter Greg Brown. Brown, it turns out, was a big fan of Paul's, but had his own gig elsewhere and was unhappy that he'd be missing the show. Greg had recently started his own label to release his own recordings and those by his friends and heroes. When Greg heard the tape, he loved it so much that he offered to sign Paul.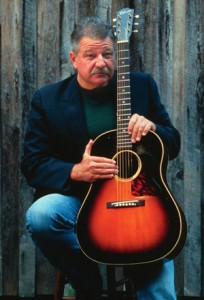 In 1992, Paul re-established himself as an international recording artist after a six-year break when the European-only Gamblin' Woman Blues was picked up for distribution to the rest of the world by Greg Brown's Red House Records. They also issued the second and final album cut under the Shamrock contract, Self Portrait In The Blues, and then signed Paul directly to the label. The live tape became Paul's third Red House release and he has remained with them for four further releases and has at least two more albums in the pipeline.
It is fitting that Paul Geremia's current release at the time of his 2013 induction into the Rhode Island Music Hall Of Fame is a 2011 Red House compilation of previously unreleased live performances cut over a thirty-year period entitled, Love My Stuff. It showcases the development of his unique abilities to cut across a vast array of styles as he's continued to stretch the boundaries of the folk/blues tradition.
As for Paul, it should come as no surprise that he just plans to hit the road.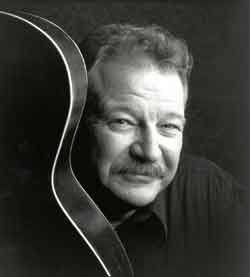 PAUL GEREMIA DISCOGRAPHY
ORIGINAL RELEASES
CRACKS IN THE CEILING (1967)
Folk Arts LP U4RS-1243/1244
Compilation containing Paul's first three professional recordings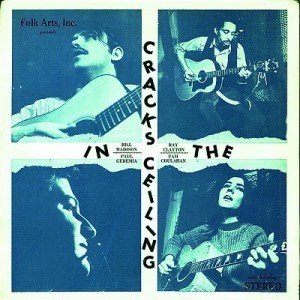 JUST ENOUGH (1968)
Folkways LP FTS-21023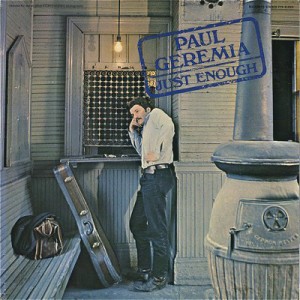 PAUL GEREMIA (1969)
Sire LP SI-4902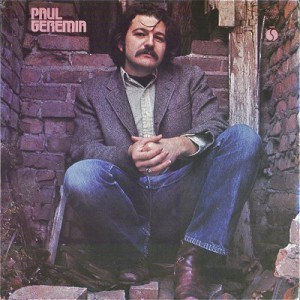 HARD LIFE ROCKIN' CHAIR (1973)
Adelphi LP AD-1020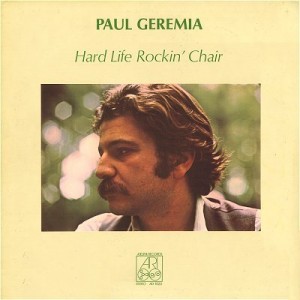 I REALLY DON'T MIND LIVING (1982)
Flying Fish LP FF-270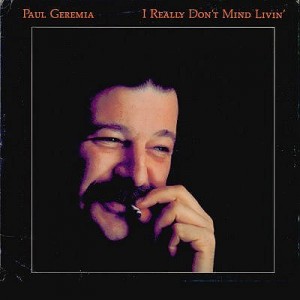 MY KINDA PLACE (1986)
Flying Fish LP FF-395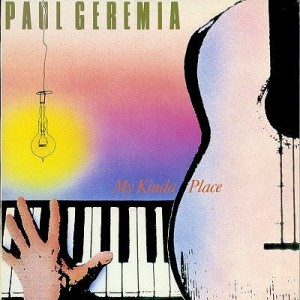 GAMBLIN' WOMAN BLUES (1992)
Shamrock CD DC-1016-2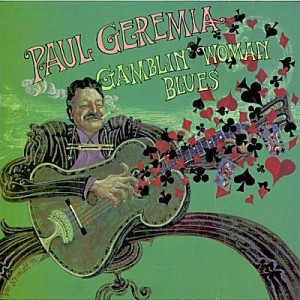 SELF PORTAIT IN BLUES (1994)
Shamrock CD DC-1024-2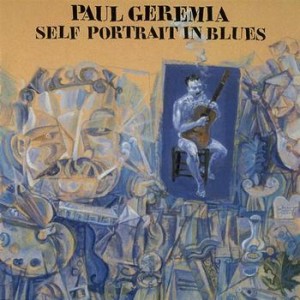 LIVE FROM UNCLE SAM'S BACKYARD (1997)
Red House CD RHR-101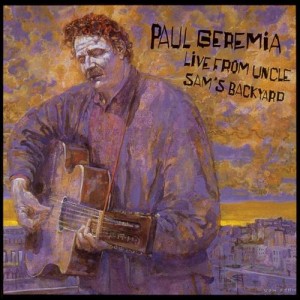 THE DEVIL'S MUSIC (1999)
Red House CD RHR-127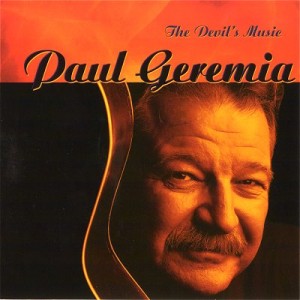 BLUES CONCERNING LOVE, MURDER AND MOSQUITOS (2004)
Red House CD RHR-172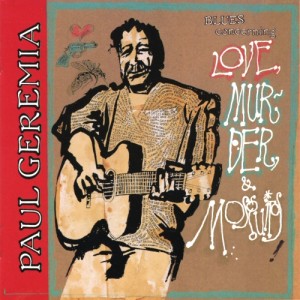 LOVE MY STUFF (2011)
Red House CD RHR-239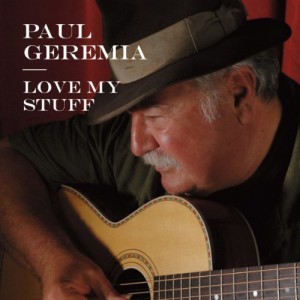 EXTERNAL LINKS & RESOURCES
Paul Geremia Official Website
https://paulgeremia.wordpress.com
Paul's official website with all the latest news plus links to important Paul Geremia resources including a terrific 1983 documentary by filmmaker Geoff Adams called Somethin' Gotta' be Arranged which includes live performances and an intimate peek behind the scenes at the life of a modern folk-blues master.
Paul Geremia: Complete Discography
http://www.wirz.de/music/geremfrm.htm
This is the best and most complete discography out there. It details not only the original releases of Paul's albums, but all reissues as well. There is also a section on his work as a session player and guest artist, plus all of his appearances on compilation albums.
Red House Records Artist Page
http://www.redhouserecords.com/Geremia.html