2014 INDUCTEE
Jazz
While a Pawtucket high school student in the 1930s, Paul Gonsalves studied with two of Rhode Island's finest musicians, guitarist Joseph Petteruti and saxophonist Joseph Piacitelli, but it was his tenor sax which opened doors for him with the big bands including Count Basie's.
He became a pivotal figure in the evolution of post-war jazz from swing into the modern era when he was drafted into Dizzy Gillespie's band in the late '40s. Paul was attuned to all developments in popular music and while his warm tone invoked the masters, Coleman Hawkins and Ben Webster, his extraordinary abilities were on par with the young lions of the era such as Stan Getz and Sonny Rollins.
He joined the Duke Ellington Orchestra in 1950 and provided a crucial ingredient in the modernization of Duke's sound.
In his off time, he released a series of solo albums which are considered some of the finest small-group, modern jazz recordings of the '50s and '60s.
But even had he never racked up so many achievements, he was guaranteed a place in the history books by his famous 27 chorus improvisation on "Diminuendo and Crescendo In Blue" at the 1956 Newport Jazz Festival which single-handedly reversed the waning fortunes of the Ellington band and turned the festival's tone from a staid, concert setting into the joyous celebration for which it has become known the world over. In one solo, he managed to pay tribute to his mentors; prove himself the equal of his post-Bop contemporaries; and drove the crowd wild with a rockin' nod to the honkin' tenor stylings of the R&B scene.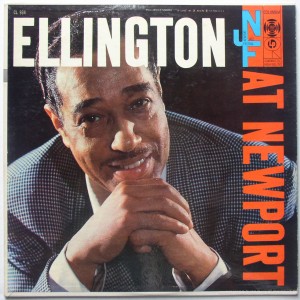 Although plagued throughout career by problems with drugs and alcohol, Paul was universally regarded as one of the warmest, kindest and generous musicians in jazz. He passed away at 53 in 1974.
– Rick Bellaire, April, 2014
PAUL GONSALVES LINKS & RESOURCES
EXTENSIVE PAUL GONSALVES WEBSITE: Excellent site devoted to the great tenor man
http://www.paulgonsalves.org
WIKIPEDIA ENTRY: Wiki has a good piece which includes an excellent discography
http://en.wikipedia.org/wiki/Paul_Gonsalves