4372013 INDUCTEE
Classical/Musical Theater
SISSIERETTA JONES
American Opera Pioneer (1869-1933)
by Gerard Heroux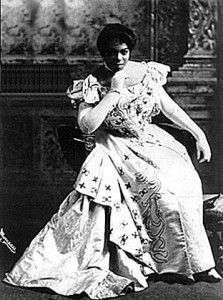 An African-American singer of classical songs and operatic arias, soprano Sissieretta Joyner Jones made a name for herself in tours of Europe and the United States both as a solo performer and as the leader of the Black Patti Troubadours, a theatrical ensemble that bridged the gap between 19th century minstrel shows and 20th century vaudeville.
Sissieretta was born in Virginia but she moved to Rhode Island with her parents at the age of seven. She grew up in Providence where she took piano lessons and sang in various Baptist churches  (her father was a Methodist Episcopal preacher). She began her professional career singing in Rhode Island, nearby Massachusetts and Boston. She expanded her repertoire beyond church music to include American parlor songs, classical European art songs and opera.
During this time, at the now shocking age of fourteen, she married a local hotel bellman, David Jones, who would for a number of years be Sissieretta's business manager.  At the age of nineteen, however, she moved to New York City where she continued her music studies with various vocal teachers and began concertizing to glowing critical reviews, many of which compared her voice to that of the famous Italian opera star of the day, soprano Adelina Patti.  In fact she was called "the Black Patti," a sobriquet that followed her for most of her career.
By 1893, after tours of the West Indies with the Tennessee Jubilee Singers and some prestigious performances accompanied by professional concert bands at the Pittsburgh Exposition and the World's Columbian Exposition (both in Chicago), Sissieretta began a two-year tour of the U.S. with Jules Levy's Military Band. After a brief stint in the Gilmore Band she began a series of European tours as a soloist, which turned out so successfully that she acquired European management (she finally divorced her husband/business manager in 1899 after a long separation).
In the face of the closed doors Sissieretta was experiencing in regards to her desire to sing on the operatic stage, the management team of Rudolf Voelckel and James Nolan encouraged her to put together a theatrical troupe of African-Americans that would feature the seemingly unlikely combination of blackface comedy and classical singing, which she begrudgingly called the "Black Patti Troubadours" (she never did like the Adelina Patti comparisons).

Sissieretta led this troupe for 19 years and it featured many young African –American singers, songwriters, comedians, and dancers who would go on to become talents in their own right on Broadway, the most noteworthy of which was perhaps Bob Cole who wrote and produced the first full-length, all-Black musical comedy "A Trip to Coontown" in 1898.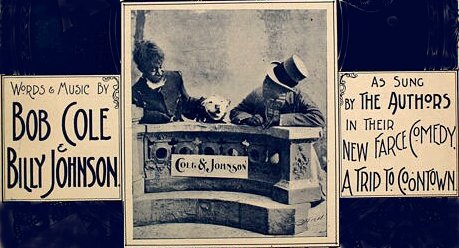 Sissieretta retired from show-business in 1915 returning to Providence to care for her sick mother, while raising as her own two orphaned boys who were wards of the state (her only daughter with David Jones had died just shy of her second birthday when Sissieretta was still a young woman), She remained in Rhode Island, living in near poverty, occasionally singing in church, eventually dying from cancer on June 24, 1933. She is buried at the Grace Church Cemetery in Providence.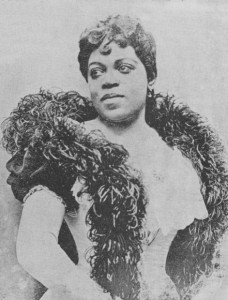 Sissieretta sang in some of the world's great concert halls and public venues such as Covent Garden in London, Madison Square Garden in New York, the National Conservatory of Music under the baton of the famous classical composer Antonin Dvorak, and at the White House for President Benjamin Harrison. She is said to be the first African-American woman to sing at Carnegie Hall.
A line can be drawn from Sissieretta to female African-American operatic stars of today such as Audra MacDonald and Kathleen Battle, not to mention the great stars of the past such as Jessye Norman, Leontyne Price and Marian Anderson. A line could also be drawn from the Black Patti Troubadours through Bob Cole to all-Black shows and reviews such as "The Wiz" and "Ain't Misbehavin'."
While it is sad that due to racism she would never get the chance to fulfill her dream and perform in a full operatic production, Sissieretta Joyner Jones of Providence, Rhode Island could be proud of her musical legacy, which was given out like a song to the whole world.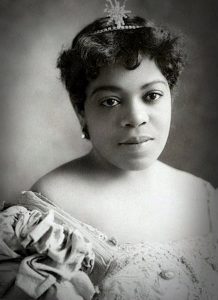 LINKS AND RESOURCES
Compiled by Rick Bellaire
BIOGRAPHIES
Highly recommended is an lengthy examination of Ms. Jones' artistry and career written by a Rhode Island musician/music educator:
"The Life and Times of Sissieretta Jones" by Helen L. Glynn, Chapter 12 in the book
"Rhode Island's Musical Heritage: an Exploration" edited by Carolyn Livingston and Dawn Elizabeth Smith
(Sterling Heights, MI: Harmonie Park Press, 2008).
On May 15, 2012, the University of South Carolina Press published the first definitive work on the life and career of Ms. Jones:
Sissieretta Jones: 'The Greatest Singer of Her Race,' 1868-1933, A Biography by Maureen Lee
The hardcover first edition is available through the Rhode Island Black Heritage Society (see below) and through all major booksellers such as Barnes & Noble and online distributors such as Amazon.com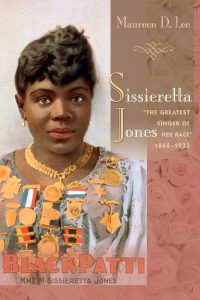 SISSIERETTA JONES ARCHIVE
Thomas Cooper Library, University of South Carolina
In March, 2021 in was announced that Maureen Lee, author of Sissieretta Jones, "The Greatest Singer of Her Race," 1868-1933, had donated the research materials she'd gathered while working on the biography to the University of South Carolina's Irvin Department of Rare Books and Special Collections at the Thomas Cooper Library. These materials will be catalogued as the Maureen Donnelly Lee Collection of Sissieretta Jones. It includes newspaper articles about Sissieretta from 1883 to 1933, books and journals used for my research, and ephemera related to Sissieretta such as sheet music, concert programs and a lithograph poster.
RHODE ISLAND BLACK HERITAGE SOCIETY
On May 12, 2012, RIBHS dedicated a plaque commemorating Ms. Jones' contributions to American music near her homestead on the East Side of Providence, Rhode Island at the intersection of Wheaton, Pratt and South Court Streets.
For details, visit:
http://sissierettajones.com/blog/plaque-in-providence-honors-sissieretta-jones/
SISSIERETTA JONES AT CARNEGIE HALL
The Carnegie Hall Archives has uploaded a short but nonetheless terrific piece about Sissieretta on its website:
http://www.carnegiehall.org/BlogPost.aspx?id=4294994554
WIKIPEDIA ENTRY
Wiki has an excellent entry for Ms. Jones with many links to other sources and further reading:
http://en.wikipedia.org/wiki/Matilda_Sissieretta_Joyner_Jones
MUSIC
Although there are no known recordings by Ms. Jones nor any sheet music currently in print, her best known work of the "Black Patti" era is widely available as original sheet music at surprisingly affordable prices through many dealers around the internet including Amazon.com and eBay. A bit of searching could score you copies of such gems as the recently available items pictured below.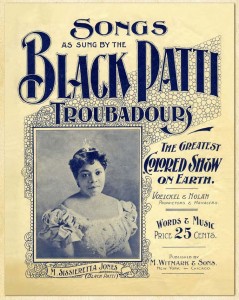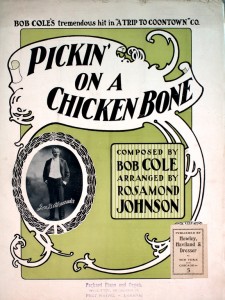 Another way to experience her music is through two recent theatrical productions. Neither has reached the level of a national tour nor been committed to film, but reviews are encouraging and you can see segments on YouTube and other online video posting services:
Portraits: The First Black American Divas Of Song and Opera
History comes to life as the careers of Marian Anderson, Elizabeth Taylor-Greenfield and Sissieretta Jones, three of the first great classical singers of color, are presented in songs and stories
The Unsung Diva: A One Act Play
Angela Dean-Baham's presentation focuses on the theatrical era of Ms. Jones' career with the Black Patti Troubadours
J. MAYO WILLIAMS
J. Mayo "Ink" Williams was a Brown University scholar/athlete who parlayed his college successes into two successful careers in the early years of the 20th century: he was one of the first African-American players in the National Football League and later became a successful major label record producer. Of note to the Sissieretta Jones story is that in between runs at Paramount Records and Decca Records, Williams started his own label which he christened "Black Patti" after Ms. Jones! He proudly boasted that as everyone knew how great Sissieretta was, then they could be guaranteed top-notch recordings on any record from the label which carried her name. (It is not known whether or not the two actually knew each other in Providence during that time, but it is, nonetheless, an interesting footnote to early Rhode Island-related music business.)
The Wikipedia entry for Mr. Williams is extensive and offers many links and sources for more information:
http://en.wikipedia.org/wiki/Mayo_Williams