2013 INDUCTEE
Rock 'n' Roll/R&B
UNTIL THE PHONE STOPS RINGING
Forty Years of Rockin' Rhythm & Blues and the Naked Truth with
STEVE SMITH & THE NAKEDS
by Rick Bellaire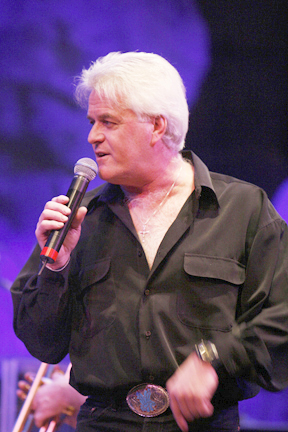 EARLY DAYS
Steve Smith was born in North Providence, Rhode Island in 1951. At age three, his family moved to Smithfield where he has lived ever since. The Smiths were a working class family with six children chasing the post-war dream of moving to the suburbs and making the switch from a blue-collar to a white-collar lifestyle. Steve credits his dad, Harold, with developing his interests in both athletics and the arts early on and for instilling in him his staunch beliefs in higher education.
His earliest musical experiences and memories occurred during the summer months when his family would take up residence in one of the many beach communities which line the southern shores of Rhode Island.
"In the summertime we lived at Roy Carpenter's Beach in Matunuck. I lived in the same beach house as my cousin, John Cafferty from The Beaver Brown Band; my mother, Anne Catherine, was a Cafferty. Every summer, we stayed in one of these little shacks down at Carpenter's and every Saturday night, my uncle John would have a talent show in front of the refrigerator at the beach house. Everybody would have to get up and perform before you could go to bed. He would invite my Uncle Francis, who was my godfather, and all the other relatives and they'd watch us perform. At four years old, I sang "Love Letters In The Sand" by Pat Boone in front of the refrigerator." It was during this time that his dad recognized that Steve had a good voice and, at age seven, began sending him for vocal lessons. (As a youngster, Steve wasn't too happy about it, but has long since realized that it was one of the best things which could have happened to him considering the career course his life has taken!)
During the school year, Saturday afternoons were spent at The Community Theatre in the Centredale section of North Providence, another ritual which Steve credits in stoking his interest in music. "Back then, the theaters showed double features and no matter what was playing, I'd meet my cousin John in Centredale and we went to the movies. It could be Elvis and John Wayne! My favorites were Elvis and Jerry Lewis – both sides of the street, so to speak. We didn't just see Elvis and John Wayne and Jerry Lewis. Some afternoons you would see "Carousel" and "South Pacific" or maybe Disney movies. And I kind of took to the music side of it. That's where my interest in music really started."
At nine, Steve was enrolled in St. Philip's, the new Catholic grammar school in the Greenville section of Smithfield transferring from William Winsor Elementary School to enter the fourth grade. When Steve was in 7th grade, his dad brought home "Meet The Beatles." He was a salesman and had heard The Beatles on his car radio while traveling to appointments. He instructed Steve, "Listen to these guys. These guys are going to be great!" That's when things really really got serious as far as music goes. Soon after, Steve and his cousin John were dropped off in downtown Providence one Saturday afternoon to see "A Hard Day's Night" and they stayed all day, watching the movie five times in a row. By then, Cafferty had taken up the guitar  and the two began to sing and play together, learning Beatles' tunes and other songs from the radio. Another pivotal point was the weekend the Community brought in "The T.A.M.I. Show," a film of a live performance by the day's top Rock 'n' Roll and R&B stars.
"It was our first exposure to black music. That movie had everybody – Gerry & The Pacemakers, The Rolling Stones, James Brown, The Supremes, Marvin Gaye, The Beach Boys. The next year, "Ski Party" with Annette Funicello and Frankie Avalon came out and that picture also featured James Brown & His Famous Flames. And we were just overtaken by the black music."
Steve's first gig was during the eighth grade. He and some of his classmates had formed a garage band with the very British Invasion-sounding name of The Blokes, but soon changed the name to The Nightcrawlers. A young, "enlightened" nun brought the band in to perform three songs in front of the class and the show was a big hit with everyone involved except for the pastor of St. Philip's parish – the young woman caught holy hell for bringing the devil's music into the classroom. Soon after, one of the Nightcrawlers guitar players quit the band and was replaced by Steve's cousin John. The young Smith and Cafferty and their band, all still just in ninth grade, participated in a "battle of the bands" at the American Legion hall in Smithfield with three other goups – all of whose members were college age. They wound up winning the top prize. This set John clearly on the path to a life in music and he was soon organizing his first semi-pro outfit, The East-West Blues Band. But for Steve, there would be a detour lasting several years before he got back on course with his musical career.
"When I got into high school,  my voice started changing – I was having trouble vocalizing and singing stuff. So I quit singing. I quit the band in the ninth grade and got into sports in high school. I mean, I would sing at school events and participated in the drama class, but basically, athletics took over my life and I became a hockey player for Smithfield High. I ended up being All-State in hockey."
When Steve graduated high school, he was accepted at Providence College and earned a slot on the hockey team, but he did not manage to secure a scholarship despite his All-State status. (The school's overwhelming dedication to basketball left hockey a distant second at PC and the hockey program's limited scholarship resources were earmarked for luring Canadian players down to Rhode Island to beef up the team.) He played under Lou Lamoriello who has since gone on to become the General Manager of The Jersey Devils.
Steve's dad was a firm believer in higher education – in having "something to fall back on" – but with six kids in the family, it was determined that his parents would only be able to help out a little and that Steve would have to work his way through college. The ensuing schedule soon took its toll. He was enrolled as a full time student, was attending daily hockey practices, and was working on the floor of a grey iron foundry 35 hours per week on the night shift. Smith now says, "It was like working in hell. By sophomore year, I was struggling to stay in school. I had to quit playing hockey because I was paying for school and I didn't want to flunk out. I would have to go to school; hockey practice was from three to six; and then I'd have to go to work. And then, I have to go home and study!" Something would have to give.
LET ME HAVE ONE BLOODY MARY
His dilemma was solved and his musical salvation presented itself in the form of an invitation to join a band. Some friends of his had formed a group and were missing only a lead singer. "I joined that band. It was called 'Bloody Mary,' a hard-rock band – we did Grand Funk, Steppenwolf – and I started working Friday and Saturday nights with the band. I was making twice as much money as working thirty-five hours a week in the foundry. So I played in Bloody Mary all through college. One night we were playing at Stanley Green's in Warwick and they put us on the same bill with a band called 'Naked Truth' – we opened up for them."
THE EMERGENCE OF THE "HORN BAND"
Naked Truth was a rock band which carried its own horn section, a relative rarity at the time on the club scene in Rhode Island in the early 1970s. The continued success of R&B's two biggest performing acts, James Brown and Ray Charles, and the emergence of the first two commercially and critically successful units squarely on the "rock" side of the blossoming "Jazz-Rock Fusion" movement, Blood, Sweat & Tears and The Chicago Transit Authority, prompted the addition of horn sections to rock bands all over the United States. Here in Rhode Island, Naked Truth was in the vanguard of the modern club era along with only a handful of other pioneer horn bands such as Joe Esposito's Metropolis (with its stellar rhythm section of Billy Miele on bass and Tommy DeQuattro on drums), trumpeter Billy Duhaime's Sunn, and Noah's Ark, an all-star lineup featuring Jim "Mike" Kelly on guitar, David DiCenzo on bass, saxophonist Frank Procaccini, and the great Arthur Coppola on keyboards and lead vocals. These were great bands and popular attractions, however, the financial and logistical weights of carrying 8 or 10 pieces in a rock group format soon took its toll on most of the early Rhode Island horn bands which either downsized or adjusted their repertoire to take advantage of the pre-disco era "show band" and/or "wedding band" opportunities. As you, the reader, will see, of the original pioneers, only Naked Truth was able to stay the course.
NAKED TRUTH
As Steve Smith recalls, "Frank Rapone, who's my keyboard player now, started the band back then in 1972. Bloody Mary had played with them a couple of times. They approached me and said, 'Would you like to join the band?' And I always wanted to be in a horn band. By that time, my junior year or senior year in college, Blood, Sweat & Tears and Chicago were happening, and then there was always all the soul music with horns that was my favorite. So since I'd always wanted to be in a band with horns, I agreed to join." In February of 1973, during his senior year at PC, Steve enlisted in Naked Truth.
One of the first orders of business for the band was to take advantage of the educational opportunities at the recently opened Rhode Island School Of Music in the Biltmore Hotel in downtown Providence. Many of the best jazz and classical music players in the state had banded together to offer private and classroom studies in their specialties. Bass player Kevin Cason began studying arranging and would become the band's primary arranger for the next twenty years. Steve, saxophonist Bobby DeCurtis, keyboard player Frank Rapone and drummer Scott Jackson all enrolled, which almost immediately amped up the level of musicianship in the organization.
The band already had a lead singer who'd be remaining in the lineup, but, unbeknownst to Steve, he had been hired to sing all of the parts the other singer couldn't cut and to double on baritone saxophone to supplement the horn section. That didn't last too long, according to Smith. "The band took off – we started playing everywhere." After his graduation from Providence College with a degree in Graphic Design, the band became a full time job and began traveling extensively, but Steve soon became disillusioned with the two lead singer format and dissatisfied with the band's musical direction. In 1975, he made his move.
"In '75 we made three trips to Florida. We played here and there along the East Coast, and we played all over Florida. But the other lead singers kept quitting. We were in Naples, Florida in 1975, and another lead singer quit. So we had a big pow-wow and I said, 'Look, we don't need another lead singer; I can handle it. What I'd like to do is take this in a direction that suits me – I'm in front of the band. I'm not taking over the band – I don't want to be a dictator, but if I'm gonna front the band, I need to do what I do best.' The founding members, freaked out." They resisted Steve's efforts to move the band forward in a different direction and he offered to quit the band and form his own outfit. They countered that they'd leave the band themselves. Steve quickly regrouped with the remaining members and some new recruits and the decision was made to retain the name Naked Truth.
The primary goal at this time was for the group to continue their lucrative club work and remain a full-time proposition, but now, a percentage of their income and goodly amount of their downtime would be devoted to developing original material with an eye to getting a record deal. Even in the original Frank Rapone-led lineup, the idea of developing originals was always lurking, but nothing had materialized.
Steve and the band revamped their repertoire to reflect more of a "rock 'n' roll" attitude and the cover material was drawn heavily from the great R&B, blues and classic rock songbooks. They began inserting their own tunes into the setlist to gauge audience reaction and the reaction was absolutely positive. The band's fan base continued to grow and the work kept coming in.
CRAZY JOE RENDA
As luck would have it, they were approached one evening by a  producer during a performance at The Frat House, a legendary nightspot in North Providence, Rhode Island which catered to Rhode Island College and Providence College students.
(The Frat House was one of the thousands of clubs which had sprung into existence during the era of the 18 year old drinking age. Beginning in 1969, due in large part to the anti-war protest movement of the Viet Nam era, most states began lowering the age of majority for both drinking alcohol and voting from 21 to 18. It was reasoned that if one was old enough to fight, then one must be old enough to vote and take a drink. The decade and a half during which that law was in effect was the "golden age" of the rock era for local bands: kids packed the clubs seven nights a week and there were tens of thousands of full time rock bands operating all over the United States. When the drinking age portion of the law was repealed in 1984, everything changed. But that's another story…)
"Crazy" Joe Renda was a recording studio owner and record producer from New York City who had intimate ties to the Voight family of show business fame (songwriter Chip Taylor and his brother, the actor Jon Voight) and the original members of Kiss. With their assistance and investments, Renda had started his business and built his studio in White Plains. He wound up on the map by virtue of a left-field novelty hit, "Eugene." He was in Providence promoting the record to radio and WPRO-FM disc jockey Tyler had brought him to see Naked Truth. Always on the lookout for new acts, he suggested that they should partner with him and begin their recording career under his guidance. In the spring of 1981, Naked Truth entered Renda's studio in New York to record their first single. Ironically, despite the fact that the band had spent several years developing original material, Renda decided to go with two cover songs from their club act – albeit two covers with highly original arrangements – for their debut release: a dance floor favorite, the Thurston Harris chestnut "Little Bitty Pretty One" and a soul classic if there ever was one, "Open The Door To Your Heart" by Darrell Banks.
STEVE SMITH & THE NAKEDS
Before the record was pressed, the band had to face up to a problem which had been brewing for some time. They'd become aware of another band out of Southampton on Long Island, New York with not only the same name, but the same set up – a horn band fronted by a lead singer. This situation had already begun to cause some confusion when they played in Connecticut where the other group was well known and with college students from New York attending school in Rhode Island. They had their lawyer look into the situation and it turned out that there were dozens of bands going by the name Naked Truth and the battle looked too hard to fight. Renda suggested they change their name.
Steve Smith: "I said, if we change the name people are gonna think that we broke up. You know what I mean? We'll lose our following; we'll lose our foothold and everything else. So I suggested, why don't we just call it 'The Nakeds' because everybody calls us that anyway. Everybody abbreviated our name – like all of our true fans would say, 'We're gonna go see The Nakeds tonight.' But how were we gonna let people know that it's the same band? Joe Renda said that since I'm the focal point, why don't you put your name in front? I didn't really want my name in front of it. It's not me – it's not about me – it's about the band. But everyone said if you put your name in front of it, then people will know that you're still there and that the band didn't break up. So I agreed to it. So that's how we became Steve Smith & The Nakeds in 1981. If you look at our logo, though, we are still 'Naked Truth.' The word Truth is hidden inside the word Nakeds!" (The band from Long Island was still together and using the name Naked Truth in 2012.)
The record did well with strong sales to their fanbase and a decent amount of radio play in the Northeast. It allowed them to expand their territory and they were soon traveling extensively up and down the entire East Coast. The following year, they returned to Renda's studio to cut their second single. This time, however, the record would feature original material. The B-side, "Hang On – Hold Tight" by Kevin Cason was a great pop song with a delicate, contemporary horn arrangement which would have sounded at home on any of the Mercury albums by Southside Johnny & The Asbury Jukes, the Nakeds' New Jersey horn-band counterparts. But it was the A-side that really put the Nakeds on the map. "I'm Huge (And The Babes Go Wild)" was a jumpin' Wynonie Harris/Roy Brown-styled R&B rave up with a novelty lyric (the subject of which is easily ascertainable by its title) that took off out of the chute.
The origin of what has become the band's signature song has a story all it's own…
HOT FUN IN THE SUMMERTIME
By the early 1980s, Naked Truth had become the most popular band on Cape Cod. Their schedule included appearances at the biggest club on the Cape, The Casino By The Sea in Falmouth, Massachusetts, which encompassed every extra-celebratory point of the summer season from Memorial Day weekend to the Fourth of July to Labor Day weekend. But in Falmouth, there was an "extra" special weekend between the 4th and the end of summer: Road Race weekend in August. From 1972 to the present, Falmouth has played host to an annual seven mile race which ends at the Casino and by this time, there were over 10,000 runners competing. The band had become friendly with two of the bartenders at the Casino, Michael Hennessey and Billy Threadgold. (Bill was a college athlete who participated in the Road Race and worked his way through school tending bar in the summers.) In the summer of 1981, Mike and Billy bought a tiny motor boat to use as a fishing skiff in the mornings which, in tribute to the massive yachts, sailboats and cabin cruisers which docked or moored on the beach side of the Casino all summer, they christened "The Huge." The little dinghy, which more often than not had to be bailed out in the morning before fishing could commence, became the talk of the town and "huge" became the buzzword of the summer:
How're you doin' today? I'm huge!
How was the band last night? They were huge!
How was that sandwich? It was huge!
Late one night during Fourth of July weekend '81, the band was hanging out after their show with Billy and Mike sipping on GIQ's of 'Gansett. (The "Giant Imperial Quart" was a 42 ounce beer produced by the Narragansett Brewing Company of Cranston, Rhode Island, favored by the band which was dutifully and ritually stockpiled by the Nakeds before each road trip to ensure there would be some refreshments for the post-gig wind-down period after their shows.) One thing led to another and when someone asked, "How you doin'," and got the expected answer, "I'm huge," someone tossed out, "…and the babes go wild!" Next thing you know, Mike and Billy and trumpet player, Steve "The Kid" DeCurtis began running with the idea and the lines began to flow. Kevin Cason, the band's bass player and chief arranger said, "I'd better write this down!" Before the sun came up, the song had been born. Before long, the band had worked up an arrangement of the tune and they debuted it at The Casino at their next appearance on Labor Day weekend to massive audience response.
Steve Smith: "We'd met a DJ whose name was Mike Nardella. He owned a company called 'Nard's Rock and Roll Review.' He used to work with us in Falmouth out on Cape Cod, and we became really good friends with him. Mike's DJ company was based in Washington, DC where he had over seventy DJs playing in every club all over the city. He started playing 'I'm Huge' in the city and it became a big, big anthem in Falmouth and in DC. We did a video for it that made Basement Tapes on MTV and we got limited play in nine or ten major markets all over the country. There was a guy in Ohio called "Daddy Wags" that used to use it as his drive time intro. So Nard said, 'We gotta bring you guys to DC.' And he would put us in clubs that never had bands, but because of 'I'm Huge' we would play in all these different places seven nights a week for two weeks. Fourteen days straight! Every night in a different club."
The band returned to Renda's studio in 1984 to record their first album. They included both sides of the second single and seven new original songs produced by Kevin Cason and the band's keyboard player at that time, Joe Souza. "Coming To A Theatre Near You" released on the band's own label, Huge Records, did amazingly well for an independent release with strong sales and lots of national airplay. All the buzz and activity brought them to the attention of the Miller Brewing Company who offered the band sponsorship and publicity through their Miller Music program. "She's A Crook" from their album was included on a Miller-sponsored RCA Records compilation LP of the best unsigned acts in America. Their territory expanded yet again and The Nakeds developed a strong following down in the Carolinas on the vibrant "Beach Music" scene.
The style is a general reference to any R&B-based material which is determined to have the perfect feel for dancing "The Shag," a '60s revival of a Swing Era dance step. (Prime examples are Willie Tee's "Walking Down A One Way Street" and "Give Me Just A Little More Time" by The Chairmen Of The Board.) The Nakeds' style was perfectly suited to the genre and the band recorded one of Kevin Cason's original songs, "American Girls," to celebrate their acceptance on the scene and it has since become a Beach Music staple appearing on many compilation albums. The major labels started nosing around again and, at that point, it seemed like just a matter of time until the Nakeds would have a record deal and follow in the footsteps of Steve's cousin John Cafferty whose Beaver Brown band had hit the big time the previous year with their score to the motion picture "Eddie And The Cruisers."
But despite all the great things happening with the band, beginning in 1984 with the return of the 21 year old drinking age, the nightclub business began slipping and shrinking. Since that time, when "Coming To A Theatre" had failed to gain the band a record deal, Steve had been rethinking and refining his approach to the music business and had come to the firm conclusion that he was in it for the long run – that the true goal was not just reaching for the brass ring to become a "star" or make a million dollars, but to just keep on playing because in the end, it's really all about the music. It's about being a musician and having to play music.
In the late 1980s, he made one small, temporary concession to the times and the economy and downsized the band to seven pieces for a year or so. But unhappy with the sound, he soon returned to the classic 10 piece lineup. As he put it to this writer, "I decided I'd rather be broke and sound great instead of making a little money and suck." This turned out to be the right move.
The reappearance of the ten-piece lineup was greeted with enthusiasm by the club owners and a resurgence in attendance at their shows sparked new interest from the music business and the band once again started turning heads in the industry.
Steve also knew that he could not impose his philosophy on nine or ten other people and began encouraging his musicians to go to school to learn something to fall back on, even if it meant leaving the band temporarily or leaving the group altogether. (This was not an entirely new way of thinking. After all, Steve had his degree as a fallback.) Kevin Cason enrolled at the Berklee College Of Music and Steve DeCurtis entered Rhode Island College. They both completed their studies while the band was in full swing.
It was during this period that the groundwork was laid for the Nakeds' longstanding collaboration with saxophonist Clarence Clemons of Bruce Springsteen's E Street Band and for the foundation of the band's extensive philanthropical efforts.
WHEN THE BIG MAN JOINED THE BAND
"We'd become good friends with a guy named Paul Gerdon who owned a club in DC called McKay's. Paul was a gentle giant; he suffered from obesity. He weighed about 575 pounds, but he was the jolliest guy you'd ever met in your life. He loved music and he loved bands. He would open his restaurant up after hours so the bands that were on the road could come and eat, he would feed you. And he would do the same thing for the national acts. He'd gotten very friendly with Springsteen's band and Paul and Clarence had bonded. The clubs in DC would close at three. He would lock the doors and tell the bands to come by at 3:30 and feed everybody! Our band was always eleven, twelve people and we always had trouble making ends meet with hotel rooms and travel expenses. We'd get one motel room and have seven guys sleeping on the floor. So Paul offered up his home. He said, 'When you come down, I've got a big house – you're more than welcome to stay with me when you're here for an appearance.' So we ended up moving in with Paul every time we came down to play, and through that relationship, I got to meet Clarence a couple of times. Paul, as I said, had an obesity problem. He used to get sick all the time. Once when we were staying there, I think it was probably 1984, he had a staph infection and needed to go to the hospital. But, he'd been humiliated on previous visits because they didn't have a scale big enough to weigh him on. The didn't have a bed big enough for him. And they didn't have a wheelchair that could carry him."
The band eventually talked him into a hospital stay and he recovered, but a few months later, he passed away from heart failure during one of the band's visits. "He died in his sleep while we were there. It took ten of us to carry him out of the house. Clarence and I were pallbearers at his funeral and after the services, we started talking about obesity and how humiliating things had been for Paul – how there were no wheelchairs, no this, no that. And we decided that day that we were going to start an annual benefit in his name and begin doing research about obesity." They decided on a name for their charity and held the first "Big Man's Benefit" in 1985 with Clarence appearing with The Nakeds. (Steve Smith: "Well, Clarence was known as 'Big Man', Paul was a huge guy, and we were known for 'I'm Huge', so…but really, it's about Paul – he was 'The Big Man.'")
They raised $10,000.00 for equipment and to begin a campaign to raise awareness. Over the course of the next few years, the lineups came to include others from the E Street band including Garry Tallent and Nils Lofgren as well as Clarence's side project, The Red Bank Rockers. Steve and Clarence participated in the design and fabrication of the first wheelchairs, scales and hospital beds designed to accommodate people weighing up to one thousand pounds and began donating the equipment to medical care facilities around the country beginning with Georgetown Hospital where Paul had been treated. They continued the program for ten years altogether with Steve presenting a wheelchair in Paul's name to Miriam Hospital in Providence in their ninth year.
In 1991, Bruce Springsteen broke up the E Street Band. Clarence had already broken up the Red Bank Rockers and was left without a viable touring unit. When he complained to Steve that he had nothing to do, Steve replied, "How about if I put a few shows together and you can come up and play with us for a couple of weeks?" The first two week tour of East Coast dates was a smashing success and the beginning of a ten-year partnership. The Nakeds were the perfect backing band for Clarence and he was delighted with the prospect that he would not need to carry the ball by forming his own band. He told Steve to take as many dates as he could get and for the next decade, Steve Smith & The Nakeds featuring Clarence Clemons became one of the most popular touring attractions in the country with a particular stronghold in Las Vegas.
One highlight of their partnership was an invitation from President Bill Clinton to participate in a healthcare reform rally at Liberty State Park in Jersey City, New Jersey. With Ellis Island, the twin towers of the World Trade Center and the Statue of Liberty as the backdrop, they performed alongside Boyz 2 Men and Peter, Paul & Mary to 25,000 people.
Although there had been much interest from the major labels since the release of "Coming To A Theatre" in 1984, no record deal had materialized for the Nakeds. But that looked like it was about to change when Steve and Clarence began gathering investors to record an album together. Everything was lined up and plans were laid to begin recording in the winter of 1997 when Clarence received a fateful telephone call.
"He got a phone call from Bruce and he was dancing around the bus. I was sitting there thinking, 'Oh, my God.'  Clarence looked at me and he said, 'I'm goin' back with the E Street Band.' I said, 'Yeah, that's great…' He replied, 'Well, what's the matter? You don't look too happy' and I said, 'We've got this album happening and we've got all these people investing money in it.' Clarence told us not to worry about it, to starting recording the tracks and when he was needed, just call him and he'd be there and I knew everything would be cool."
Clarence was true to his word and hit the studio with the Nakeds during and in between legs of the first Springsteen reunion tours. He contributed an original song and brought Nils Lofgren on board who contributed three songs to the project. And although the final product did not turn out to be the full collaboration originally planned due to Clarence's E Street Band commitments, his and Nils' presence on the album brought it a lot of national attention when released in 2000. "Never Say Never" was again a best-seller with their fan base and drew the attention of the majors, but once again, no record deal materialized.
And so, for the first decade of the new millennium, Steve Smith & The Nakeds soldiered on, playing their now patented, highly original form of Rock 'n' Roll and R&B, working around the schedules of the guys who'd taken regular day jobs and keeping the torch burning. And then, the unexpected happened – the brass ring fell into their collective lap.
THE FAMILY GUY
Steve's younger brother, Danny Smith, had begun his career in television as a correspondent for the locally produced segments on the WJAR/Channel 10 affiliate of the syndicated news and entertainment program "PM Magazine." He moved his family to Los Angeles in the early 1980s with an eye to becoming a television writer. After working at clerical jobs in the industry for several years, he broke into the field and wrote for several successful series including "Head Of The Class," "Third Rock From The Sun," "Nurses,"  and "In The House" starring LL Cool J. In 1998, he interviewed with Seth McFarlane, a former Rhode Island School Of Design student who was developing an animated series about his (mostly bizarre) experiences in and memories of Rhode Island. Thanks to the Rhode Island connection and Dan's resume and personality, he got the job. After a couple of false starts, "The Family Guy" established itself as one of the most successful and longest-running animated series in the history of television with Danny winding up as an executive producer, one of the main writers and the voiceover actor for several recurring characters. In 2008, Dan submitted an idea to Seth McFarlane to write an episode focusing on Quagmire, the series' resident sex pervert, featuring the Nakeds' recording of "I'm Huge (And The Babes Go Wild)." Having his own musical preferences, Seth did not warm up to the idea and rejected it. Unwilling to let go of the idea entirely, Dan created an "I'm Huge" video clip and included it as a bonus feature on the DVD collection of the series sixth season in 2009. It took off like a rocket from there. A YouTube posting of the "I'm Huge" clip raked in over a quarter million hits and the majors came-a-callin'. The band signed with Hit Brothers Records which secured the group a distribution deal with RED Music, a division of Sony Music, the biggest record company in the world. A "greatest hits" package culling tracks from the band's two albums entitled, of course, "I'm Huge" was assembled and the initial CD pressings sold out several times and became a top-selling download on iTunes and Amazon.
In 2012, the band returned to the studio to record its first album of new material since 2000's "Never Say Never. "Under The Covers" is a collection of their favorite (and some of the most popular) cover songs in their repertoire and looks likely to become the biggest selling album of their career.
LONG TRAIN RUNNIN'
Steve Smith has accomplished many things in his forty-plus years in the music business and four decades as the leader of Naked Truth and The Nakeds. Aside from a couple of small missteps (a brief period in the late 1970s when the band attempted to supplement its income playing disco covers on the side under the name Brass Tacks and the temporary downsizing in the mid-1980s), he has never strayed from his artistic vision.
As a band leader, he has never ruled with "an iron fist" and relies on his band mates for input and guidance, preferring to lead the group as more of a first amongst equals much like John Lennon with The Beatles. (And after all, someone needs to be in charge!) He is also arguably the single biggest employer of Rhode Island rock musicians in our history with over sixty players passing through the band over the last four decades.
As a business man and a pragmatist with a down-to-earth philosophy, he developed a policy of never burning bridges. As one of the most personable people in the business, he also inspires the loyalty and confidence of his musicians. One need only look at the current lineup of the band in 2013 to see how those two principles have paid off: the band's keyboard player for the last fifteen years is none other than Frank Rapone, one of the founders of Naked Truth who returned to the fold after a twenty-five year absence; saxophonist Bobby DeCurtis is in his third run with the band after two earlier departures; Bobby's brother, Steve "The Kid" DeCurtis, remains as the longest-running member, bar Steve, at forty years and counting; and the band's baritone sax player, Thomas "T.J." Schwartz has been in the horn section since 1976.
Steve has also continued to dedicate a large portion of the band's time and energy to charitable pursuits. In 2000, he formed Rock 'N' Jock Charities with his cousin John Cafferty of The Beaver Brown Band and Johnson & Wales Sports and Entertainment professor Michel Gilbert. Their endeavor's annual golf tournaments and star-studded concerts have raised over $250,000 for The Matty Fund and other children's charities in Rhode Island.
On April 28, 2013, Steve Smith and the members of Naked Truth and The Nakeds will be inducted into the Rhode Island Music Hall Of Fame in honor of their four decades of accomplishments and philanthropical efforts. The examples of determination, conviction and dedication they have set down will continue to inspire new generations of Rhode Island musicians for many years to come. With renewed national attention and a still-growing fan base, the band is poised  to continue on into the foreseeable future.
And that's what it's all about – the order of the day: playing music. When this writer recently asked Steve Smith how long he planned to continue the pursuit of his musical vision, Steve replied, "Until the phone stops ringing," without batting an eye.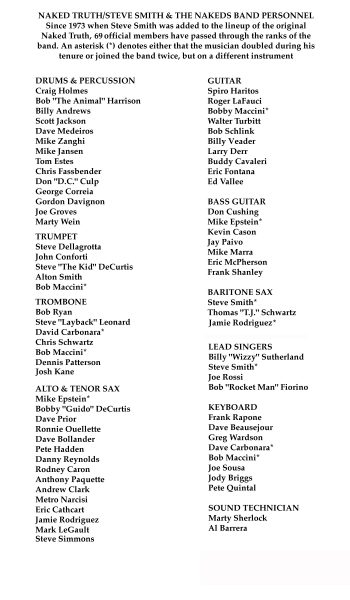 STEVE SMITH & THE NAKEDS DISCOGRAPHY
Original Releases
Compiled by Rick Bellaire
NAKED TRUTH – STEVE SMITH & THE NAKEDS
PHOTOGRAPHY & MEMORABILIA GALLERY
Compiled by Rick Bellaire

The Rhode Island Music Hall of Fame would like to thank Steve Smith for opening up his incredible archive of materials relating to the history and music of Naked Truth and The Nakeds. Without his help, this story could not have been told in such a detailed and complete way.