2020 INDUCTEE
Symphonic Concert Band, Brass Band
THE AMERICAN BAND
COMING SOON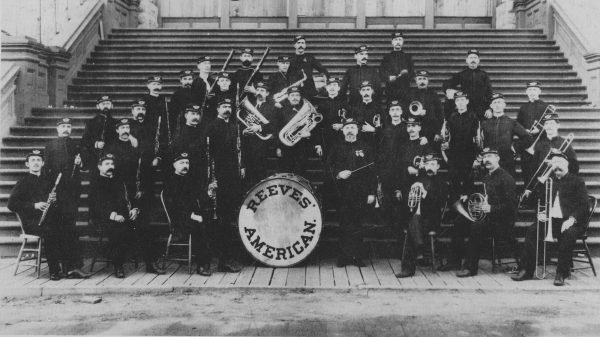 Members of the Historical Archive Committee of the Rhode Island Music Hall of Fame are researching and documenting the career of this important Ocean State institution. When work is completed, we will be posting an in-depth biography and complete discography on this page. In the meantime, please enjoy this introduction to their work.
One of the oldest community musical organizations in the United States, the American Band of Providence, was incorporated in 1837 as a 15-piece ensemble of brass instruments and drums under the directorship of Joseph C. Greene, a famed soloist on the keyed bugle. The heyday of the band was after the Civil War, when it became a professional organization going out on national tours under the directorship of cornet soloist and composer David Wallis Reeves who added flutes, clarinets, oboes, bassoons and the recently invented saxophones to the ensemble, creating the blueprint for the modern concert band sound of today.
After Reeves' death in 1900, the American Band gradually became more of a community group playing local concerts and parades. By the early 1970s, the membership had dropped and the band ceased performing until Dr. Francis Marciniak of Rhode Island College revived it in 1978. Dr. Marciniak led the revitalized group until his sudden death in 1996. Since then, the band has continued to great acclaim under the batons of University of Rhode Island professors Dr. Gene J. Pollart, and starting in 2013, Dr. Brian Cardany.
The American Band is considered one of the best symphonic bands in Southeastern New England, performing classical and contemporary music for winds and percussion at events throughout the Tri-state area. It has a 70-plus volunteer membership of highly skilled instrumentalists from various professions including many music teachers.
OFFICIAL WEBSITE OF THE AMERICAN BAND
https://www.theamericanband.org