2014 INDUCTEE
R&B
THE CASTALEERS
Rhode Island's Premier Doo-Wop Group
by Allan "Big Al" Pavlow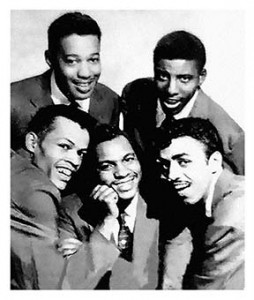 PREFACE
Rhode Island is blessed to have its share of key players in the world of rock and roll vocal group harmonizing. Recent Rhode Island Music Hall of Fame inductees, The Videls and Gerry Granahan are prime examples. However, one Providence-based quintet made their moves at a time when they were still in Junior High School and Rhythm and Blues music was not on anyone's radar. Practicing and performing simply for the pleasure of it, they grew into a well-honed, professional act which secured a contract with a national record company and competed with the superstars of the day. This is the story of The Castaleers!
The author wishes to thank the Rhode Island Rhythm & Blues Preservation Society and original group members Dell Padgett and George Smith for their generosity and cooperation in the preparation of this Historical Archive entry.
SETTING THE STAGE
Rhythm and Blues vocal groups were foot soldiers in the attack on the pop music establishment in the mid-Fifties that turned the world of sho-biz upside-down. Just before Elvis hit the scene, Bill Haley and his Comets, Fats Domino, Bo Diddley, Chuck Berry and other rockers at the center of the revolution, were surrounded by a myriad of Rhythm & Blues vocal quartets and quintets including the Chords, Spaniels, Crows, Penguins, Cadillacs, Moonglows, Five Keys, Charms, Cardinals, Clovers and Drifters. Here's an incredible statistic: 26 of the 40 R&B tunes (65%) that crossed over into the pop world in 1954 and 1955 were first recorded by such groups. Doo-Wop, as this form of Rock 'n' Roll is now known, has often been tagged as "street corner singing" but it also took place in school gyms, basements, recreation halls – just about anywhere four or five vocalists could gather to harmonize.
MEET THE CASTALEERS
And, here's where we meet the Castaleers In their first incarnation, c. 1952-1953. This vocal quintet: Herman Bergson (tenor) to be replaced by Benny Barros, Ron Henries (tenor), Richard Jones (baritone, tenor lead), Dell Padgett (bass) and George Smith (baritone) called themselves "The Parakeets" inspired by the many "bird" groups of the day particularly the Orioles and the Swallows. Prior to this, George Smith sang with the Five Tones, Dell Padgett had experience singing with the Glow-Tones, a gospel group which included Kathleen Johnson, James "Sonny" Washburn, James' sister Naomi and Lenny Vanover. Eventually, Sonny Washburn became a member of Benny Woods' 5 Dukes, then left to join the Nutmegs. Vocal group biographies tend to get a bit complicated. The group would rehearse "house-to-house" or at any other available locations such as the rec room of the Doyle Avenue Grammar School on Providence's East Side.
Among tunes getting the Parakeets treatment were the Spiders' "Witchcraft" (Dell Padgett – lead), the Cleftones' "Little Girl of Mine" (Ron Henries – lead), the Midnighters' "Annie Had a Baby" (Richard Jones – lead) and Fats Domino's "Blueberry Hill" (George Smith – lead). They also worked the Heartbeats' "A Thousand Miles Away" and in the "Collectors, Eat Your Heart Out" Dept.: the group recorded their version of Willie and Ruth's 1954 R&B hit "Love Me" on an acetate in a walk-in recording studio in downtown Providence called Johnston Recorders – well before Elvis's version hit the market. If it still exists or where it is – no one knows. Also unknown is the exact moment when the Parakeets became the Castaleers. As late as June 1956, they were still the Parakeets but they became Castaleers by the end of that year.
LIVE R&B ENTERTAINMENT
Regardless of its small size, Providence could boast an active live entertainment scene led by the world famous Celebrity Club on Randall Street. This venue lived up to its name with appearances by many of the giants in the world of jazz and Rhythm and Blues including Roy Hamilton, Fats Domino and Earl Bostic.
The Arcadia Ballroom on Washington St. in downtown Providence booked multiple-act road shows. Other area clubs included the Downbeat and the B & B.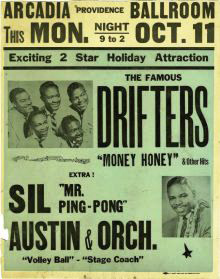 Movie theaters also booked its share of live acts, An Alan Freed package featuring Bo Diddley, the Five Keys and the Moonglows played Loew's State State Theater (now PPAC) in the last week of May 1955. The Metropolitan Theater at the corner of Broad and Empire Streets was the state's largest. And, it's where the Parakeets made one of its first live appearances in a show headlined by Tiny Bradshaw and his orchestra. At that engagement, the Hearts, one of the earliest popular girl groups sang their big hit "Lonely Nights".
ON THE AIR
Carl Henry, Rhode Island's pioneer Rhythm and Blues disc jockey had been spinning R&B sounds on WRIB turntables since 1952. By the mid- Fifties he was joined by Dick Merritt (aka "The Golden Greek") and Chuck Stevens. These jocks spun magical Rhythm & Blues sounds for a few hours each afternoon on daytime radio, leaving frantic R&B fans desperately trying to pick up out-of-town radio stations late at night. Some of us were lucky enough to pick up Alan Freed on WINS (1010) in New York City. Castaleers Dell Padgett and George Smith recall listening to WBAL (Baltimore). Now that the fans heard these great records, where could they buy them?
RECORD SHOPS
There were three record shops in Providence worth checking: Charlie's Records on North Main Street (past University Heights, on the right side of the hill heading downtown) – gone by 1956, Carl's Diggins and Muffett's Music. Carl's Diggins was owned by disc jockey Carl Henry and although it was sub-titled "House of Jazz" it was Rhythm and Blues headquarters for the genre's expanding teenage audience. It was located on Randall Street right next door to the Celebrity Club from 1952 until it moved to North Main Street in 1956. Muffett's Music on Empire Street in downtown Providence since 1947 carried just about everything on record and had a substantial selection of R & B discs. This is where George Smith and Dell Padgett bought many of their R&B records….. and that takes the Castaleers story to the next level.
THE MUFFS BROTHERS
Ray Muffs and his brother Myron were experienced in the ways of the music business. It was Ray who collaborated with Rhode Island Music Hall of fame songwriter Jimmie Crane in 1941 on the tune "It's Great to be an American" which reached national audiences via performances by bandleader Glenn Miller on his popular radio show. Ray and Myron's tune "If Santa was My Daddy" was recorded by Lael Calloway (Cab's daughter) and issued on ABC-Paramount Records in December 1956. The Muffs brothers would not overlook an opportunity – and one showed up at its door.
After constantly talking up the Castaleers, George Smith convinced Ray and Myron to give the group an audition. The Muffs were sold, took over management and began pulling out all the stops necessary to give this talented vocal group a legitimate shot at the big time. Rehearsal space was found in a dance studio in the Conrad Building (375 Westminster Street) where the group worked on four songs written by the Muffs brothers: ballads "Come Back" and "Lonely Boy" and jumpers "(My) Hi Fi Baby" and "Bull Fightin' Baby".
In 1957, the Castaleers were ready to record and time was booked at Boston's Ace Studios on Boylston Street. At the session, supervised by the Muffs, Richard Jones sang lead on the first three titles, George Smith on the fourth. In this pre-multi-tracking era, singers and musicians recorded at the same time, miked and separated by a glass partition. After a few takes, the Castaleers had four songs "in the can". All they needed was a record company to press, promote and distribute them.
FELSTED RECORDS
Although British Decca established London Records in America circa 1947 mainly for the distribution of records by its British stars, it had also signed some American artists to its roster, but by the time the Rock 'n' Roll revolution was in full swing, it had discontinued this policy, leaving the powerful label woefully behind the times. In order to get back into the game, Felsted Records was launched as a wholly owned subsidiary to sign and release material by contemporary American recording artists. The Muffs approached Walt McGuire, the Felsted label's chief honcho with Castaleers demos and he signed them on the spot. The group was one of Felsted's earliest signees and its very first Rhythm and Blues act. In December 1957, their debut single "Come Back" b/w "(My) Hi Fi Baby", Felsted #8504 was released.
PROMOTION a/k/a MAKING THE ROUNDS
In order to get a record off the ground, radio airplay was essential, but competition for the few open slots on a radio station's playlist was fierce. During its first month of release "Come Back" faced off against Bobby Helms' "Jingle Bell Rock", Sam Cooke's "I'll Come Running Back to You", Ricky Nelson's "Waitin' in School", The Diamonds' "The Stroll", Roy Hamilton's "Don't Let Go" and the Chantels' "Maybe". Trying to gain access to those turntables, the Castaleers visited radio stations to plug their single and made personal appearances at dances and amusement parks throughout New England. They promoted "Come Back" on Bob Clayton's Saturday night dance party show, "Boston Ballroom" on WHDH-TV. An up-and-coming Neil Sedaka was also a guest.
During promotional stints supporting their singles, the Castaleers also appeared on Tim Holt's TV dance party show in Springfield, at the Colonnade Club on the Hartford-Springfield border, on radio program Coke Corner, at drive-ins and even a tennis court, They found themselves rubbing shoulders with other recording artists including Paul Evans, Ruth Brown and The Shirelles.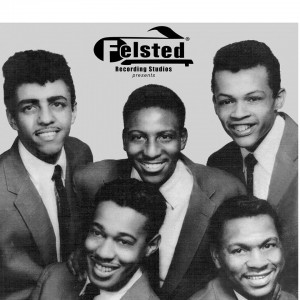 Because the group's members had paying jobs, their appearances were limited to weekends. In fact, they had to turn down a contract offer from the Shaw Booking Agency for a two-week gig in Montreal because it didn't pay as much as their "day jobs." Nevertheless, "Come Back" made noise in a few territories including California and Michigan, but not enough to convince Felsted Records to exert its power to "bring it home." In February 1958, "Lonely Boy" b/w "My Bull Fightin' Baby" was issued but suffered a similar fate. Felsted Records was too busy pushing Kathy Linden's "Billy" into the national top ten to worry. ("Billy" peaked at #6 on Billboard's Top 100.)
THE VICIOUS CIRCLE
Although the Castaleers masterfully handled rhythm rockers, smooth ballads were their forte, and ballads were the A-sides of each of their four singles. Generally, ballads are a harder sell than up-tempo tunes since it takes longer for a slow groove to establish itself in a listener's mind. Instant hit ballads like "Earth Angel", "Story Untold" and "Maybe" are few and far between. As a rule, only established acts can count on three or more weeks of widespread and sustained airplay, so new ballad-oriented groups better take off quickly…or forget it.
Undaunted, the Castaleers, the Muffs and Felsted Records prepared for the next recording session.
THE NEXT SESSION
"You're My Dream" b/w "I'll be Around" was recorded at the Castaleers second session which took place at Allegro Sound Studios in NYC. This famous indie studio, located underground, was responsible for turning out many hits. The A-side, penned by the Muffs, was coupled with a smooth updating of the Alec Wilder classic "I'll Be Around" – originally popularized by the Mills Brothers on the flip of their multi-million selling "Paper Doll" (1943). Top-flight musicians on this session included tenor sax great Sam (The Man) Taylor and pianist/arranger extraordinaire, Bert Keyes (he was the vocal arranger for many of the Crests singles). This disc was released in June 1959 and like the other two singles, did modest business.
EXIT RON HENRIES, ENTER JOE HILL – ENTER PLANET RECORDS
After their first three Felsted singles failed to click, Ron Henries opted to leave the group. Baritone Joe Hill, previously with Benny Woods and the 5 Dukes auditioned for – and won the job as his replacement. Joe Hill wrote two songs: the ballad "That's Why I Cry" and jumper "My Baby's All Right" and sang lead on both of them when they were recorded in the Summer of 1960.
By this time, Felsted Records had also lost interest in continuing the relationship, so the Muffs issued the disc on their Planet label. Although there was little initial reaction, Bob Keene, the owner of West Coast-based Del-Fi/Donna Records (Ritchie Valens, Ron Holden, the Pentagons, Little Caesar and the Romans) picked up the master and re-released it in 1961.
"That's Why I Cry" was played on two Los Angeles stations, a "wax to watch" on KRLA the week of October 13-20 and KDAY where it reached #41 on October 28th. (There may have been more activity but these are the only radio station surveys I've been able to access.)
THE CASTALEERS SESSIONOGRAPHY
First session: Ace Studios, Boston
Felsted 8504     Come Back (Richard Jones – lead) rel. 12/57
Felsted 8504     (My) Hi Fi Baby (Richard Jones – lead) rel. 12/57
Felsted 8512     Lonely Boy (Richard Jones – lead) rel. 2/58
Felsted 8512     My Bull Fightin' Baby (George Smith – lead) rel. 2/58
Second session: Allegro Sound Studios, NYC
Felsted 8585     You're My Dream (Richard Jones – lead) rel. 6/59
Felsted 8585     I'll Be Around (Richard Jones – lead) rel. 6/59
Ron Henries leaves the group and is replaced by Joe Hill (baritone) former member of
Benny Woods & The 5 Dukes
Third session: NYC (unknown studio)
Planet 44     That's Why I Cry (Joe Hill – lead) rel. 10/60
Planet 44     My Baby's All Right (Joe Hill – lead) rel. 10/60
Both songs written by Joe Hill
and re-released as
Donna 1349     That's Why I Cry (Joe Hill – lead) rel. 1961
Donna 1349     My Baby's All Right (Joe Hill – lead) rel. 1961
THE "END"
There would be no further releases from this group. They had given it their best shot, but the need for steady income was a reality that had to be faced and the Castaleers gradually disbanded. Only Ron Henries, who had already split, continued on when he joined Dipsy and the Doodles for their only single "(Archibald II) The Duke of Nothing" b/w "Jolly Cholly" on Colpix subsidiary May Records in 1963.
To all intents and purposes, the Castaleers like many, many other fine Rhythm and Blues vocal groups of that era, seemed to be heading for oblivion – but then a funny thing happened: Doo-Wop record collecting.
RECORD COLLECTORS TO THE RESCUE!
From its compelling sound to the attractive look and feel of its original 45 RPM record labels, R & B vocal group discs captured the hearts and minds of youthful record collectors. This collecting fever began at the famed Times Square Records shop in New York City circa 1960 and by the end of the decade had spread to most metropolitan areas of the country mostly out of range of the mainstream.
In this "underground" world – literally (Times Square Records was located one level down in the subway at Broadway and 42nd Streets) – collectors were willing and eager to shell out big bucks for original pressings of hard-to-find Rhythm and Blues vocal group records. And, the Castaleers whose records weren't monster hits upon release, found their Felsted, Planet and Donna records rising in value.
TODAY
There's an expression "all flowers don't bloom at the same time". It's been about fifty-four years since the Castaleers split up, but their recordings are hotter than ever, world-wide! Here's a sample: On eBay – April 14, 2014, we found:
"That's Why I Cry" – Donna 1349 $15.00 Buy it Now
"That's Why I Cry" – Planet 44 $69.99 Buy it Now
"Come Back" – Felsted 8504 $49.99 Buy it Now
"Lonely Boy" – Felsted 8512 $55.00 Buy it Now
Rare R&B records dealer Val Shivley is offering a mint copy of "Lonely Boy" for $100 on his website.
Prices fluctuate from the reasonable to the absurd. Someone on Gemm is trying to sell a VG+ copy of "Lonely Boy" for $496.30. This is supposedly a foreign pressing, but no label image is displayed.
THE CASTALEERS DISCOGRAPHY
by Big Al Pavlow & Rick Bellaire
ORIGINAL SINGLES
Come Back b/w (My) Hi Fi Baby (Felsted 8504) 1957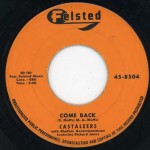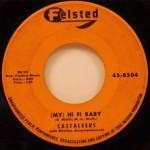 Lonely Boy b/w My Bull Fightin' Baby (Felsted 8512) 1958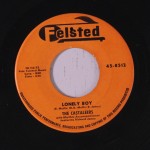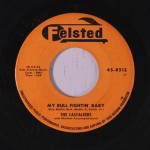 You're My Dream b/w I'll Be Around (Felsted 8585) 1959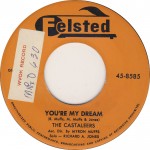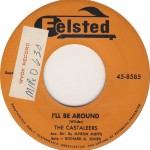 Promotional pressing from the powerful WVOK in Birmingham, Alabama
That's Why I Cry b/w My Baby's All Right (Planet) 1960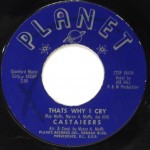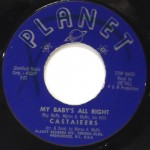 The original pressing of the first Planet Records release was issued without a catalog number and a typo: note the spelling of the group's name showing either a lower case "L" or an upper case "i"
That's Why I Cry b/w My Baby's All Right (Planet 44) 1960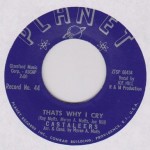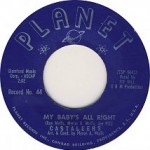 The second pressing sported a proper catalog number and the correct spelling of the group's name
That's Why I Cry b/w My Baby's All Right (Donna 1349) 1961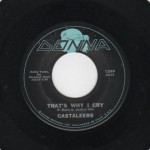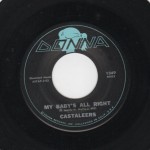 The national release of the fourth and final Castaleers record
COMPACT DISCS
For those who don't need 45 RPM originals, all of their recordings are available on compact discs at decent prices and individual tracks can be downloaded from i-Tunes and Amazon.
The Hi-Lites Meet the Castaleers (Rhythm Records 1002)
"…great ballad & uptempo tracks. Fantastic lead voices with excellent tight harmonies from back-up groups." Contains all eight tracks plus one unreleased take.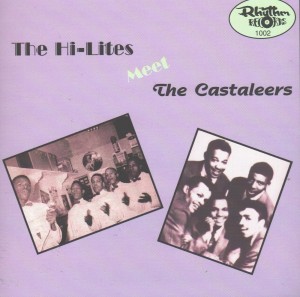 When Planets Collide  (Crystal Ball 1109)
A compilation of recordings from two Planet labels – includes "That's Why I Cry" and "My Baby's All Right." (Individual tracks are available separately on i-Tunes.)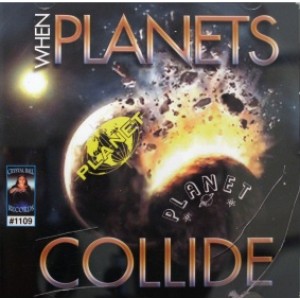 A Million Dollars Worth Of Doo Wop Vol. 2 (Live Gold 7015)
Contains "You're My Dream"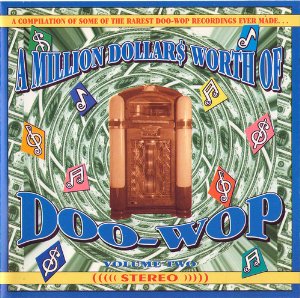 Blast Off – The Felsted Records Story  (One Day Music 2492969)
Contains "You're My Dream" and "(My) Hi Fi Baby."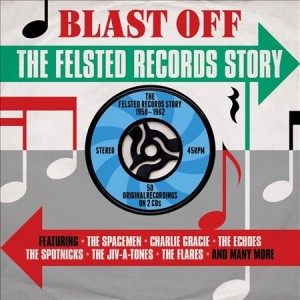 DIPSY & THE DOODLES DISCOGRAPHY
by Rick Bellaire
(Archibald II) The Duke Of Nothin' b/w Jolly Cholly (May 134) 1963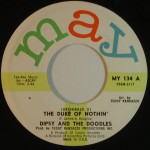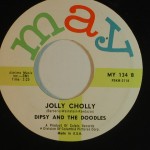 This "answer record" to the Gene Chandler smash "The Duke Of Earl" brought national attention to Ron Henries' new Rhode Island-based group. It remains a favorite on oldies stations around the world. Despite the group's proximity to popular amusement park Jolly Cholly's Funland in North Attleboro, Massachusetts, the record's B-side was written by their New York producer and had nothing to do with the southern New England summer hot spot