2015 INDUCTEE
Rock 'n' Roll
WALKIN' DOWN A LONELY STREET
The Story of
THE OTHERS
by Rick Bellaire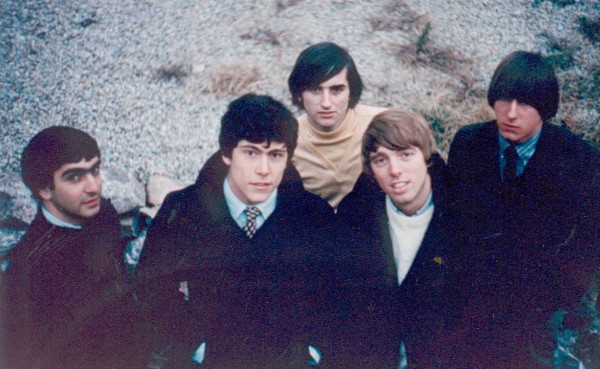 INTRODUCTION
Formed in 1964 by five Rhode Island college students (guitarists Jim DeStout and Mike Brand, drummer Mike Patalano and vocalist Pete Shepley from the Univeristy of Rhode Island and bassist John Costa from Brown University), the band became one of the most popular acts in the Northeast, enjoyed three national releases on two major labels, and still managed to stay in school! Their RCA 45s, "I Can't Stand This Love, Goodbye" (1965) and "Lonely Street" (1966), are internationally recognized as two of the greatest garage band singles of the '60s. Costa left in '66 and was replaced by Bob Johnson for a final single on Jubilee in 1967. After two more lineup changes, Bob Angell replaced Brand and Joe Parisi stepped in for Patalano, they enjoyed continued success through 1968. Shepley and Brand went on to form the Kiss precursor band Chelsea with drummer Peter Criss releasing an LP for Decca in 1970.
FOUR RAMS AND A BEAR
Jim DeStout was born in Pittsburgh, Pennsylvania and his family moved to Rhode Island when he was six years old. By the time he reached high school, he was already playing in a general business combo called The MoonGlows. The lineup was Jim on guitar, Diamond Centofanti on clarinet, sax and flute, Paul Micheletti on accordion and Ralph Lombardo on drums and they were doing well on the wedding circuit, but by 1963, Jim was ready to move on to something hipper and he formed his first Rock 'n' Roll band, The Regions.
(Diamond went on to a long career playing Jazz, Blues and Rock on the southern New England scene as both a reed player and a keyboard player with many groups including Universal Rhundel, Ken Lyon & Tombstone and his own band, Diamond featuring Pat Loncar.)
With Jim on lead guitar, his best friend Butch Giachelli on lead vocals, Dave Riccio on rhythm guitar, Jerry DeFazio on bass and Russ Sevigny on drums, the band was doing well on the teen circuit (CYO mixers, high school dances) and really took off when The Beatles hit during the 1963-64 holiday season and The Regions jumped on the British Invasion bandwagon. They continued gigging until the autumn of 1964 when Jim enrolled at the University of Rhode Island in Kingston to study electrical engineering.
During Freshman Week at URI, he met two other students who were also musicians, Pete Shepley and Mike Brand. Pete was a Physics major (who later switched majors first to Psychology and then to Creative Writing) from New Bedford, Massachusetts and an aspiring vocalist, and Mike was a guitarist from New York City there to study Economics. Pete and Mike met the first or second day of school and were roommates. They invited Jim back to their dorm to play some music. Everything clicked right off the bat. Jim knew all the latest songs from working with The Regions and Pete and Mike immediately suggested they form a band. At first, Jim was reluctant because The Regions had not officially broken up, but he knew it would be hard to keep things together with him down in Kingston. So, he agreed to form a band with them to "play on campus." As Jim explained it in an interview with the terrific website, '60s Garage Bands, the band came together very quickly.
"I went to high school with Mike Patalano (a drummer from Providence, Rhode Island also enrolled at URI as an accounting student) and we had played together in the past, so I got him to try a session with Pete and Mike. I remember that first session, and we didn't sound very good. But, Pete had a friend from New Bedford, John Costa, who he said could play bass and sing. John went to Brown University (where he was enrolled as a Classics major), so we drove up there and I remember singing Beatles songs in the parking lot with three-part harmony, and it sounded great. That was the beginning of The Others. The first time we performed publicly was at 'Rhody Night,' a talent show at the college. We sang 'When I Get Home' by The Beatles." Jim officially dropped out of The Regions and things with The Others began to snowball.
(Butch went on to a long career on the Rhode Island music scene, most notably a two-decade run as lead singer of P. F. & The Flyers, one of southern New England's all-time most successful cover bands. Russ became the original drummer for the East Providence-based Wadsworth Mansion, but left before the band hit with "Sweet Mary" in 1970.)
Before long, they were the most popular band on campus and began expanding their territory into other college campuses and onto the junior and senior high school circuits. Pete and Mike had begun writing together and John was also a songwriter (sometimes with Mike Patalano) and soon The Others had a nice catalog of original material which was proving popular with their fans. In just four months, the band had risen to the top of the Rhode Island scene and during the 1964-65 holiday season, they decided to take a shot at the big time.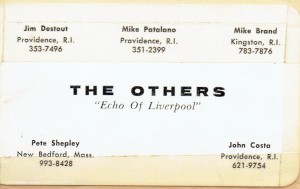 Mike Brand's dad, attorney Irving Brand, had recently met a show business manager named Bob Marshall at a party. Marshall handled a roster of mainstream acts such as comedian Myron Cohen and The Ames Brothers, the popular vocal quartet featuring Ed Ames who was making a name for himself outside the group as an actor. Brand mentioned that his son played in a Rock 'n' Roll band and Marshall suggested that if the boys were ever in Manhattan, he'd give them a listen. The following week, the band drove down to Manhattan and sang for Marshall in his office at the CBS building. He immediately offered to become their manager and, with Irving's guidance, they signed with him. (Mr. Brand would continue to look after the band's business interests for the duration of their run.) Mr. and Mrs. Brand's house became The Others' home-away-from-home with the boys staying there and rehearsing in the basement whenever they were in New York City.
Marshall arranged an audition with producer Clyde Otis in the early spring of 1965. At just forty years old, Otis was already a legend in the music business having become the first African-American executive at a major label when he signed on as A&R Director for Mercury Records in 1958. He was also a hit songwriter and producer having recorded and/or written dozens of hits for artists as diverse as Brook Benton, Dinah Washington, Elvis Presley, Johnny Mathis and Timi Yuro. By 1965, he was working as an independent producer. He liked what he heard and offered the band a publishing contract with his company Eden Music and put together a deal for the band to sign with RCA Victor Records with him behind the producer's chair.
HIS MASTER'S VOICE
In June of 1965, The Others recorded their first single at RCA Studio A in New York City. According to the wonderful Rip It Up R.I. – 1960s Rhode Island Garage Bands website, four sides were recorded at that session and two were chosen for the first single: "I Can't Stand This Love, Goodbye," a Pete Shepley-Mike Brand original for the A-side, and "Until I Heard It From You" composed by Otis with two other successful R&B songwriters, Johnny Northern and Freddie Briggs, for the B-side. (The other titles were "I Got A Feeling," a John Costa/Mike Patalano co-write which remains unreleased and "(I Remember) The First Time I Saw You," a John Costa number – more about which later.)
While the record was being prepared for release, Bob Marshall booked a plum gig for the group: he arranged for The Others to become the house band for the entire summer of '65 at a brand new discotheque, The Rolling Stone, being opened by nationally-known radio and TV personality Scott Muni. Their run was a smashing success and by the end of the season, The Rolling Stone was one of Manhattan's most popular night spots and The Others were the talk of the town.
One of the highlights of the summer was when their manager arranged an endorsement deal for them with Vox, the amplifier and musical instrument company endorsed by none other than The Beatles! The company supplied them with amps for the duration of their residency at The Rolling Stone.
"I Can't Stand This Love, Goodbye" was released in September of 1965 and started taking off, especially in the band's Northeast strongholds where Jim's dad, Pat DeStout, started working the record at radio and getting it into jukeboxes in strategic locations. The record was both of its time and ahead of its time.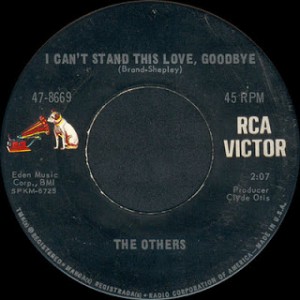 To put this into perspective, the bulk of the U.S. bands which had started up in the wake of the British Invasion were still playing "catch-up" – learning to play their instruments, wearing matching stage outfits and covering the "lighter" side of the new sound – the Beatles' early hits, The Dave Clark Five, Herman's Hermits. The Others, on the other hand, were already a professional, finely-tuned act and on top of the latest developments coming from across the pond such as the Jeff Beck-era Yardbirds, Stevie Winwood with The Spencer Davis Group and The Who. The Others were progressing rapidly, getting heavier, and their sound foretold the next wave of American pop groups. The only other contemporary release on the same plane as the group's first single was "Psychotic Reaction" by The Count Five out of San Jose, California.
"I Can't Stand This Love, Goodbye" was among the very first records of the Psychedlic era and of the genre of homegrown Rock 'n' Roll now known as "Garage Rock" and/or "Punk Rock." It predates (and was no doubt an influence on) a stream of hard-hitting, hard rocking records which would flood the American charts for the next two years such as "Dirty Water" by The Standells, "Hey Little Girl" by The Syndicate Of Sound, and "Talk Talk" by The Music Machine.
Unfortunately – for The Others, RCA Victor and the world at large – the record's autumn release coincided with the band's return to URI and two back-to-back semesters in school. The group's members (and their parents) were committed to continuing their studies in an uninterupted manner and this was especially important, not just for the "future" and for "having something to fall back on" in case the music business didn't work out. The war in Vietnam was rapidly escalating beyond any predictions and a college deferment was the preferred method of delaying the draft and postponing a decision about military service in those unsettled times. The band's unavailability to perform beyond New England during the school year inhibited Bob Marshall's ability to book the band on national tours and explains RCA's reluctance to promote the single with a full-scale ad campaign. Nonetheless, the record performed well in scattered markets around the country and RCA decided to go with a second single.
The Others returned to RCA Studio A in November, 1965 during the Fall semester's Thanksgiving break and recorded a new Shepley-Brand composition, "Lonely Street." Everyone immediately knew this song would be the next A-side and it was decided that John's song, "(I Remember) The First Time I Saw You," from the first session would serve as the B-side. With their next single in the can, the band returned to school while RCA prepared for the record's release to be timed with Spring Break '66. In the interim, bassist John Costa made the tough decision to drop out of the band to concentrate on his studies and he left the group during the holiday break in December, 1965.
John's replacement was Bob Johnson. Bob was a friend of John's from Brown who was the guitarist and vocalist with a popular campus band, J.C. & The Disciples. He was also an accomplished violinist. Bob had been hanging out with The Others and offered to switch to bass for the opportunity to join the band. They welcomed him into the fold. Jim immediately began working with Bob on bass parts and harmonies and he slid in quickly. The band was able to keep up their busy weekend gig schedule without a break in the action.
SLIPPIN' INTO THE FUTURE
When "Lonely Street" was released in March of 1966, it was a revelation. In just six months, The Others had achieved a level of maturity which might have taken years for another band to reach. The Brand-Shepley songwriting team had stretched out and presented a song which took the band into uncharted territory. The lilting melody and poetic lyric incorporated elements of the new "Folk-Rock" sound (Bob Dylan, The Byrds, The Turtles), but had no true antecedents barring, perhaps, John Lennon's "You've Got To Hide Your Love Away" from the soundtrack to The Beatles' second motion picture, "Help!"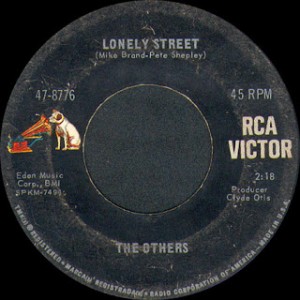 "Lonely Street", however, took that sound a step farther. Clyde Otis' spare and eerie production is based around Jim's and Mike B.'s intertwining electric guitars – not acoustic – and Mike P. decorates the atmosphere with far-off tambourine echoes and clouds of cymbal swells played with mallets. The vocal arrangement is choir-like and hints at classical counterpoint, but remains smooth and pretty. Only one other record from the spring of 1966 mines this new sound, The Byrds' "Eight Miles High," but as it released the same week as "Lonely Street," it is fair to say that neither band could have heard nor been influenced by the other's recording and that their arrival on the same plane was coincidental.
Within the year, many others would pick up on this sound (or arrive there on their own) and the combination of classical elements, folk music and psychedelia would become known as "Baroque Pop." It is important to note, though, that The Others' second single predates by months (and in some cases a full year) all of the other important records which helped define this movement including "Ruby Tuesday" by The Rolling Stones, the one-two punch of The Left Banke's "Walk Away Renee" and "Pretty Ballerina," "New York Mining Disaster 1941" by The Bee Gees and Procol Harum's "A Whiter Shade Of Pale."
The timing for the record's release couldn't have been better. The boys would be on their summer break and Bob Marshall was free to accept tour dates in support of the single. RCA Victor gave the record a good push in their pre-summer advertising in the trades and white label promos were dispatched to stations nationwide. But for some reason, the record didn't catch on. Like its predecessor, it did well in various markets nationwide and very well in their home base of southern New England, but it never reached the Hot 100. Perhaps its sound was just a bit too far ahead of its time; perhaps the summer market calls out more for dance numbers than moody ballads; or perhaps it just got lost in the shuffle during an incredible year of other great record releases flooding the market ("I Fought The Law," "Nowhere Man" and the aforementioned "Dirty Water," just to name a few).
In preparation for what should have turned out to be a big summer, the band returned to New York City when the school year ended where Jim had secured them a gig to kick off the season. While visiting New York during the school year, Jim had dropped into The Rolling Stone and run into to one of the regulars. He told Jim that he was going to be working at a brand new club set to open in the summer on West 70th Street called Ungano's and asked if The Others would be interested in being the opening band. They were and their friend got them the gig. Unfortunately, their following from the previous summer had fallen off while they were back in college and the reigning sound for Rock groups in Manhattan had shifted from the British Invasion style to the new R&B "blue-eyed soul" sound of The Young Rascals and other bands with B-3 organs such as The Pigeons (Vanilla Fudge) and The Hassles (Billy Joel). They didn't draw and didn't click with the new customers and were let go after a couple of weeks. (They were replaced by some friends of Jim's who were also their RCA labelmates, Danny Belline & The Rich Kids out of Long Island.) According to an interview with Mike Patalano on the Fancy Mag arts website, the band next "…scored another gig in the Bronx at The End, but that place was a real dump." Jim adds that it still turned out to be a pretty good gig because "…even though The End in the Bronx was a comedown from the New York City clubs, attendance was great and they loved our music."
And so, with the disappointing performance of "Lonely Street" (and thereby no national tour to support it), and the second-rate residency in a club far off the beaten path from what was happening at the hot spots in Manhattan, the summer of '66 fizzled out, RCA dropped the band from its roster, and the boys returned to college.
KINGS OF THE HILL
The Others just rolled with the punches. Not only were all of the guys still committed to staying in school and keeping up with their studies, but their star had continued to rise back home. By the autumn of 1966, many great bands had sprung up in New England and there was much competition on the Rhode Island scene from now-legendary combos such as Albi & The Spellbinders, The Mojo Hands and The Ascots, but The Others remained, by far, the most popular band in the state and the only band based in Rhode Island with national record releases. The demand for their services at school dances remained high and they were drafted to appear in concert as the opening act for most of the major stars passing through the area including The Lovin' Spoonful, The Animals and The Byrds.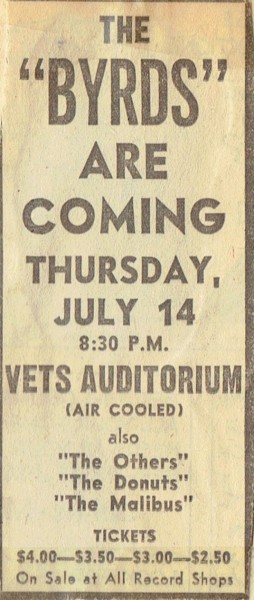 By this time, the band was operating on a truly professional level and had even acquired a couple of roadies, their friends Mark Azza and Bob Hefner, who transported and set up the gear for their performances. The Others bided their time, hitting the books and gigging on weekends while Pete and Mike B. worked on new material. They continued refining their sound while their producer looked for another record deal.
A NEW MORNING
Clyde Otis had incorporated his production company, Argon Productions, back in 1962, but his services as a producer and songwriter were in such great demand at that time that he mainly operated as an independent during the early 1960s. By the fall of '66, he was ready to move forward as a full service operation and he consolidated all of his interests and companies into The Clyde Otis Music Group: Argon for record production; and Eden Music, Iza Music and Clyde Otis Music for publishing.
In 1966, he put together a deal to provide his various services to Jubilee Records and took The Others along with him. He signed the band to Argon Productions and renewed his publishing contract with Pete Shepley and Mike Brand under the Iza Music division.
By the time the band entered the Jubilee studio in New York City in November of 1966, it had been a year since their last recording session. During the intervening months, Rock 'n' Roll had become an "art form" and incredible music was springing up in every area of the country and the U.K. The pop world had witnessed the emergence of the second wave of L.A. acts such as The Doors and The Buffalo Springfield; the release of Bob Dylan's "Blonde On Blonde;" and the retirement from the stage of The Beatles so that they could concentrate on recording. (They had already turned out the double whammy of the "Paperback Writer" b/w "Rain" single and their "Revolver" album and were busy recording "Sgt. Pepper's Lonely Hearts Club Band" which would set the music world on its ear.)
None of these developments had gone unnoticed in back in Kingston, Rhode Island nor in the offices of Clyde Otis Music in Manhattan. The Others had not spent their time resting on their laurels and had continued to progress at a rapid rate. In the fall of 1966, they were ready to jump into the fray again.
Rush-released by Jubilee in December, "Morning" b/w "My Friend The Wizard" was a two-sided masterpiece. Both sides were written by the Brand/Shepley team, but the two songs could not be more different. "Morning" is an ode to new love which had its genesis in a classical-sounding guitar figure Jim would play constantly between songs at rehearsals and whenever the guys were hanging out. Pete and Mike B. composed the song around it and it is presented in a spacy production by Clyde featuring Bob's beautiful violin lines, intricate harmonies and delicate interplay between acoustic and electric guitars. "Wizard" is a hard rocking slice of psychedelia with backwards guitar, fuzz tone lead and a McCartney-esque bassline reminiscent of his work on "Rain." Either side – or both sides for that matter – would have been right at home in the upper reaches of the Hot 100 in 1966 (alongside "Good Vibrations," "Shapes Of Things," "I Am A Rock" and "19th Nervous Breakdown"), but it was not to be. The record repeated the performance of the RCA singles and caught on only in widespread markets. No one knew it at the time, but it was the band's swan song.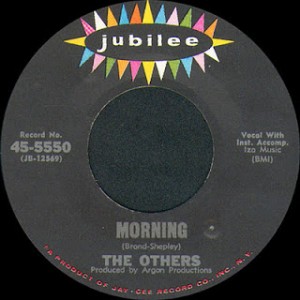 (It would be easy to compare The Others' Jubilee single to The Beatles' double-sided masterpiece "Penny Lane" b/w "Strawberry Fields Forever" – one side light/one side heavy, each song standing on its own – but, it must be pointed out that The Others' final single was released almost three months prior to The Beatles' double A-side smash. Once again, The Others may have been slightly ahead of the curve. Perhaps the success of the Beatles' single explains what appears to be a second pressing of the Jubilee single in the spring of '67. Several sources give a 1967 release date for the record and there are copies listing "Clyde Otis" as the producer as opposed to the first pressing which reads "Produced by Argon Productions." Maybe the powers that be at Jubilee decided that the public might finally be ready for the record and decided to use Clyde's well-known name to pack a little extra punch with programmers and music directors in a second attempt at getting the single off the ground. We may never know what happened for sure.)
AFTERMATH
Although the disappointing performance of their Jubilee single marked the end of The Others' quest for the brass ring, the band was still on top of the scene in southern New England, especially in their home base of Rhode Island, and they spent the next year and a half enjoying the fruits of their labors. Gigs were plentiful, the money was good and, as most performances took place on the weekend, the guys had plenty of time to keep up their grades.
At graduation time in the spring of 1968, the band lost two more original members, Mike Brand and Mike Patalano.  Mike B. returned to New York City and enrolled in law school. Mike P. enlisted in the Army and served two years which included a tour of duty in Vietnam. They were replaced by two members of another Rhode Island-based band, Blues Outlet.
Blues Outlet was one of the very first – if not the first – group in the state operating as a full time blues band. Leader/lead singer/lead guitarist Bob Angell grew up in the Olneyville section of Providence and was enrolled at URI as an English major. His drummer was Joe Parisi, a Providence College Business Management student from East Providence.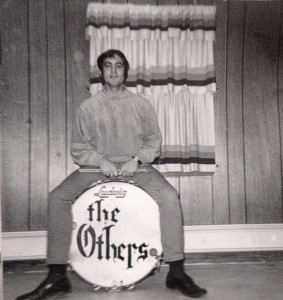 The Others finished out 1968 with the new lineup and then began to wind things down in 1969.
At graduation time, Jim DeStout taught school for a while and then enlisted in the Air Force, Bob Johnson continued at Brown University, Bob Angell and Joe Parisi both stayed in school and turned their full attention back to Blues Outlet, and Pete Shepley joined another popular Rhode Island combo, The Van Goghs.
While this concludes the story of The Others, it is not the end of the story. Several of the band's members continued on their musical journeys and, eventually, everything would come full circle for the group.
VAN GOGH IN THE PENNY ARCADE
The Van Goghs were also a college band and among the most popular groups in southern New England. Like The Others, in addition to being a successful cover band, the group was writing and recording original material and had already released two singles on independent labels. The two bands were friendly (Bob Johnson had contributed a violin track to their second single) and The Van Goghs already knew Pete. In 1969, the group's lead vocalist, Bill Gannon was having some problems with his voice and Pete was added to the five piece band to help out with the vocals. Shortly after Pete joined, The Van Goghs shared a bill with The Boys From New York City who were coming off a couple of minor hits, "Take It Or Leave It" (1967) and "I'm Down Girl" (1968). Some friends of theirs, the songwriting and production team of Joey Day and Alan Dischel, were looking for a band to cut some of their material in the emerging teen-oriented "bubblegum" style and The Boys recommended The Van Goghs. They cut two sides for the duo down in New York City, "Bubble Gum Tree" with Pete on lead vocals and "Tears In My Heart" which featured Bill. The band returned to Rhode Island and their busy gig and school schedules and more or less forgot about the tracks. By the end of the year, The Van Goghs had disbanded and Pete headed down to Manhattan to rejoin Mike Brand in their songwriting partnership.
The tracks were eventually leased to Smash/Mercury Records. Unbeknownst to the band, Day and Dischel had decided that "The Van Goghs" was too old-fashioned sounding and the two songs were released in 1970 as a single under the group name "Penny Arcade." The record did not chart.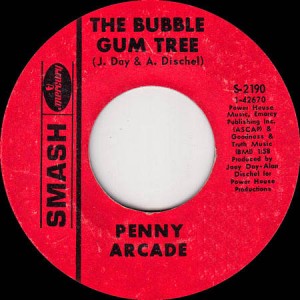 A KISS ON THE LIPS IN CHELSEA
Once reunited in New York City, Mike Brand and Pete Shepley picked up where they'd left off. The songs started flowing again and the two partners soon realized they'd be needing a band to get their new music in front of an audience.
They responded to an ad in The Village Voice from a Brooklyn drummer who was looking for a gig named Peter Criscuola who used "Peter Cris" as a stage name. They met up with him and he loved their material and joined the band. They found bass player Michael Benvenga out in Queens and he brought in a friend of his, Chris Aridas, on lead guitar. They called the group Chelsea. The band met daily for writing sessions and rehearsals and soon they were ready to give it a shot. The material was solidly based in the singer-songwriter movement which was emerging from the Folk-Rock genre (James Taylor, John Sebastian, Joni Mitchell), but the band's sound was highly original, spacy and still somewhat psychedelic, more in line with Van Morrison or Tim Buckley than with Crosby, Stills & Nash.
Since his days with The Others, Mike had maintained his music business contacts and had remained a familiar face on the scene. He arranged an audition with Decca Records and they offered Chelsea a two album deal. Lewis Merenstein, the producer of Morrison's masterpiece Astral Weeks, was brought in to helm the project and he enlisted the aid of his Astral Weeks arranger Larry Fallon (The Rolling Stones, Nico, Jimmy Cliff). Lew had recently produced Vintage Violence, the first solo album for ex-Velvet Underground member John Cale, and he brought him along to contribute electric viola to two tracks.
Released in late 1970, Chelsea's self-titled album got a good-sized push from Decca, but quickly disappeared without a trace despite two showcase appearances at The Village Gate in February, 1971: five shows opening for Epic recording artists The Chapins (Harry's brothers Tom and Steve) followed by four more headlining over Canadian blues band Whiskey Howl. The album is an undiscovered masterpiece full of moody and melodic Brand/Shepley songs (as well as one group composition and an Aridas/Benvenga co-write). The production and arrangements are stellar and maintain a careful balance between acoustic and electric instruments. Chelsea can be favorably compared to then-current releases by some of their contemporaries exploring the same general territory such as Five Leaves Left by Nick Drake, Loaded by The Velvet Underground and, naturally, Astral Weeks and Moondance.
Disappointed in the album's performance, Aridas left the band and was replaced by Stan Penridge. Work began on a second album while the band supported themselves playing gigs at clubs including the just-opened Crawdaddy on 53rd and Broadway for a week in April as well as school dances in New York and New Jersey. During this time, musical differences began to surface as Shepley and Brand were leaning towards an even more acoustic sound while the rest of the group were ready to start rockin'. Before the second album could be completed, Decca dropped the group and Chelsea called it a day.
Mike Brand and Peter Shepley continued working on new material and scored another album deal with Dick James Music. James was the Beatles' original song publisher and a powerful figure in the British music industry. In 1969, he and his son Stephen formed a production company, This Productions, and a record label, DJM Records, to record and release product by two of his staff writers, Elton John and Bernie Taupin, and to lease masters by others on his writing staff to different labels. Mike and Pete signed to Dick James Music as writers and to This Productions as artists and recorded an album. According to Mike Brand, "The album went way over budget and was never sold to a record company, although Pete and I always thought it was our best work." Mike Brand and Peter Shepley decided it was time to move on and dropped out of the music business to concentrate on their original career goals.
(Stan Pendridge, Michael Benvenga and Peter Cris continued on as a trio under the name Lips. Demos were recorded and there was some record company interest, but Lips, too, fell apart when no deal materialized. Peter Cris added a second "S" to his stage name to become Peter Criss and wound up as the original drummer in Kiss. He and Stan maintained a decades-long personal and professional relationship with Penridge co-writing the bulk of Criss' original compositions for Kiss and his solo albums. An interesting side note here is that the Kiss hit "Beth," written by Peter C. and Stan during the waning days of Chelsea, was originally entitled "Beck." The song was inspired by frequent telephone calls Mike would receive from his wife Rebecca or "Becky" which would interrupt writing sessions and rehearsals.)
THE OLNEYVILLE STOMP
Growing up in the 1950s in the blue-collar mill village of Olneyville in Providence, Rhode Island, Bob Angell, like most of his generation, got caught up in the excitement of Rock 'n' Roll. He was particularly taken with the Blues-based music of singer/songwriter/guitarist Chuck Berry. Another musician from this period Bob describes as a "huge influence" was Jimmy Reed. Reed was also a singer and guitarist who wrote the bulk of his own material and was one of the only authentic Blues musicians to score Hot 100 hits in the late 1950s and early '60s. By the time The Beatles hit during the holiday season of 1963/64, Bob was an aspiring guitarist and songwriter himself, especially when it came to lyrics. As the arrival of the Fab Four turned into a full-scale "invasion" by British Rock 'n' Roll bands, Bob found himself drawn to the music of the groups whose repertoires leaned toward the original Blues and R&B artists who'd built the foundation of Rock music such as The Yardbirds and The Rolling Stones. Those groups not only covered material by their heroes, they wrote original songs based on and inspired by the music of their role models such as Bo Diddley, the Howln' Wolf, Muddy Waters and Sonny Boy Williamson II and, of course, Bob's favorites Chuck Berry and Jimmy Reed. That approach became the template for Bob's career.
For the next two years, Bob sought out and immersed himself in the music of those originators (and dozens more) and was no longer a Rock 'n' Roller, but a Bluesman. In the spring of 1966, he formed one of the first – if not the first – Rhode Island bands dedicated to playing straight-ahead blues music. He named his group Blues Outlet. The original lineup was Bob Buco on rhythm guitar, Greg "Mole" Carlos on drums and Steve Mycroft on percussion. They played mainly Howlin' Wolf, Bo Diddley and Chuck Berry material along with some of Bob's earliest original compositions. In the fall of 1966, he enrolled at the University of Rhode Island as an English major.
By 1967, the group had become a popular attraction on campus and were performing around the state at other colleges and coffeehouses. Buco was still on guitar, Carlos had been replaced by Providence College student Joe Parisi and they'd added a bass player, Jim Parker, who was soon replaced by A. Lanni. The group did some recording at this point for Planet Records, the Rhode Island record label run the Muff brothers out of their Providence music shop, Muffet's Music. (Their single never went beyond the acetate and test pressing stages and was not released to the public.)
Bob had also begun broadcasting a Blues show, "Rhythm n' Blues 'til Midnight," in 1966 on WRIU, the university's FM radio station, which helped introduce a new generation – and a new audience – to the Blues classics. (The show ran until his graduation in the spring of 1970.)
In May of 1968, Bob received a call from Jim DeStout of The Others. Mike Brand was in the college infirmary with a case of pneumonia and Jim asked Bob to sub for him at the URI Junior Prom. The two bands were, of course, acquainted with each other, but ran in different circles for the most part. Bob Angell: "I was honored, but figured it was a one-off gig. Of course, it extended into a full time job for that whole year!" The show went off well and Jim DeStout filed that information away. In June, Mike Brand left the band to return to New York and Mike Patalano, who'd been in the ROTC during his last two years at URI, joined the Army. Jim asked Bob to join The Others and asked him if he knew any drummers. Bob recommended Joe from his own band and that became the final lineup.
The Others' popularity had not waned and during their last year, they performed on a schedule which Bob describes as "hectic." This was especially true for Bob and Joe as, in addition to their studies, Blues Outlet continued performing as well. Bob recalls one weekend when, "…Joe and I did three gigs with The Others and three with Blues Outlet: afternoons at beach parties, evenings at The Blue Door in Narragansett, an afternoon at a Brown fraternity, etc."
It was a musically rewarding and lucrative year for all involved, but by the summer of '69, it was all over and The Others went their separate ways.
For the next year, Bob and Joe turned their attentions back to Blues Outlet and their college careers. After graduating in 1970, Bob moved on to grad school earning his B.A. in English in 1972. He next entered the Army as an infantry officer and Blues Outlet was put on hold. He quickly rose to the rank of Captain, but as the war in Vietnam was winding down, he got an early out and served the rest of his hitch in the Reserves. When he returned to civilian life, Bob became a crusader for the Blues and set about turning "Blues Outlet" into a brand name. He put the band back together with Lanni and by late '72, they were in full swing again. (As of this writing in 2015, Blues Outlet is still an ongoing unit.)
Dozens of musicians have passed through the ranks in the last fifty years. Just a few of the notable names are Bobby "Harmonica Robert" Marsella; drummers Mark Steiner, Bob Richards, Jackie Howarth, Carl Eggert and Jack Moore; vocalist Kelly Knapp; and bassists Charlie "Mondo Chuck" Ruggerio, Ray "Scatman" Martin and Vincent "Chicago Vinny" Earnshaw. Along the way, Bob acquired the nickname of "Snakeshaker" and, in keeping with the tradition of other bandleaders facing ever-changing lineups such as Kim Simmonds & Savoy Brown and John Mayall's Bluesbreakers, the band is now billed as Bob "Snakeshaker" Angell's Blues Outlet.
In 1973, Bob opened a record store called, naturally, Blues Outlet in Pawtucket. It was one of the most fully-stocked Blues-centric shops in New England and during the store's five year run, Bob assisted scores of collectors by tracking down hard-to-find recordings and mentored dozens of younger musicians in Blues history all the way back to the roots.
He also started his own record label named – you guessed it – Blues Outlet to release his own recordings as well as those by other Rhode Island artists. Over the years, Bob has released, on Blues Outlet Records or his subsidiary labels, Olneyville and Wing Chun, three singles (two 45s and a cassingle), a 7" EP and a full length album on CD of his own work as well as a single and an LP by stride piano legend Shorty Jackson and the first album by the Chili Brothers, one of Rhode Island's most popular R&B bands.
In addition, since the late 1970s he has pursued a career as a music journalist covering the Blues beat and writing reviews for local, regional and national publications including The Providence Journal, The NewPaper (for which he wrote a weekly column), The Boston Globe, Blues Matters and Downbeat.
BRINGING IT ALL BACK HOME
Jim DeStout graduated from URI in 1969 with a degree in Electrical Engineering. He spent twenty-six years in the Air Force retiring as a full Colonel. During that time, he performed with a Bluegrass trio named The Rated Supplement which won the Air Force Worldwide Talent Competition in 1976 and played throughout south central Texas where he was stationed. He next worked as a defense consultant and is now retired.
Mike Brand left URI to enter law school in New York City and start up a new band, Chelsea, with Pete Shepley. He moved out to California and went on to a successful career as a freelance video producer.
Peter Shepley graduated from URI with a B.A. in Creative Writing. After Chelsea broke up, Pete earned his Master's at John Hopkins University, became a teacher and settled in the Philippines. He passed away in 2014.
Mike Patalano graduated from URI with a degree in Accounting in 1968 then spent two years in the Army including a tour in Vietnam. He became a Colonel in the Army Reserve and worked as an accountant, later founding his own firm.
After leaving the band, John Costa stayed at Brown University and graduated in 1968 with an A.B. in Classics then went on to earn his law degree at Boston University and became an attorney.
When The Others disbanded, Bob Johnson remained at Brown University then spent about a year pursuing a musical career in Europe with a Bluegrass group called The Cal Mountain String Band which toured through Scotland, Iceland, Denmark, Germany, Switzerland, France and Italy. After returning to the U.S., Bob made his living in construction and carpentry and settled in Woodstock, New York.
Bob Angell graduated from URI in 1970 with a BA in English and later earned his Master's degree. He is still performing and recording with Blues Outlet and is a Professor of writing and literature at the Community College of Rhode Island.
Joe Parisi graduated from Providence College in 1970 with a B.S. in Business Management and went on to a successful career in marketing and advertising.
The songs of Mike Brand and Peter Shepley and the music of The Others are now considered classics of 1960s Rock 'n' Roll and continue to influence new generations of musicians. The original pressings of their three major label singles are high-priced – and highly valued – collectibles around the world. "I Can't Stand This Love, Goodbye" has appeared on many punk and garage compilations and has been covered numerous times including versions by English Punk pioneers The Damned in their "pop" alter ego Naz Nomad & The Nightmares; Rhode Island's own neo-Psych band Plan 9; garage revivalists The Hurricanes and The Riviera Playboys; and by 1980s garage-punkers The Fuzztones during their opening set on the live album they cut backing R&B legend Screamin' Jay Hawkins.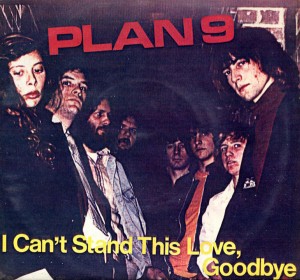 "Lonely Street" had a contemporary cover which was a hit in 1967 for the Italian pop group I Nuovi Angeli (The New Angels) oddly enough sung in the original English and The Others' original version remains a favorite on oldies radio. "Lonely Street," "Morning" and "My Friend The Wizard" have also appeared on numerous compilations worldwide.
In the 2000s, interest in The Others remains high and they have presented a series of reunion shows. In April of 2013, Jim DeStout, Mike Patalano and Bob Angell staged a "mini reunion" at the Grid Iron Ale House in Warwick, Rhode Island during an acoustic performance by their old friend Bill Gannon from The Van Goghs who performs these days as a solo. On September 14, 2014, The Others celebrated their fiftieth anniversary with a benefit performance for Operation Stand Down Rhode Island, a non-profit veterans assistance and support organization. The sold out event at The Met in Pawtucket, Rhode Island, was a full scale production featuring Jim, Mike P., John Costa, Bob A. and Bill Gannon stepping in for the late Pete Shepley.
On April 26, 2015, The Others were inducted into the Rhode Island Music Hall of Fame in a ceremony conducted at The Met. On hand to accept their awards and perform all of their single A-sides were Mike Brand, Jim DeStout, Mike Patalano, John Costa, Bob Angell and Joe Parisi with Bill Gannon once again deputizing for Pete Shepley and Bob Johnson's violin parts played by Mike Patalano's daughter Heidi.
LINKS AND RESOURCES
THE OTHERS
Fancy Mag website interview with Mike Patalano and Fan Club president Linda Walker Hill
Terrific reminiscences from Mike and Linda with rare photos of the band in concert from Linda's collection
http://www.fancymag.com/others.html
Rip It Up R.I. – 1960s Rhode Island Garage Bands website bio and discography
An excellent piece by an excellent website with an overview of the band's history plus a full discography including streaming audio of all six single sides
http://ripitupri.blogspot.com/2012/03/others.html
'60s Garage Bands website interview with Jim DeStout
Great piece from a great site including a lengthy interview with Jim and some great photos
http://www.60sgaragebands.com/others.html
THE VAN GOGHS/PENNY ARCADE
'60s Garage Bands website interview with Bill Gannon
Another excellent interview from the above site with Bill giving the band's history including details of Pete Shepley's membership and contributions
http://60sgaragebands.com/vangoghs.html
Official Bill Gannon website
Bill's site picks up his story in 1972 with Wood River Junction, the popular acoustic trio he formed with two of the other Van Goghs, Greg Morrison and Roy Nelson. There's a good bio/history, a link to a great photo collection, and Bill's constantly updated current gig schedule
http://billgannonmusic.com
CHELSEA
Rockasteria website bio/history of Mike Brand's and Pete Shepley's post-Others band
Nice overview of the band's history
http://rockasteria.blogspot.com/2013/07/chelsea-chelsea-1970-us-attractive.html
The autobiography of Peter Criss of Kiss
Makeup To Breakup: My Life In And Out Of Kiss, Peter Criss & Larry Sloman, Scribner Books, 2012
Early chapter includes his take on his time in Chelsea with Mike and Pete – easily available in stores and online in hard cover, paperback or download
http://www.petercriss.net
Kiss Monster fan site interview with Stan Penridge
In-depth interview with Peter Criss' songwriting partner, Chelsea's second lead guitarist
http://kissmonster.com/interviews/interview_spenridge082000.php
BLUES OUTLET
Official Blues Outlet website
Excellent site covering the band's history with all the latest news and up-to-date gig listings
http://www.bluesoutlet.com
Blues Outlet Facebook page
Constantly updated and features hundreds of historic photographs of the band through the years
https://www.facebook.com/pages/Blues-Outlet/233707330111920