2014 INDUCTEE
Rock 'n' Roll/Country & Western
Composer, Producer, Performer
RHODE ISLAND'S OWN ROCKABILLY REBEL
The Story of Sun Records Pioneer
WINSTON "WAYNE POWERS" COGSWELL
(1928-2020)
by Rick Bellaire
It is not possible to overstate the importance of Winston Cogswell (a/k/a Wayne Powers and Wayne Cogswell) to Rhode Island music history. Not only was a Rhode Islander literally present at the birth of Rock 'n' Roll inside the Sun Studios in Memphis, Tennessee in the mid-1950s, but while there, he made numerous, innovative and significant contributions to what became known around the world as "The Sun Sound."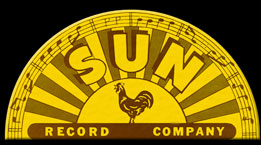 The story begins when Winston was born in 1928 in northern Maine just two miles from the Canadian border. As a very young boy, his family relocated to Warwick, Rhode Island where he took up the guitar. He later, as a young man, gained his first experience playing professionally at area dances and nightclubs. In the summer of 1954, he moved to Memphis, Tennessee with an eye to starting a cattle-hauling business. His sister Louise was already living there and his brother-in-law's family owned a stockyard which was in need of transportation services, so Winston surmised they'd be able to work together. To support himself at first while the vehicles and equipment for the business were being readied, he took a job selling Kirby vacuum cleaners door-to-door and happened to sell one to the wife of Sam Phillips, the owner of Sun Records. When Winston mentioned that he was a musician, Mrs. Phillips suggested that he and Sam should get together. He stopped by the Sun studio to introduce himself and the two struck up a friendship. He soon started the successful Cogswell Livestock Trucking Company moving cattle from Texas and Missouri to Nashville and later a second successful company with his brother-in-law.
Phillips had started the Memphis Recording Service in the early 1950s which offered remote, on-location recording for church sermons, political speeches and awards dinners. He soon expanded to open the Sun Recording Service, a professional studio catering to local artists looking to record vanity records or demos. Recognizing the lack of major record label product for the genres of music most popular at the time in Memphis (Blues, Rhythm & Blues, Country & Western), he soon began utilizing his studio to cut sides on some of the area's most popular local artists (B.B. King, The Howlin' Wolf, Doug Poindexter & His Starlight Ramblers) which he then released on his Sun Records label or leased out to other companies such as Chess Records in Chicago. He began to assemble a group of musicians to write and arrange songs, produce the records and provide the backing tracks for his artists which included some of the greatest musicians in popular music of the second half of the twentieth century such as Ike Turner, Scotty Moore, "Cowboy" Jack Clement and Roland Janes.
By 1955, Phillips had just entered the Pop market with a recent signing – an eighteen year old truck driver named Elvis Presley whom Phillips had met when he'd come in to Sun to cut some vanity records as gifts to his mother. Winston used to drop by the Sun studio on a regular basis to see Sam and check out the musical goings-on. (He was present at the session when Sam produced "Good Rockin' Tonight," Elvis Presley's second record with Scotty Moore and bassist Bill Black, and one of the most important recordings in the history of popular music. ) During one such visit, Sam was telling Winston how he was looking to move further into the new "rock 'n' roll" segment of the pop market and was on the hunt for more artists. He mentioned that another Sun regular, guitarist/vocalist Ray Harris, was looking for a guitar player and songwriting collaborator and suggested that the two should get together.
Harris and Cogswell were soon introduced and formed a partnership writing songs and rehearsing together. The duo quickly placed one of their songs for release with Sun under Ray Harris's name, "Come On, Little Mama" in 1956. It's a blazing slice of rockabilly in its infancy with an incredible Cogswell solo placing him squarely on the same plane as his virtuoso compatriots at Sun, Scotty Moore, by then acting as Elvis's band leader, and Roland Janes from the studio house band. The B-side is another "Harris-Cogswell" original, "Where'd You Stay Last Night." It's a slower, bluesier number, but still in the rockabilly style with more great guitar from Winston. The record charted well in the south and made some noise nationally, so Phillips was looking for a follow-up release.
The duo's next record is now considered a Rockabilly classic: "Greenback Dollar, Watch And Chain." The song is a Harris rock 'n' roll rewrite of a traditional folk song and was recorded at a now-legendary wild and drunken session which featured more blazing guitar from Winston, backing vocals by Winston and recent Sun signing Roy Orbison, and Jerry Lee Lewis on the piano. The B-Side, "Foolish Heart," was a Cogswell original and, like its predecessor, is again slower and bluesier than its companion piece and features Winston playing in style more akin to B.B. King than Scotty Moore. Released in the summer of '57, the new record again did well in the southern markets and Ray and Winston hit the road, playing shows throughout the south and southwest. One humorous incident from their travels is when the two auditioned for – and were accepted for – an appearance on the nationally broadcast "Major Bowes Amateur Hour" radio show. They just figured it would be a good way to promote their records, but they were disqualified when Bowes realized the two seemed a bit too "professional" and discovered they had nationally released records out! But, all in all, between Sam's refusal to send his artists out together on package tours and the demand for Ray's and Winston's services back at Sun headquarters, their roadwork was limited. They did manage to accompany Elvis to Tupelo, Mississippi where they opened the show for him on his first, hugely successful and emotional return to his hometown after his initial successes.
By 1957, with Elvis gone to the greener pastures at RCA Victor Records and facing compulsory military service, Ray Harris decided that his  "…future lay on the other side of the studio glass," as he remarked in a later interview, and left Sun and his partnership with Winston to become a founding partner in Hi Records. He secured his shares with a $3.00 investment and the delivery of a signed contract for the services of Elvis's soon-to-be-out-of-work bassist and his group, Bill Black's Combo. (Hi Records became one of the most successful independent labels of the 1960s and '70s, most notably with soul legend Al Green.)
Winston remained at Sun and became a mainstay at the label working behind the scenes as a composer, producer, arranger and guitarist, and he collaborated on sessions with all the major figures at the company including Bill Justis, Jack Clement and, of course, Sam Phillips himself. He stepped up to the mic again as a recording artist – this time as lead vocalist – for a release on Sun's sister label, Phillips International. On October 21 and 23, 1957, Winston recorded three sides during sessions with Sun's principal studio musicians: Roland Janes and Sid Manker on guitar, Stan Kesler on bass, and Robert Talley on drums.
One track, Jack Clement's "Ballad Of A Teenage Queen," was more than likely a demo for Johnny Cash as three weeks later the song was given over to Cash during a session on November 12, 1957. Winston remembers collaborating with Clement on the arrangement, based on their October session, and production for this recording which pushed open the door to the pop charts for "The Man In Black." Released on January 6, 1958, the record reached #14 on Billboard's Hot 100. The other two songs, both Cogswell originals, became his first record as a featured artist.
Released in March, 1958 as Phillips 3523, the single represents Winston's valiant attempt to move the Sun "sound" into the future. For this release, Sam Phillips rechristened Winston Cogswell with a stage name that is now rock 'n' roll legend: Wayne Powers.
The A-side, "My Love Song," is an early example of white Doo-Wop, contemporary with early attempts at the style by New York City groups such as Dion & The Belmonts and The Mystics. There's still a country/southern vibe about the cut and it foreshadows what RCA and Decca would be doing in the coming years as "The Nashville Sound" attempted to grab its share of the rock 'n' roll market with Skeeter Davis and Brenda Lee.
The B-side, "Point Of View," is a "light" rockabilly sound, much in the same vein as the style being pioneered on the West Coast by the singer/songwriter brother team of Johnny and Dorsey Burnette and guitarist James Burton behind teen television star Ricky Nelson. (During the midnight session for "Point Of View," Elvis dropped by unannounced at the studio and inadvertently ruined a take! They started over and that next take became the record.)
Either side of the Wayne Powers release might have proved a national smash for the company and made Winston a star, but it was not to be. Despite their incredible successes with Carl Perkins, Johnny Cash and Jerry Lee Lewis, the business office of the Sun organization was in disarray and cash-flow was an enormous problem. The record was not heavily promoted and Phillips really preferred that Winston remain in Memphis working behind the scenes anyway instead of sending him out on tour to promote the single.
The session logbooks at Sun show that two more sessions were recorded which list "Wayne Powers" as the artist. In 1958, he returned to the studio on May 17 and again on June 10 to cut two more sides with an even more impressive group backing him: Bill Black on bass, Jerry Lee Lewis on piano, Robert Talley on drums, and Billy Lee Riley and Winston on guitar.
The two sides went unissued at the time. Winston recorded Billy Riley's "No Love Is Mine" and his own "What Will I Do." The first remains unissued and Cogswell has no clear memory of cutting the song. But "What Will I Do," a great R&B-styled torch song with terrific piano from Jerry Lee, finally saw the light of day on the Bear Family Sun Records box sets of the 1990s. It is clearly a finished master and, judging by the presence of three of the label's heavy hitters in the backing group, it is easy to speculate that these sessions were probably intended for release as a second Wayne Powers single. Sam Phillips, who had several major releases ready to go including Jerry Lee's "Breathless" and "High School Confidential" and Cash's "Guess Things Happen That Way," probably passed on the record deciding once again to keep Winston in the studio where he needed him more than ever rather than take the chance that he'd have to send him out on the road to promote the record.
By this time, Winston was married with three children and was having difficulties making ends meet. He was not getting paid as an artist (the distributors' slow return process was blamed) nor seeing any royalties as a songwriter (despite the fact that his songs were handled by Phillips own in-house publishing company, Knox Music). Most weeks, he was not even seeing an hourly-wage paycheck for all the studio work!
At one session in 1959, he recorded his own version of a rock 'n' roll dance instrumental he called "Teensville." Knowing he had a smash on his hands, he reckoned that he had some leverage with Phillips. Sam wanted to release the record, but Winston refused to sign it over until he'd seen some back pay and royalties. When Sam was not forthcoming, Cogswell decided to set himself up with another publishing company. Now calling himself "Wayne Cogswell" (a combination of his given and stage names), he pitched it to a  Nashville publisher who placed it at RCA with the legendary guitar genius Chet Atkins himself!
The song was a smash! Wayne began funneling many of his compositions toward Nashville and he developed a friendship and working relationship with Buddy Killen of Tree Music, the most powerful publisher in "music city" at the time. He had two more cuts with Atkins, "The Slop" and "Rainbow's End," and even greater success with a song he'd written with his then wife Dolores, with whom he'd begun a songwriting partnership, "Someday, Someday," which hit big for Skeeter Davis.
He stuck around Memphis for a while attending to his usual duties in the studio and along the way, he composed and produced one more truly classic slice of Sun Records history, "Somehow Without You" by Mickey Milan. Mickey was one of just a handful of female artists at the company and Wayne knew she'd be perfect for the song. He asked another Sun artist, Bill Justis, to co-produce and provide the backing band. (Wayne had recently done Bill a similar favor by working on the arrangement for Bill's international smash hit, "Raunchy.") Mickey's record is now considered one of the finest Memphis recordings of all-time and beloved worldwide by fans and collectors. (An interesting, historical side note is that "Raunchy" became the song George Harrison performed for John Lennon as his audition to join The Beatles!)
As the '50s were drawing to a close, Wayne decided that the only way to provide for his family was to leave Sun and look for other opportunities. He figured that, as a composer, he could still do business with the publishing companies without being on the scene and in 1960, Wayne, Dolores and their kids relocated to Rhode Island where his mother was still living. He took a stop-gap job at Grinnell, the fire-protection giant, in Cranston while he decided what his next musical move would be. It was there that he met Ray Peterson, a composer and pianist from Warwick. With another friend, electrical engineer Ken Dutton, the trio formed what was to become the most successful record company in the history of Rhode Island, Wye Records. But that's another story…
THE WYE RECORDS STORY
You can read all about the second era of Wayne's career and the history and accomplishments of Wye by following this link to the "Record Labels & Producers" section of the Rhode Island Music Hall Of Fame Historical Archive:
www.ripopmusic.org/musical-artists/producers/wye-records/
Winston Cogswell passed away on November 29, 2020.
LINKS AND RESOURCES
WAYNE COGSWELL/WAYNE POWERS RECORDINGS
For more information on the career of Winston "Wayne Powers" Cogswell including 70 samples of his music, visit his YouTube and MySpace sites:
http://www.youtube.com/user/winston271001
http://www.myspace.com/WinstonCogswell
HISTORY OF SUN RECORDS
All of incredible and historic work accomplished by Winston "Wayne Powers" Cogswell during the early part of his career in Memphis, Tennessee in the 1950s is well documented at the following website:
www.706unionavenue.nl
WINSTON COGSWELL/WAYNE POWERS MEMPHIS/NASHVILLE DISCOGRAPHY:
THE TENNESSEE YEARS 1954-1959

RAY HARRIS
Come On Little Mama b/w Where'd You Stay Last Nite (Sun 294) 1956
Greenback Dollar, Watch And Chain b/w Foolish Heart (Sun 272) 1957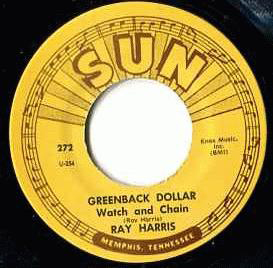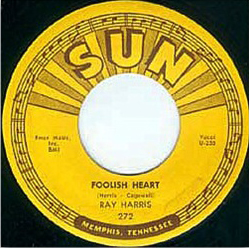 WAYNE POWERS
My Love Song b/w Point Of View (Phillips International 3523) 1957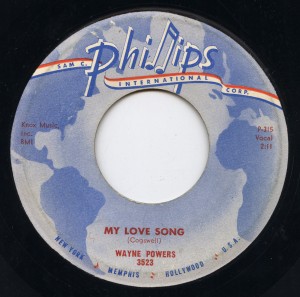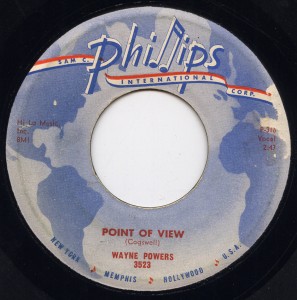 What Will I Do? (Sun Rock 'n' Roll Volume 3, Charly Records CPCD-8353)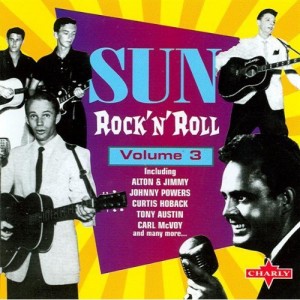 Although unreleased at the time of its recording, this Wayne Powers master finally saw the light of day on the Bear Family Sun Records box set of the 1990s. At the time of this writing (2014), the easiest – and most affordable – way to acquire this track is by purchasing the budget-priced UK compilation from Charly Records pictured above. The song is also available for download at Amazon.com and iTunes.
MICKEY MILAN
Somehow Without You b/w The Picture (Phillips International 3533) 1958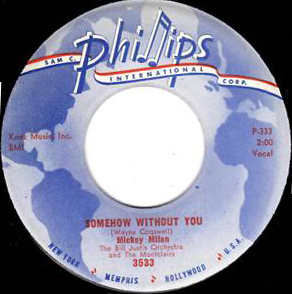 CHET ATKINS
Teensville (RCA Victor 7684) 1959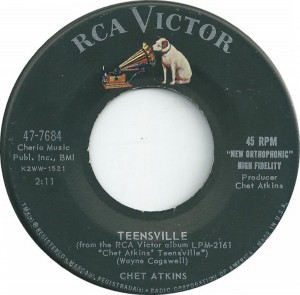 Rainbow's End (RCA Victor 7747) 1960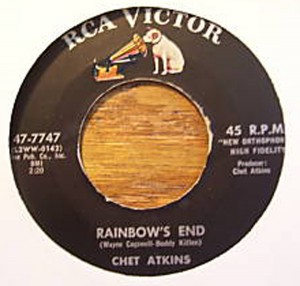 The Slop (RCA Victor 7847) 1960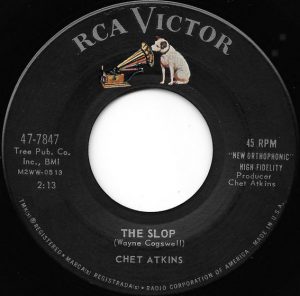 SKEETER DAVIS
Someday, Someday (RCA VIctor 7863) 1961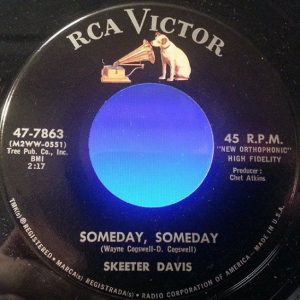 SUN SESSIONS
All of the recordings on which Wayne Cogswell participated while at Sun are available on various compilation CDs and as original records through collectors' outlets such as eBay and GEMM, but his complete works are most readily and easily available on the two Bear Family boxed sets of the history of Sun Records available through Amazon.com and other online retailers as well as by downloads at iTunes and other download services.