2016 INDUCTEES
Rock 'n' Roll

Part 1: Introduction
Part 2: Biographical Timeline
Part 3: Rudy Cheeks in His Own Words
PART 1
INTRODUCTION
by Rick Bellaire
In the early 1970s, the Rhode Island original rock music scene was defined by two bands, The Fabulous Motels and The Young Adults. Both groups featured singer/songwriter Bruce "Rudy Cheeks" McCrae, singer/songwriter/drummer Dave "Sport Fisher" Hansen and songwriter/pianist Jeff Shore. Formed in 1970, the Motels, which also featured actor Charles Rocket on vocals and accordion as well as artist Dan Gosch on toy drums and other visuals, performed their unique blend of music and comedy all over the Northeast including Manhattan. When no record deal materialized, the group disbanded in 1973. McCrae, Hansen and Shore reconvened in 1975 to form The Young Adults. They mined similar territory as the Motels, but with a new focus on the musical aspects and some of R.I.'s finest players, including guitarists Ed Vallee and Thom Enright, passing through the ranks until their 1979 breakup. The Adults were enormously popular and successful and enjoyed a regional hit with their indie single "Complex World." They were featured in two nationally released films by director Jim Wolpaw – the Showtime documentary Cobra Snake For A Necktie with the band backing Rock 'n' Roll legend Bo Diddley, and the musical comedy/action picture (It's A) Complex World for which they reunited in 1987. The band had one national album release, Helping Others. The true legacy of the two bands, however, is their far-flung influence on the R.I. arts scene and beyond – they have been cited as an inspiration by dozens of musicians including the members of Talking Heads and by filmmakers Peter and Bobby Farrelly. Since 1980, Rudy Cheeks has enjoyed a diverse career in media working as a newspaper columnist, a radio talk show personality, host of a musical comedy TV show and a nightclub entertainer and is highly regarded as a champion of the arts. He also continues to pursue his musical vision.
PART 2
IT'S A COMPLEX WORLD
The History of
THE FABULOUS MOTELS, THE YOUNG ADULTS & RUDY CHEEKS
A Biographical Timeline Compiled by Bruce McCrae, Allen Olsen & Rick Bellaire
This biographical timeline began as an oral history interview with Bruce "Rudy Cheeks" McCrae conducted by Allen Olsen of the Rhode Island Music Hall of Fame (RIMHOF) Archive Committee on April 3, 2013. Using the transcript as an outline, McCrae, Olsen and RIMHOF Archive Committee Chair Rick Bellaire spent several years filling in the gaps and present here the most complete guide to the history of this troupe of important Rhode Island artists to date. The timeline includes excerpts from an interview with Rudy Cheeks by Julia Wolfson conducted on October 29, 2003 for the Brown University/Rhode Island Historical Society Underground Rhode Island history project. A link to the transcript of Ms. Wolfson's complete interview appears in the "Links and Resources" section at the bottom of this page. Many thanks to Dan Gosch and Bonita Flanders for sharing their remarkable memories and wonderful photograph collections with us; the story would be neither complete nor accurate without their participation. (Ed.)
1950
Bruce McCrae is born January 12, in Pawtucket, Rhode Island. His earliest musical influences are the recordings of comedian, actor and jazz singer Phil Harris via his dad's record collection and reruns of television appearances in the early 1950s by Spike Jones & His City Slickers, a big band which specializes in satirical versions of pop songs and classical favorites on various variety shows including The Colgate Comedy Hour as well as live broadcasts of The Spike Jones Show and Club Oasis which run as summer replacement shows in the late '50s.
1955-1956
Kindergarten at the Potter School.
1956-1962
Grades 1-6 at the Curtis Elementary School.

1962-1965
Goff Junior High School, grades 7-9. Wants to become a writer, influenced by S.J. Perelman. Listens to The Beatles, Bob Dylan, The Rolling Stones. Begins to listen to local jazz radio broadcasts by Fred Grady where he hears Miles Davis, Thelonious Monk and John Coltrane which begins to pique his interest in modern jazz. Gets a record player of his own at age 13 as well as the gift of the LP Little Richard Sings Gospel. Starts buying Bob Dylan records after hearing his recordings at summer camp. Gets his first harmonica.
1965-1968
Tolman High School, grades 10-12. Meets guitarist Forrest McDonald while working as camp counselors at age 15. Forrest has a popular local band called The Ox Bow Incidents with drummer Dave Brooks whom Rudy had known since grade school. Forrest has albums by Muddy Waters, Howlin' Wolf, Mose Allison and others at the blusier end of jazz which Bruce borrows and takes home. He sings baritone in the Tolman High School Chorus which specializes in modern vocal music.
During this era, over at Brown University and the Rhode Island School of Design (RISD) on the East Side of Providence, the work of several bands led by future horror author and comic book historian Les Daniels helps lay the foundation for the birth of Rhode Island's underground music scene and the rise of The Fabulous Motels and The Young Adults. At Brown in 1966, Daniels, an accomplished bluegrass banjo player and vocalist, forms a folk trio, The Double Standard String Band, with future comedic recording artist and actor Martin Mull on guitar and the fiddler Sam Tidwell. They do well on the coffeehouse scene and record an album-length demo. (The album is finally released in 2001.)
The following year, Daniels and Mull join forces with pianist Ed Wise to form Soop, a folk-rock outfit which records an album of off-the-wall originals for Vanguard Records produced by legendary folk historian Sam Charters. The album remains unreleased until 1974 after Martin Mull's successes on Capricorn Records.
In 1968, Daniels forms a Brown/RISD-based rock band, Snake and The Snatch, with multi-instrumentalist Bill Dunning, guitarist Sean Paul "Snake" Milligan, Timm Duffy on bass and Dave Hansen on drums. The band performs original music including their showstopper "The Day They Blew Up Buildings In New York." The following year, Tim and Dave move on to a new lineup of musicians. They name the band Pigtown.
1968
Enters The University of Rhode Island (URI) studying Liberal Arts and History/Sociology, then declares a major in Sociology.
1969
During sophomore year, he hears the album Trout Mask Replica by Captain Beefheart & His Magic Band. Gets a clarinet to mimic Beefheart's Coltrane-style playing on soprano sax. Bruce's childhood friend Steven "Stevie Thunder" Strzepek and his cousin Timm Duffy transfer to URI. Timm has been at the Rhode Island School of Design (RISD) and is writing music with influences from Frank Zappa and Beefheart to jazz musicians including Charles Lloyd. He has a band called Pigtown with Peter Davidson on bass, Charlie "Charles Rocket" Claverie on accordion, Dave "Tonto" Schwartz on drums, Rick Lee on guitar, Jon "John Sheriff" Scherff on guitar and keyboard, and Timm on keyboards and vocals. They are a huge influence on Bruce. Later members include Stevie Thunder who replaces Davidson on bass, then Bill "Domino Floater" Bradshaw comes in on bass which allows Stevie to play guitar, accordion and keys, Dave Hansen on drums and Dan Gosch on toy drums. Dan and Charlie had their own radio show, Capt. Packard and Lobo – Ecology Super Heroes on WICE.
1970
In July of 1970, Pigtown stages an outdoor performance at URI featuring the final lineup of the band with Timm Duffy, John Sheriff, Stevie Thunder, Domino Floater, Charles Rocket, Dave Hansen and Dan Gosch. The event draws a huge crowd. Timm moves to Colorado and the band breaks up.
1971
Steve and Bruce have a radio show at URI: The Stevie Thunder Bad Taste and Immaturity Hour. They bring in Dan and Charlie and get kicked off for Charlie reading fake news. Charlie and Dan produce student films including Tits and Trucks and Capt. Packard & Lobo Visit The State House. Stevie has a movie as well, Pigtown at Livestock, a silent 16mm film.
The gang puts on a film festival sponsored by the URI Cultural Committee called Polaroid Sausage – A Frank Discussion of Elementary Cinematography (named long distance by Timm who is still out out of state) featuring Charlie as "Prof. Charles Rocket" who will lecture and show the films with everyone adding bits. Bruce brings slides and a rooster suit from the theater department and presents "Rhode Island Red" with monologue. Show is put on at URI but RISD gang comes down including Barbara "Simone Cuc" Conway and Bonita Flanders, and Charlie as James Brown with Go-Go dancers. Taped music by Pigtown is played over the P.A. system. They sell out at the URI Ballroom.
Julia Wolfson: So, were your friends at school…were they the few people that showed interest…was music a big part of who you became friends with or the people you hung out with?
Rudy Cheeks: No, I hung around with a lot of jocks and stuff like that. I was kind of, I didn't really know what I was doing at that point. It was my sophomore year that finally I found some people who were on a similar wavelength and they were not from the University of Rhode Island. What happened this guy from my neighborhood transferred to URI. His name was Steve Strzepek, aka Stevie Thunder, and Stevie was doing stuff with his cousin who was at RISD and his cousin had a band and was writing music and the music was kind of like this jazz tinged rock and roll. It was really uh… and with real satirical lyrics and stuff…and it was very original and the only thing that you can compare with stuff like that, I mean there was obviously some Frank Zappa influence there, somebody else I admired a great deal at that point and had some early records of. You know I'm also one of those guys who had the first Velvet Underground album. And it was said that it sold about 6,000 copies, but everybody bought one and started looking at it, you know.
(Rudy is referring to a quote by musician and record producer Brian Eno (Roxy Music, Talking Heads, U2) who, while assessing the far-reaching influence of the album in 1982, said that the LP in question, The Velvet Underground & Nico released by MGM Records in 1967, sold only 30,000 copies but that everyone who bought it started a band. In 2013, Recordmecca, a company which deals in rare records and music memorabilia and ephemera, revealed that it had purchased a collection which included Nico's royalty statement for the first run and the figure is almost double that estimate – the initial pressings in mono and stereo sold a combined total of 58,476 copies. Ed.)
So, um, Stevie kind of got me clued in with these guys. His cousin Timmy Duffy was also somebody I grew up with too, so I also knew his cousin who was at RISD and a couple years older and we…what happened was Timmy at one time just kind of disappeared. He graduated from RISD and was having this band and just one day he just disappeared, and nobody knew where he was for a couple of months. He materializes in like Colorado or somewhere…Texas or something, but all of a sudden all these guys that were in his band are left without the guy who was writing the songs and primarily the leader of the band and I had met all these people and become friendly with them and one of the other things we had in common was we were all interested in film and a couple of them were majoring in film over at RISD. One of them was a guy named Charlie Claverie or "Charles Rocket" and Charlie had some pretty interesting films that he was doing…which was, oh, about 1969-70. He had a film called Tits and Trucks for instance. What it was was this woman had just taken her shirt off and her naked breasts were showing. It was a shot like this just of her breasts and it was interspersed with shots of trucks driving down the street and it would go back to her breasts jiggling and trucks driving down the street.
JW: Was there music or anything?
RC: Oh no, the soundtrack was having a candid conversation with a guy named Dan Gosch who was a painter at RISD and basically, the conversation was Dan saying, "Charlie, is that someone I know? Who is that, who is that woman?" And Charlie would go, "I can't tell you, I'm sworn to secrecy Dan, I'm sorry." And then Dan would go, "Um, well, just give me her initials. You know is it someone in our class or something like that?" "No Dan, I can't tell you." I mean – and that's the whole thing. It's about a 7 or 8 minute film, but that was the whole thing and it was ridiculous you know. To us, nobody was doing anything like that. So, we thought it was really cool.
Because of the success of the Polaroid Sausage film festival, the gang thinks maybe they could sell the idea to other student entertainment committees. Patrice Duffy (Timm Duffy's cousin) is going to Connecticut College (just then no longer only for women with a 10 to 1 ratio of women to men) during the Spring of 1971 and she signs a contract with them. In the meantime, because of the Pigtown tapes included in the presentation package which would be used as background music for and in between the films, the school reps think they are a band! They want to know, "When does the band play?" so Charlie just said, "The band starts at 9:00." So, a meeting is called to form a band which begins with several members from the final lineup of Pigtown – Charlie, Dave, Domino, Stevie and Dan – and they bring in Jefferson "Jeff" Thomas on guitar because he has a loft on Pine Street which can be used as a rehearsal space and Bruce McCrae is added on vocals, harmonica and clarinet. Rehearsals at Jeff's loft: mostly cover versions including "Double Shot (of My Baby's Love)," "Rhythm of the Rain" and "Last Kiss," plus an original song, "Anguish" by Charlie. Dan Gosch appears as the master of ceremonies. The musicians play three sets under three different band names: Iron Grandmother, Electric Driveway and the Swinging Potatoes. First song ever played is "Let's Twist Again."
JW: And what was your role?
RC: I was singing, playing the harmonica, and also I had gotten myself a clarinet about a year, a year and a half before that and started playing that, so there were a couple of times where I played clarinet. And, later I got saxophones. Some friends of mine chipped in and got me an alto sax and then I bought a tenor and a C-Melody and stuff. A C-Melody, by the way, is an ancient saxophone. They stopped making it in the 1950's, but that was my preferred saxophone. It was between an alto and a tenor, but its tone, its range was very similar to my vocal range, so I really liked it a lot.
JW: Yeah. And you just taught yourself how to play?
RC: Yeah.
JW: And then what was the name of the band again?
RC: Well, what happened is, here's the problem. When we first started working with "Polaroid Sausage" we just changed the name of the band every time we played.
JW: Okay.
RC: Well, the first night when we played that gig at Connecticut College…and we also started signing contracts with other people soon after that. We still didn't have a name. When we played that night we were the "Swinging Potatoes" the first set and then we were "Electric Driveway" and then we were "Iron Grandmother" and we played another gig as "Electric Driveway" and we were just making up the names as we went along. But that was too confusing you know.
JW: Then people didn't know who you were.
RC: Right. You're certainly not going to gain a fan base by changing the name of your band every time that you play. So, we had to find a permanent name and that took a while. But we came up with the "Fabulous Motels," which was kind of a compromise; because that was the one everybody could live with. It didn't mean anything and Dan Gosch had a suggestion: the Windbreakers. He played toy drums in the band by the way.
JW: Toy drums? Like little kid's ones?
RC: Yeah, a little toy drum set. He was more like…he was a visual thing.
JW: He was like the amusement on the stage.
RC: Well yeah. Basically, we're talking about a band which was primarily made up of visual arts painters and film makers and stuff like that.
JW: So, it wasn't just the music. It was the whole image.
RC: Yeah. It was a whole surface culture. So…we…finally latched onto that and that's what happened and we started playing gigs as the "Fabulous Motels," but like I said the first three or four gigs that we played were under all sorts of different names. We never really became like an established popular band in Rhode Island. We were very underground. Where we were established, we were like the house band at RISD.
JW: Ok, so wait, now you…how many people were at RISD? There were how many of you at that point?
RC: Well, the band…let's see now, in the band was Stevie and I were at URI, Barbara had gone to Vernon Court. We used to have a female dance troupe, The Tantalizing Tampoons: Barbara "Simone Cuc" Conway, Bonita "Bonnie DeVille" Flanders and Mary "Vapo" Clarke. (Another friend, Susan Schoenfarber, served as an auxiliary Tampoon.)

JW: And they were just like friends of yours?
RC: Oh, yeah. We were just like this artist collective type thing. Yeah, there was this gang. There were ten of us. There was Barbara, Bonita and Mary, and Mary and Bonita were at RISD, Barbara had gone to Vernon Court, uh, Stevie and I were at URI, Charlie was at RISD, Dan Gosch was from RISD, John Scherff who was the guitar player was also at RISD, Sport Fisher (Dave Hansen), who was a key member of this whole thing, was from RISD and played drums and sang and Domino Floater, our bass player Billy Bradshaw, he was just like a legendary local beatnik guy who was a very good bass player and he used to play in a band with Martin Mull the comedian. They had a band called "Soop." You don't know who Martin Mull is. He was a movie actor and comedian. Used to have a TV show called "Fernwood Tonight".
Now the band needs a name. The Windbreakers and Sam & Janet Evening are rejected, and a compromise is struck with The Fabulous Motels. Everyone has a stage name but Bruce. Dave had already changed his name to "Sport Fisher" and Jeff was "Snowroute Towzone." Dave wants "Al Fartino" for Bruce, but he says, "No way." While rehearsing at Jeff's loft on Pine Street, the band becomes friendly with the hookers who ply their trade on the sidewalk across the street. While practicing, the group's amplifiers often pick up Police Band calls due to the ancient wiring in the building. One day they hear a call that the police are coming to roust the hookers. The band yells out the window to warn the ladies and invite them to hide out in their rehearsal room. While they are all sitting around having beer, one of the women says, "You have ruddy cheeks." Bruce says, "Rudy Cheeks!" and that was it – he's finally found his stage name.
Further shows take place at RISD in the refectory and in Memorial "Mem" Hall. The show is dedicated to the four dead Ohio students on the first anniversary of the Kent State University massacre. The Motels become the de facto RISD house band drawing crowds of kids from Brown and RISD. Fall of 1971, band plays the Rhode Island College (RIC) Coffeehouse booked by its student manager, John Cafferty (who goes on to form the Beaver Brown Band in 1973).
1972
Band starts booking shows: Roger Williams College (now University) on the Bristol campus, Spring of 1972 with John Lee Hooker, Big Mama Thornton and the Rhode Island-based Ken Lyon & Tombstone. In the Fall, they play The Jail regularly billed as a "Show Band." The last gig for Stevie and Domino is at Marlborough College Spring Weekend in Vermont. Acid is provided, Disney cartoons are screened followed by a performance by the Motels. (Almost drove the van over a cliff; the rooms fell through – the band slept in library.) In the Fall, Stevie's replacement is Jeff Shore on keyboards (who briefly takes the stage name "Van Sideburn" before reverting to his real name), John Holscher is brought in to take Domino's place on bass (he is dubbed "Johnny Anglostar" for the duration of his run as a Motel); and John Sheriff from Pigtown takes Jeff Thomas' place on guitar. Year ends on a big note at the Mercer Arts Center in Manhattan in their "big" room – The Oscar Wilde Room. The show earns the band a good review in Variety from influential critic Fred Kirby: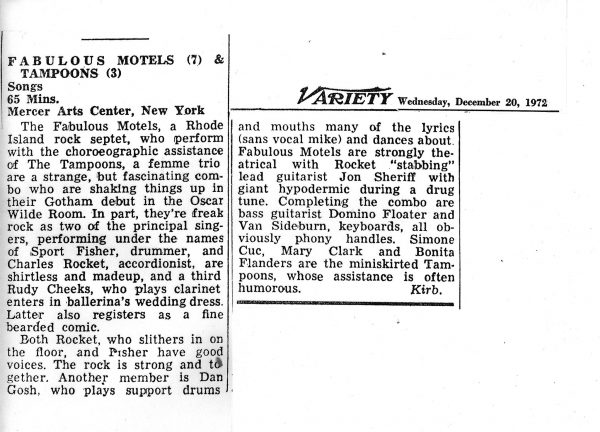 Interestingly, although famed Village Voice music critic Robert Christgau (temporarily writing for Long Island Newsday at the time) attends the same show, he gives the band a short and rather tepid review:
"In the larger Oscar Wilde Room, which charges $1.50, were the Fabulous Motels, a Mothers-type band composed of theater students from Providence, R.I. In the end, they didn't get me off, but the price seemed reasonable enough."
– Robert Christgau, Newsday, December 21, 1972
1973
Continue playing in Manhattan including a showcase in the spring of 1973 for record companies set up by friend Dickie Richardson, mover and shaker, who invites Andy Warhol's Factory crowd and record companies including Columbia. Columbia shows interest and the band records demos at one of their facilities in New York. The label passes. URI in 1973 – Motels outdraw Bruce Springsteen at the Ballroom – it was a sold-out show – followed by a successful show at Swain School of Design in New Bedford, Massachusetts.
Dick Richardson also has West Coast connections and producer Terry Melcher (The Byrds, Paul Revere & The Raiders), music director for Hollywood director Ross Hunter at MGM, is interested in producing a feature about "a crazy theatrical band." The studio kills the idea. The Mercer Arts Center literally collapses and the band has already passed on Max's Kansas City, so things look bleak for further Manhattan showcases. Band breaks up in the Fall of 1973.
1974
Rudy returns to URI for one semester and then moves to Newport to work at the Maher Center, a sheltered workshop for people with intellectual disabilities. Begins practicing the saxophone.
Charlie and Jeff Shore try to start a new band in Providence (inspired by the recent successes of David Bowie) and audition a young guitarist from RISD who was a friend of theirs and had opened (as a guitar/accordion duo with artist/musician Marc Kehoe) for the Motels, David Byrne. He does not pass the audition.
(Byrne forms a band, The Artistics, with another RISD student, Chris Frantz, on drums to play garage/punk and soul covers. He also begins writing songs with Chris's girlfriend, Tina Weymouth, and two of them, "Psycho Killer" and "Warning Sign" are added to the band's playlist. They play four shows including one at the RISD Tap Room before calling it quits. After graduation, Chris and Tina move to Manhattan and reconnect with David. Tina takes up the bass guitar and the three of them form a new band, Talking Heads.)
Jeff starts a band with South County guitarist Ed Vallee, Jump Street, to replace Ken Lyon & Tombstone at the Bon Vue Inn in Narragansett after Lyon's group is signed to Columbia Records. Dave is in Providence playing with bassist Vern Miller (of Barry & The Remains), Dickie Richardson on keys and John Sheriff on guitar and they compose and record the soundtrack for the adult film Deadly Weapons starring Chesty Morgan. (Rudy and David Byrne go to the notorious Paris Cinema, an X-rated movie theater on Weybosset Street in downtown Providence, to see it.)
1975
In the Spring, Charlie calls Rudy to play a club he is managing, Dimples, a Top 40 dance music nightspot in East Providence on April Fool's Day. The club normally only has a DJ, no live musicians. They do the gig with the Motels with Rudy in a wedding dress and a plastic Batman helmet as a "freak show" – no music. Charlie is fired. Rudy decides to move back to Providence. Calls a Motels meeting: "I want to start a band – who wants in?" Dave yes, Jeff maybe. Then Jump Street breaks up when Ed leaves to play with the Inner City Band in Boston and then Jeff comes on board. Band rents out a lemonade stand on Richmond Street they call The Microwave Lounge – it's HOT – no windows! – and start writing songs. Rudy calls Roy Gilley from URI to play bass. They want Ed Vallee on guitar, but they thought he wouldn't want to leave the big money. He would come to rehearsals, but they never ask him to join at that time. They recruit Tim Dickey, a friend of a friend, on guitar.
1976
In March, after a year of rehearsing comes the Brute Force show. "Brute" is Brill Building songwriter Stephen Friedland who has a side career as an avant-garde performer under the name "Brute Force." Joe Fischgrund enters Leo's and spots an LP by Brute Force and says, "That's my cousin Steve." The record, Confections of Love," belongs to Dewey Dufresne, the owner of Joe's sandwich shop on the East Side as well as Joe's Downtown restaurant. John Rector, the owner of Leo's, asks if he thinks he'll do a gig here. Although he's just gotten out of a sanitarium, Fischgrund says that he probably would. Rudy gets the album, loves it and the band listens to it. Brute agrees. Rector wants the band and they all agree. They will open the show, then back up Brute. They use the LP and Brute brings sheet music. They rehearse. Show sells out due to word of mouth by fans of the Motels, not due to Brute's recordings. People go wild. They decide to prepare for a whole show and Brute moves to Providence thinking it's a done deal (including a job at The Buttery on Dorrance St.), but the band soon tells him "no," and he returns to New York. They finally ask Ed to join and he says, "I'd thought you'd never ask – I'm ready!" They need a name.
They become The Chore Boys (after the scrubbing pads), then The Young Adults (subconsciously named after Bruce's summer camp counseling job on the Young Adult Staff of the Episcopal Conference Center in Pascoag). John Rector wants to sponsor the first gig at Leo's outside in the parking lot. Event is rained out – so their first gig is on July 4, 1976 – the Bicentennial. Big crowd – they love it. Get a gig at Lupo's Heartbreak Hotel. It is a success and they continue writing and rehearsing.
1977
Big Break: band books a gig at Brown University at Alumni Hall in February and around that time hear from John Myers who knows the band. He is a photographer from The Providence Journal who has permission to write for The Rhode Islander, the paper's Sunday magazine insert. It is the first time rock music is on the cover as "art." Things break wide open for the band after the piece is published and offers start pouring in – Mister T's in Bristol, The Bon Vue in Narragansett, Harpo's in Newport, January's in Pawtucket – and the Adults continue to play Lupo's. Also makes contact with Marshall Simpkins of the Inn-Square Men's Bar in Cambridge, Massachusetts where they are a huge success. In the spring, they perform with Bo Diddley, the first national act to play Lupo's. He comes as a single artist and the Adults get the job backing him and also opening the shows – 2 shows a night for a week – which really tightens up the band. They also play the Men's Maximum Security facility at the R.I. State Prison.
In the Fall of '77, Talking Heads release their first single on major label Sire Records and two students from RISD, Eve Vaterlaus and Joan Waldemath, friends of Rudy's since the Motels, get a grant to present Space Window, an art installation with concert. Rudy suggests experimental jazz band the Sun Ra Arkestra for the music, but they insist on their old friends Talking Heads and The Young Adults. They present the show at the RISD auditorium. T-Heads' first album cover circulates backstage. Prior to this, Dave Byrne and his RISD classmate Marc Kehoe had been renting a loft in downtown Providence, a former dance studio, where they'd found a wardrobe road case full of classical ballet tutus which they gave to Dan Gosch. Dan gives the road case to the Adults who begin to use the outfits as stage props. When they tire of them, they decide to give the collection back to David as a practical joke and has it loaded onto the T-Heads' truck at a gig. During this time, the T-Heads make a point of asking for the Adults to perform with them whenever possible and so, on the next gig, they sneak the tutus back onto the Adults' truck, and this back-and-forth continues whenever they play together. According to Rudy in his piece "Memoirs of the Old Providence" which appeared in the book Trouble (DMNS Publishing, Providence, Rhode Island ©2014, edited by Xander Marro), "I have no idea where that tutu trunk is now, but I hope someone has figured out something to do with them."
Band begins working with the management team of Debbie Davis and Patti DeQuattro and using Flash Groups in Connecticut as their booking agency and they start playing further afield. In late 1977, they book Trax in New York. Roomful of Blues gets a recording deal with Island Records through their producers Doc Pomus and Joel Dorn. Doc hears of the Adults through Lupo and Roomful. Jimmy Whittle from their crew begins acting as second drummer so Dave can come out front to sing.
1978
When Bo comes back for another week, Doc comes up and Rudy becomes friends with Doc – confidante and advisor. Roy is let go and replaced with Thom Enright and band adds John LaMoia on percussion for the shows. Shoot the movie Cobra Snake for a Necktie (Doc's in the movie) by Jim Wolpaw, a friend of Rich's from Brown who is bartending at Lupo's at the time. He wants to be a filmmaker and Lupo finances his first film. After the movie is shot, Ed Vallee leaves the band. John Holscher, former Motels bass player, is called in as a temp while Thom moves to guitar. More gigs including June 1978 Trax appearance. (Most of the songs from that show are posted as individual videos on YouTube.) Doc sends down Joel with Leon Redbone. Hold auditions for bass. The finalists are John Rufo and Paul Ill. Paul Ill gets the gig. Gigs keep rolling in including The Paradise and Jonathan Swift's. Plays Hurrah in New York (Rick Derringer and Robert Gordon attend, and Doc sends Southside Johnny to see them).
1979
The Young Adults release their first record, a self-produced single on their own Genius Records label featuring two of their best-known and best-loved original songs, "Complex World" b/w "Beer." The 45 sells several thousand copies and their fame begins to spread beyond the Northeast.
Early in the year, Doc calls and says Chris Blackwell asked him to recommend three bands to see in the States. He recommends the Adults. Also, Talking Heads' manager Gary Kurfirst tells Chris the same thing. He is supposed to come to Cambridge to see the band at the Oxford Ale House but doesn't make it. He hears about a Waterbury, Connecticut gig, which is closer – he can take a limo. It is not the best scenario. The band is at a run-of-the-mill club in a strip mall – just a money gig – and it is not their crowd plus Rudy spills a drink in Chris's lap. He splits and that was that. Paul Ill leaves the band. John Rufo plays bass for the final six months and band continues  – money was good – but Jeff loses heart and announces he's leaving the band. Rudy agrees with him and the band decides split up. (They play out their bookings and stage a final show at Lupo's in early 1980.)
Rudy begins writing two columns for The Providence Eagle, "That Proves It" and "Phillipe and Jorge" with Chip Young. Rudy has known Chip since 1974 at Leo's where he was bartending; they were introduced by Barbara Conway.
Rudy creates and introduces the character "Comediac" with novelist and comic book historian Les Daniels. Rich Lupo buys the restaurant across the street from the Heartbreak Hotel called the West End and puts Jim Wolpaw in charge of programming. He presents original music bands including Rubber Rodeo at the dawn of their career. There are comedy nights with Rudy as MC. And movies are screened, too, but they do not draw many customers because they are "art" films. Rudy suggests they don't work in a bar. Les says, "Why don't you show the worst movies ever made with Rudy hosting and talking back to the screen?" Plan 9 from Outer Space was the first. (This was eight years before Mystery Science Theater 3000.) Rudy also works with music writer Bill Flanagan who suggests running a Three Stooges symposium.
Dave moves to New York. Jeff gets involved with authenticating antiquities.
1980
Rudy is also dishwashing at Rector's on North Main Street in Providence. Charlie Rocket is hired by NBC-TV's Saturday Night Live to join a new lineup of the Not Ready for Primetime Players for the 1980-1981 season. He hosts the Weekend Update news segment and regularly appears in other skits.
Rudy starts a band with Rufo, Enright, drummer Tom DeQuattro and guitarist Chris Vachon called Rudy Cheeks & The Works. Starts gigging and working on originals including "Occupation Drifter" (Rudy) "Random Man" (Rufo and Scott Duhamel with new lyrics by Rudy), "You Don't Have to Mainline to Make It" (Charlie Rocket) plus Brute Force covers. They play the Inn Square Men's Bar, The Library in Smithfield, Rhode Island, and Lupo's which is reviewed in The Providence Journal by Tony Lioce. (Can be found on the RI Rocks website.) Duke Robillard, looking for a new rhythm section, swoops in during the late summer or early fall – and Enright and DeQuattro leave with Rudy's blessing. Paco Zimmer offers Adults a New Year's 1980/81 gig at his showcase club in East Providence. Rudy says, "No." Paco says, "$10,000." DeQuattro says, "YES!" The band reunites with guest Charlie Rocket doing "Dirty White Boy" and "I Got You Babe" from the Motels' days. The lineup is Rudy, Jeff, Dave, John Rufo, Tommy DeQuattro on 2nd drums and percussion and Thom Enright. (Adults have to use Duke as opening act to get Thom and Tommy.) Dan Gosch provides special backdrops for the stage (Einstein, Nixon, Sammy Davis Jr.). Show sells out.
1981
Rudy continues all activities plus shoots a pilot for Channel 12 based on Comediac, Low-Budget Playhouse. Charlie gets fired by NBC for using the F-bomb on Saturday Night Live. Rudy MC's Tiny Tim & and The Tits show at Simon's and Charlie shows up. Tim advises him on lawyers in case he plans to sue NBC. Rudy also works on "Comedic – The Motion Picture." Les is in England writing a movie (never released) and Les and Rudy get Jim Wolpaw to film it. Les and Rudy write the script with Rudy as Comediac (stand up) and Lupo as his brother. They complete 20 minutes but could not get financing to continue. (Foreshadows "King of Comedy" – 1983 – by a year.)
1982
Cable TV starts up in Rhode Island and Manoog Kaprielian from Cox calls. He has a real vision for public access programming and offers a local origination show or a commercially sponsored show. Tom Zorabedian (film professor, Ph.D.) becomes co-producer, Bonita Flanders (from the Motels) is the art director and eventually one of the directors, and Tim Tierney is a director as is Bob Vennerbeck (later a film professor at RISD). Club Genius runs for two years. Musical guests include The Schemers, The Incredible Casuals, The Debutantes, Rash of Stabbings, Rubber Rodeo, Duke Robillard & The Pleasure Kings, Ed Tabela, and The Tomcats. Billy Flanagan is the commentator. Jeff and Rudy write the theme songs.
Dave Hansen's band in New York, Cool It Reba (with drummer Kevin Tooley formerly of Rhode Island band The Mundanes), scores a record deal with Hannibal Records founded by legendary producer Joe Boyd and release a well-received 4-song 12" EP called Money Fall Out Of The Sky.
1984-1989
Show ends. Still doing Comediac as a live act starting at the West End, then Steeple Street, to Brown Grad Center Bar, and then to the Last Call Saloon. The last hurrah is at Hope's second location on Dorrance Street in downtown Providence. Spends the rest of the 1980s writing for The Providence Eagle, continuing Comediac, teaching Adult Education courses at the Community College of Rhode Island (Sex, Drugs and Rock 'n' Roll, Exploitation Films, The History of American Humor, and How to Really Mess Up Your Life with Dr. Brian Deery, the intake Psychiatrist at Rhode Island's Adult Correctional Institutions). In 1985, Rudy leaves the Eagle for The NewPaper. Chip and Rudy sue the Eagle for the right to keep the Phillippe & Jorge brand (the Eagle even runs a fake column). The Phoenix Communications chain buys The NewPaper and Rudy and Chip stay through the switch to The Providence Phoenix until the paper folds in 2014.
Ron St. Pierre offers a talk show to Phillipe and Jorge. Chip can't do it because of his job at Save The Bay, but Rudy takes it starting in the spring. Rudy Cheek's Swinging Genius Party runs mid-day for about a year, then switches to weekends for another couple of years. Writing for Carolyn Fox's morning drive-time show as well. Program director decides she needs a partner and creates Fox & Cheeks in 1986. Rudy quits weekend slot. Show lasts until 1989.
Rich Lupo calls – Jim Wolpaw wants to do a movie. He has a script but needs the Adults. Jeff and Rudy meet with Lupo and they decide that the idea is "fucked up" enough to do. Rudy calls the band (same lineup as Center Stage) and everyone's in. Plays gigs in spring to A) support the band, and B) to create the soundtrack recorded in the WGBH mobile recording unit. Filming begins. Then in the Fall, Adults play three more dates, a rehearsal and two lip-synchs for the soundtrack. Then, Lupo's closes in 1988 with NRBQ, Roomful of Blues and a reformed Adults to mark the occasion. The Young Adults' soundtrack album Helping Others is released in 1989 anticipating the release of the movie. (The movie takes a while to complete in post-production and is eventually released as It's A Complex World in 1991.)
1990
"Lost year" living at University Heights apartments, collecting unemployment, showing movies at Hope's and writing Phillipe & Jorge.
1991
Adults reform again to celebrate the premiere of the motion picture It's A Complex World. Rudy becomes the professional advisor to the Rhode Island College student newspaper, The Anchor. He stays for 20 years.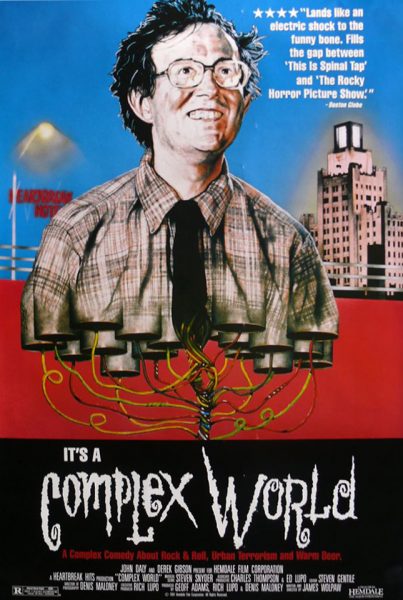 In the early 1990s, starts afternoon drive-time show at WALE. In 1993, Rhode Island musician Mike Tanaka is working at the NBC Cable network's news talk channel America's Talking in Fort Lee, New Jersey with Roger Ailes. Rudy auditions to be host of Peeved – a show during which people call with problems and the host "solves" the problems. Rudy makes the finals – it was down to two guys – but does not get the gig.
1993
Rich Lupo opens the second location of the Heartbreak Hotel in the old Peerless building on Westminster Street in downtown Providence.
1994
Forms The Jackiebeat Orchestra with drummer Jack Moore, pianist Mark Taber, Thom Enright on guitar, bassist Don Payne, vocalist Karen Capelli, and a horn section featuring saxophonists Kirk Feather, Greg Mazell and Joe "Klem" Klimek. Writes a new batch of originals: "Joys of the Poor," "Providence USA," "Super Bowl," and "Neil Postman Rings Thrice" by Mark and Rudy, some Adults material including "Nixon's Underwear," and covers including "Wedding Song" by jazz pianist Abdullah Ibrahim (formerly known as Dollar Brand) as well as Richard Rodgers' ballet "Slaughter on 10th Avenue." They play once a month at AS-220 and perform twice at Chan's in Woonsocket, and then it peters out.
1995
Rudy calls Artie Tefft, program director at WPRO-AM, because there is a hole in the talk show schedule. Rudy suggests himself and John Hackett (ex-Providence Journal editorial writer). It lasts a few months and gets dropped. Jim Corwin at Clear Channel/WHJY picks it up for WHJJ for two years, and then Rudy broadcasts alone for a while. It is all over by 1998.
Dave Hansen revisits his southwestern musical roots and begins working with a Manhattan-based group of musicians performing Western Swing and Honky Tonk. They call the band The Western Caravan featuring Thirsty Dave. They have a dedicated fanbase that stretches across the U.S. and around the world including concert performances in Sweden and Japan. In 2017 they release their first album plus a novelty Christmas single and follow up in 2018 with a second album which includes a new version of the classic Young Adults fan favorite "A Power Tool Is Not A Toy."
2003-2011
Rudy becomes the Director of Radio for In-Sight, a non-profit radio reading service for blind and visually impaired Rhode Islanders. In 2011, The Young Adults stage a reunion for three sold-out shows at the new Met Cafe in Pawtucket because Thom Enright was terminally ill and wanted to play with the Adults one last time. He was forced to drop out before the show. That led to Rudy quitting the In-Sight job to return to music. He begins playing music again with George Leonard and Phoebe Legere. (Leonard began his career with the successful Rhode Island '60s garage band Georgie Porgie & The Cry Babies; Legere is a well-known multi-disciplinary artist based in Manhattan.)
2012
Rudy becomes a founding member of the Board of Directors of the Rhode Island Music Hall of Fame. He also becomes the organization's official Master of Ceremonies and a producer of the induction events and concerts.
2013
Begins working on a television show for RI-PBS called "Meet Me at The Met" which features Rhode Island musicians filmed in concert. Rudy functions as a producer and as the show's on-air host and talent interviewer. It runs for 13 episodes after which Rudy drops out when the focus switches to a format which would focus strictly on the performances without the interview segments.
Puts together the Rudy Cheeks Band to perform at the Tune In & Tune Up Unity concerts at the Ocean Mist in Matunuck, Rhode Island.
2014
The Providence Phoenix ceases publication in October. Rudy and Chip move their Phillipe and Jorge column over to Motif Magazine.
2015
The Young Adults reunite for a show at the Sam Fest held at the Slater Mill complex in Pawtucket during the summer, and then they also perform at the 40th Anniversary of Lupo's celebration in the Fall.
2016
The surviving members of The Fabulous Motels and The Young Adults reunite for their induction into the Rhode Island Music Hall of Fame which includes a performance by The Young Adults.
Rudy continues to write the Phillipe and Jorge column and remains a fixture on the Rhode Island arts and music scene.
PART 3
BRUCE McCRAE IN HIS OWN WORDS:
THE LIFE AND TIMES OF RUDY CHEEKS
This autobiographical account of the career of iconic Rhode Island musician, writer and broadcaster Bruce "Rudy Cheeks" McCrae was written in 2013 and originally appeared on his (now-defunct) website. It gives the reader an insider's view of the workings of his legendary Rock 'n' Roll bands The Fabulous Motels and The Young Adults and presents a bird's eye view of his accomplishments in broadcast and print media during his five decades as a mainstay on the Rhode Island music and arts scene. The story comes full circle with his induction – along with all the members of the Motels and the Adults – into the Rhode Island Music Hall of Fame in April of 2016. (Ed.)
THE FABULOUS MOTELS
The Fabulous Motels (1971-74) and the Young Adults (1975-2011) have perhaps one of the strangest (origin) stories since they started out not as a band but as an artist collective.
In 1970, most of the members of what would become The Fabulous Motels were students at the Rhode Island School of Design (RISD), but they did a lot more than make films, photography, paint and sculpt.
Charles Rocket (born Charles Claverie in 1949 in Bangor, Maine) was studying film at RISD and fellow student Dan Gosch was in painting. Together they decided to become "environmental superheroes" and created the personas of "Captain Packard and Lobo." They would don capes, masks and tights and bring a film crew with them as they did things like invade the Rhode Island State House to give an award to then-Governor Frank Licht (captured in a short film, Captain Packard and Lobo Visit the State House) or show up uninvited to a Kentucky Fried Chicken franchise opening where they would startle Colonel Sanders who would be there to christen the store.
Meanwhile, at the University of Rhode Island, Steven "Stevie Thunder" Strzepek and Bruce "Rudy Cheeks" McCrae were doing a campus radio show called "The Stevie Thunder Bad Taste and Immaturity Hour" where they played Wayne Newton records and sang along. They were eventually thrown off the air when, one evening, Charles Rocket decided to enter the news booth and "make up" fake news. This apparently ran afoul of FCC regulations and they were summarily booted off the air.
Stevie Thunder arranged for a show at URI featuring the short films of Charles Rocket (among them Captain Packard and Lobo Visit the State House and the notorious Tits and Trucks). The screening, called Polaroid Sausage, attracted a sold-out crowd and the crew (now including, along with Charlie, Dan, Steve and Rudy, Dave "Sport Fisher" Hansen and Barbara "Simone Cuc" Conway) decided that we could take Polaroid Sausage on the road.
We soon secured a gig at Connecticut College in New London and, when we went there to sign the contract with the school's Student Entertainment Committee, we soon found out that they were expecting a band. We tried to explain that it was a humorous "film lecture" show but they didn't seem to understand so we quickly told them, "The band will play at 9 p.m."
So, we had gotten our first gig without even having a band! We needed some other musicians, so we immediately recruited guitarist Jefferson "Jeff" Thomas and bass player Bill "Domino Floater" Bradshaw and commenced rehearsals. The lineup that first gig in 1971 at Connecticut College was Sport Fisher on drums and vocals, Domino Floater on bass, Jeff Thomas on guitar, Stevie Thunder on accordion, Charles Rocket on accordion and vocals, and Rudy Cheeks on harmonica, concert bells, clarinet and vocals. Dan Gosch was also there, acting as master of ceremonies, under the name "Dick Clock of American Glandstand" and wearing "the head" for the first time (see below), and Simone Cuc put together a female dance troupe, The Tantalizing Tampoons, comprised of Simone, Bonita Flanders and Mary Kotselas Clarke. The audience was totally puzzled as we presented both music and elements of the Polaroid Sausage show.
"The head" is a reference to a large, fiberglass man's head, likely an advertising figure, which served as a totem for the troupe from the formative days of the pre-Motels on into The Young Adults years during which time a can of Del Monte Whole Kernel Corn and a plaque featuring Rudy's high school graduation photo and the infinity symbol were added to the stage props. (Ed.)
(According to Dan Gosch in 2020, "The Head was Charles Rocket's apartment warming gift when he first joined me as a roommate in a dump of an apartment in South Providence. My first sight of it was Charlie forcing the too-wide head through our doorway. He found it on the side of the road with the word "rubbish" painted on the neck. Later an unlocked van precipitated a big theft of Motels guitars, equipment and The Head. Dewey Dufresne (Joe's on Benefit Street owner and all-around genius and troublemaker) found it at a flea market, purchased it and returned it to me. Before the Motels there were a few related gigs, one featuring myself as a kind of MC called "Dick Clock." American Glandstand? Maybe… I wore the head with arms and a fake microphone that I made and could manipulate. I had thrown together a crude cardboard periscope so I could see where I was going. In the trip to the gig, the cardboard periscope was destroyed. The room had a low stage which was set up in the center. The room was packed with students sitting on the floor with NO clear aisles meaning I had to blindly wade into this mess as I made my way to the stage hearing the cries and curses as I crushed fingers and toes as I moved through the crowd. When I finally made it to the stage the remote mike malfunctioned causing it to cut in and out so that nothing I said made any sense. A total disaster or bold guerilla theater, you be the judge. But I kept my own name thinking Gosch (gosh!) sounded goofy enough. I think I also wanted to keep it for when we inevitably became famous and people from the past could say they knew me when. Sometimes I was introduced as Daddy-o Dan Gosch.")
But now we had a band and we decided to book some gigs, most of which were at RISD where we eventually became the house band. We were also writing our own material now and dispensing with the strange cover tunes we favored ("Palisades Park," "Last Kiss," "Double Shot of My Baby's Love," etc.) for our own material ("Your Mother's a Fish," "I've Got a Hankerin' to Yank Her Into My Arms," "The Anguish," Workshop Love," "Men"). For the next three years we played primarily college concerts with only one area nightclub having the audacity to book us, The Jail in India Point in Providence.
In 1972, there were a couple of incidents of note. First, we played a show at RISD the same night that a new student, David Byrne, came to town to hook up with his old Baltimore buddy and RISD student Marc Kehoe. David and Marc did the intermission show and David became a part of our gang. A few years later, David would "try out" as the guitarist for a band that Charles Rocket was forming after the breakup of the Fabulous Motels but, he wasn't chosen. Instead, he decided to start his own band, The Artistics with fellow RISD student Chris Frantz, soon to become known as Talking Heads with the addition of yet another RISD student, Tina Weymouth.
In December of 1972, the Fabulous Motels played the first of several shows at the Mercer Arts Center in New York City, then the hottest rock n' roll spot in the city due to the emergence of their "house band," The New York Dolls and another New England band, The Modern Lovers. By this time, there had been a number of personnel changes with Dan Gosch playing toy drums and dancing, Jon Scherff on guitar and Jeff Shore had replaced Stevie Thunder, playing keyboards instead of accordion. The Dolls were all in the audience that first night in December of 1972 when we brought the house down and the other band we were alternating sets with (a group called New York Central) refused to come out for their last set, telling us in the dressing room, "We can't follow that."
The Fabulous Motels got some interest from Columbia/Epic Records and did some demo records at their New York studios, but nothing came of it and soon, disappointed and thinking that we were just "too weird" to succeed in the Rock n' Roll business. (I don't think there were any other bands out there, except for, perhaps, the Mothers of Invention, who would, in the middle of a show, turn the stage into a game show set and proceed with a fake game show.) The Fabulous Motels hung it up in early 1974.
THE YOUNG ADULTS
In the spring of 1975, Charles Rocket had a job managing a nightclub in East Providence and Rudy Cheeks was living in Newport. Charlie called up Rudy and said, "Why don't you come up here and be the special guest for a show on April Fools' Day."
Rudy, who had just about had it working a normal job in Newport was eager to do it and showed up in a wedding dress and Batman helmet. The upshot is that, after this "show," Charlie was fired from his job managing the nightclub and Rudy had already decided to move back to Providence to start another band. Rudy called a meeting of former members of the Fabulous Motels to see who was interested in doing a band and the only two takers were Sport Fisher and Jeff Shore. Rudy got a hold of college friend, Roy Gilley, to play bass and Jeff arranged to secure a rehearsal hall in downtown Providence (the notorious "Microwave Lounge," an old lemonade stand on Richmond Street, close walking distance from Leo's and the original Lupo's Heartbreak Hotel and The Met Cafe.)
We immediately set about to writing new songs and ended up rehearsing for about a year before finally emerging as The Young Adults. By then, we had convinced Ed Vallee to leave the soul band he was playing with up in Boston to come down and be our guitarist.
We played for the first time in the early spring of 1976 at Leo's. John Rector, the owner of Leo's needed us to back up Brute Force (Stephen Friedland), a musician who had an album out on Columbia Records in the mid-1960s (I, Brute Force – Confections of Love) but had an even more interesting backstory.
When the Beatles started Apple Records, someone had sent a copy of Brute's song "King of Fuh" to Apple and George Harrison became very keen on it (as was John, reportedly). George wrote an arrangement and it was recorded for Apple and put out as a single in England. It was immediately banned from sales and airplay as the chorus was, "And the Fuh King did what he wanted to do and the Fuh King said what he wanted to say." The 45s that were pressed are now considered rare collector's items.
The gig with Brute drew a curious crowd that overflowed out the front door of Leo's and was, by all accounts, a big success and John Rector decided to throw a big party in the back parking lot at Leo's in July of 1976. We would be the band and so we needed to have at least two full sets of songs but we were ready after all the time in the rehearsal hall writing tunes. This led to our first gig at Lupo's, the biggest and best nightclub in downtown Providence. The Young Adults played there and at a few other local clubs. We also played the first of a number of gigs with our old friends, Talking Heads, the first one in the fall of 1976 at RISD during an art event called Space Window. This was just before their first album was coming out and I remember looking at the cover art backstage with them before the show. And then, we caught a big break.
The Providence Journal (Rhode Island's newspaper of record) had never really taken Rock 'n' Roll seriously as an art form but, in March of 1977, they decided to put The Young Adults on the cover of the magazine which accompanied their Sunday edition, The Rhode Islander. This was priceless publicity in the Rhode Island market and, instantly, thousands of people in the state knew the name The Young Adults and bookings picked up.
We also started playing up in the Cambridge/Boston area, originally at the Inn Square Men's Bar in Inman Square, Cambridge and later at a number of other clubs. We were warmly received. We also attracted a booking agency in Connecticut who started booking us into clubs all over that state. Things were looking up.
Meanwhile, we needed to find a venue in New York. The building in New York that housed the Mercer Arts Center had tumbled to the ground and we decided that the current "hot club," CBGB had already had the first wave of bands out of there signed to record contracts so we were looking for a different place. We decided to book gigs at a club called Trax up in Columbus Circle. We received a good reception there and continued to book shows there.
Also, through Rich Lupo and our friends in Roomful of Blues, we met the legendary songwriter (and co-producer of Roomful's first album), Doc Pomus. Doc took a liking to us and would come up from New York to see us play at Lupo's.
Rich Lupo was itching to get a big-name act for the club and, having always been fond of Bo Diddley, he booked him into the club in 1977. But Bo required a backup band and Rich asked us and we accepted the assignment to do a week of shows with Bo. That worked well (we even did a recording session with Bo at Normandy Sound) and, the next year we did it again, this time with filmmaker Jim Wolpaw recording it all for posterity in a short documentary called Cobra Snake for a Necktie.
We got to do a lot of interesting gigs: a "Live from Normandy Sound" (a recording studio in Warren, R.I.) broadcast over WBRU-FM (Brown University's student-run radio station), lots of college concerts (a couple of memorable ones with Talking Heads), a couple of shows in Long Island with The Ramones (where we got to hang with the late rock critic Lester Bangs backstage) and a fun show with our old pal from RISD, Martin Mull at Rhode Island College.
Once, during a gig in Waterbury, Connecticut, Gary Kurfirst (the late manager of Talking Heads) sent Chris Blackwell, the founder and President of Island Records, to see us. (Doc Pomus was in on this too as he kept me abreast of whether or not Blackwell was going to show up in Boston or in Waterbury). Nothing came of the encounter and we figured that once he'd gotten a load of The Young Adults he knew he was not dealing with the next U2 here.
After our brush with Chris Blackwell and Island Records, we didn't hear from any more record companies and, while our band business was going well and we had a legion of fans throughout the Northeast, things were not looking good for our goal: a major label contract and an opportunity to let people outside of the Northeast of America hear The Young Adults.
Jeff Shore was the first of the band's principals to decide to leave. At the time, the working unit was Thom Enright on guitar, John Rufo on bass, Jeff on piano, Sport on drums and vocals, and me. To me, the loss of Jeff would totally unbalance the band and it would be up to Sport and me to keep things going, to keep writing songs and continuing on. My feeling was that, without Jeff's huge contribution to the songwriting, even if we were to find another piano player (and that didn't seem too difficult), it would never be the same and Jeff's ability to be the buffer between Sport's and my differing tastes in things could turn into a rather schizophrenic sound and presentation. I told the guys that I wanted to think about it for a month.
So, in late 1979, I decided that the band had done what it had done, and it was time to move on. This meant that I would be without income. I knew that the guys like Thom and Sport, who wanted to forge on with music, would be very attractive to a number of other bands or that they could start bands of their own.
As it turned out, Thom and Tom DeQuattro (who was playing drums for us at the time when Sport would come out front to sing) were quickly snapped up by former Roomful of Blues guitarist Duke Robillard and ended up becoming Duke Robillard & The Pleasure Kings for the next seven years. Sport started his own modern rock band, Cool It Reba, with musicians from New York City where he had relocated. We played (what we thought was) our last Young Adults gig on New Year's Eve 1980-1981 at Center Stage in East Providence. Duke Robillard & The Pleasure Kings opened and our "special guest" that night was our old bandmate, Charles Rocket, who, at the time, was a regular member of the Not Ready for Primetime Players on NBC's Saturday Night Live. It seemed like a fitting ending.
I decided that it was best for me to start from scratch. And I do mean scratch.
RUDY CHEEKS
I immediately went from being in one of the more popular bands in the Northeast to being a dishwasher in a local Providence restaurant. I had no idea what I would do next, but I knew that I would figure something out. As it turned out, I ended up being a newspaper columnist, a radio talk show host, a nightclub entertainer and cable TV pioneer, pretty much leaving music except for such tasks as creating the theme music for my cable TV show, Club Genius – a particularly bizarre piece of music – and writing a song for a film that was shot but never released, Comediac: the Motion Picture. But, while I was doing this, I had seemingly left music behind. But, like Michael Corleone in The Godfather III movie, I was about to be "pulled back in."
In early 1987, Rich Lupo and his college pal, Jim Wolpaw (the filmmaker who had made the documentary film with the Adults and Bo Diddley and later went on to create a short film that was nominated for an Academy Award), had decided that they wanted to make a feature-length film. Rich called me up and wanted to run the idea by me.
Jim had written a script for a film that would be about one night at Lupo's. There was a plot about terrorists threatening to blow up the club, but we didn't discuss what the film was about. Rich told me that, in order to make the film, he had to have The Young Adults as the band playing at the club that night. That would be the only thing that could illustrate the true craziness that was Lupo's.
I called Sport in New York and Jeff and Thom and the rest of the band and we decided that this was such a crazy idea that we had to do it. We figured that this was like Rich deciding to take all the money he had earned at the club and making a giant bonfire out of it. We wanted in!
So, we scheduled a three-night Young Adults reunion show for summer of 1987. The show would be recorded by a mobile recording truck, but we would actually perform our segments later when the film was being shot in the fall. We would also have the material for a live album.
The reunion shows turned out to be a pretty big deal with big stories in The Providence Journal and reports on the local TV shows and we knew that we'd have packed houses every night. Actually, since we were all together and had rehearsed for a few weeks to get in shape, we decided to take a few other side gigs at local clubs just to sweeten the pile of money we were going to make.
As it turned out, Lupo was getting evicted from his original club because of a contractual dispute with the building's owner and so, in the summer of 1988, the Young Adults did another series of shows to close the original Lupo's along with a slew of other bands including NRBQ and Roomful of Blues.
Then, all was quiet for a few years. The movie (now called Complex World after the Young Adults song) had not come out (Jim kept editing and re-editing) and Lupo's was closed. Then, in 1991, the film was finished and there was a distributor interested (Hemdale Films) and Lupo found a new location to re-open the club, a few blocks down Westminster Street. So, once again, we played at the grand re-opening of Lupo's Heartbreak Hotel for another big payday.
The film finally came out and played a run of over a month at the Cable Car Cinema in Providence. I assume that is still the longest running film booking there. I attended the New York City opening and, just to show that I'm a real "movie guy," I took with me my friend Bridget LeRoy, great-granddaughter of one of the Warner Brothers and granddaughter of filmmaker Mervyn LeRoy. I had attended Bridget's wedding in New York in the early '80s and, since she grew up living in the Dakota, met her neighbors, Yoko Ono and Sean Lennon (who was the ringbearer at her wedding).
Complex World got mostly good reviews from The Boston Globe, The New York Times and The New York Post, but it was more of a cult-type film and, after the initial release, was rarely seen again. And, after the reopening of Lupo's, we figured that was it and The Young Adults was over. But, oh no. There was a final chapter.
In 2011, Thom Enright was fighting brain cancer. He had been diagnosed with it a few years earlier and had fought it hard. Given six months to live, he had been continuing on for three years and playing regularly. A close friend of his, Lori Urso (a/k/a blues and jazz singer Ursala George), asked Thom if there was one thing he really wanted to do before the inevitable. He told her that he wanted to play again with The Young Adults.
So, Lori (who the rest of us didn't know) hunted us all down and told us what Thom had said. It had now been 20 years since we had last played but we all instantly agreed to do it. So Lori put the whole thing together and we did three nights at the new Met (owned by Rich Lupo) on Main Street in Pawtucket. It was a pretty amazing party with people flying in from all over the country to attend the shows. We were thrilled to have Sport's buddy, the great John Hammond, show up for the first night. Phoebe Legere and George Leonard opened the shows.
Sadly, Thom Enright passed away in February of 2012 and Tom DeQuattro passed away, also from cancer, in November of 2012. There won't be any other Young Adults reunions on this planet.
In the "never-say-never" department, in April of 2016, Bruce "Rudy Cheeks" McCrae, along with all members of The Fabulous Motels and The Young Adults, was inducted into the Rhode Island Music Hall of Fame. The occasion was marked by a Young Adults reunion featuring the band's principals, Dave "Sport Fisher" Hansen, Jeff Shore and Bruce "Rudy Cheeks" McCrae, with on-stage appearances by nearly a dozen other members of the Motels and the Adults and "the head." (Ed.)
A FABULOUS MOTELS – YOUNG ADULTS – RUDY CHEEKS SCRAPBOOK
LINKS AND RESOURCES
BRUCE "RUDY CHEEKS" McCRAE INTERVIEW FOR THE BROWN UNIVERSITY – RHODE ISLAND HISTORICAL SOCIETY
UNDERGROUND RHODE ISLAND PROJECT Conducted by Julia Wolfson, October 29, 2003
https://library.brown.edu/htmlfiles/1125429838791902.html
THE YOUNG ADULTS RHODE ISLAND ROCKS PAGE
Excellent entry for the Young Adults on the RI Rocks website focusing on a chronology of the band's live performances.
Includes a link to the "Rudy Cheeks Scrapbook" featuring newspaper and magazine clippings and photographs from Bruce McCrae's personal collection
http://www.rirocks.net/Bands/young%20adults.htm
BRUCE "RUDY CHEEKS" McCRAE ORAL HISTORY
Conducted by Alan Gunther, June 29, 2015 for the Providence Community Library StoryCorps project in association with
National Public Radio (npr) and the Institute of Museum and Library Services (IMLS)
http://libcat.calacademy.org/title/storycorps-rudy-cheeks/oclc/1030310042/editions?referer=di&editionsView=true
RECORD MECCA ARTICLE VERIFYING ORIGINAL SALES FIGURES FOR THE FIRST VELVET UNDERGROUND ALBUM
https://recordmecca.com/news/lou-reed-exactly-many-albums-velvet-underground-sold/
THE BOOK TROUBLE (PART TWO) A COLLECTION INCLUDING BRUCE McCRAE'S AUTOBIOGRAPHICAL PIECE
MEMOIRS OF OLD PROVIDENCE (Edited by Xander Marro, DMNS Publishing, The Dirt Palace, Olneyville Square, Providence, RI  02909, ©2014)
http://xandermarro.com/trouble.html

OFFICAL WEBSITE FOR DAVE HANSEN'S BAND THE WESTERN CARAVAN FEATURING THIRSTY DAVE
https://westerncaravan2.com
THE FILM COBRA SNAKE FOR A NECKTIE STARRING BO DIDDLEY & THE  YOUNG ADULTS
Directed by Jim Wolpaw, ©1978
ORAL HISTORY INTERVIEW WITH ORIGINAL YOUNG ADULTS GUITARIST ED VALLEE
Conducted by Allen Olsen for the Rhode Island Music Hall of Fame, May 24, 2015