2015 INDUCTEE
Concert/Music Festival Producer, Jazz Pianist
GEORGE WEIN
Founder of the Newport Jazz and Folk Festivals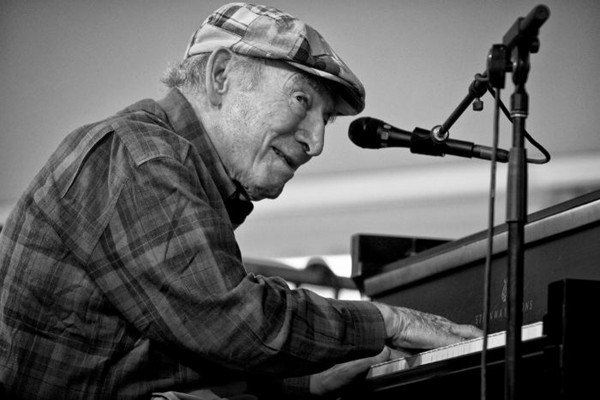 In 1954, philanthropists Louis and Elaine Lorillard invited pianist and club owner George Wein to Newport.  What resulted was the Newport Jazz Festival for which Louis Lorillard provided a $20,000 grant. The successful event was the first outdoor jazz festival in the United States. The Newport Jazz Festival became an annual tradition and put Rhode Island on the map as an entertainment and cultural destination for international travelers.
Recordings from the Newport Jazz Festival have resulted in some of the greatest and most important  live album releases of all time.
In 1959, he also began presenting the Newport Folk Festival. He is credited with keeping folk, country, bluegrass and blues traditions alive by providing, for many of the performers, their return to the stage after years of waning interest.
During its initial run (1959-1969), the Newport Folk Festival presented some of the most diverse bills in American music history and featured classic and contemporary artists performing side by side. Production of the Folk Festival resumed in 1985 and the tradition continues with the festival further broadening its scope by bringing in reggae, rock and indie artists.
The Newport Folk Festival also created a launching pad for future stars including Joan Baez, Bob Dylan, The Kingston Trio, The Paul Butterfield Blues Band and Arlo Guthrie.
As a pianist, Mr. Wein has maintained his career as a recording artist through the decades, most often in the company of all-star lineups from the jazz festivals. The Newport All-Stars have embarked on dozens of world tours carrying the message of Newport throughout the world.
Mr. Wein later founded the New Orleans Jazz & Heritage Festival and pioneered the idea of sponsor association with music events. Wein has been honored by heads of state, educational institutions and leading publications. He received a Grammy Trustee award on February 7th, 2015.
On July 31, 2015, George Wein was inducted into the Rhode Island Music Hall of Fame (RIMHOF) in a ceremony which took place during the 2015 Newport Jazz Festival opening night festivities at the International Tennis Hall of Fame, Newport, Rhode Island.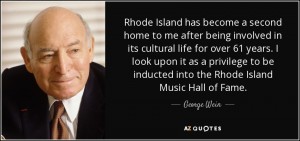 GEORGE WEIN/NEWPORT FESTIVALS LINK & RESOURCES
GEORGE WEIN'S AUTOBIOGRAPHY
Myself Among Others: A Life In Music by George Wein with Nate Chinen
Mr. Wein's autobiography is a "must read" for any serious music fan and is readily available in hardcover, paperback and various downloadable formats from bookstores and various online sellers including Amazon.com and Barnes & Noble.
GEORGE WEIN OFFICIAL WEBSITE
http://www.georgewein.com

NEWPORT JAZZ FESTIVAL OFFICIAL WEBSITE
http://www.newportjazzfest.org
NEWPORT FOLK FESTIVAL OFFICIAL WEBSITE
http://www.newportfolk.org
NEWPORT FESTIVALS FOUNDATION
http://www.newportfestivalsfoundation.org
GEORGE WEIN WIKIPEDIA ARTICLE WITH DISCOGRAPHY
https://en.wikipedia.org/wiki/George_Wein