2018 INDUCTEE
Nightclub Owner, Concert Promoter
JOHN CHAN
WHAT'S ON THE MENU? EGGROLLS AND JAZZ!
by Rick Bellaire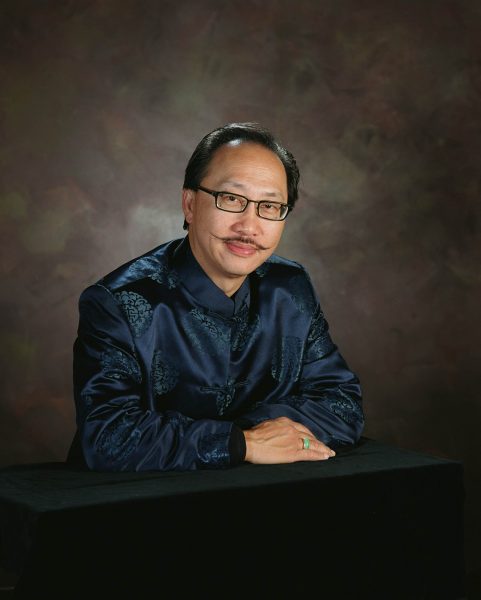 While a student at Providence College in the early 1970s, John Chan developed a deep appreciation of Jazz and Blues thanks to college radio and some record collecting friends. He'd been working at his parents' restaurant in Woonsocket, Chan's Fine Oriental Dining, since the age of 15 and began working there full time in 1974 after graduation. In 1977, he decided to add music to the menu and tested the waters with a performance featuring two local jazz legends, vocalist Jean McKenna O'Donnell and trombonist Sam Sherman accompanied by Alvin Pulley on guitar, Rodney Delassantra on accordion and Bill Gilbert on drums. The evening was a success and the restaurant's name was amended with the legend: Eggrolls & Jazz.
For the next decade, Chan presented performances by dozens of local and national jazz, blues and folk artists and after expanding in 1986, Chan's quickly became known as one of America's premier jazz venues. In addition to bringing in legends such as Dizzy Gillespie, Mose Allison, Pinetop Perkins and Leon Redbone, John remains committed to local talent and was instrumental in helping Rhode Islanders Scott Hamilton, Roomful of Blues, Duke Robillard and Greg Abate achieve international success.
Thanks to John's commitment to superior acoustics and his enforcement of a strict code of silence during performances, Chan's developed a reputation as a superb "listening room" and the club has been the setting for many live recordings over the years beginning with Rebecca Parris' live album with Phil Wilson. The list includes Greg Abate's live celebration of his recording with mentor Phil Woods and an award-winning album by blues great John Hammond. (Complete list of albums recorded live at Chan's appears in the discography below.)
John is also an artist of note and has turned his lifelong passion for the visual arts into another facet of this Woonsocket jewel – the venue's walls serve as a gallery for his and others' music-related paintings and photographs.
DISCOGRAPHY OF LIVE ALBUMS RECORDED AT CHAN'S
Rebecca Parris with Phil Wilson: Live at Chan's (Weston Blair Productions BEC2-44431) 1984
Greg Abate & Richie Cole: Dr. Jekyll & Mr. Hyde (Candid Records CCD-79715) 1995
Dan Moretti & Brazilia featuring Greg Abate: Live at Chan's (Brownstone Recordings BRCD-958) 1995
Bellevue Cadillac: Take Out Out Takes (self-released/no label) 2000
Sammy Sherman: A Jazz Original Live at Chan's with Daryl Sherman (Arbors Records Historical Series Vol. 6 ARCD-19302) 2004
Jimmy Thackery & The Drivers: Live Vol. 1 (Telarc Blues 83661) 2007
Diane Blue: Live at Chan's (Diane Blue Music/CD Baby) 2010
Dan Moretti & The Hammond Boys: Live at Chan's (Roots Grooves Records CD-20141) 2014
John Hammond: Timeless (Palmetto Reccords PM-2170) 2014
Greg Abate & Phil Woods: Kindred Spirits Live at Chan's (Whaling City Sound WCS-077) 2016
LINKS AND RESOURCES
JOHN CHAN MINI-DOCUMENTARY CELEBRATING HIS INDUCTION INTO THE RHODE ISLAND MUSIC HALL OF FAME
Produced and Directed by Norm Grant and Tom Shaker for Peter & Buster Films
CHAN'S EGGROLLS & JAZZ WEBSITE
http://www.chanseggrollsandjazz.com/index.html
BOOK: A Man's View – Men Working In Woonsocket
by Judith Potter, Cr. Photog. (Judith Potter Photography) ©2013
Looking around Woonsocket, Rhode Island, one will see an amazing sense of perseverance, history and charity. There are hidden treasures there which deserve to be noticed. This book details the stories of 42 men including John Chan who are working to make a difference.
https://www.potterphotography.com