2018 INDUCTEE
Music Educator, Author, Jazz
LLOYD KAPLAN: A LIFE IN MUSIC
by Rick Bellaire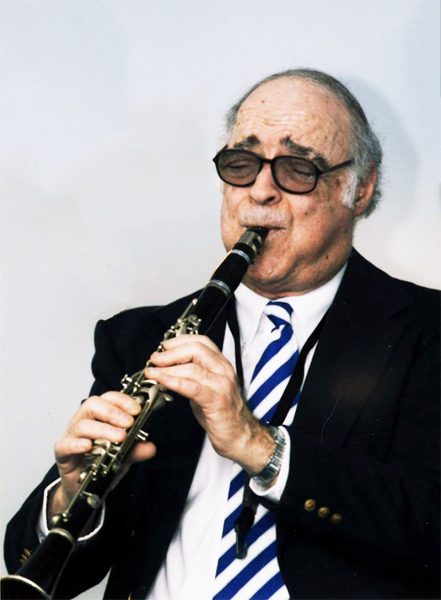 Lloyd Kaplan, born in 1933 in Fall River, Massachusetts, grew up in Pawtucket, Rhode Island. As a youth, Lloyd developed an interest in music and began playing the clarinet as a hobby and performed with school ensembles and in community variety shows. Early on, he did not envision a career in music as his path in life and after high school, he enrolled in Bryant College (Bryant University since 2004) as a business student and graduated in 1953 with a B.S. in Business Administration.
He next joined the U.S. Army where he played clarinet and saxophone with the 62nd Army Band. The experience steered him toward a career in music and after leaving the service in 1955, he enrolled at the University of Rhode Island on the G.I. Bill where he earned a B.S. in Music Education graduating in 1959.
Kaplan began his career as a music educator in the Cranston Public Schools system teaching at Hugh B. Bain Junior High School from 1960 to 1965 during which time he earned his Master's Degree at Brown University.
After a year teaching at Scituate Junior-Senior High School, he moved into the college level in 1966 at Rhode Island Junior College (a/k/a the Community College of Rhode Island since 1980) where he remained for 31 years. He also taught part-time for two years at the Brown University Extension School 1966-1967.
Professor Kaplan was instrumental in shaping the future of the music department at CCRI establishing the Jazz Curriculum as a degree program and introducing courses in Twentieth Century Music, Introduction to Opera, Jazz History, The Creative Process In The Arts, Essentials of Rhythm and Introduction To Music. He served as department Chair 1974-1980. He retired in 1995 as Professor Emeritus.
Lloyd also persued a career as a professional clarinet and saxophone player in a wide variety of settings including the U.S. Army Band, the Tony Abbott Orchestra and his own jazz group, The Aristocats.
In "retirement," he continues teaching at URI and at Coastal Carolina University through the Osher Lifelong Learning Institute, continues performing with The Aristocats, and collaborated on a book with independent filmmaker and R&B disc jockey Tom Shaker. Published in 2020, In Harmony: Early Vocal Groups Remembered & Celebrated presents a concise history of the importance and influence of singing groups in building the foundations of 20th century American popular music from jazz to swing, from country to soul.
In 2018, Professor Lloyd Kaplan was inducted into the Rhode Island Music Hall of Fame as the first inductee in the Music Educators category.
LLOYD KAPLAN LINKS & RESOURCES
DOCUMENTARY SHORT ABOUT THE INDUCTION OF LLOYD KAPLAN
INTO THE RHODE ISLAND MUSIC HALL OF FAME IN APRIL, 2018
Produced and Directed by Norm Grant and Tom Shaker for Pete & Buster Films
JAZZ HISTORY DATABASE ENTRY FOR LLOYD KAPLAN
An excellent overview of Professor Kaplan's life and career
http://www.jazzhistorydatabase.com/content/musicians/kaplan_lloyd/bio.php