2014 INDUCTEE
Nightclub Owner/Concert Promoter
The Story of
RANDY HIEN
(1949-2006)
& THE LIVING ROOM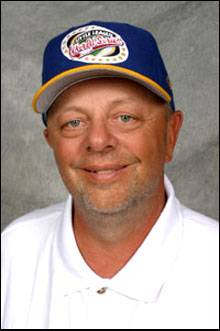 by Paul Fernandes
The following article, written by Paul with assistance from Randy's wife Patti A. Hien and Tom Bousquet of WHJY-FM, appears here courtesy of his terrific website, Rhode Island Rocks! This tribute to Randy and the documentation of his contributions to Rhode Island's original music scene and his induction into the Rhode Island Music Hall of Fame (RIMHOF) in May of 2014 are the first in what we hope will be a long series of collaborations between Rhode Island Rocks and RIMHOF. We encourage our readers to follow the link at the bottom of this story to Paul's site where you will find much more information about Randy as well as many other subjects relating to Rhode Island music history.
Randall C. Hien was born in Woonsocket, Rhode Island in 1949 and was the son of Jeannine (Bacchiocchi) Hien and the late Charles A. Hien. He was also the great-nephew of B.A. Dario who owned Lincoln Downs Race Track (now the location of the Twin River casino in Lincoln, R.I.), the RKO Albee Theatre and the Loew's State Theatre (now the Providence Performing Arts Center) in downtown Providence, and other commercial and entertainment properties. Randy, who lived most of his life in Lincoln, was a devoted family man, a club owner, a Little League coach and restaurant proprietor.
1971-1975
THE LOEW'S STATE THEATRE/THE PALACE CONCERT THEATRE
Randy started working in the music business in 1971 for his great-uncle who had recently purchased the decaying Loew's Theater in downtown Providence. They changed the name to the Palace Theatre as a venue for Rock 'n' Roll concerts.  Randy managed concessions, band relationships and venue operations until 1975 when B.A. Dario decided it was not financially feasible to keep the doors open any longer.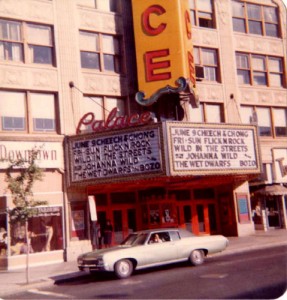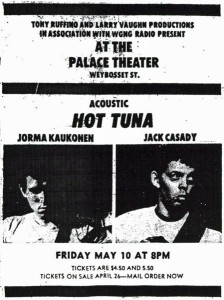 By this point Randy was certain he wanted to continue promoting music but he needed a venue to do it in. He approached a man named Arnold Hahn who had a small, failing club at the corner of Westminister and Empire Streets called The Living Room just blocks away from the Palace. Randy had no real money, but offered Mr. Hahn his Jaguar XKE for the keys to the club and the liquor license. Mr. Hahn gladly took the offer to rid himself of this major headache.
1975-1981
THE LIVING ROOM (#1)
380 Westminster Street,  Providence, RI  02903
Finally on his own, Randy's idea was to give local bands a place to call home and to have fun. He made friends with another bar owner across the street named Rich Lupo who was also just starting out. Both men had an idea to open a bar for people to come and hang out and listen to music, but it was still not defined where this was going.
By 1978, Randy's Living Room, with the help of his friend Carl Sugarman, was firmly established and had earned a great reputation as the venue to play. Better and better bands applied and by 1980 the local music scene was in full force in downtown Providence.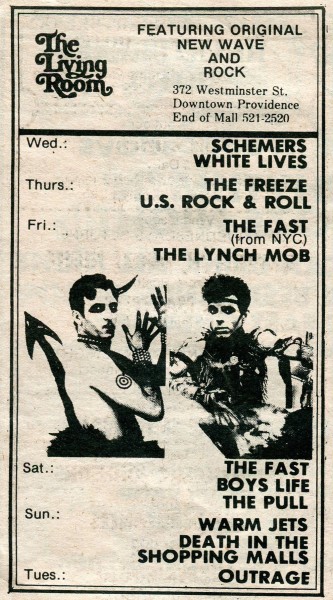 Then the bad news came in 1981. The owner of the building, as it turned out, was his great uncle B.A. Dario who told Randy that his lease would not be renewed and the building was going to be torn down to make way for a new Federal building. It looked like an end to Randy's dream and the local music scene, but instead, he decided to find another location to continue what he'd started.
1981-1990
THE LIVING ROOM (#2) "THE BIG BUBBLE"
CIC Complex, 273 Promenade Street, Providence, RI  02908
Randy set up shop for his Living Room #2 in a warehouse area on Promenade Street. It got the nickname "The "Big Bubble" because of huge bubble-shaped bay window that extended out as you walked in. This was a great period for the club scene with many great local and some national bands coming to play his establishment. Even Randy's mother got involved by cooking dinner for the many starving musicians. It was a great time until…it happened again! The owner did not renew his lease and for Randy and the local music scene, Living Room #2 came to an end.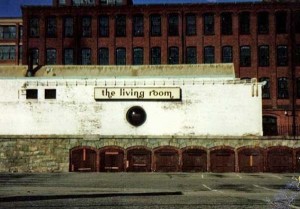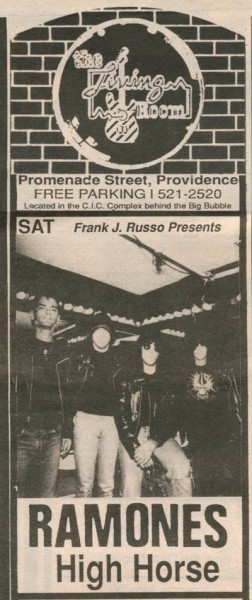 1990-1995
CHANGE OF LIFE AND OTHER PASSIONS
The next five years were spent looking for the right venue so that Randy could buy a building and wouldn't have to worry about being at the mercy of some landlord. Also during this period, he spent more time with his family and became very active and dedicated to the sport of baseball. He coached Cumberland Farm League for two years, Cumberland Babe Ruth for five years and Lincoln Little League for twenty-eight years. He also coached the Lincoln Parks & Recreation basketball league for two years.
1995-2006
THE LIVING ROOM (#3)
23 Rathbone Street, Providence, RI  02908
Finally, after searching for the right club for years, he bought 23 Rathbone St. in Providence and The Living Room #3 was in business. This new incarnation continued in the same "feel" as the other two Living Rooms and local and national bands would make to stop here to perform and to hang out with Randy.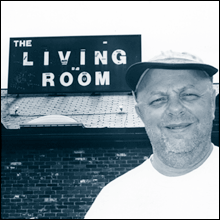 In February 2004, Randy was accidentally hit by a motorist which left him confined to a wheelchair. Randy still continued coaching baseball, but found it harder to manage a club on a day to day basis. His dear friend Charlie took over the club' management with Randy on the phone every day making sure the bands were taken care of.
2006
SADNESS STRIKES EVERYONE'S HEART
On September 25, 2006, the Rhode Island music community received word that our beloved Randy was accidentally killed by a motorist near his home.
Please visit the Rhode Island Rocks website for more information and links on Randy and The Living Room including The Providence Phoenix memorial issue with remembrances and anecdotes from many of the major players on the scene, plus many more articles about the Rhode Island concert scene, the underground rock press and Rhode Island music history:
RHODE ISLAND MUSIC HALL OF FAME
2014 INDUCTION TESTIMONIAL FOR RANDY HIEN
by Paul Fernandes & Rick Bellaire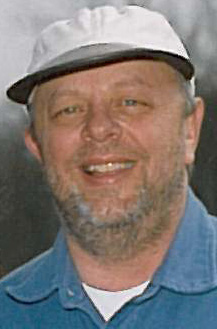 Randall C. Hien was born in Woonsocket in 1949. He began working in the music business in 1971 when he took a job with his great-uncle B.A. Dario. They transformed the decaying Loew's State Theatre in downtown Providence into a Rock 'n' Roll venue called The Palace. Randy was liaison to the acts and managed concessions and operations until 1975 when he traded his Jaguar XKE for the liquor license and keys to a small, failing jazz club around the corner on Westminster Street called The Living Room. Randy instituted a booking policy which encouraged bands to play their own material and he began presenting Punk, New Wave and Hard Rock. With the help of his brother Brian and his friend Carl Sugarman, The Living Room soon became the center of a blossoming original music scene with a dedicated clientele. When that building was sold, Randy set up shop for Living Room #2 in the CIC factory complex on Promenade Street. It was called "The Big Bubble" due to a large bubble-shaped bay window which extended out from the side of the building. This was a great period for the club – many great national acts graced the stage, but Randy always made sure a local, original band was on the bill in the opening slot. Even Randy's mother got involved by cooking dinner for many of the starving musicians! It was a great time until the building owner decided not to renew the lease and Living Room #2 closed in 1990. For five years, Randy searched for a venue he could buy so he that he wouldn't be at the mercy of a landlord. He purchased the old Gov. Dyer Restaurant just down the road on Rathbone Street in 1995 and Living Room #3 prospered until 2006 when the Rhode Island music scene lost one of its greatest supporters with Randy's untimely passing. During his entire entertainment career, Randy also focused on his other passion – baseball. He was a coach for the Lincoln Little League for 28 years.
REMINISCIN' ON RANDY
Memories of the Music and the Man
by Rick Bellaire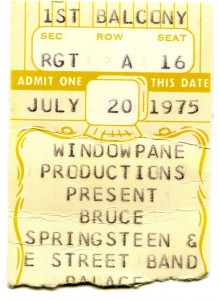 THE PALACE
Randy Hien had begun providing me with some of the greatest musical experiences of my life before I ever met him or knew his name.
When the Loew's State Theatre was transformed into the Palace Theatre it created the mid-sized concert venue which Rhode Island had been lacking since the days of the British Invasion. (Vets was always reluctant to book Rock 'n' Roll shows.) Before 1971, it was necessary to take long and expensive trips up to Boston to the Orpheum or down to New York City to the Fillmore or the Anderson to experience a lot of the music we were hearing and reading about. The Palace filled that gap by providing a platform for the mid-level acts (those on the way up and those on the way down, as well as the "underground" bands and those with cult followings). Some of my fondest memories are of evenings spent at the Palace during my high school and college years.
Lou Reed on the "Transformer" tour in 1973. They say the first Velvets album is one of the most important records of all time even though it only sold 1000 copies in its first pressing because all 1000 people who bought it formed bands. Well, I'd say Lou Reed opened the eyes of and the door for dozens of young Rhode Island musicians that evening, inspiring them to start writing and performing their own music. (Some kid named Bruce Springsteen opened the show, but I don't remember anything about him from that night. In fact, don't remember too much about Lou that night either except that things got pretty wild on stage and in the audience.)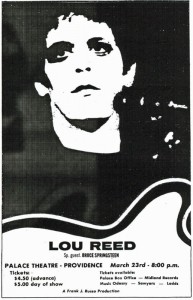 There was Steely Dan on the "Pretzel Logic" tour in 1974 when the original lineup was augmented by Michael McDonald and Jeff Porcaro, the guys who would become the second lineup.
By 1975, I was totally into Springsteen but I was having a hard time convincing my gang that they were missing something really special. I was playing in a band I'd formed in college called Full Circle and I dragged them all downtown to see Bruce with tickets purchased out of our band kitty. It was the first show of the tour and Miami Steve Van Zandt's first night with the E Street Band. They tore the house down! I made a lot of converts that night.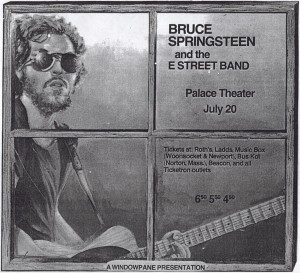 And of course, The Kinks. They played the Palace every year it was open and they were on tour – some of the greatest nights and on-stage fights in history. "Alcohol" seemed all the more poignant when the band, the horn section and the female choir were just as out of it as the Davies boys. Incredible, long, rockin' shows.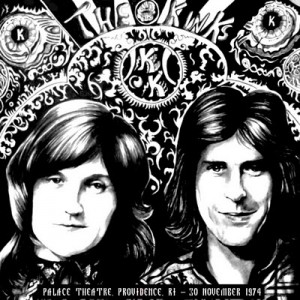 And unbeknownst to me, all of these memorable evenings had been made possible by the foresight and insights of one Randy Hien who ran the place for his uncle, the entertainment and parking lot magnate, B. A. Dario.
THE LIVING ROOM
I first met Randy during the early days of the first Living Room in downtown Providence. He was still presenting jazz like the original owner, but he was bringing in some singer-songwriters and a little bit of blues, too. I was (and I still am) listening to every kind of music and found myself at the club several times. I told him I appreciated what he was doing by giving these musicians a place to play.
In 1976-77, the new sounds labeled "Punk Rock" and "New  Wave" coming out of New York City and London were having a big influence on the local music scene. Original bands started popping up all over Rhode Island. Randy was the first club owner to open his door to these bands and provide a proving grounds for their art. The Living Room became the CBGB of Rhode Island. This is a particularly apt comparison as the two clubs had undergone parallel transformations – CBGB stands for Country, Bluegrass and Blues, the styles of music they originally presented. Randy Hien almost single-handedly kickstarted the original music scene in Rhode Island just like Hilly Kristal had done down on the Bowery.
Contrary to what the popular notion may be when looking back on this time, the booking policy at The Living Room was based on whether or not you played original music, not just original Punk or New Wave. There were a lot of bands – a lot of good ones and even some great ones. Randy loved the hard rock bands (Outrage, Cry Wolf), the New York-influenced end of things (The Mundanes, Parallel 5th) and the real punkers (DC-Tenz, G.G. Allin). But most of all, he loved the straight-ahead rock 'n' rollers who were taking their cue from the British new wave centered around Stiff Records which gave us Elvis Costello & The Attractions, The Damned and Nick Lowe (The Detectives, The Shake, Ed Tabela, The Schemers).
I jumped into the fray when I formed my first original band in 1978: Rick Bellaire & Trouble. We were punks alright, but we weren't Punk Rock. We had more in common with what Tom Petty & The Heartbreakers and Graham Parker & The Rumour were doing. We were on the "roots" edge of the movement which they sometimes called Power Pop, heavily influenced by Dwight Twilley and Big Star. Randy, of course, gave us a break. He gave us our own shows, paired us with some of the other bands when it was a good fit (The Schemers, Shane Champagne) and had us open for some of the touring bands (The Atlantics, Human Sexual Response). He always paid us, too. In fact, he always paid us too much. Randy always paid everyone too much! And he was always advocating for his bands. If there was a record company rep or a reviewer in the house, Randy would spend half the night talking up the Rhode Island acts, trying to generate some interest.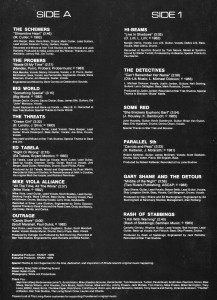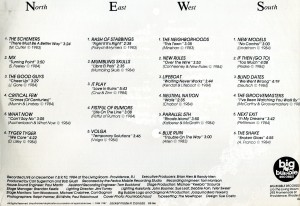 When Randy moved to the "Big Bubble" room in the CIC complex, it was business as usual except it was a bigger space with a wider range of musical styles presented.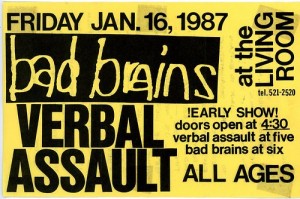 My band had morphed into The Backbeats with our feet solidly planted in blue collar territory. Randy continued booking us (and paying us too much). He often paired us with The Stompers, The Shake and Duke Robillard & The Pleasure Kings and he had us open for Steve Earle, Gregg Allman and Dickey Betts among others. These were great nights which opened doors for us as he encouraged the band to take a run at the big time.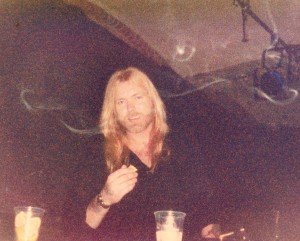 During the five years between the closing of Living Room #2 and the opening of #3 at the old Governor Dyer restaurant down the street, things changed considerably. The old scene did not so much crumble – its participants just grew up. I gave up on getting a record deal and began concentrating on songwriting. I attended a couple of Reggae shows there, but it never became a haunt for me like #1 and #2. The best thing about #3, though, was that I could clearly see that it served the same purpose for a new generation as #1 had for mine. I worked at Tom's Tracks record shop on the East Side for more than 20 years and almost every other employee was 10-15 years my junior. And every single one of them played in a band which played at Living Room #3. I have no doubt Randy would still be doing it if he was here with us today. I can only hope that future generations of club owners will continue to follow his example by providing venues where young Rhode Islanders can hone their craft while playing original music.