THE WYE RECORDS STORY
by Allan "Big Al" Pavlow & Rick Bellaire
Wye Records, run by former Sun Records artist Winston Cogswell (a/k/a Wayne Powers), Rhode Island songwriter/pianist Ray Peterson and engineer Ken Dutton, has the distinction of being the only Rhode Island-based record company to score a national hit. This was accomplished with the label's very first single, the instrumental "Night Theme" by The Mark II.
Musician Winston Cogswell of Warwick, Rhode Island had moved to Memphis, Tennessee in 1954 and had become an important figure in the worldwide success of  Sun Records and the development of "The Sun Sound." During his five years with the company, he worked as a composer, session guitarist, arranger, producer and recording artist under the name "Wayne Powers." Along the way, he collaborated with just about every musician who passed through Sun's doors including Ray Harris, Jerry Lee Lewis, Roy Orbison, Bill Justis, Johnny Cash, Jack Clement, Scotty Moore, Roland Janes and, of course, Sun founder Sam Phillips. Toward the end of his run at Sun, he began placing songs into the Nashville scene and scored instrumental hits with Chet Atkins and "Someday, Someday," co-written with his then wife, Dolores, for Skeeter Davis. By 1960, Sun was running out of steam and Winston (by now calling himself "Wayne Cogswell") decided to move back home to Rhode Island. He reasoned that he could still do business with the Nashville publishers without being on the scene and take some time to decide on his next musical move. He moved his family in with his mother back in Warwick and took a stop-gap job at Grinnell, the fire-protection giant, in Cranston. It was there that he met Ray Peterson.
For a detailed account and complete discography of Winston "Wayne Powers" Cogswell's early years in Tennessee, please visit his page on this site at:
www.ripopmusic.org/musical-artists/musicians/wayne-cogswellwayne-powerswinston-cogswell/
Ray Peterson, a pianist and songwriter from Warwick, had begun making some headway as a composer sending out demos to the music publishers and record companies. Ray had planned on a career in radio broadcasting, but positions were scarce. So, in addition to gigging around as a solo pianist, he took a series of regular jobs outside the music business and wound up at Grinnell.
(For the record, this is not the Ray Peterson of "Tell Laura I Love Her" fame. In addition to the coincidence with the name, more confusion has been created over the years as our Rhode Island Ray Peterson's songs were published by "Laura Music", a company owned by his partners at Wye Records.)
The two musicians became friends and began working on music together. Opportunity soon came knocking in the form of an offer from another Warwick man named Kenneth Dutton. Dutton owned an electronics shop on Warwick Avenue selling and repairing TVs and radios and wanted to try his hand in the recording business. He offered up seed money and space at his store to set up shop. As Wayne and Ray happened to be on strike at Grinnell, the duo figured they had nothing to lose, so the three men pooled their different talents and started Wye Records. (Ken came up with the name to commemorate their partnership as "WYE" is the designation for  the 3 equal points in the most common configuration for electrical connections.) Ken went all the way with the preparations for Wye, first putting together a group of investors from his contacts in the business and political communities, and then closing down his business so the partners could build a state-of-the-art recording facility on the premises.
By the spring of 1960, with the studio completed and operational, it was time to test the waters. For their first release, they chose an instrumental Wayne and Ray had co-written called "Night Theme."
Hiring the cream of the crop of Rhode Island session musicians, they produced what is now considered a classic. The players for the session  were George Azevedo (tenor sax), Bob Petteruti (upright bass), Jack Welch (drums), Kenny Bertch (vibes), and Wayne and Ray playing four-handed piano: Wayne playing the chords at the bottom of the keyboard and Ray covering the melody at the top. For the B-side, they chose another original called "Confusion" which featured Freddie Starks on piano as Ray had injured a finger between the two sessions. (These musicians, with Ray back on piano for all other sides and Wayne on his customary instrument, the guitar, became the house band for most of Wye's future releases.) Needing a artist's name for the release, they decided on  "The Mark II" as a nod to their piano collaboration.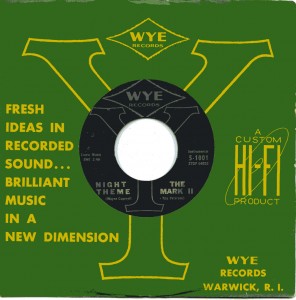 "Night Theme" was released in the summer of 1960 and an advertisement in Billboard on June 27 shows the label's address as: 625 Warwick Ave., Warwick, Rhode Island, the location of Dutton's former shop. The groove, which is stylistically similar to Floyd Cramer's million-seller "Last Date," entered both Billboard and Cashbox magazines' Top 100 charts at the same time as Cramer's hit in the Fall of 1960. The record began moving so quickly, that they knew they'd need a national distributor to keep up with the demand. They entertained offers from several larger labels and distributors and made the decision to run with Morris Levy's powerful Roulette Records. The record became a major hit and soon The Mark II were in-demand for live performances.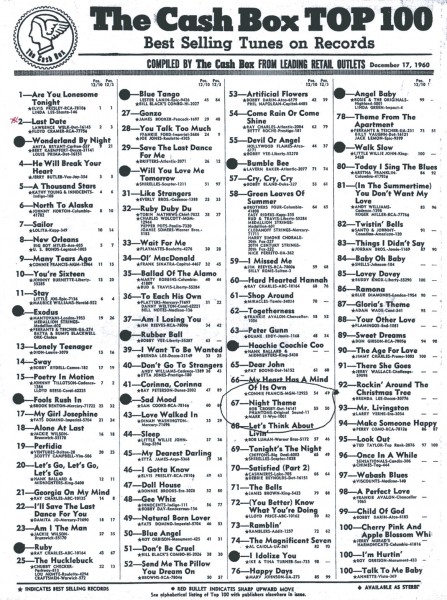 The Mark II hit the road for shows up and down the northeast corridor, from Baltimore to Maine, including a performance at The Boston Ballroom with superstar Patti Page and made several appearances on major radio and television shows. However, as the main creative team at Wye, Wayne's and Ray's services were needed back at their Warwick headquarters and they took themselves off the road after the record peaked.
The song had a life of its own, though! "Night Theme" was covered repeatedly by a diverse group of artists including New Orleans jazzman Al Hirt, surf band The Chantays, orchestra leader Ernie Freeman, Lawrence Welk, Hollywood string arranger Felix Slatkin and Floyd Cramer himself, just to name a few. The song was covered in six other countries including an astonishing five versions in England alone.
With a hit under their belts and the national distribution deal with Roulette set up for future releases, the label was off and running. Wye's output ran the musical gamut from doo-wop to middle-of-the-road instrumentals and drew heavily on Rhode Island's talent pool. Among their releases were a vocal sequel to their hit called "Teenage Night Theme" by Gayle Fortune with lyrics by Dolores; teen crooner Dicky Doyle's doo-wop rarity "Dreamland Last Night" (these days, $75.00 in some record collector price guides); instrumentals by orchestra leader Tony Abbott and jazz trumpeter Art Tancredi; "You're My Ideal" by Claire Charles which was a Four Star Billboard pick and enjoyed strong airplay and sales; the first recording by Dick Domane, who went on to help found one of the state's most popular bands, The Blue Jays; and WPRO-AM disc jockey Morton Downey, Jr.'s recording, "Three Steps To The Phone", which received station play and sold locally.
(Downey was the son of internationally successful crooner Morton "The Irish Nightingale" Downey. Originally from New York, he had temporarily relocated to Rhode Island to advance his career in broadcasting. Later on, of course, Downey made national headlines as a controversial talk show host.)
On July 8,1961, Ray and Wayne were invited to appear at the Newport Top Teen Show held at the city's Freebody Park alongside Dion, Jimmy Clanton and Dick Caruso. They appeared as a duo under The Mark II name performing their four-handed piano arrangement of "Night Theme" and received a standing ovation. (Caruso was another native Rhode Islander who was a successful television and motion picture character actor and had a parallel career as a popular "teen idol" recording artist for MGM Records.)
Local airplay and sales notwithstanding, Wayne and Ray were unable to repeat the national success of "Night Theme" and opted out of their Roulette deal after their fourth record.
One act which might have put the label back on the national scene but ultimately slipped through the cracks was Ricky Ricardo. This was not Desi Arnaz nor even Desi Arnaz, Jr. ("Little Ricky"), but the stage name of a local guitarist and songwriter named Anthony Lobato. His terrific Wye release "Peek-A-Boo, Mary-Lou" had heavy airplay and good sales locally, but failed to break out nationally. Wayne speaks highly of his guitar playing and Anthony played on many other Wye releases as a studio musician. He also became one of Wayne's co-writers and the duo composed five songs together. After the Wye period, Lobato moved out to Nevada and reportedly had a successful career on the Las Vegas scene.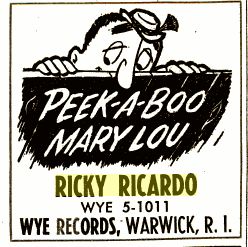 Wye releases dried up after a couple of years with Dutton leaving to accept a position at Electric Boat in Groton, Connecticut. Wayne and Ray continued on plugging their songs. They placed one with a major Nashville publisher (Buddy Killen's Tree Music which had handled Wayne's songs during his RCA period) scoring again in 1963 with another instrumental, "Rip Tide," recorded by famed blind country pianist Hargus "Pig" Robbins for Time Records.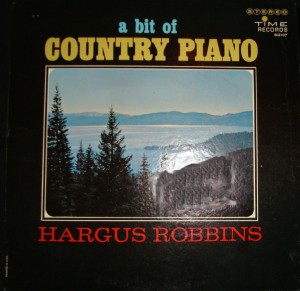 Since the mid-1960s, Wayne and Ray have both remained active in the music business and continue playing music and writing together to this day. As recently as 1995, Wayne was still working on records and produced the last recording by Rhode Island country legend Cousin Richie Zack on one of his original tunes, "Helpless," co-written with his wife Claire Charles. (Claire is the former Wye Records recording artist; the two were married in 1986.) Wayne Cogswell's work at Sun has attained legendary status thanks to the work of a worldwide community of music historians and the Rockabilly revival movement; as of 2012, Wayne and Claire still perform occasionally. Ray Peterson is still an active performer and plays in a popular duo with his wife, Harriet, under the name "Ray & Hari."
WYE RECORDS DISCOGRAPHY
5-1001 The Mark II: Night Theme b/w Confusion
Charted in Cashbox 10/15/60, peaked at #50 – 10 weeks on the chart
Charted in Billboard 10/23/60, peaked at #75 – 7 weeks on the chart
5-1002 Claire Charles & The Terrytones: You're My Ideal b/w Ah Do Me Kitchie
Picked up for distribution in Canada by Zirkon Records (#1024)
5-1003 Gayle Fortune & The Terrytones: Teenage Night Theme b/w I Cry The Blues
5-1004 The Mark II: A Robin Cried b/w Blue Fantasy
The above four releases were distributed by Roulette Records
5-1005 Tony Abbott: Surrender b/w Sidewalks Of New York
5-1006 Dick Domane: Alone b/w You're So Conceited
5-1007 The Fabulous Raiders: Summertime b/w C.C. Rider
5-1008 Ronnie Dee: Little Boy Blue b/w Never Leave The One You Love
5-1009 Dicky Doyle: Dreamland Last Night b/w My Little Darlin'
5-1010 Morton Downey, Jr. & The Terrytones: Three Steps To The Phone b/w Beg Your Pardon
5-1011 Ricky Ricardo: I Wish For Someone b/w Peek-A-Boo Mary Lou
DSC-1012 Art Tancredi: Edge of Sadness b/w Bennie's Tune
DSC-1015 The Hatfields: Don't You Worry b/w Come On Back
Thanks to John McCracken for the prefix corrections on the last two listings
MEMORABILIA & PHOTO GALLERY
LINKS AND RESOURCES
For more information on the career of Winston "Wayne Powers" Cogswell including 70 samples of his music, visit his YouTube and MySpace sites:
http://www.youtube.com/user/winston271001
http://www.myspace.com/WinstonCogswell
For more information about the Sun sessions for the Ray Harris and Wayne Powers releases (as well as all of the other sessions in which Wayne participated while with the label), visit this fantastic site which documents every session in the Sun/Phillips International history: